I know it's a bit tiring taking several steps each day to apply skincare products, especially at night when you're already bundled up in bed. However, night time is the perfect time to pay extra attention to your skin especially if you've been out all day and your skin is more exposed to dirt and oil or if you have been wearing makeup all day long. And we all know that leaving your makeup overnight may cost your skin to be acne prone and you may get tons of breakouts in the morning. Who wants that, right? That's why it is definitely an essential to have a nighttime skin care. But I certainly know how it feels when you get home at night and all you want to do is head straight to bed, so to help you out I've gathered up 5 simple steps for your nighttime skincare routine that will only take a couple minutes so you can get a goodnight's sleep fast without worrying about your skin the next day.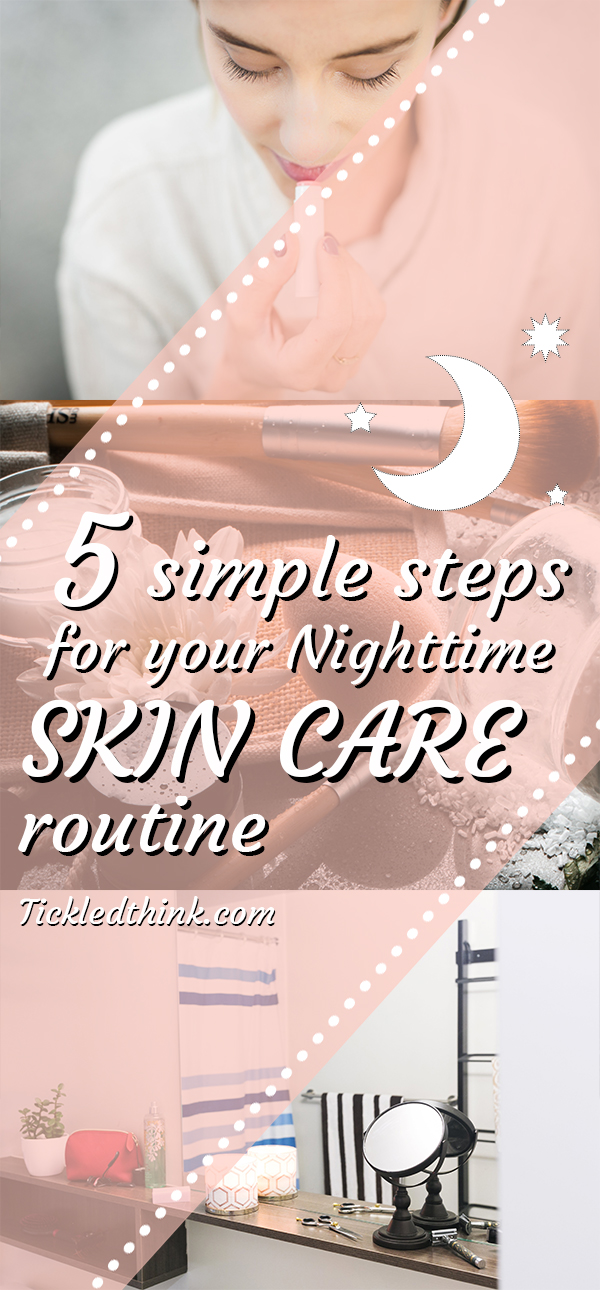 Step 1. Make up remover
When you're wearing makeup all day then there are high chances that it is mix with sweat, dirt and oils. Makeup residue may also mix with dead skin which can easily pile on your face. So leaving your make up on while sleeping is certainly a big no no, it's always very important to take the time in removing any make up residue to avoid acne and breakouts.
Step 2. Cleanser
Cleanser's removes excess oil and impurities which can easily help improve your skin's health and radiance. It also does a great job in removing dirt without disturbing your skin's natural moisture barrier. Plus, it also makes sure that all the makeup is completely removed; leaving you with young looking radiant skin.
Step 3. Toner
Toners are great for finishing off your skin. They make sure that there are no extra dust, pollution and impurities that may still be lingering even after cleansing. Toners are a great help in clearing pores to minimize breakouts and blackheads.
Step 4. Serum
Serums are formulated to brighten the skin and make it look more luminous and smooth. Not only will it prevent acne and help hydrate your skin, it also helps in strengthening your skin cells. Plus, it perfectly improves the evenness of your skin tone and reduces the number of wrinkles.
Step 5. Moisturizer
This is certainly the perfect thing to finish off your skin care routine. Moisturizers' helps your skin feel and look young since it's one of the best ways to fight facial wrinkles. Not only does it prevent flaking and dullness, it also boosts hydration in your skin.
Remember the key in creating a perfect nighttime routine, is finding the perfect products for your skin. You may have completed all the steps needed but if you are not using the product that works best for your skin, then you may see zero to little changes. So be sure to find the products that are compatible to the skin type that you have and work with them.
What would you add to the list? Let me know your thoughts in the comment section below, I would love to hear them!