Our eyes are considered to be the gateway to our soul which is the more reason why we have to prevent those fine lines, bags and dark circles.
We all know that the skin around our eyes is the thinnest layer of skin on our entire body – making it the most sensitive. That's why, using a cream made specifically for your eye is crucial, especially as we age.
We often think that our moisturizers and serums are already enough. Sure they may do wonders to the rest of our face, but they're not the right consistency for the thinner skin surrounding the eye.
In fact, heavy moisturizers can actually make our eyes puffier.
So, if you want to keep eye puffiness, dark circles, and signs of aging at bay then eye creams are the definite solution to your problem.
And to help you get started in finding the perfect eye cream, we have decided to gather 6 eye creams that are certainly worth every penny.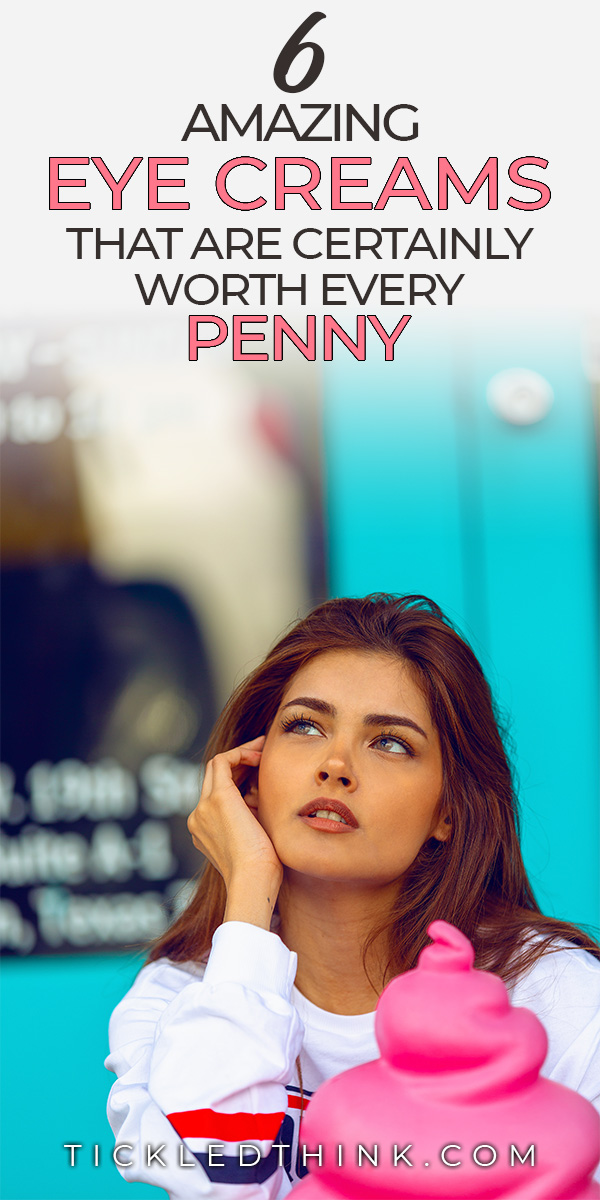 Check them out to see which eye cream is best suited for your needs!
Belif Moisturizing Eye Bomb
This product is seriously amazing! It feels very lightweight and refreshing.
It is formulated to smooth fine lines, boosts elasticity and increasing the resilience of your skin for flawless makeup application.
This product provides intensive moisture – giving you radiant and youthful-looking eyes!
It has a cooling texture that instantly bursts with hydration and it blends seamlessly – keeping your eye area supple and hydrated.
Kora Organics Noni Glow Radiant Eye Treatment Oil
This is an organic eye treatment which is formulated to smooth, tone and brighten our eye area.
It easily softens fine lines; reduce dark under-eye circles while firming the skin around the eye for a youthful, radiant appearance.
Plus, it also reduces puffiness! Amazing, right?
Kiehl's Creamy Eye Treatment with Avocado
This is a moisturizing under-eye cream which is formulated with avocado oil. This eye cream is perfect for hydrating and moisturizing the eye area.
Not only does it contain effective natural ingredients that'll provide essential daily hydration and protection, but it is also perfect to use for under eye makeup!
This product will leave your eye area softer, supple and more youthful-looking. Go ahead and give it a try!
OLEHENRIKSEN Banana Bright Eye Crème
This is a brightening, vitamin C-rich eye cream. It contains special pigments that'll instantly brighten the eye area.
This product easily targets the signs of aging; it reduces the look of those dreaded dark circles.
One of the best things about this product is that it is rich in Vitamin C, allowing it to help revive and illuminate your entire eye area over time.
Origins GinZing Refreshing Eye Cream to Brighten and Depuff
This product is also a very refreshing eye cream. It easily helps brighten the eye area by diminishing the appearance of dark circles and puffiness.
And since it is also formulated with coffee beans and natural optical brighteners, it rapidly helps wake up and refresh your tired eyes.
Definitely the perfect solution after a long sleepless night!
Peter Thomas Roth Mega Rich Intensive Anti-Aging Cellular Eye Cream
This is a hydrating eye cream that is created for all skin types which has visible or more defined wrinkles around the eye area. This product is formulated with amazing anti-aging benefits!
It easily helps reduce fine lines while visibly lifting and firming your delicate eye area – leaving you with a younger looking skin!
With thousands of eye cream's available at the market, finding the perfect product can be a little difficult. But as long as you listen to your skin's needs and make smart choices then you could never go wrong.
So, go ahead and give these products a try and let me know how it goes!
Do you have any favorites that you would like to add on this list? Let me know in the comment section below or send me an email, I would love to hear from you!