Blogging has really helped shaped my life in so many ways. The thrill I get every time I see people reading our posts is just amazing.
It has also been a tremendous help in getting me through some of my darkest days. Being able to write my story and inspire others going through the same struggles helps me get out of bed in the morning and continue to push through.
And for someone living with Depression, getting out of bed and doing something is a major milestone.
Hi, everyone! Welcome to our June 2018 Income Report – this is the place where we share with you our blogging journey. All the ups and downs, twist and turns, wins, lessons and of course how we eventually made money from blogging.
I've always wanted to write an Income Report but I was thinking that since we were not really making a large amount of money and we were just starting out, it wasn't really that relevant to share it. But that is where I'm completely wrong.
WHY WRITE AN INCOME REPORT
After reading a few income reports myself (from small to big bloggers) I've realized that it doesn't really matter how much money you've earned from doing it. Income Reports are a form of motivation; they give us that extra push every time we feel like we can't make it. They remind us, readers, that everyone started at the bottom and with hard work, determination and faith, we can also achieve success.
And that is my purpose for writing this, to inspire all those bloggers who are just starting out, thinking that you are not seeing any progress or even for those who are planning to start a blog – I tell you, making money from blogging is definitely possible.
Plus, Income Reports are also a great source for learning new tips on how to increase blog traffic and revenue. But before we get into that, let me tell you a little back-story on how we started.
HOW WE STARTED (If you have already read our first Income Report, feel free to skip this one)
We launched our blog on the 3rd week of March. It was a dark time in my life. I considered it as one of my lowest points. I had to quit my job, I was diagnosed with Major Depressive Disorder, and I had panic attacks. I had zero savings, no backup plan what so ever. I was a mess.
I was lost, stuck. I didn't know what to do next. I had no idea what path to take but I knew I wanted more.
After coming across an Income Report on Pinterest (see, Income Reports are inspiring) I had this sudden rush of wanting to start my own blog. You know the feeling of having butterflies in your stomach – I felt that but it was the good kind.
So, despite having very limited technical knowledge on blogging, I decided to dive right in. I bought my domain with Bluehost.
A quick side note:
If you are planning to start your own blog and you're debating on whether you should invest in a self-hosted site, I strongly suggest that you do. If you have plans of monetizing your blog, a self-hosted site is the best way to go. It will be so much easier for you to be accepted to ad networks and it just gives you more security and flexibility.
And I seriously suggest going with Bluehost, its super budget-friendly – I haven't seen any better offers and they are helpful, they will guide you with the process if you ever have any troubles.
Get started with Bluehost using this link
I didn't want to spend too much money on my domain (I'm broke) so, definitely Bluehost was a great choice and I asked my sister and boyfriend to join me.
We published a total of 25 articles since we wanted to put as much content as we can to get faster ad network approval. We knew that we wanted to monetize our blog from day 1, so, we automatically applied for Adsense. And the number of articles must have helped since we got the approval after just a few days (yey) – that was definitely a win for us.
Now here comes the hard part, we knew that starting a blog was not easy but we never expected it to be that overwhelming. We were so lost; we didn't know how to start promoting or what to do next. There was just so much to do and we didn't know where to begin.
And you know how frustrating it is when you're just starting out and you're hopelessly seeking for great answers but unfortunately, you'd realize that all great answers come with a price. And since we literally didn't have any money to spare – enrolling on a course or even buying an e-book was no option (It was just sad)
That left us so discouraged and demotivated to even continue what we've started. We ended up taking a break from blogging for almost the whole month of April (I know, we were demotivated that fast) we didn't do any promotions; we didn't post any new content – no form of any effort at all.
Luckily, we found our stride back before the month of April ended. We made a pact that no matter what happens, we will continue to do the best that we can.
And just when we started to take things seriously this happened (ah, life)
Our Pinterest account was suspended for no reason (Imagine the frustration). All the group boards that we have been accepted to, the few followers we've collected – gone.
After about 4 long emails to Pinterest and 3 whole days – thank God, they finally fixed it! They reactivated it!
So, we basically started promoting and trying out different strategies on Pinterest around the second week of May (after the issue was fixed) and I tell you, hard work and determination really do pay off.
For the month of May, we had a total of 22,217 page views.
And here's how we did for the month of June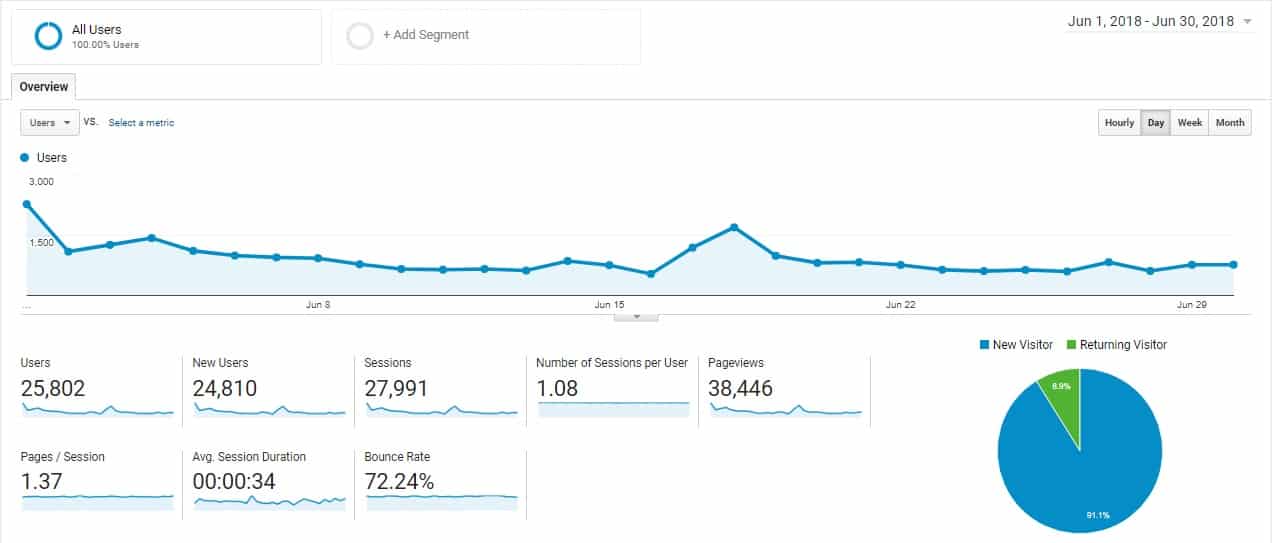 We were able to reach 38,446 page views.
This may not seem like a very large number for others but for us, this was definitely a major win.
Here's our Income Report for the month of June
Google Adsense – $221.21
Amazon Affiliate – $2.47
Total Income – $ 223.68
Words could never describe how happy we were to double the amount we've earned for the month of May.
And this is still all thanks to Pinterest(our main traffic source)
We don't have any monthly expenses since we didn't invest in any tool schedulers for Pinterest. We did all these through manual pinning.
Click here to check out our Pinning Strategy.
We also don't have the luxury to invest in a course or even an e-book. So, we needed to experiment on our own. Figure out what works and find options to make it better.
And thankfully, we were able to make it work.
If you have the money to invest in an awesome course or e-book to help you out, then definitely go for it. As long as it helps then it's worth it.
But if you're like us, don't feel bad or discouraged because I'm here to tell you that you can also make it without the help of any of those things.
With hard work, perseverance, dedication and of course faith, you will be able to achieve success.
Thoughts for June
June was definitely a tough month. There was a major decrease in traffic coming from Pinterest.
And since Pinterest was our main traffic source, it really affected the average page views that we were getting on a daily basis.
You can't imagine the frustration that we've felt. We've spent days trying to figure out what we were doing wrong or what changes we've made that could have triggered that.
But thankfully, after reading a couple posts, checking updates from seasoned bloggers, we were so relieved to know that this was also happening to others (seasoned bloggers included)
And this is why being a part of amazing Facebook Groups is super helpful.
It's a perfect place where you can learn and grow with other bloggers. It's full of helpful discussions and updates.
And I'm lucky to be a part of a few Facebook Groups that has amazing members. A community which is not solely focused on their own growth but also in helping small bloggers (like me) grow.
Without them, I would have never known that traffic is usually slow during the summer season – since most people spend more time outside and lesser time on their phones and laptops.
I'm planning to create a list of Facebook groups that you should become a part of. If that's something that you would be interested in reading, let me know in the comment section below and I would definitely make that happen.
Now, let's take a look if we were able to achieve our goals for the month of June. 
As stated in our first income report post last month, here are our goals for June.
We are able to reach 27,991 sessions. 
Definitely a major win for us. We already submitted our application for Mediavine before the month of June ended; we are just waiting for their decision (crossing our fingers)
And I would just like to give a big shout out to Mediavine. Their team is just exceptional.
We were having problems exporting our Google Analytics stats in pdf format since no matter what we do, a part of the page keeps getting cut off.
And since I'm not tech savvy, at all, that was definitely a challenge but thankfully, they offered to do it for me (they saved me)
Big thanks to Mediavine's Team!
With the sudden drop in traffic coming from Pinterest, we thought that this goal was no longer attainable but thankfully, we were still able to reach 38,446 page views. 
We had a couple pins go viral during the first week of June so that definitely gave us a head start.
Reach 1,200 followers on Pinterest
We now have a total of 1,334 followers on Pinterest.
Get our first affiliate sale
We got our first ever affiliate sale coming from Amazon for $2.47. Though it's not a large amount, we are still happy for that small win.
We only had a total of 150 email subscribers, for the month of May. Now we have a total of 380 email subscribers.
We are ecstatic to know that we were able to achieve all our goals for the month of June despite all the struggles and challenges that we've faced.
It just goes to show that as long as you continue to push forward and work hard, despite the struggles and challenges you will make it.
Now it's time to start working on our goals for July
Reach 45,000 page views
Grow our Pinterest Following to 1,500
Get our first Affiliate sale with Bluehost
Grow our email list to 500 email subscribers
One last takeaway for June
I've learned that with the uncertainty in traffic, it's smart to learn to diversify not only your income sources but also your traffic source.
So, just in case something happens with your first major source of traffic, you would always have a backup plan and it won't affect you too much.
Especially if you are planning to solely rely on your Blog Income in the future, it would be best to learn to explore other sources of traffic and other ways to monetize, to avoid any stress and frustration just in case anything happens.
That's it for this month! I hope this Income Report will inspire you to pursue your blogging dreams and to keep pushing and fighting, despite the challenges and struggles because it's definitely worth it.
And for anyone out there who feels discouraged or overwhelmed, you are not alone. Just continue to persevere and don't compare your first few months to other's years. Work on your own pace, focus on your own growth and keep learning, you will definitely make it!
Thank you so much for reading!