You can never go wrong with face masks. They're just amazing at taking the stress out of a crappy day as they are at banishing unwanted oils, minimizing pores and preventing future blemishes. But instead of running around town to find the perfect face mask why not look a little closer at home. I know we love treating ourselves with a fancy facial but there are plenty of quick and simple DIY versions that are super easy to do and you won't have to spend tons of money for it.
That's why today, I have decided to gather 10 amazing DIY face mask to give your skin a treat.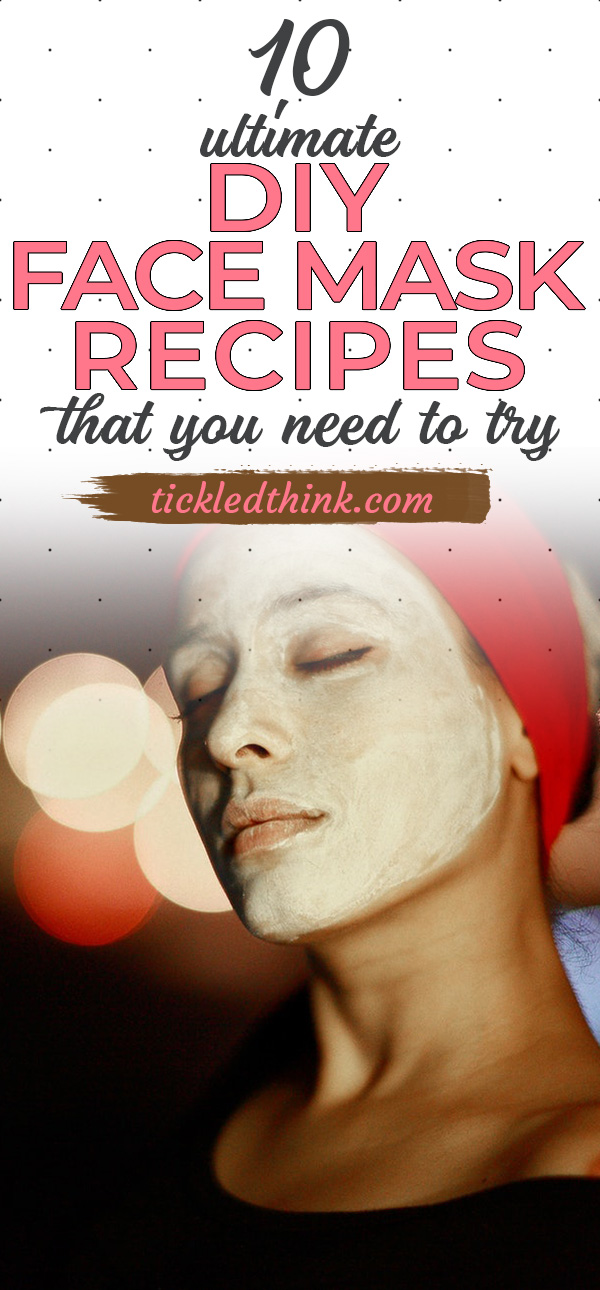 Papaya and Aloe Vera Mask
When your skin's looking pretty plain and dull then just whack this mask up for a youthful and glowing skin. For those who have sensitive skin,you don't have to worry, there is not a strong acid in sight. Aloe Vera is bursting with vitamins which helps your skin look radiant, hydrated and feel smooth.
Teamed up with Papaya, which is packed with exfoliating enzymes that helpremove all those dead skin cells. Simply pop all three ingredients into a bowl, stir then let it sit for about 10 minutes and wipe off with tissue.
What you need:
1 tablespoon of cacao powder.
1/4 papaya.
1 tablespoon of Aloe Vera gel.
Oatmeal and Avocado Mask
If your moisturizer isn't doing enough to quench your skin, then this mask will surely do you good. Honey is great in keeping the moisture on your skinwithout it feeling greasy. If you prefer using honey alone then that's absolutely okay but if you want step up your skincare game then try adding in oats. Oats are brilliant at nourishing, calming and soothing your skin.
Adding mashed avocado will banish any roughness and leaves your skin feeling silky smooth.
What you need:
1/2 Avocado
1 tablespoon of honey
A handful of oats
Yogurt and Honey Mask
Uneven skin? Then grab these 3 inexpensive ingredients to achieve a super smooth and supple skin. Yogurt is commonly known for lifting away rough and dead surface cells and uncover much newer, brighter ones. While Honey, helps your skin feel extra smooth and tightens it. Turmeric on the other hand, is useful for combating pigmentation.
What you need:
1 tablespoon of natural, plain yogurt
1 tablespoon of honey
1 tablespoon of turmeric powder
Avocado and Cucumber Mask
This mask will leave your skin feeling clean and fresh. Cucumber contains water which will hydrate your skin. It also contains Vitamin C that will help prevent future breakouts.
Avocado helpsin reducing fine lines and wrinkles since it's rich in Oleic Acid.
Blend the Cucumber and put in into a small bowl along with the Avocado. Mix until it turns into a paste texture. Apply it all over your face. Leave the mask on for 20 minutes.
What you need:
Half an avocado.
1/4 cucumber, blended.
Coffee and Turmeric Mask
Mixing these 3 ingredients all together will definitely level up your skin. Coffee is full of caffeine and antioxidants. It will help reduce inflammation. If you want to brighten your skin then turmeric is the answer.
Yogurt is filled with lactic acids that help smoothen out the skin. Mix all the ingredients together. Apply it all over your face. Leave the mask on for 20 minutes before removing it with a warm, damp towel.
What you need:
1 tablespoon of instant or ground coffee
1 tablespoon of powdered turmeric
1 tablespoon of Greek yogurt
Papaya and Yogurt Mask
Papaya is high in Vitamin C creating a smooth and clear skin. Mix the papaya and yogurt together and then apply it to a clean face and neck. Leave the mask on for 5 to 10 minutes. Wash off with water and follow with toner and facial moisturizer.
What you need:
2 tablespoons of ripe, mashed papaya
1 tablespoon of full-fat plain yogurt
Coffee and Aloe Vera Mask
Coffee gently exfoliates and tightens your skin. While the Aloe Vera hydrates your skin making it look fresh and youthful. Mix the coffee grounds and honey together until a paste forms. Add in the aloe gel until everything is well combined. Apply the mask to your face and leave it on for 10 minutes before washing off.
What you need:
1 tablespoon of finely ground espresso beans
1 tablespoon of honey
1 1/2 teaspoon of aloe gel
Egg White and turmeric Mask
This is perfect for those who have oily skin since the proteins of the egg whites tightens pores and gets rid of acne-causing bacteria. While turmeric contains brightening properties that helps even out your skin tone. Leave the mask on for 15 minutes. Make sure to use an old shirt since the turmeric may stain.
What you need:
1 egg whites
1 teaspoon of orange juice
1/2 teaspoon of turmeric powder
Cinnamon and Lemon Mask
Cinnamon is commonly known to help reduce inflammation and redness. Plus, it soaks up the excess oil on your skin. While lemons doesnot only exfoliate your skin, but it can also help minimize dark spots. Warm the honey in the microwave for a few seconds, then combine it with the cinnamon and the juice of a lemon into a small bowl. Gently massage the mixture onto your face and leave on for about 15-20 minutes, then rinse off.
What you need:
2 tablespoons of pure honey
1 teaspoon of cinnamon
1 wedge of fresh lemon
Honey and Nutmeg Mask
Treat those acne prone skin with this honey and milk mask. Honey is widely known for killing unwanted bacteria helping you prevent those future breakouts. While the nutmeg acts as a gentle exfoliator, perfect for those who have sensitive skin. Let it sink in for 10-15 minutes before rinsing and then follow up with your favorite moisturizer.
What you need:
2 tablespoons of honey
2 tablespoons of nutmeg
2 teaspoons of milk
So, give your skin a treat and try these this weekend. Do you have any favorites on this list? Let me know in the comment section below or send me an email, I would love to hear from you!