I think there is no denying the fact that we all love a great shopping spree, I mean, who doesn't, right? But you must also remember that tackling this favorite activity with a plan in place can save you so much time, money and frustration. Now, I'm not saying I'm 100% successful when it comes to beauty shopping. Beauty shopping has always been one of my weaknesses. One second I was just popping in to grab a new mascara, then 20 minutes later, I come out of the store with a bag full of makeup.
We all love skin care and beauty. I think there's nothing wrong about us caring about the way we look. It's important to take care of your skin but it's also important to not be manipulated into spending an insane amount of money to a product that doesn't even work.
That's why today, I have decided to gather 6 brilliant tips that will help you become a smart beauty shopper. Between reading reviews, studying prices, there are steps you can implement into your shopping routine to make sure you score the best and most practical product for your needs. So, check them out!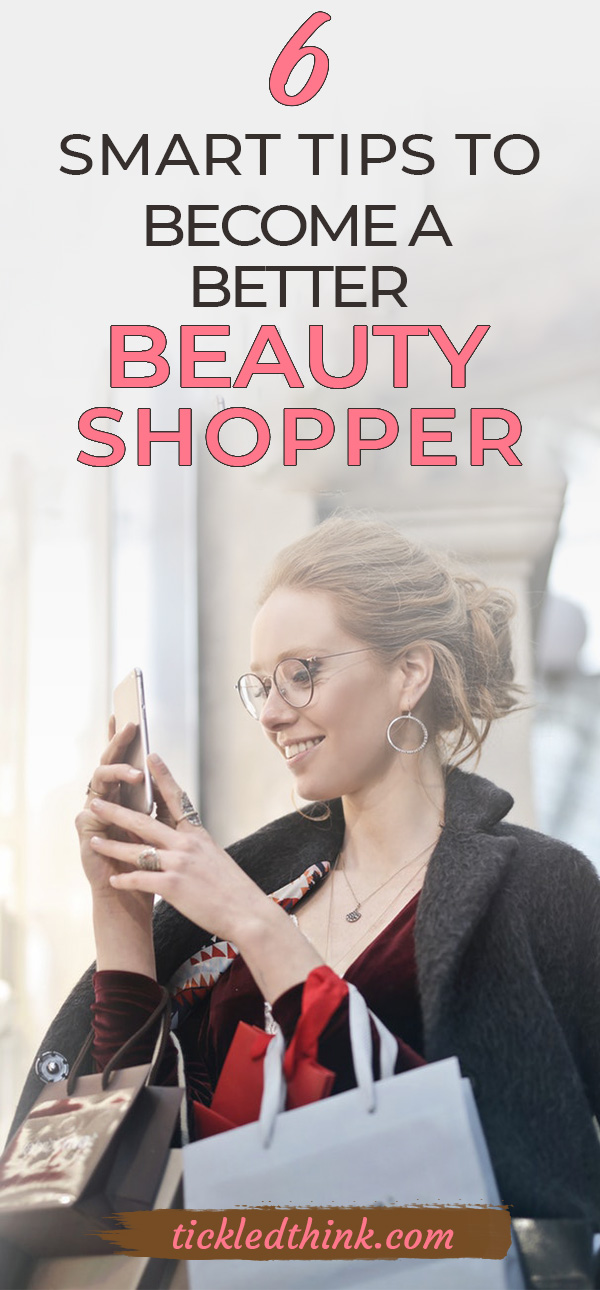 Create a realistic budget
I know budgeting takes a lot of work but it's also our best ally to avoid overspending since it will give you a realistic figure of how much you can spend shopping. If you just drift aimlessly, tossing your money at every pretty object that happens to catch your eye, how will you ever save money and you'll just end up with things that you don't exactly need. Creating a realistic budget forces you to get what you truly need and not overspend.
Read Reviews
This here is very important, especially if you are shopping online. If you're interested in getting a new moisturizer that just hit the market or maybe even a high-end makeup palette that's very expensive. Do your research first! There are plenty of websites that discuss the newest products out on the market. See what other people think before you take the plunge and while not every review might pertain to you (our skin have different needs) you'll at least get a better picture of what to expect. If the majority of the reviews says that the eyeshadow isn't that blendable or highly pigmented well chances are it probably isn't worth your money.
Get Samples First
If the reviews haven't swayed you enough getting a sample first and trying it out for yourself is the perfect solution. Just because one person dislikes it, doesn't mean it won't work for you. We have different skin and hair needs. Most beauty counters (like Sephora and Ulta) or department stores will set aside a small sample if you ask. Try it for a few days and then make a decision if your skin really needs it. This way, you avoid the whole return process altogether.
Study Prices
A lot of beauty products are sold straight from the brand's website as well as in department stores but they often have different prices. If you are about to buy a new product check the brand's actual website, as well as stores like Sephora, Ulta, and other major department stores for the best price before purchasing it.
Make sure that the Packaging is hygienic
The recommended and best packaging for most beauty products are tubes, pumps, and air-tight, dark bottles. Packaging that is frequently in contact with air like jars and your fingers, is more prone to contamination and spreading of bacteria. If you have a product that is in a jar, you can use a small spoon to get out the cream to minimize the spreading of bacteria. Most forms of vitamin C doesn't work well with any kind of exposure to light and air, it will quickly make it lose its effectiveness.
Look Out For Online Deals
You have to check for special store offers online that'll include a certain dollar amount off. I know Sephora does a VIP sale now and then, just keep your eye out. Also, remember to price check the product online and in the store, it may be possible that the in-store sale is greater than what's offered online. Don't be afraid to put your search bar into a test. It's always good to find a huge deal.
You don't always have to spend tons of money while shopping for beauty products. You just have to make smart choices and find other alternatives. So, try these tips today and let me know how it goes!
What about you? Do you have any tips of your own? Let me know in the comment section below or send me an email, I would love to hear from you!