With summer just lurking around the corner, I bet almost all of you are already planning your perfect summer getaways. A fun long day at the beach, going on a road trip with your closest friends and of course, let's not forget, camping. Yes, camping – the perfect way to unplug ourselves from technology, get away from all the hustle and bustle of the city,  and just spend quality time with your friends and family while enjoying the beauty and calmness of nature.
And if you're planning on going camping this summer, then you are certainly in for a treat, I have gathered 8 brilliant camping hacks that will surely make camping even more enjoyable and so much easier. So check these hacks now!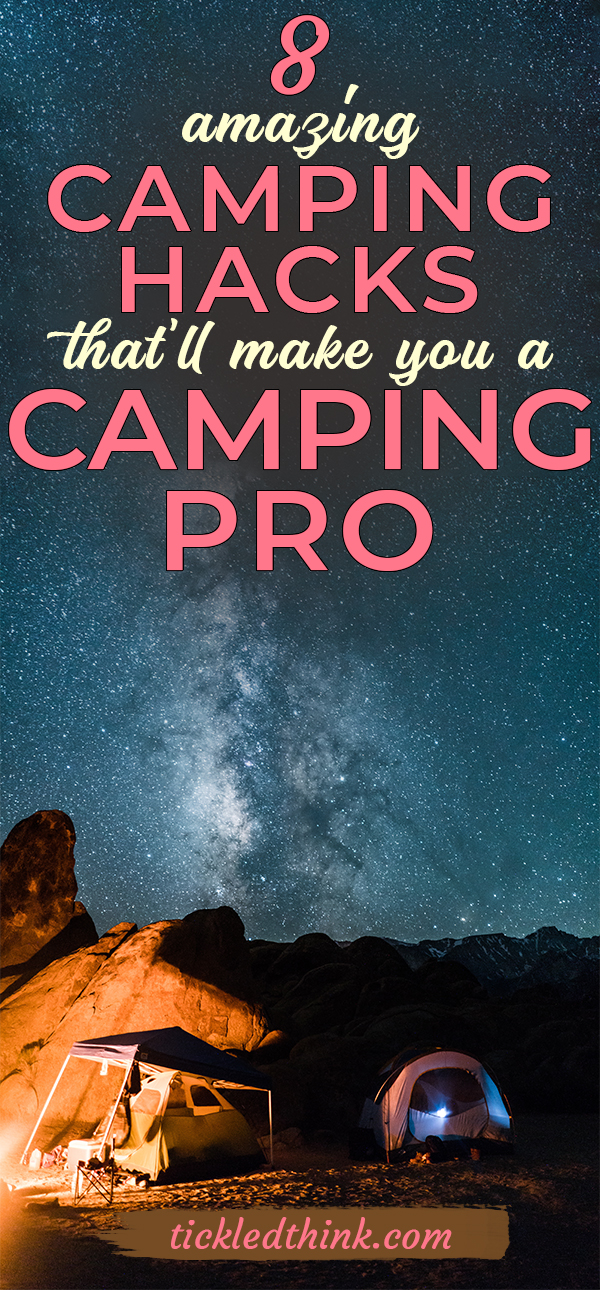 Mosquito Repellent
Mosquitoes can be really annoying. They have a knack of just destroying your mood and irritate you. So to repel yourselves from them, try placing some sage in your campfire and the smell will surely ward off those annoying mosquitoes.
Foam floor tiles
If you are not a big fan of sleeping on the ground, or if you just want to be more comfortable, try using foam floor tiles to cover your whole tent – this will certainly make sleeping much more comfortable.
Create an instant lantern
This hack is certainly brilliant! After sunset, try strapping a headlamp into a translucent jug of water and the light will easily illuminate your whole tent. This hack is just perfect for telling late night stories or even reading your favorite book.
Create a handy spice holder
Bringing all the spices that you need can be a pain, so to make it easier, why not try creating your own handy spice holder instead? All you have to do is to use tic-tac containers to store your spices – it's handy and super easy!
Take your cup of joe with you
A good cup of coffee is always the best way to start my morning; if you are a coffee lover like me then you will surely love this hack. You can easily make travel coffee bags out of coffee filters. All you have to do is to place a scoop of coffee grounds into a coffee filter then tie it up with a dental floss and when you're ready to have your morning cup of coffee, just place the bag into warm water and you're good to go!
Easy egg storage
You know that bringing a carton of eggs while you're travelling a rough road is quite impossible. No matter how carefully you place them in your coolers you might still end up with cracked eggs. So, to make it easier for you to bring them, try this hack.  You can beat the eggs beforehand then pour them into a water bottle. Not only will this help you avoid cracked eggs, this will also make it easier for you to pour them out when you need them.
Natural Tick Deterrent
When you are going camping, ticks could be one of your major concerns. And if you are worried about all the chemicals that a tick deterrent may have, try creating this natural tick deterrent instead. Just put 1-part tea tree oil and 2 parts water into a spray bottle and you have yourself a natural tick deterrent.
Create an easy hand-washing station
You can easily create your own hand-washing station by filling an empty laundry detergent container with water. And to catch runoff water, you can place a bucket below it and you have yourself your own sink station.
So, whether you are a camping gal or it's the first time that you are going camping these hacks will surely help you out. Try these hacks this summer and let me know what you think!
Do you have any hacks or tips that you would like to add? Let me know in the comment section below. I would love to hear from you!