One of our most common beauty concerns is our visible or large pores.
As much as we hate those large and visible pores we can't just make them go away.
But thankfully, we can make them smaller and less eye-catching.
I know that there are several skin care products in the market made to do this but before you go shopping and spend an insane amount of money, why not try these easy and natural home remedies first.
You know that I' am all about saving money, that's why today, I have decided to gather 8 simple and inexpensive remedies that can help reduce the appearance of pores. Check them out!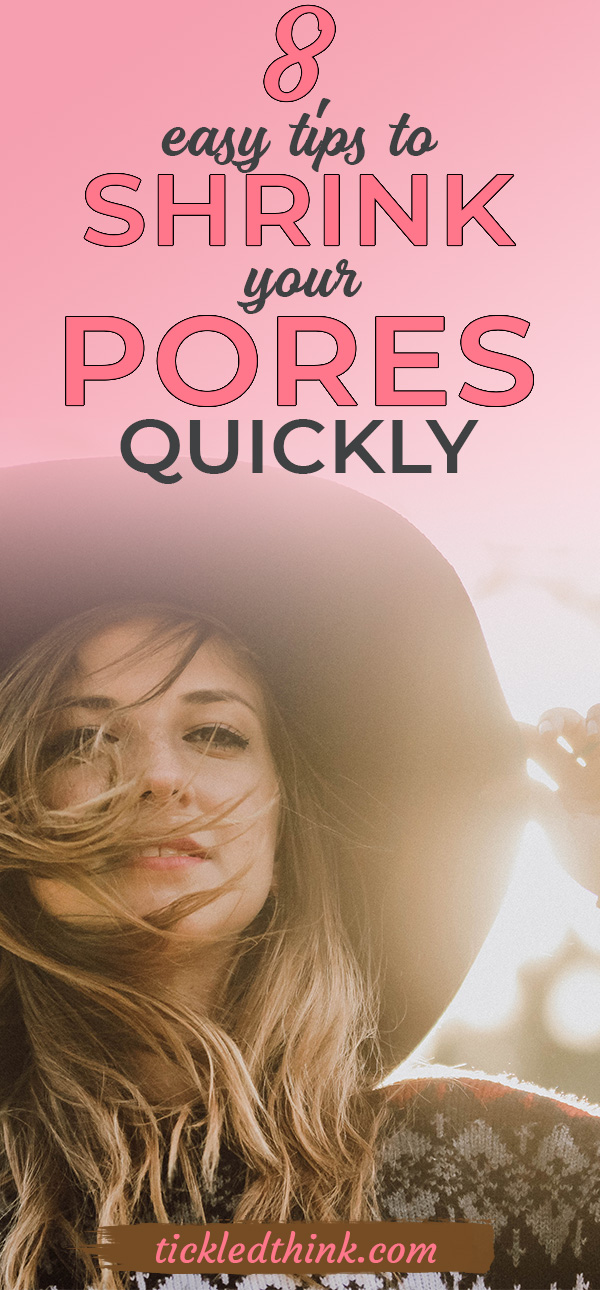 Ice
One of the best natural ways to shrink your pores is ice.
It helps tightens your skin and does a great job in shrinking your pores.
It also helps your blood circulation making your skin look healthier.
Just wrap a few cubes in a clean cloth and hold it against your skin. Do this a few times daily.
Apple Cider Vinegar
Apple Cider Vinegar is Commonly used as a toner since it helps tighten your skin and reduces large pores.
It also balances your skin's pH, keeping unwanted bacteria away and help cleanses dirt and blemishes.
Just mix equal amounts of Apple Cider Vinegar and water.
Soak a cotton ball in the solution and apply it to your face. Leave it on for a few minutes, and then rinse it off.
Egg Whites
Egg whites does not only tone and tighten your skin but it also great in drawing unwanted oil out of your skin.
It's also amazing in cleansing your pores and tightening the skin around it.
Simply whisk an egg white and spread it evenly on your face. Allow it to dry completely, and then rinse it off.
Yogurt
Yogurt is commonly known to have lactic acid, which helps remove dead skin cells and also bad bacteria that causes acne – reducing the appearance of pore size.
Apply it directly to your face for about ten minutes, then rinse clean with warm water.
Cucumber juice
Cucumber Juice is not only known for refreshing the skin and giving it a new glow but it's also greatly known for shrinking open pores.
First, grate a fresh cucumber and then extract the juice of one fresh cucumber (squeeze out the juice or use a juicer).
Apply the juice on your skin with a cotton ball. Let it work for 15 and then wash it off with cold water.
Lemon Juice
Lemon juice is widely known for its alpha hydroxy acids that help remove dead skin cells from our skin.
Mix the lemon juice with water. Apply the juice on your skin using a cotton ball.
Let it sink into the skin and then wash it off with cold water.
Tomato
Tomato contains high levels of vitamins A and C and antioxidants that helps in clearing your large pores.
It is also great in reducing acne. Smooth the pulp of a ripe tomato over your face, let it sit for about 20 minutes and wash it off with warm water.
Honey
Honey is antibacterial and has super healing benefits.
Raw and organic honey is much preferable in unclogging your pores.
Apply the honey directly your face. Allow it to sit for 5 minutes, and then rinse off with cool water.
We really don't need to spend tons of money to achieve healthy and glowing skin.
We just have to be creative and open to other alternatives.
So, why not these today and let me know what you think!
Your Turn…
Do you have anything to add on this list? Let me know in the comment section below or send me an email, I would love to hear from you!