A thought-provoking collection of arrogance quotes and quotes about being arrogant that'll make you think and give you wisdom.
It's easy to mistake arrogance with confidence and self-respect that's why it's important to know and recognize the difference between them.
For starters, being confident means that you are willing to learn from other people. You are humble enough to recognize your faults and mistakes and are willing to do what you can to correct them.
Whereas, being arrogant or arrogant people thinks that their opinion is the only thing that matters. They refuse to listen to other people because they think that they are far more superior than them.
It's important to remember that being arrogant will only keep you from learning, growing, and unlocking your fullest potential. It will destroy relationships, hurt people and yourself, and will only negatively impact your life.
May these arrogance quotes below and quotes on being arrogant inspire you to maintain humility and choose confidence over arrogance.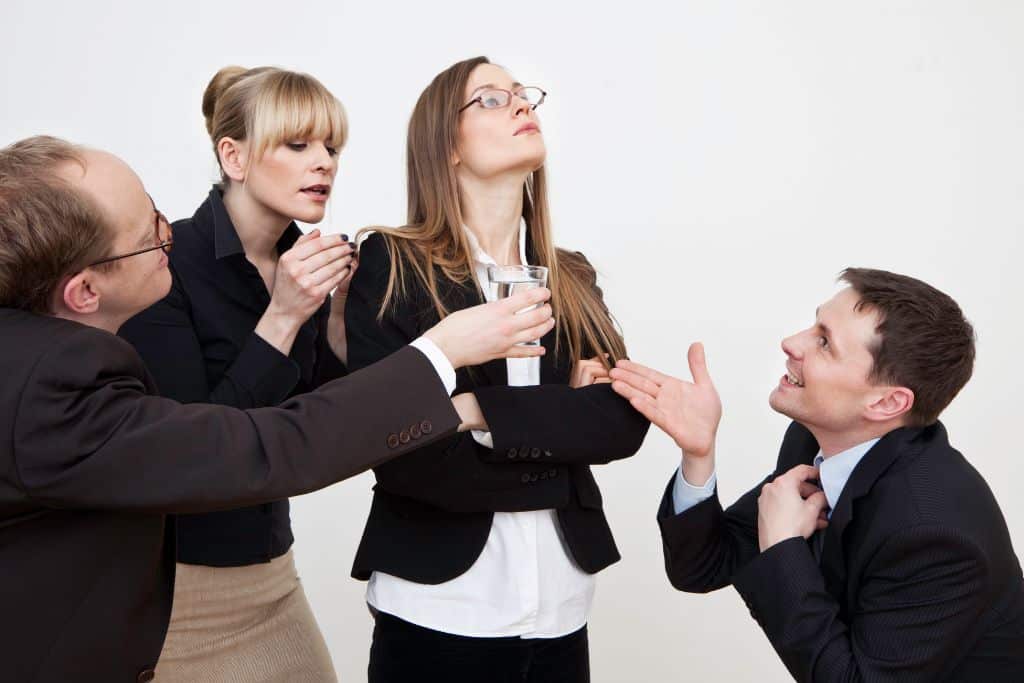 Arrogance Quotes and Sayings
Arrogance diminishes wisdom.
— Arabian Proverb
There are two kinds of pride, both good and bad. 'Good pride' represents our dignity and self-respect. 'Bad pride' is the deadly sin of superiority that reeks of conceit and arrogance.
— John C. Maxwell
Arrogance really comes from insecurity, and in the end our feeling that we are bigger than others is really the flip side of our feeling that we are smaller than others.
— Desmond Tutu
There is a very thin line between confidence and arrogance.
— Adam Peaty
Don't confuse confidence with arrogance. Arrogance is being full of yourself, feeling you're always right, and believing your accomplishments or abilities make you better than other people. People often believe arrogance is excessive confidence, but it's really a lack of confidence. Arrogant people are insecure, and often repel others. Truly confident people feel good about themselves and attract others to them.
— Christie Hartman
An arrogant person considers himself perfect. This is the chief harm of arrogance. It interferes with a person's main task in life – becoming a better person.
— Leo Tolstoy
Arrogance is a self-defense tactic to disguise insecurities.
— Caroll Michels
The truest characters of ignorance are vanity and pride and arrogance.
— Samuel Butler
Arrogance is an illusion of superiority one perpetrates upon their self. Some may ultimately find their way through the illusion, but only after many losses.
— Debra Crown
If you aren't humble, whatever empathy you claim is false and probably results from some arrogance or the desire to control. But true empathy is rooted in humility and the understanding that there are many people with as much to contribute in life as you.
— Anand Mahindra
Arrogance is blind to the stumbling block.
— Toba Beta
Arrogance quotes that'll help you stay humble
Do not let arrogance go to your head and despair to your heart; do not let compliments go to your head and criticisms to your heart; do not let success go to your head and failure to your heart.
— Roy T. Bennett
Close some doors today. not because of pride, incapacity or arrogance, but simply because they lead you nowhere
Be careful not to mistake insecurity and inadequacy for humility! Humility has nothing to do with the insecure and inadequate! Just like arrogance has nothing to do with greatness!
— C. JoyBell C.
Arrogance is the obstruction of wisdom.
— Bion of Smyrna
You never really learn much from hearing yourself speak.
— George Clooney
None are more unjust in their judgments of others than those who have a high opinion of themselves.
— Charles Spurgeon
Class is an aura of confidence that is being sure without being cocky. Class has nothing to do with money. Class never runs scared. It is self-discipline and self-knowledge. It's the sure-footedness that comes with having proved you can meet life.
— Ann Landers
What begins in arrogance often ends in shame.
— Walter Russell Mead
Arrogance is a creature. It does not have senses.
It has only a sharp tongue and the pointing finger.
— Toba Beta
The smaller the mind the greater the conceit.
— Aesop
Those who travel to mountain-tops are half in love with themselves, and half in love with oblivion.
— Robert Macfarlane
Related Posts:
Arrogance quotes that'll open your eyes
People who make up their minds about something never listen to advice – especially when it's the contrary.
— Steven Erikson
There are two circumstances that lead to arrogance: one is when you're wrong and you can't face it; the other is when you're right and nobody else can face it.
— Criss Jami
The arrogance of some people makes even their virtues appear vices.
— Bouhours
Arrogance leads to disaster, sometimes it's better not to be your own master.
— Luke Garner
Man in his arrogance thinks himself a great work, worthy of the interposition of a deity. More humble, and I believe truer, to consider him created from animals.
— Charles Darwin
The only thing more dangerous than ignorance is arrogance.
— Albert Einstein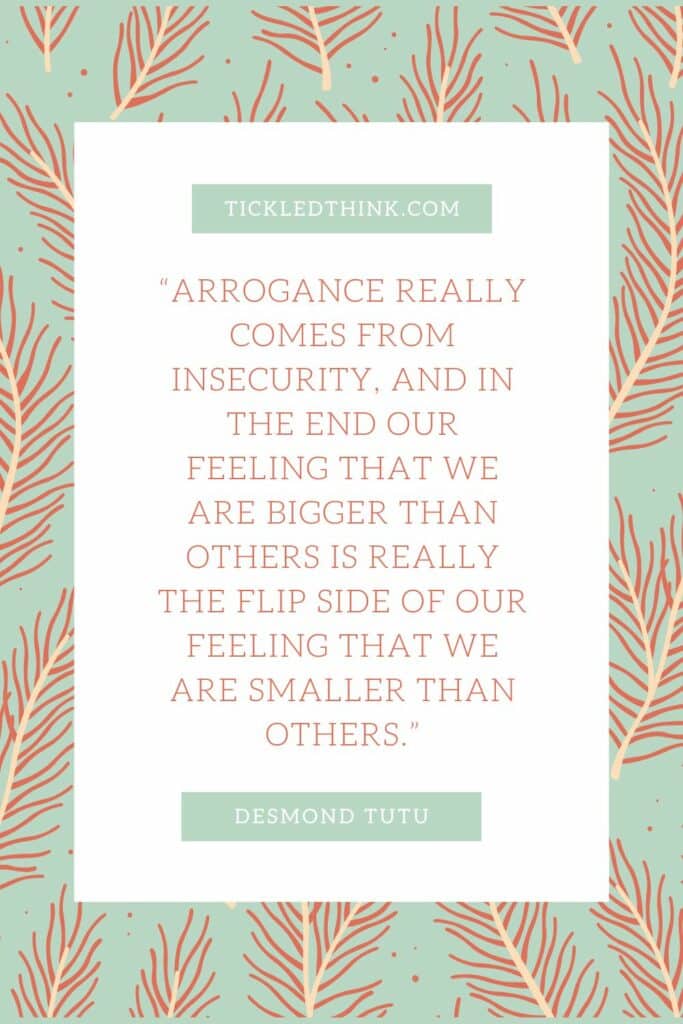 Never mistake arrogance for intellect.
— D.B. Harrop
Blinded by his arrogance, he failed to see the truth.
— Oshiego
Arrogance is knowledge minus wisdom.
— Celso Cukierkorn
Pride is the mother of arrogance.
— Toba Beta
Arrogance is not the prerogative of the gifted.
— Andy Hargreaves
Arrogance quotes that'll give you wisdom
People who worship only themselves get a slick, polished look — like monuments. Too bad they had to go so soon.
— Vanna Bonta
An arrogant bug is a cocky roach.
— American Proverb
It is the certainty that they possess the truth that makes men cruel.
— Anatole France
It's only arrogance if you're wrong.
— Simone De Beauvoir
Ignorance is a horrible thing. But arrogance, the belief that knowing a little more than the ignorant makes you wise, is more horrible still.
— James Rozoff
Early in my career…I had to choose between an honest arrogance and a hypercritical humility… I deliberately choose an honest arrogance, and I've never been sorry.
— Frank Lloyd Wright
Arrogance is shown in one's respect to the truth.
— Lionel Suggs
A woman who holds her head up too high, is trying to breathe from her own pollution.
— Suzy Kassem
The opposite of humility is arrogance–the belief that we are wiser or better than others. Arrogance promotes separation rather than community. It looms like a brick wall between us and those from whom we could learn.
— John Marks Templeton
Without humor, we'd all be what we're laughing at. Without arrogance, we'd be humiliated to admit we already are.
— Bauvard
Arrogant people are non-learners. They invest their energies in maintaining a cozy feeling of complacency, and complacency is the biggest single enemy to the process of continuously learning from experience. Arrogant people are exactly the sort of people who are destined to have one year's experience 20 times rather than 20 years' worth of experience.
— Peter Honey
Quotes About Pride and Arrogance
Arrogance likes to appear humble in public.
— Toba Beta
Nobody can be so amusingly arrogant as a young man who has just discovered an old idea and thinks it is his own.
— Sydney J. Harris
A prig is a fellow who is always making you a present of his opinions.
— George Eliot
Arrogance occurs in people who have achieved something and believe that they independently caused their own success with no assistance, support, or input from others.
— Cherie Carter-Scott
Your heart is the center of humility, your mind could be the source of arrogance.
— Tariq Ramadan
All too often arrogance accompanies strength, and we must never assume that justice is on the side of the strong. The use of power must always be accompanied by moral choice.
— Theodore Bikel
Arrogance and rudeness are training wheels on the bicycle of life — for weak people who cannot keep their balance without them.
— Laura Teresa Marquez
People often confuse self-respect with arrogance. I believe that there is a very thin line between the two. Balance between the two is often what leads to happiness.
— Sonali Bendre
How great some people would be if they were not arrogant.
— The Talmud
Arrogance needs advertising, confidence speaks for itself.
—Vitor Belfort
An arrogant man will still feel immortal, even on his death bed.
— Melchor Lim
Which of these arrogance quotes resonated with you the most?
More inspirational quotes for you to enjoy