These beautiful blooming quotes will inspire you to grow and bloom into the best version of yourself.
There's no denying that blooming flowers are such a sight to see. I'd like to think that flowers blooming can be a great metaphor of us growing, learning, and becoming the best version of ourselves.
Like flowers, let us blossom in life, pave our way to progress, growth, and reaching our full potential.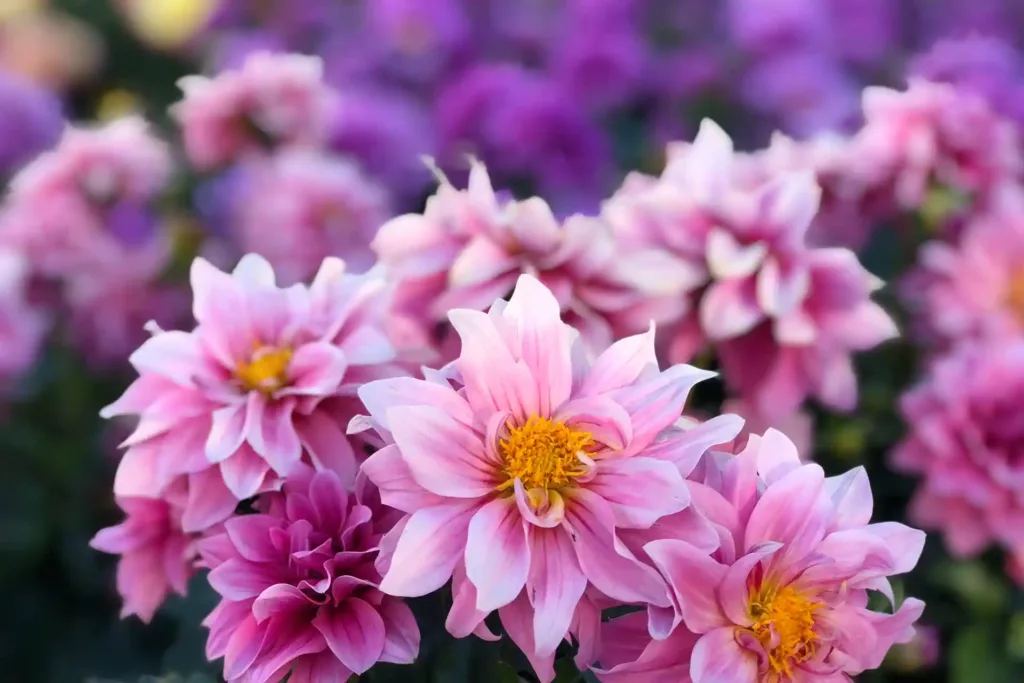 HERE ARE 60+ BLOOMING QUOTES AND QUOTES ABOUT BLOOMING
Why should I be unhappy? Every parcel of my being is in full bloom.
—Rumi
If you feel lost, disappointed, hesitant, or weak, return to yourself, to who you are, here and now and when you get there, you will discover yourself, like a lotus flower in full bloom, even in a muddy pond, beautiful and strong.
— Masaru Emoto
As long as we are persistence in our pursuit of our deepest destiny, we will continue to grow. We cannot choose the day or time when we will fully bloom. It happens in its own time.
—Denis Waitley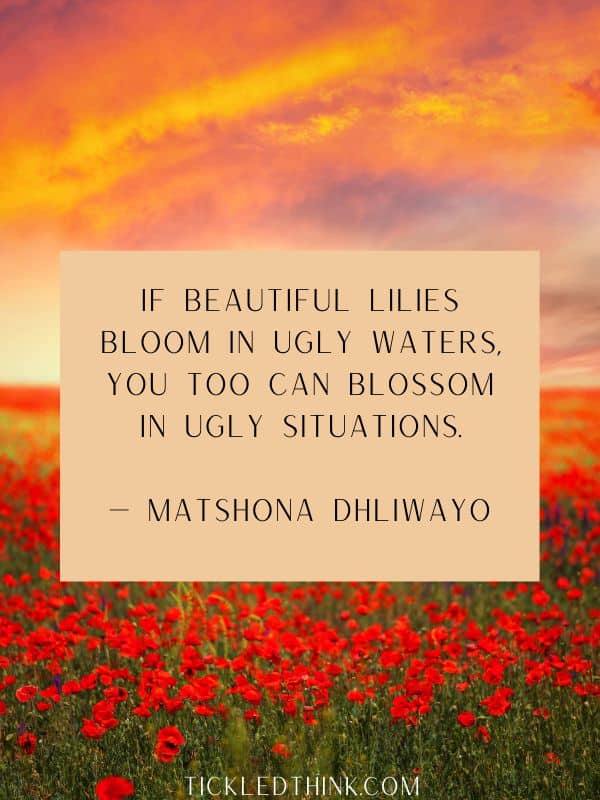 Solitude is the soil in which genius is planted, creativity grows, and legends bloom; faith in oneself is the rain that cultivates a hero to endure the storm, and bare the genesis of a new world, a new forest.
— Mike Norton
If your heart is a volcano, how shall you expect flowers to bloom?
— Khalil Gibran
It is said there are flowers that bloom only once in a hundred years. Why should there not be some that bloom once in a thousand, in ten thousand years? Perhaps we never know about them simply because this "once in a thousand years" has come today.
— Zamyatin
Change is a continuous process. You cannot assess it with the static yardstick of a limited time frame. When a seed is sown into the ground, you cannot immediately see the plant. You have to be patient. With time, it grows into a large tree. And then the flowers bloom, and only then can the fruits be plucked.
—Mamata Banerjee
she was completely whole
and yet never fully complete
— Maquita Donyel Irvin
May my soul bloom in love for all existence.
— Rudolf Steiner
If beautiful lilies bloom in ugly waters, you too can blossom in ugly situations.
— Matshona Dhliwayo
I am in awe of flowers.
Not because of their colors,
but because even though they
have dirt in their roots,
they still grow.
They still bloom.
— D. Antoinette Foy
When you're doing exactly what you want to do, it's not tiring. You've been planting these seeds, and finally, you have a full garden in bloom; you're like, 'Oh, I just want to smell the flowers and play among the flowers all day.' That's what I'm doing. I'm playing among the flowers.
— Colman Domingo
The rose has told
In one simplicity
That never life
Relinquishes a bloom
But to bestow
An ancient confidence.
— Nathalia Crane
How does the Meadow flower its bloom unfold? Because the lovely little flower is free down to its root, and in that freedom bold.
— William Wordsworth
It's not about outward appearances but inward significance. A grandeur in the world, but not of the world, a grandeur that the world doesn't understand. That first glimpse of pure otherness, in whose presence you bloom out and out and out.
A self one does not want. A heart one cannot help.
— Donna Tartt
People deal too much with the negative, with what is wrong. Why not try and see positive things, to just touch those things and make them bloom?
—Thich Nhat Hanh
Every flower blooms at a different pace.
— Suzy Kassem
I hope you will go out and let stories happen to you, and that you will work them, water them with your blood and tears and you laughter till they bloom, till you yourself burst into bloom.
— Clarissa Pinkola Estes
Love yourself, even a little bit each day, and your life will bloom into infinite joy.
— Amy Leigh Mercree
I think of love and marriage in the same way I do plants: We have perennials and annuals. The perennial plant blooms, goes away, and comes back. The annual blooms for just a season, and then winter arrives and takes it out for good. But it's still enriched the soil for the next flower to bloom. In the same way, no love is wasted.
— Glennon Doyle Melton
There was after all no mystery in the end of love, no mystery but the mystery of love itself, which was large certainly but as real as grass, as natural and unaccountable as bloom and branch and their growth.
— John Crowley
INSPIRING BLOOMING QUOTES | BLOOM QUOTES
Don't let the tall weeds cast a shadow on the beautiful flowers in your garden.
— Steve Maraboli
If you feel lost, disappointed, hesitant, or weak, return to yourself, to who you are, here and now and when you get there, you will discover yourself, like a lotus flower in full bloom, even in a muddy pond, beautiful and strong.
— Masaru Emoto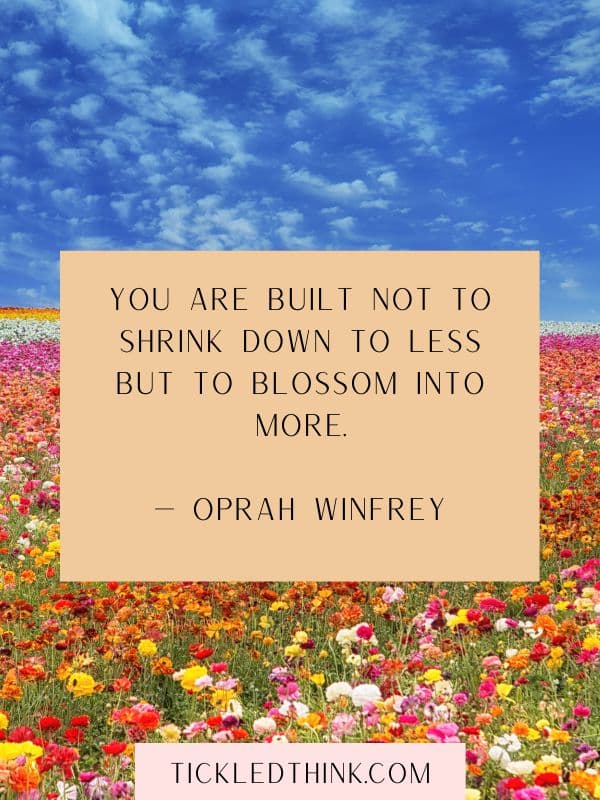 Like wildflowers; You must allow yourself to grow in all the places people thought you never would.
— E.V.
You are built not to shrink down to less but to blossom into more.
— Oprah Winfrey
The flower of the present rosily blossomed.
— Aldous Huxley
Related Posts:
Ignorance is like a delicate fruit; touch it, and the bloom is gone.
— Oscar Wilde
Don't wait for someone to bring you flowers. Plant your own garden and decorate your own soul.
— Luther Burbank
The finest qualities of our nature, like the bloom on fruits, can be preserved only by the most delicate handling.
— Henry David Thoreau
The bloom may be brief but the memory of its beauty will last a lifetime.
— Doe Zantamata
You can flourish by faith.
— Lailah Gifty Akita
A flower does not think of competing with the flower next to it. It just blooms.
— Zen Shin
If you look the right way, you can see that the whole world is a garden.
— Frances Hodgson Burnett
The perfect blossom is a rare thing. You could spend your life looking for one and it would not be a wasted life.
— Ken Watanabe
A flower does not use words to announce its arrival to the world; it just blooms.
— Matshona Dhliwayo
Every flower blooms in its own time.
— Ken Petti
A world of grief and pain
flowers bloom—
even then.
— Kobayashi Issa
Bloom where you are planted and sow where you are fed.
— Stella Payton
A little flower that blooms in May
A lovely sunset at the end of a day
Someone helping a stranger along the way
That's heaven to me
— Sam Cooke
All of us blossom when we feel loved and wither when we do not feel loved.
— Gary Chapman
Talent is like a little seed; when nurtured, it will flourish.
— Matshona Dhliwayo
MORE BLOOMING QUOTES AND INSPIRATIONAL QUOTES ABOUT BLOOMING
The earth is gentle. And the earth allows the flowers to bloom. We need to be gentle. And the flowers will bloom in our life.
— Avijeet Das
And gradually you'll bloom
For- it takes time for a flower
To bloom
— Mairaj Fatima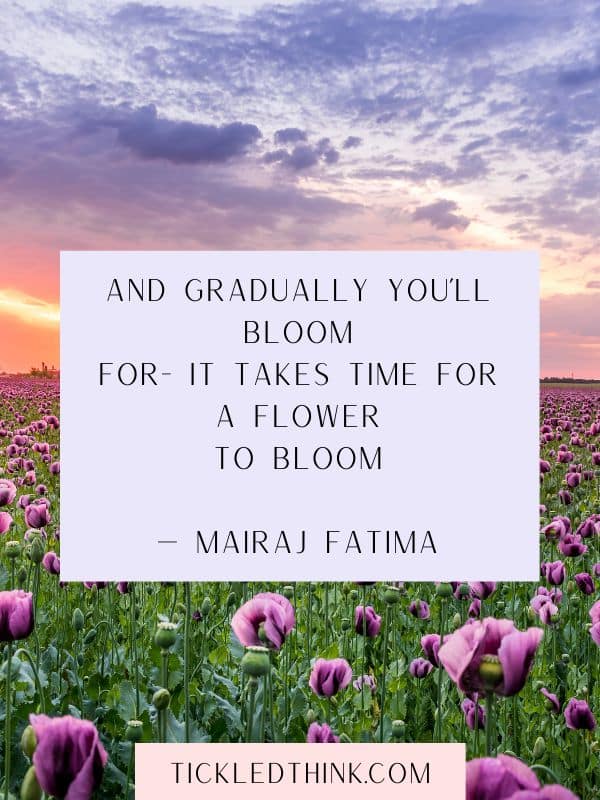 Love is like a beautiful flower which I may not touch, but whose fragrance makes the garden a place of delight just the same.
Despite the heart numbing frost, my soul is blooming like a spring flower in the garden of my imagination to beautify the world.
— Debasish Mridha, MD
A flower blooming in the desert proves to the world that adversity, no matter how great, can be overcome.
— Matshona Dhliwayo
We're all flowers waiting to bloom.
— Bert McCoy
Flowers always make people better,
happier and more helpful; they are sunshine, food and medicine for the soul. — Luther Burbank
From the ashes
I rise.
I am blooming
into something radiant.
— Melody Lee
All beings are flowers blossoming in a blossoming universe.
— Soen Nakagawa
Let a hundred flowers bloom, let a hundred schools of thought contend.
— Mao Zedong
Once the roots of love have grown deep and firm,
the flowers will keep on blooming!
— Avijeet Das
Every flower is a soul blossoming in nature.
— Gerard de Nerval
A word garden blooming within the tangled weeds.
— Jazz Feylynn
Where flowers bloom, so does hope.
— Lady Bird Johnson
Blooming and withering both are inevitable. Let's stay graceful in the process.
— Nitya Prakash
All that blooms must wither first.
— Dahi Tamara Koch
You are blooming like the rare flower you are!
— Avijeet Das
The flower that blooms in adversity is the most rare and beautiful of all.
— Robert D. San Souci
this life
has been
a landscape
of pain
and still,
flowers
bloom in it.
— Sanober Khan
Many eyes go through the meadow, but few see the flowers in it.
— Ralph Waldo Emerson
Do not allow any negativity or ugliness in your surroundings, or anybody at all, destroy your confidence or affect your growth as a blooming flower. It is very normal for one ugly weed to not want to stand alone.
— Suzy Kassem
Which of these blooming quotes resonated with you the most?
MORE INSPIRATIONAL QUOTES FOR YOU TO ENJOY