These inspirational rose quotes will inspire you to see and embrace the beauty of life, thorns included.
Roses have always been beautiful and alluring flowers. Roses are a great symbol of life and love, reminding us that we must not let adversities, pain, and thorns, stop us from seeing and enjoying the beauty of life and love.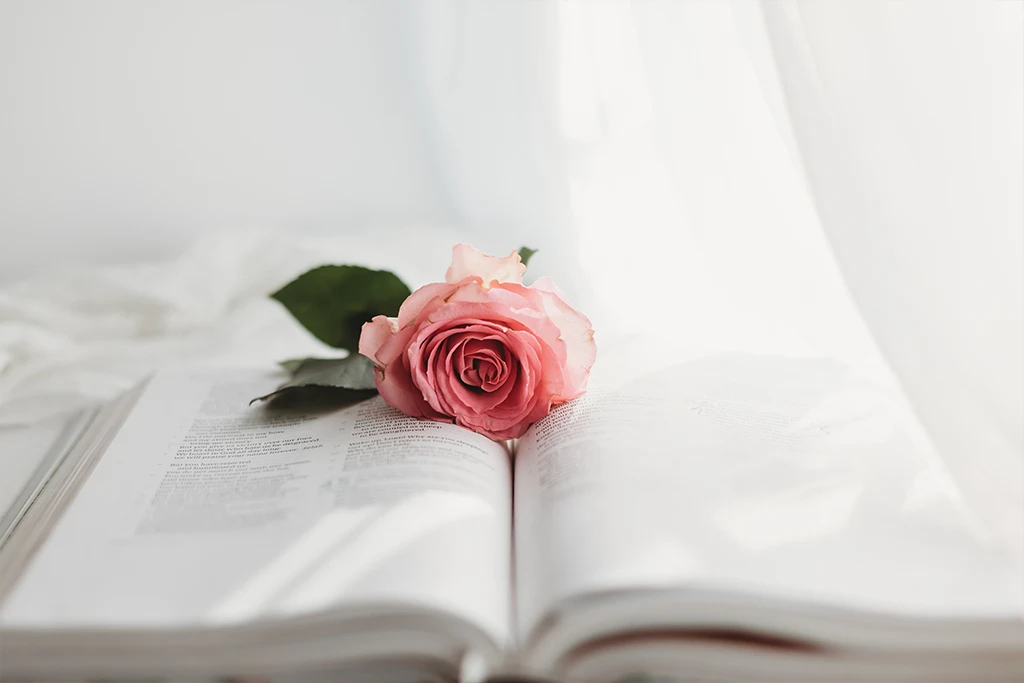 HERE ARE 60+ BEAUTIFUL QUOTES ABOUT ROSES AND ROSE QUOTES TO INSPIRE YOU
Smell the roses. Smell the coffee. Whatever it is that makes you happy.
— Rita Moreno
Roses do not bloom hurriedly; for beauty, like any masterpiece, takes time to blossom.
— Matshona Dhliwayo
As you walk down the fairway of life you must smell the roses, for you only get to play one round.
— Ben Hogan
As delicate as flower, as tender as rose petals, choosing to be tender and kind in a harsh environment is not weakness, it's courage.
— Luffina Lourduraj
Some people are always grumbling because roses have thorns; I am thankful that thorns have roses.
— Alphonse Karr
A rose does not answer its enemies with words, but with beauty.
— Matshona Dhliwayo
Life is not always going to be roses and rainbows. You are going to have uncomfortable moments. It's what we do with those moments that is going to count and determine our destiny.
— Lana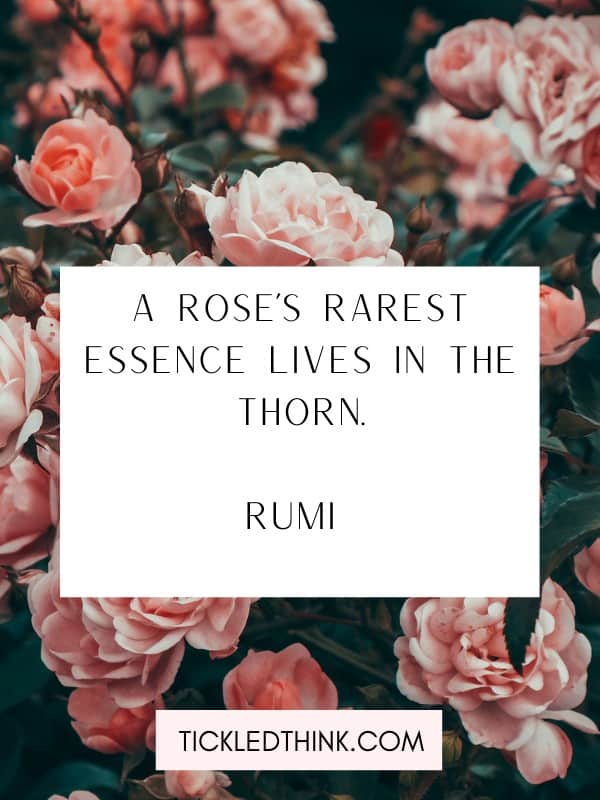 Dear Superwoman, remember that a rose does not stop looking beautiful, because of the thorns around it. So, never allow weaknesses to stop you from admiring your own strengths.
— Gift Gugu Mona
If roses tried to be sunflowers, they would lose their beauty; and if sunflowers tried to be roses, they would lose their strength.
— Matshona Dhliwayo
I'd rather have roses on my table than diamonds on my neck.
— Emma Goldman
Her lips like a dew on a red rose
Her eyes like a rainbow
In every drop of rain walking goddess glistened like a diamond
— Kshanasurya
I think life is full of challenges and problems. I don't believe that anyone is perfect. We all make mistakes. It's not a bed of roses, and you have to work real hard at it.
— Nigel Mansell
The more you love roses the more you must bear with thorns.
— Matshona Dhliwayo
The sharp thorn often produces delicate roses.
— Ovid
Her heart was tender as a rose,
His love protected her heart,
As a thorn that protects the rose.
— Luffina Lourduraj
If roses were not special weeds would not envy them.
— Matshona Dhliwayo
World without poetry is like a lover without a rose
— Shiny
A rose does not lose sleep because it was mocked by weeds.
— Matshona Dhliwayo
Related Posts:
A rose, no matter how beautiful, still has to contend with thorns.
— Matshona Dhliwayo
INSPIRING ROSE QUOTES AND SAYINGS
True love is like little roses, sweet, fragrant in small doses.
— Ana Claudia Antunes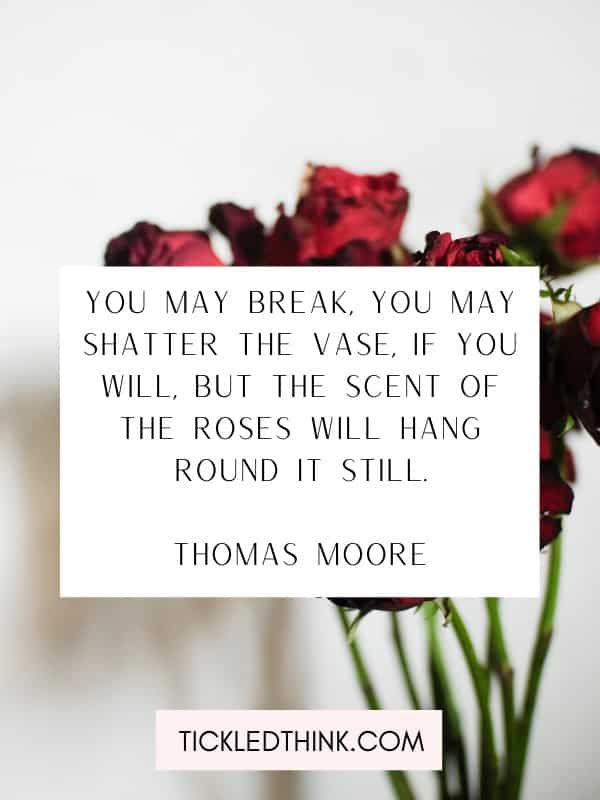 The more you focus on the beauty of roses, the more invisible their thorns become; and an anthophile will never stop loving roses even when their thorns harm him. Therefore, this is how love should be!
— Bruce Mbanzabugabo
When love came first to earth, the Spring Spread rose-beds to receive him.
— Thomas Campbell
A rose in a desert can only survive on its strength, not its beauty.
— Matshona Dhliwayo
A bit of fragrance always clings to the hand that gives you roses.
— Chinese Proverb
A rose's rarest essence lives in the thorn.
— Rumi
The red rose whispers of passion And the white rose breathes of love; O, the red rose is a falcon, And the white rose is a dove.
— John Boyle O'Reilly
If a rose is full of thorns, it does not mean it's not full of beauty.
— Matshona Dhliwayo
If you enjoy the fragrance of a rose, you must accept the thorns which it bears.
— Isaac Hayes
Just like the rose holds her beauty among the thorns- we can gather our strength from the most unlikely places.
— Christine Evangelou
Do not watch the petals fall from the rose with sadness, know that, like life, things sometimes must fade, before they can bloom again.
— Anonymous
The gentle rose offers a powerful joy known only to the heart.
— Andrew Pacholyk
Did you hear about the rose that grew from a crack in the concrete? Proving nature's laws wrong, it learned to walk without having feet. Funny, it seems to by keeping it's dreams; it learned to breathe fresh air. Long live the rose that grew from concrete when no one else even cared.
— Tupac Shakur
If you know how to make people happy with a single look, then you are a rose! If you know how to hurt people with a single touch, then you're a thorn!
— Mehmet Murat ildan
We may pass violets looking for roses. We may pass contentment looking for victory.
—Bernard Williams
A life filled with love, must have some thorns, but a life empty of love will have no roses.
— Anonymous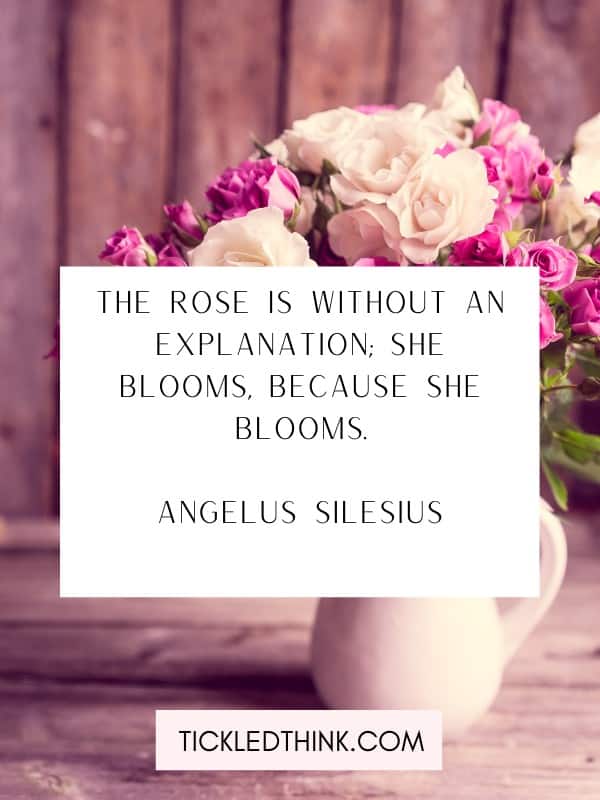 One of the most tragic things I know about human nature is that all of us tend to put off living. We are all dreaming of some magical rose garden over the horizon instead of enjoying the roses that are blooming outside our windows today.
— Dale Carnegie
They are not long, the days of wine and roses.
— Ernest Dowson
Truths and roses have thorns about them.
— Henry David Thoreau
It's the time that you spent on your rose that makes your rose so important…People have forgotten this truth, but you mustn't forget it. You become responsible forever for what you've tamed. You're responsible for your rose.
— Antoine de Saint-Exupery
Just remember, during the winter, far beneath the bitter snow, that there's a seed that with the sun's love in the spring becomes a rose.
— Leanne Rimes
MORE QUOTES ABOUT ROSE AND ROSE QUOTES
You may break, you may shatter the vase, if you will, But the scent of the roses will hang round it still.
A thorn defends the rose, harming only those who would steal the blossom.
— Chinese Proverb
Thorns and roses grow on the same tree.
—Turkish Proverb
We are like roses that have never bothered to bloom when we should have bloomed and it is as if the sun has become disgusted with waiting.
— Charles Bukowski
Those who don't pick roses in summer won't pick them in winter either.
— German Proverb
If the rose puzzled its mind over the question how it grew, it would not have been the miracle that it is.
— J. B. Yeats
Real beauty is in the fragility of your petals. A rose that never wilts isn't a rose at all.
— Crystal Woods
A rose must remain with the sun and the rain or its lovely promise won't come true.
— Ray Evans
A rose dreams of enjoying the company of bees, but none appears. The sun asks: 'Aren't you tired of waiting?' Yes,' answers the rose, 'but if I close my petals, I will wither and die.'"
— Paulo Coelho
One rose is enough for the dawn.
— Edmond Jabes
There is simply the rose; it is perfect in every moment of its existence.
— Ralph Waldo Emerson
It will never rain roses: when we want to have more roses we must plant more trees.
— George Eliot
The rose and the thorn, and sorrow and gladness are linked together.
— Saadi
The Rose is without an explanation; She blooms, because She blooms.
— Angelus Silesius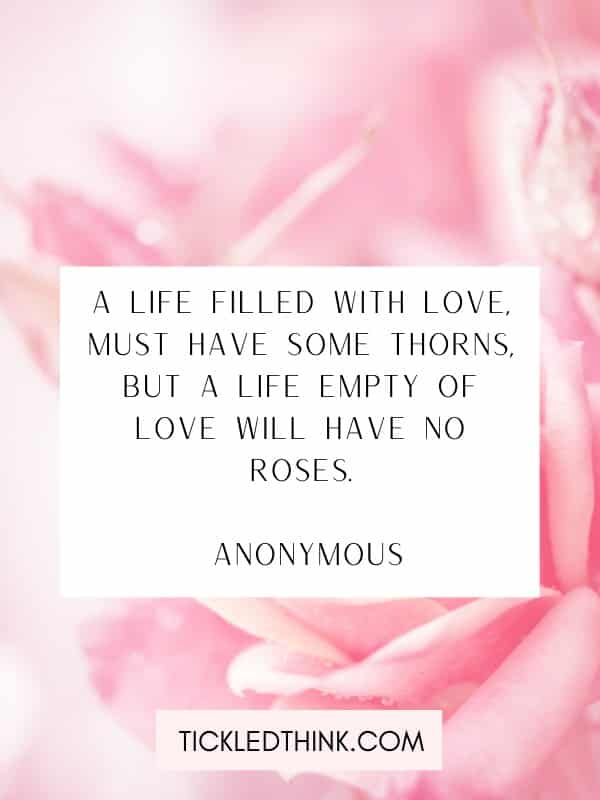 God gave us memories that we might have roses in December.
— J. M. Barrie
Won't you come into the garden? I would like my roses to see you.
— Richard Brinsley Sheridan
The best way to killing a rose is to force it open when it is still only the promise of a bud.
— Jos_ Saramago
Love and a red rose can't be hid.
— Thomas Holcroft
There is no gathering the rose without being pricked by the thorns.
— Panchatantra
For the rose, though its petals be torn asunder, still smiles on, and it is never cast down.
— Rumi
She who loves roses must be patient and not cry out when she is pierced by thorns.
— Olga Brouman
Which of these rose quotes inspired you the most?
MORE INSPIRATIONAL QUOTES FOR YOU TO ENJOY