A collection of funny and inspiring sleep quotes to calm your mind, lift your spirits and inspire rest.
Sleep is vital to our health, happiness, and productivity. A good night's sleep has numerous benefits to our body and overall well-being.
In fact, Sleep is as important as exercise and maintaining a healthy diet.
Sadly, in this day of age, sleep is something that we easily take for granted. We often think to ourselves that with everything that has to be done, sleep is the last thing on our minds.
Also, often, stress and worries can easily disrupt our sleeping patterns that can lead to sleepless nights or insomnia.
These calming quotes about sleep below will inspire you to prioritize getting a good night's sleep again and allow yourself to take a break, rest, and relax.
So, tuck yourself in, allow yourself to wind down, calm your mind and read these inspirational quotes.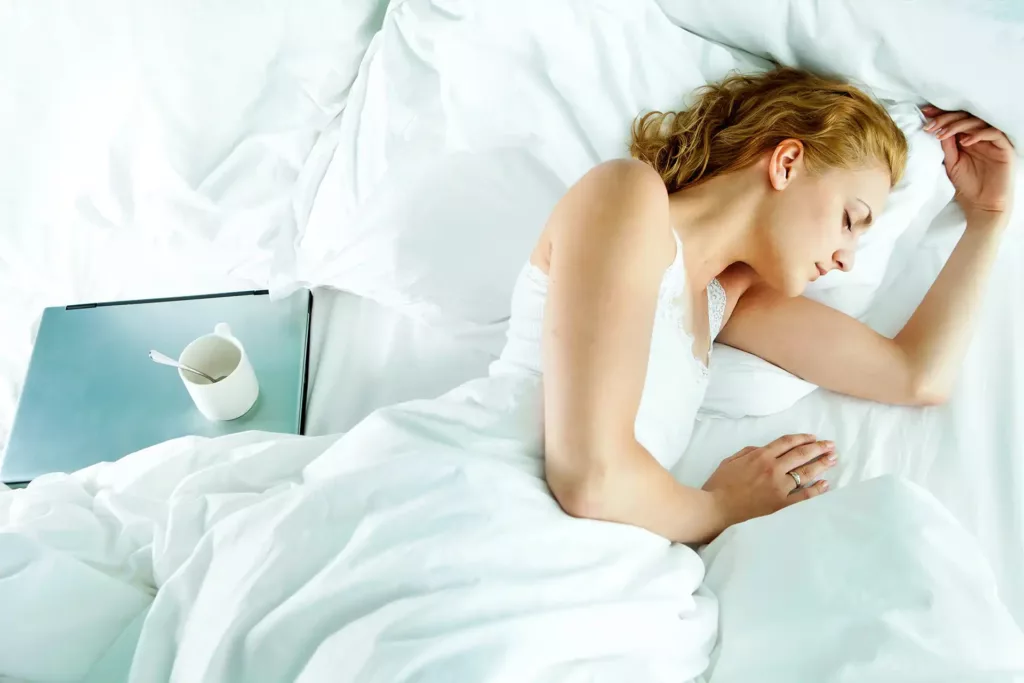 Here are 75+ Sleep Quotes and Quotes about Sleeping
I love sleep. My life has the tendency to fall apart when I'm awake, you know?
— Ernest Hemingway
Sleep is the best meditation.
— Dalai Lama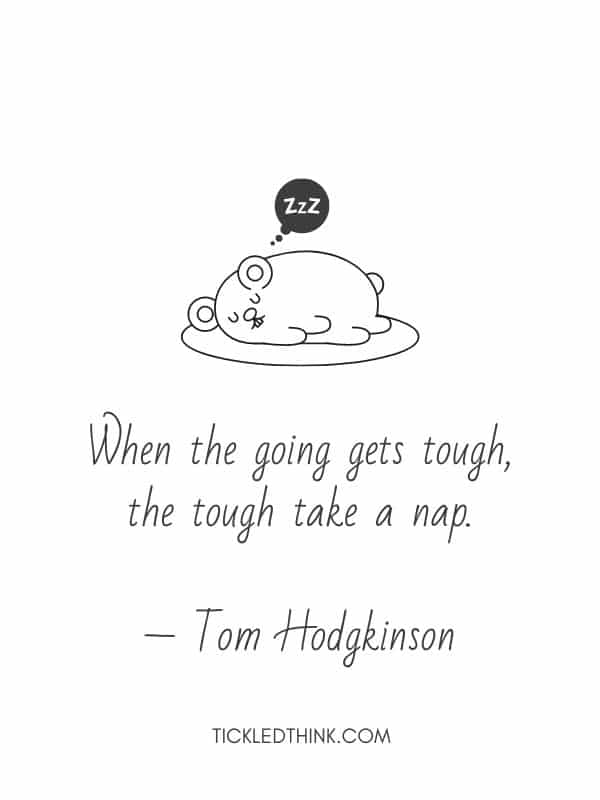 We need time to defuse, to contemplate. Just as in sleep our brains relax and give us dreams, so at some time in the day we need to disconnect, reconnect, and look around us.
— Laurie Colwin
Even a soul submerged in sleep
is hard at work and helps
make something of the world.
— Heraclitus
Sleep is the Swiss army knife of health. When sleep is deficient, there is sickness and disease. And when sleep is abundant, there is vitality and health.
— Matthew Walker
My father said there were two kinds of people in the world: givers and takers. The takers may eat better, but the givers sleep better.
— Marlo Thomas
I wonder why I don't go to bed and go to sleep. But then it would be tomorrow, so I decide that no matter how tired, no matter how incoherent I am, I can skip on hour more of sleep and live.
— Sylvia Plath
Nothing makes you feel better than when you get into a hotel bed, and the sheets feel so good. Why shouldn't you wake up like that every day? Spend money on your mattress and bedding because these things make a difference on your sleep and, ultimately, your happiness.
— Bobby Berk
I've dreamed a lot. I'm tired now from dreaming but not tired of dreaming. No one tires of dreaming, because to dream is to forget, and forgetting does not weigh on us, it is a dreamless sleep throughout which we remain awake. In dreams I have achieved everything.
— Fernando Pessoa
Think in the morning. Act in the noon. Eat in the evening. Sleep in the night.
— William Blake
Each night, when I go to sleep, I die. And the next morning, when I wake up, I am reborn.
— Mahatma Gandhi
Each day is a little life: every waking and rising a little birth, every fresh morning a little youth, every going to rest and sleep a little death.
— Arthur Schopenhauer
Sorrow can be alleviated by good sleep, a bath and a glass of wine.
— Thomas Aquinas
I think insomnia is a sign that a person is interesting.
— Avery Sawyer
A dying man needs to die, as a sleepy man needs to sleep, and there comes a time when it is wrong, as well as useless, to resist.
— Stewart Alsop
I've always envied people who sleep easily. Their brains must be cleaner, the floorboards of the skull well swept, all the little monsters closed up in a steamer trunk at the foot of the bed.
— David Benioff
Once you wake up and smell the coffee, it's hard to go back to sleep.
— Fran Drescher
Sleep, those little slices of death — how I loathe them.
— Edgar Allan Poe
In the midst of these hard times it is our good health and good sleep that are enjoyable.
— Knute Nelson
Sleep is my lover now, my forgetting, my opiate, my oblivion.
— Audrey Niffenegge
Tired minds don't plan well. Sleep first, plan later.
— Walter Reisch
What would an ocean be without a monster lurking in the dark? It would be like sleep without dreams.
— Werner Herzog
Sleep is that golden chain that ties health and our bodies together.
— Thomas Dekker
There is a time for many words, and there is also a time for sleep.
— Homer
Funny Sleep Quotes
Laugh and the world laughs with you, snore and you sleep alone.
— Anthony burgess
The amount of sleep required by the average person is five minutes more.
— Wilson Mizener
Happiness is waking up, looking at the clock and finding that you still have two hours left to sleep.
— Charles M. Schulz
Never go to bed mad. Stay up and fight.
— Phyllis Diller
Related Posts:
No civilized person goes to bed the same day he gets up.
— Richard Harding Davis
There is no sunrise so beautiful that it is worth waking me up to see it.
— Mindy Kaling
People who say they sleep like a baby usually don't have one.
— Leo J. Burke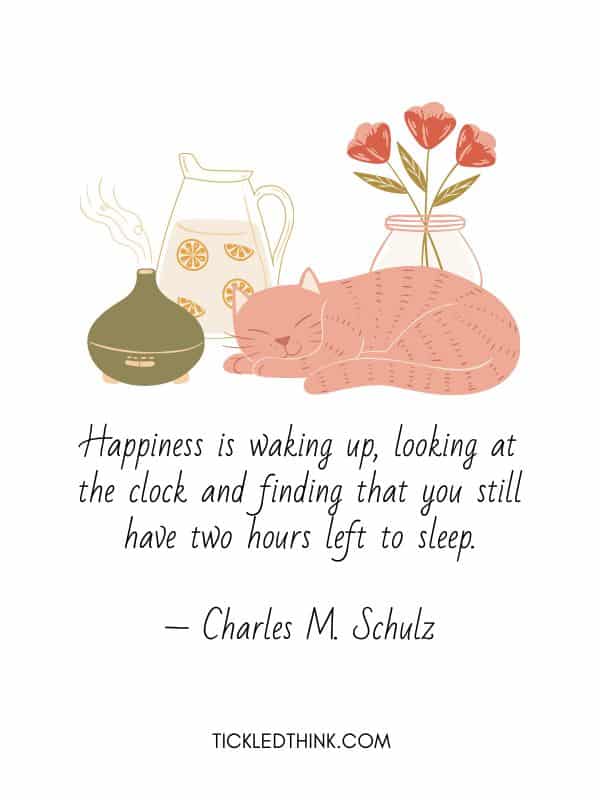 Early to bed and early to rise probably indicates unskilled labor.
— John Ciardi
Some people talk in their sleep. Lecturers talk while other people sleep
— Albert Camus
My mother told me to follow my dreams, so I took a nap.
— Unknown
Happiness consists of getting enough sleep. Just that, nothing more.
— Robert A. Heinlein
When the going gets tough, the tough take a nap.
— Tom Hodgkinson
Whoever drinks beer, he is quick to sleep; whoever sleeps long, does not sin; whoever does not sin, enters Heaven! Thus, let us drink beer!
— Martin Luther
I don't need a hairstylist, my pillow gives me a new hairstyle every morning.
— Unknown
Never waste any time you can spend sleeping.
— Frank H. Knight
Sleep Quotes to Inspire Rest
The nicest thing for me is sleep, then at least I can dream.
— Marilyn Monroe
Happiness in simplicity can be achieved with a flexible mindset and nine hours sleep each night.
— Dalai Lama
The main facts in human life are five: birth, food, sleep, love and death.
— E. M. Forster
I love to sleep. Do you? Isn't it great? It really is the best of both worlds. You get to be alive and unconscious.
— Rita Rudner
Do you know what it is like,
to lie in bed awake;
with thoughts to haunt
you every night,
of all your past mistakes.
Knowing sleep will set it right –
if you were not to wake.
— Lang Leav
Rest when you're weary. Refresh and renew yourself, your body, your mind, your spirit. Then get back to work.
— Ralph Marston
Good night – may you fall asleep in the arms of a dream, so beautiful, you'll cry when you awake.
— Michael Faudet
Life is something that happens when you can't get to sleep.
— Fran Lebowitz
When action grows unprofitable, gather information; when information grows unprofitable, sleep.
— Ursula K. LeGuin
Sleep is the real beauty secret, but I don't get enough of that.
— Chelsea Leyland
Sleep has been provided by nature to do the body's healing work, and it takes seven or eight hours for this process to happen. Commit to getting at least seven to eight hours of good quality sleep every night to keep your body and hormones in balance.
— Suzanne Somers
Man is a genius when he is dreaming.
— Akira Kurosawa
True silence is the rest of the mind, and is to the spirit what sleep is to the body, nourishment and refreshment.
— William Penn
There is more refreshment and stimulation in a nap, even of the briefest, than in all the alcohol ever distilled.
— Edward Lucas
Sleep soothes and arrest the fever-pulse of the soul.
— Eliza Cook
Get enough sleep every night. An exhausted mind is rarely productive.
— Unknown
If you can't sleep, then get up and do something instead of lying there and worrying. It's the worry that gets you, not the loss of sleep.
— Dale Carnegie
Early to bed and early to rise makes a man healthy, wealthy and wise.
— Benjamin Franklin
More Inspirational Sleep Quotes and Quotes about Sleep
I crave the sweet surrender of sleep and my dreams' uncensored communication: no tiresome small talk, sucking up to impress, or tiptoeing around charged topics. Dreams are the naked truth; get ready for it.
— Judith Orloff
Your future depends on your dreams, so go to sleep.
— Mesut Barazany
There is renewal in rest.
— Lailah Gifty Akita
She used to say she could taste sleep and that it was as delicious as a BLT on fresh French bread.
— Rebecca Wells
A good laugh and a long sleep are the best cures in the doctor's book.
— Irish proverb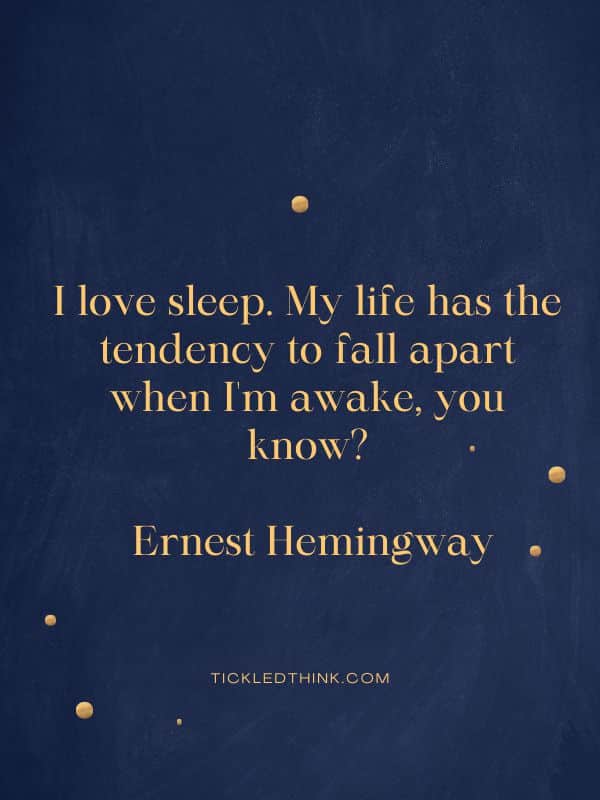 Control what you can control. Don't lose sleep worrying about things that you don't have control over because, at the end of the day, you still won't have any control over them.
— Cam Newton
A mother's arms are made of tenderness and children sleep soundly in them.
— Victor Hugo
Go to sleep in peace. God is awake.
— Victor Hugo
The woods are lovely, dark and deep. But I have promises to keep, and miles to go before I sleep.
— Robert Frost
It is a common experience that a problem difficult at night is resolved in the morning after the committee of sleep has worked on it.
— John Steinbeck
Having peace, happiness and healthiness is my definition of beauty. And you can't have any of that without sleep.
— Beyonce
A well-spent day brings happy sleep.
— Leonardo da Vinci
Silence is the sleep that nourishes wisdom.
— Francis Bacon
Anyone can escape into sleep. We are all geniuses when we dream, the butcher's the poet's equal there.
— Emile M. Cioran
There's a reason they call it 'beauty sleep.' Getting 7 to 9 hours of sleep a night can actually improve your appearance.
— Lauren Conrad
Sleep is the most blessed and blessing of all natural graces.
— Aldous Huxley
Cats have it all – admiration, an endless sleep, and company only when they want it.
— Rod McKuen
O sleep! O gentle sleep! Nature's soft nurse.
True silence is the rest of the mind, and is to the spirit what sleep is to the body, nourishment and refreshment.
— William Penn
How blessed are some people, whose lives have no fears, no dreads; to whom sleep is a blessing that comes nightly, and brings nothing but sweet dreams.
— Bram Stoker
Which of these sleep quotes is your favorite?
MORE INSPIRATIONAL QUOTES FOR YOU TO ENJOY