A powerful collection of let your light shine quotes that will inspire you to keep spreading kindness, compassion, and love every day.
It is important to recognize that you have within you such an invaluable light that if only you allow it to shine can make such a huge and positive impact in this world.
Letting your light shine means being a beacon of hope, kindness, and love for other people, especially for those who are navigating the darkest season of their lives.
I know there are days when we struggle to even see the light within us. Days when we feel like we are being swallowed and drowned by darkness, pain, and negativity.
On those days, read these inspiring let your light shine quotes below to remind you of your light, your ability to shine the brightest, and lift your spirits.
May these quotes below help you find your light even in the darkest times and inspire you to shine so bright and cast your light on others who need it the most.
Let Your Light Shine Quotes And Sayings
May these empowering let your light shine quotes below inspire you to find the light and shine bright even when life gets hard.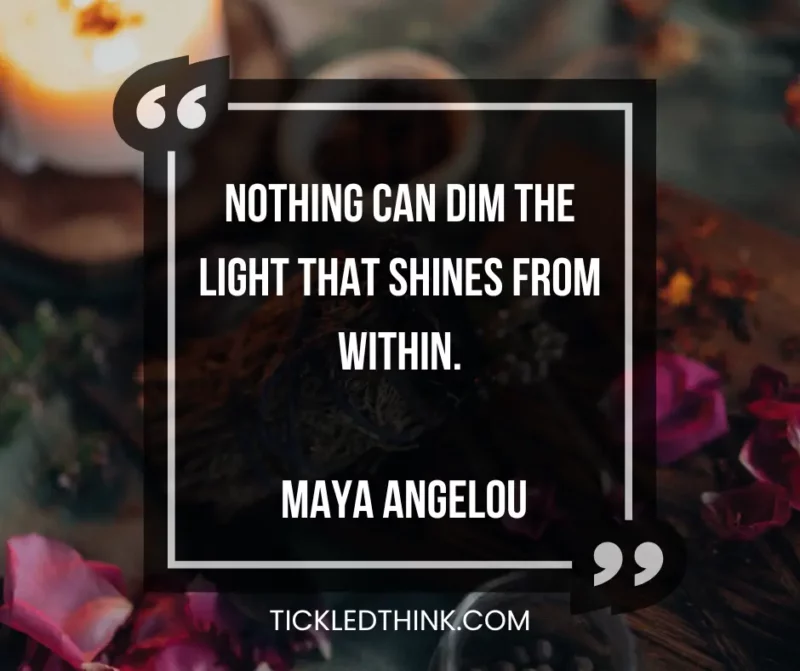 Nothing can dim the light that shines from within.
— Maya Angelou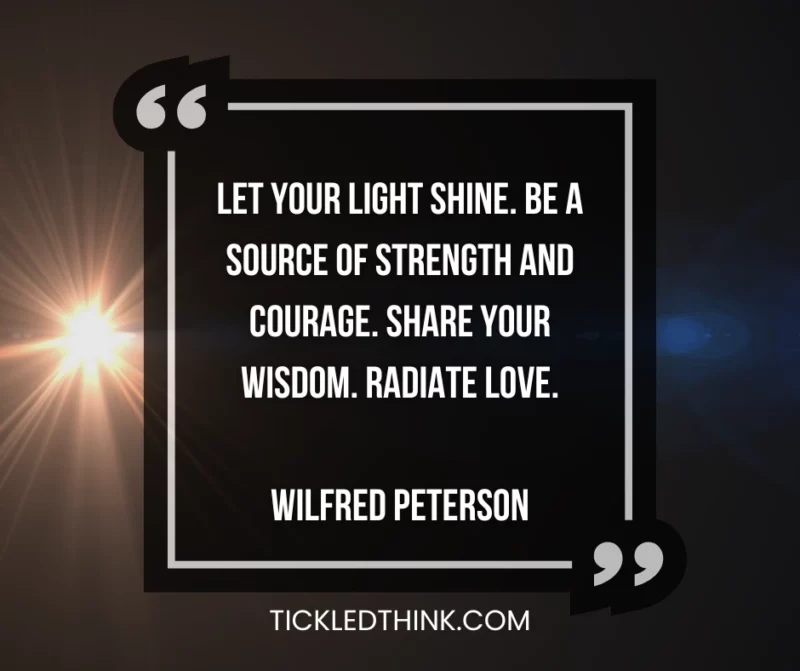 Let your light shine. Be a source of strength and courage. Share your wisdom. Radiate love.
— Wilfred Peterson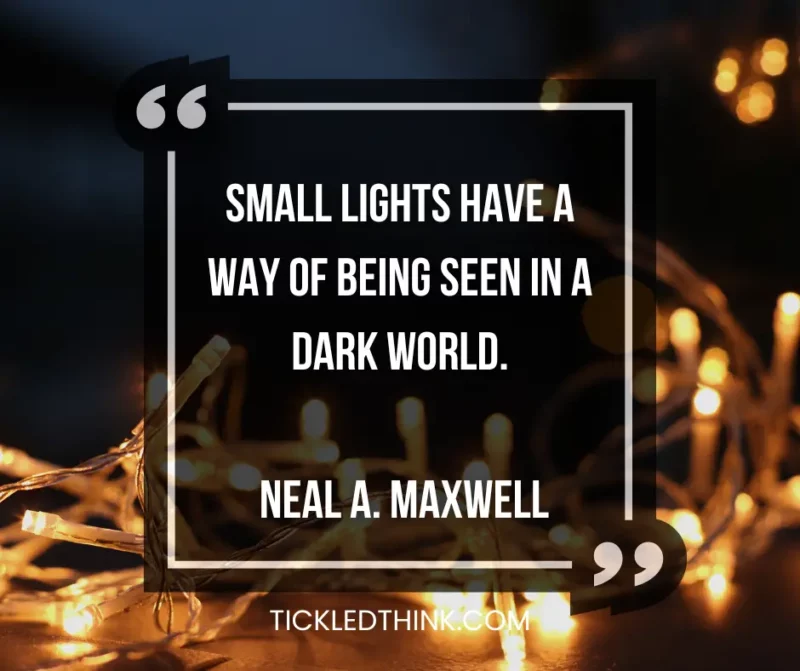 Small lights have a way of being seen in a dark world.
— Neal A. Maxwell
Let your light shine. Shine within you so that it can shine on someone else.
— Oprah Winfrey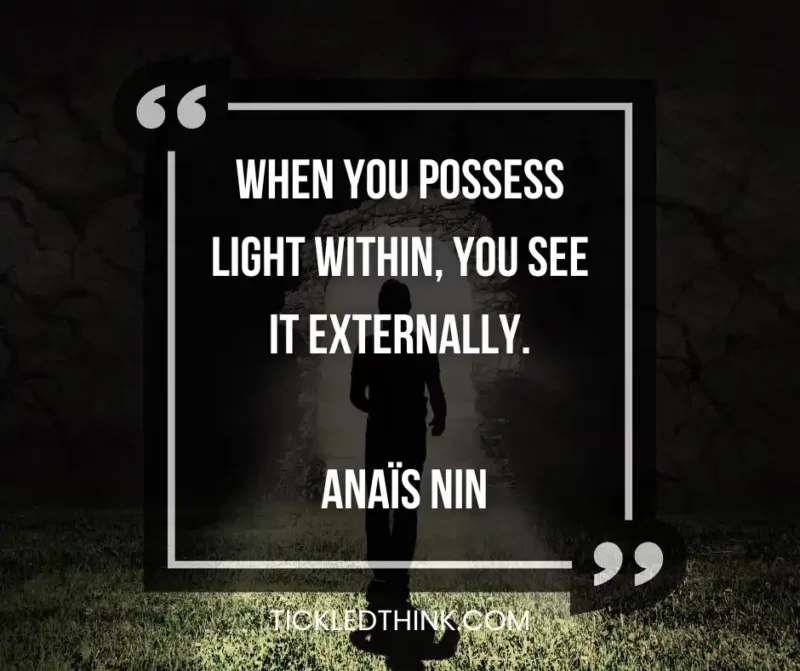 When you possess light within, you see it externally.
— Anaïs Nin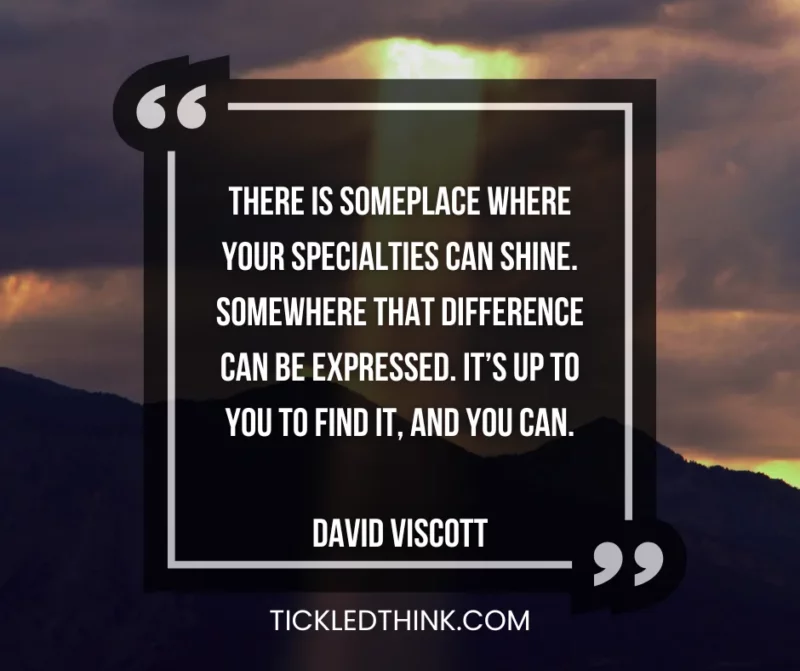 There is someplace where your specialties can shine. Somewhere that difference can be expressed. It's up to you to find it, and you can.
— David Viscott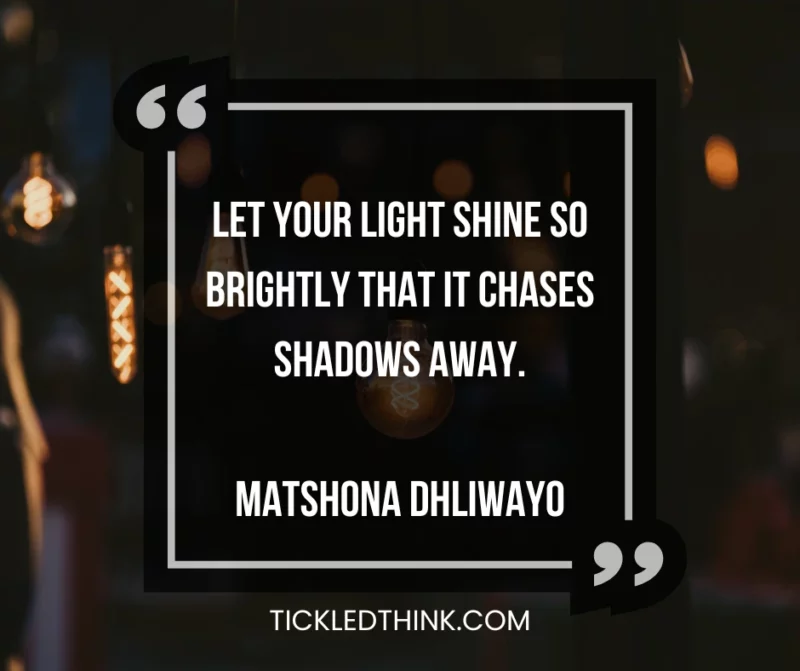 Let your light shine so brightly that it chases shadows away.
— Matshona Dhliwayo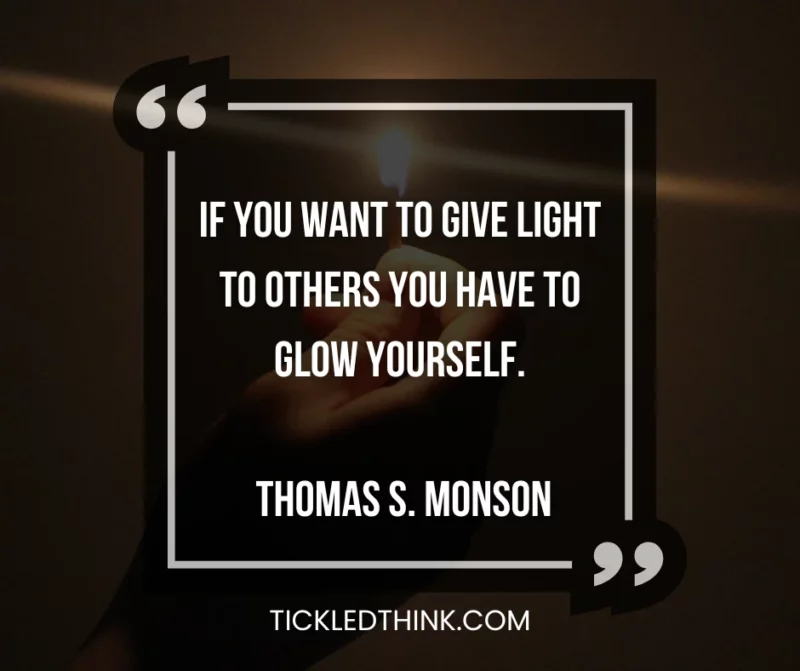 If you want to give light to others you have to glow yourself.
— Thomas S. Monson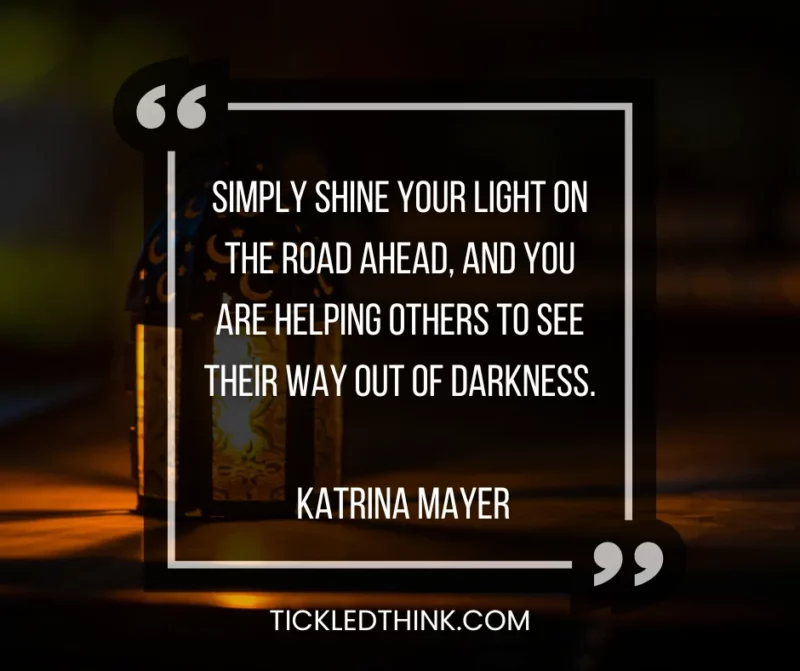 Simply shine your light on the road ahead, and you are helping others to see their way out of darkness.
— Katrina Mayer
Let your light shine today, and let your personality blossom, too. You don't have to be a people-pleaser, just a people-lover.
— Beth Moore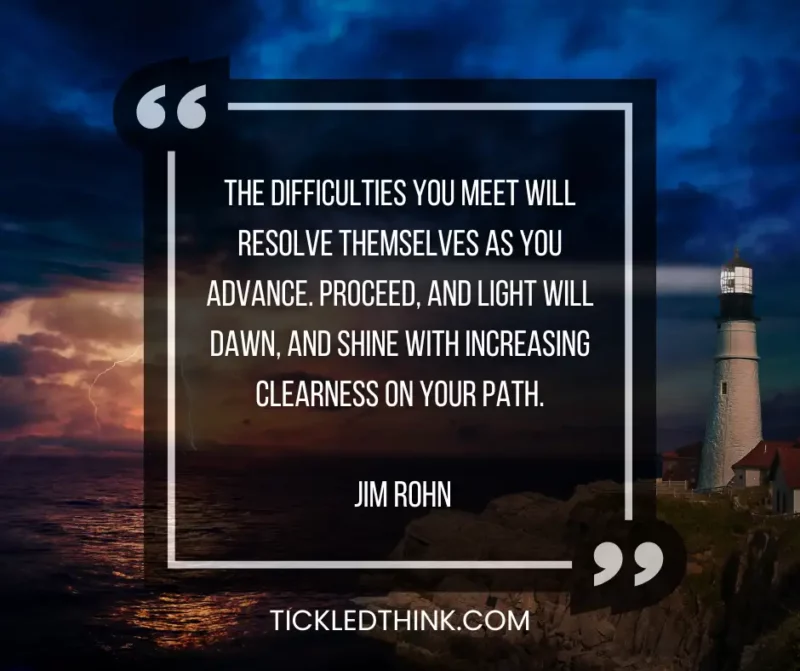 The difficulties you meet will resolve themselves as you advance. Proceed, and light will dawn, and shine with increasing clearness on your path.
— Jim Rohn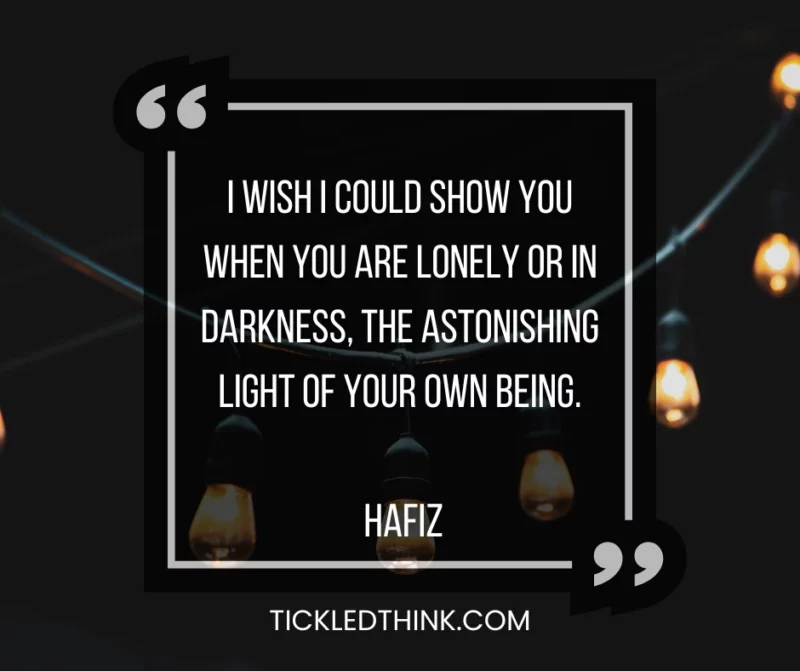 I wish I could show you when you are lonely or in darkness, the astonishing light of your own being.
— Hafiz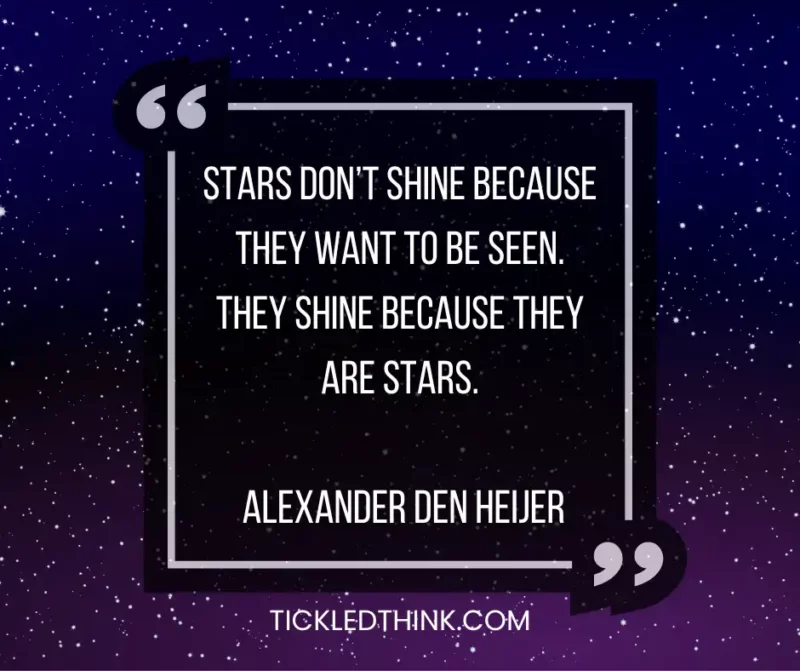 Stars don't shine because they want to be seen. They shine because they are stars.
— Alexander Den Heijer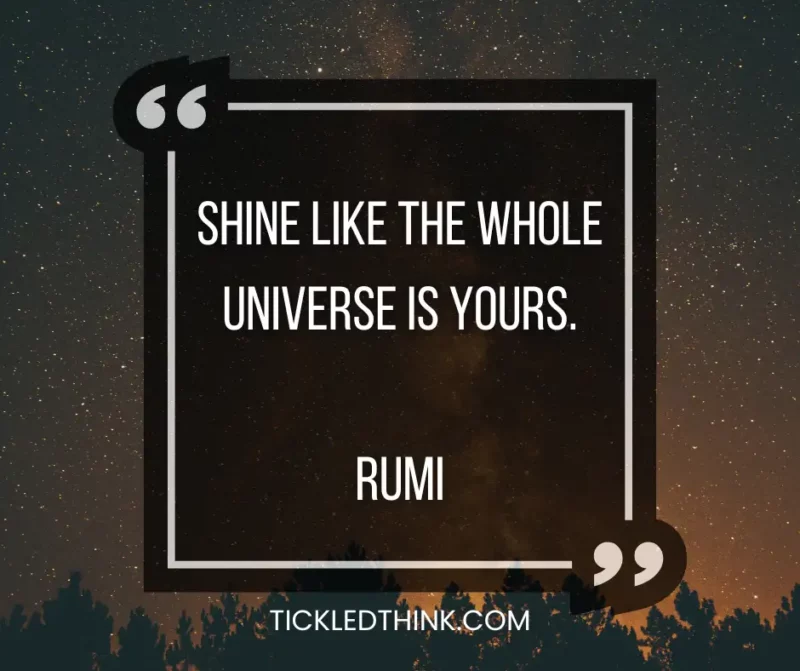 Shine like the whole universe is yours.
— Rumi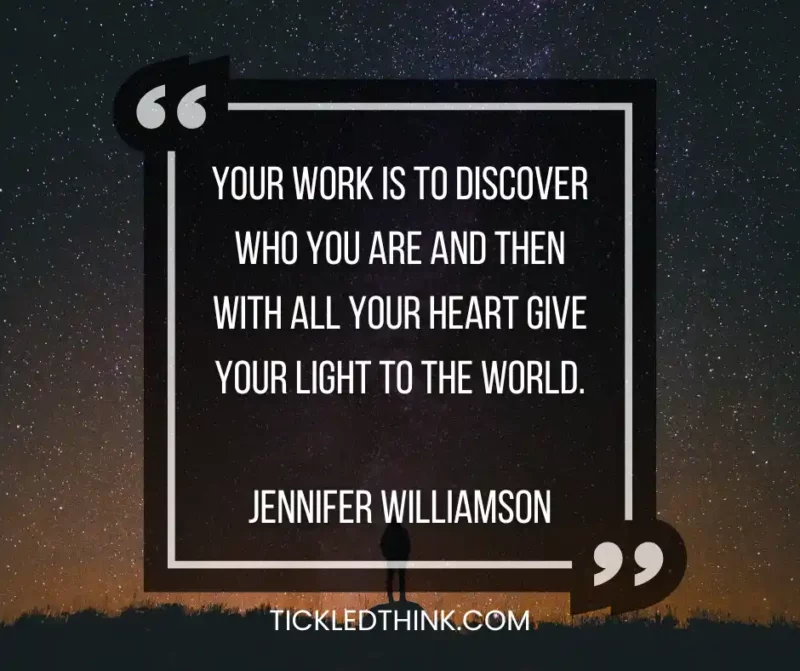 Your work is to discover who you are and then with all your heart give your light to the world.
— Jennifer Williamson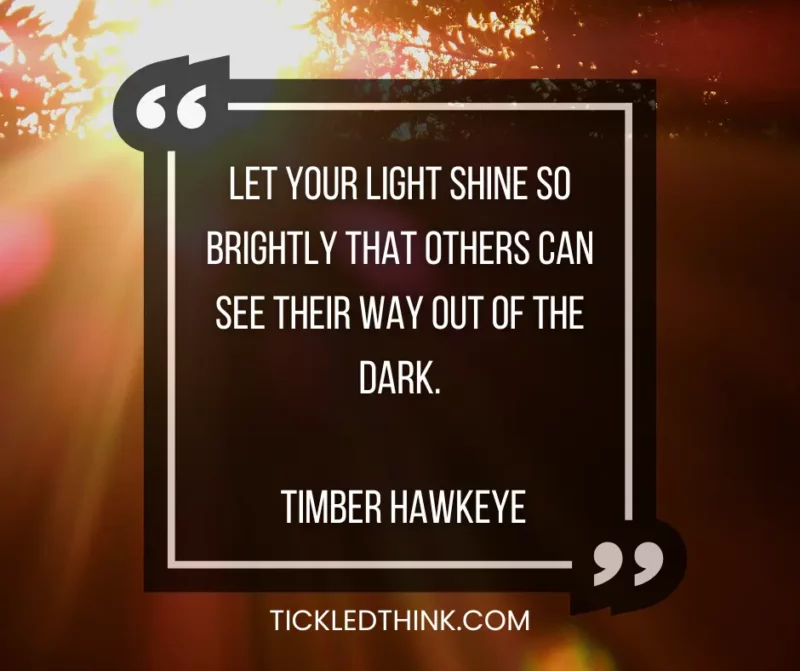 Let your light shine so brightly that others can see their way out of the dark.
— Timber Hawkeye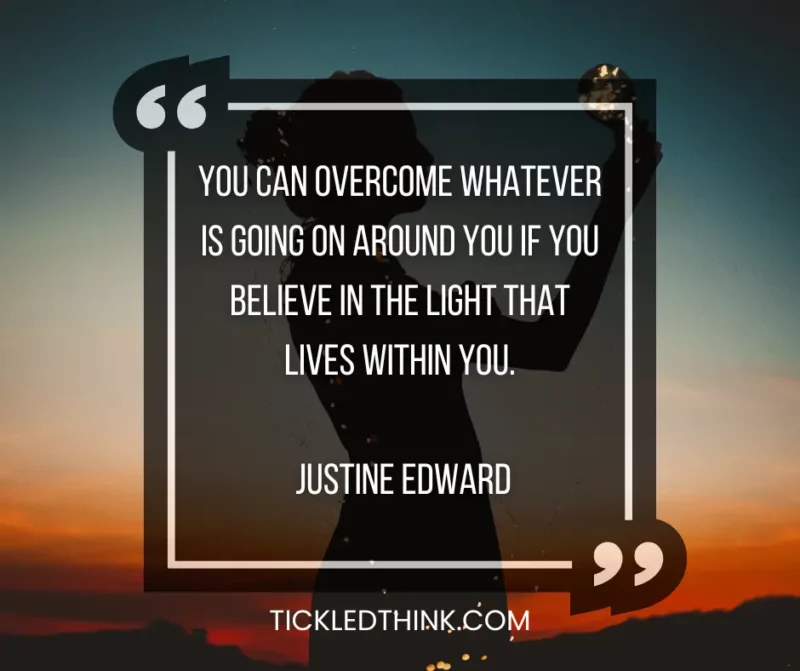 You can overcome whatever is going on around you if you believe in the light that lives within you.
― Justine Edward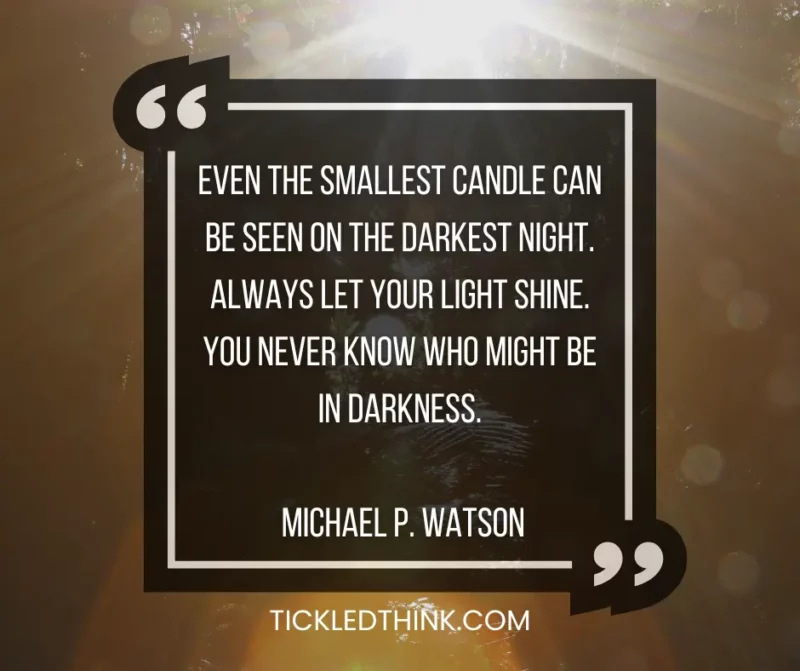 Even the smallest candle can be seen on the darkest night. Always let your light shine. You never know who might be in darkness.
— Michael P. Watson
Inspirational Quotes About Letting Your Light Shine
These let your light shine quotes below will remind you of your worth and empower you to keep shining and keep giving light and love to other people.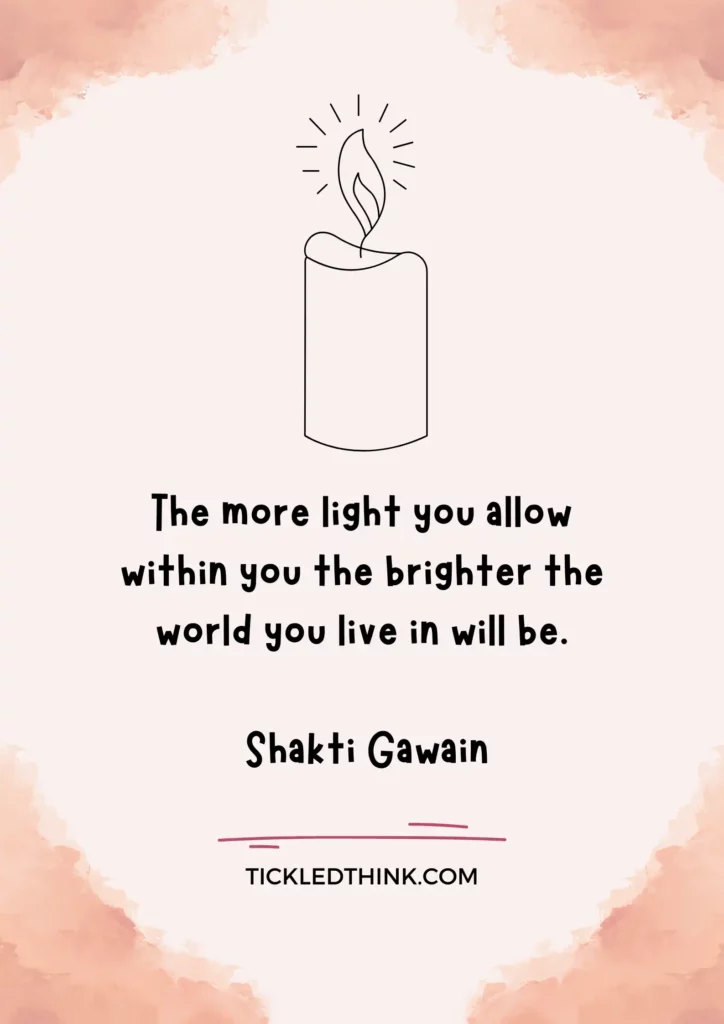 The more light you allow within you the brighter the world you live in will be.
— Shakti Gawain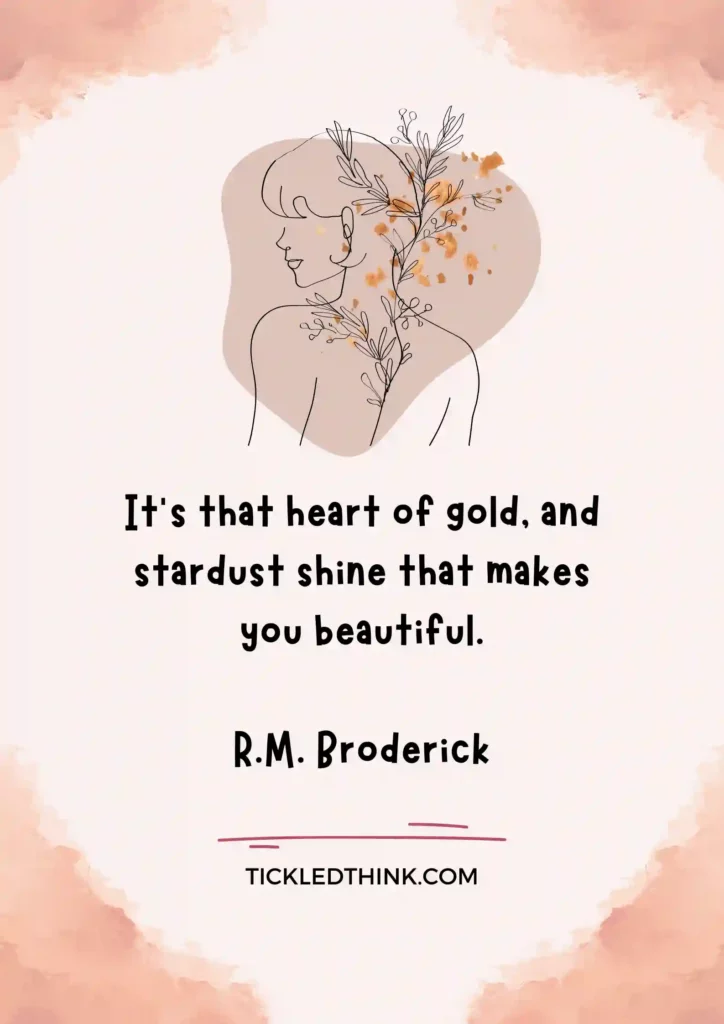 It's that heart of gold, and stardust shine that makes you beautiful.
— R.M. Broderick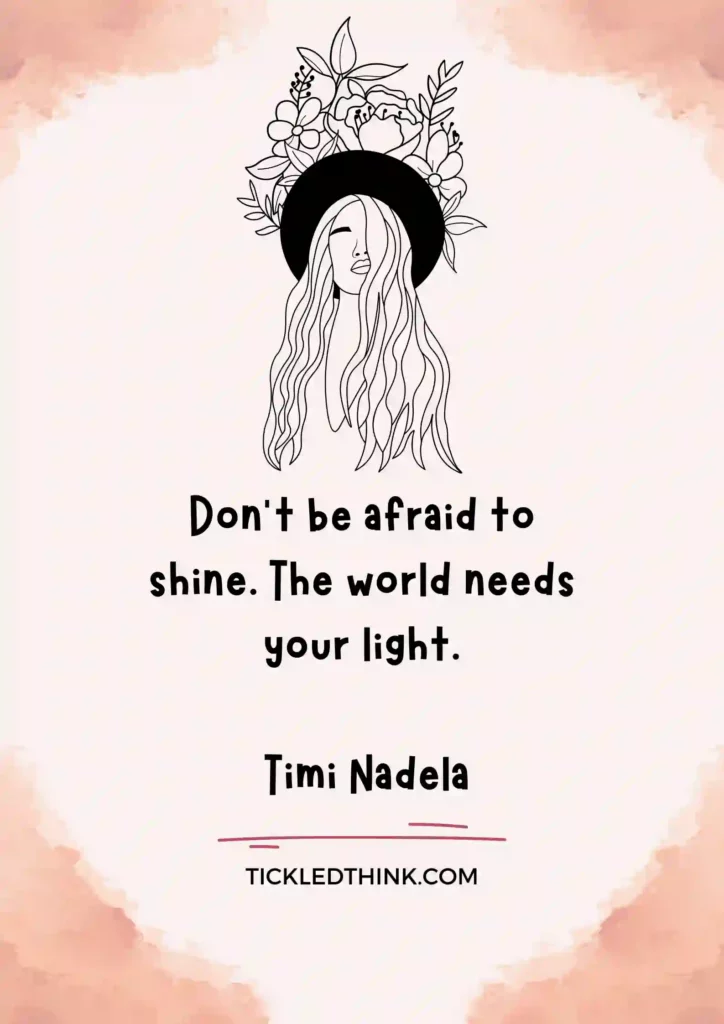 Don't be afraid to shine. The world needs your light.
— Timi Nadela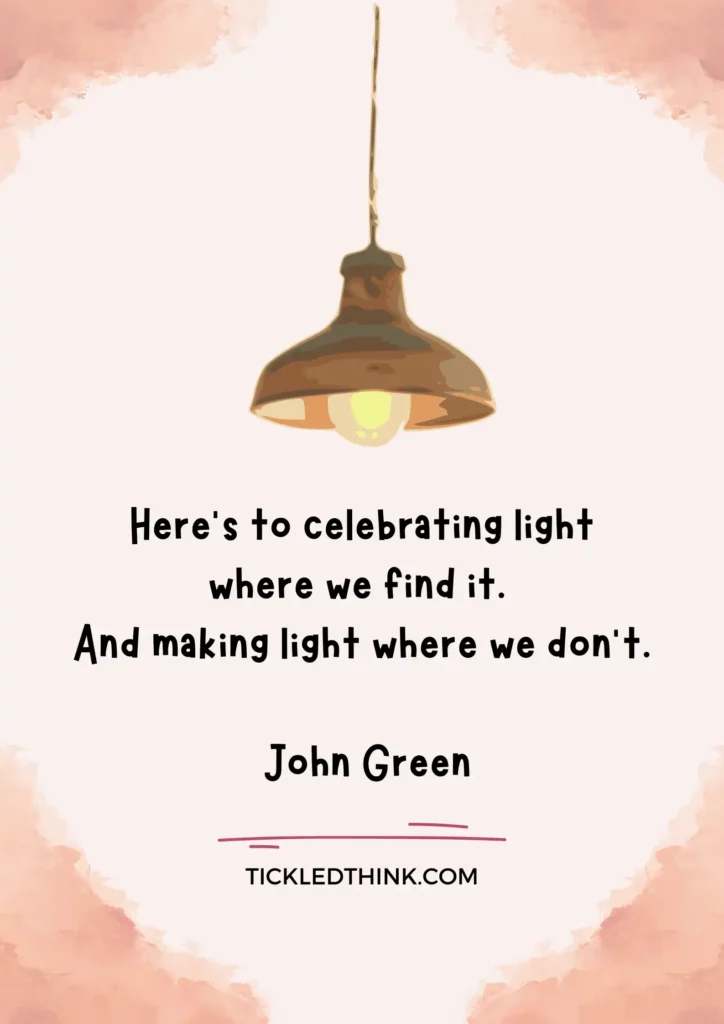 Here's to celebrating light where we find it. And making light where we don't.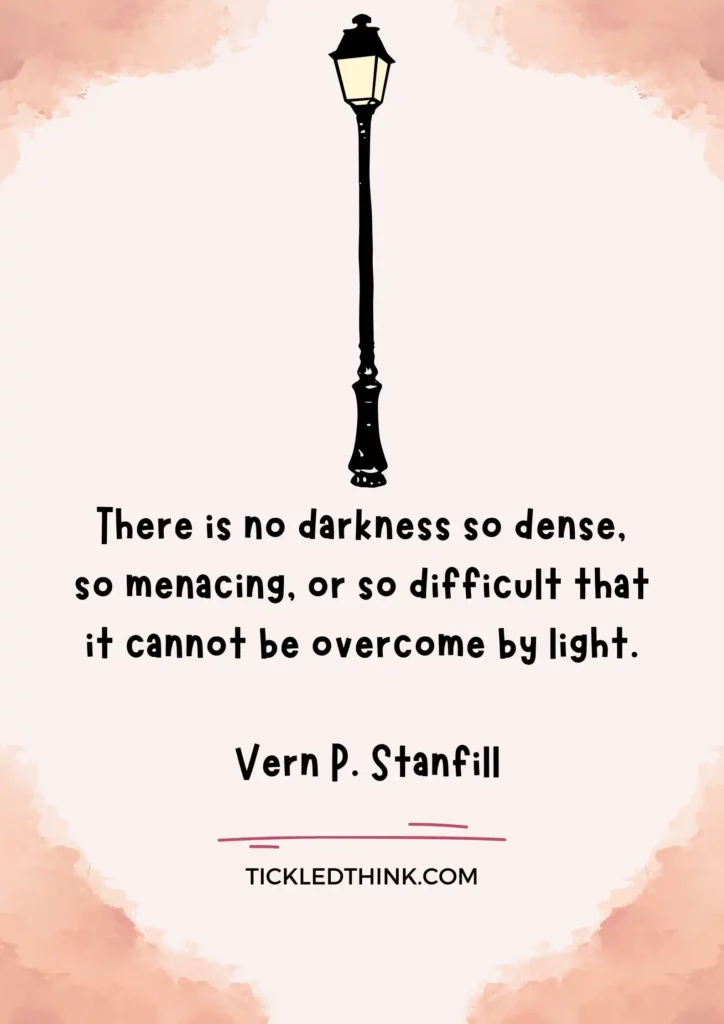 There is no darkness so dense, so menacing, or so difficult that it cannot be overcome by light.
— Vern P. Stanfill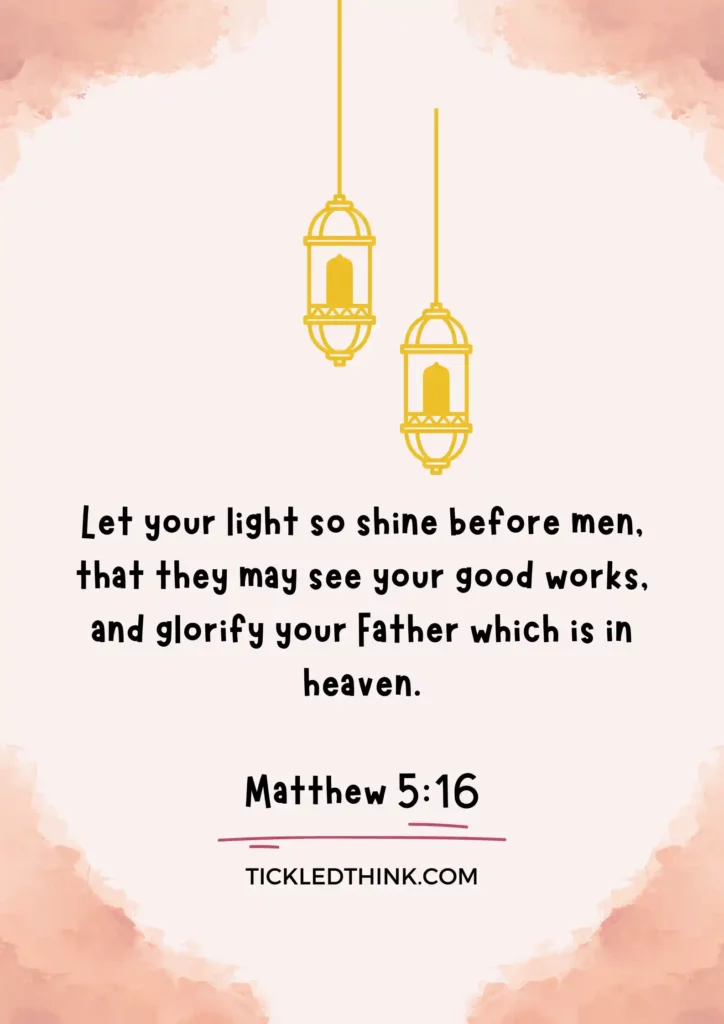 Let your light so shine before men, that they may see your good works, and glorify your Father which is in heaven.
— Matthew 5:16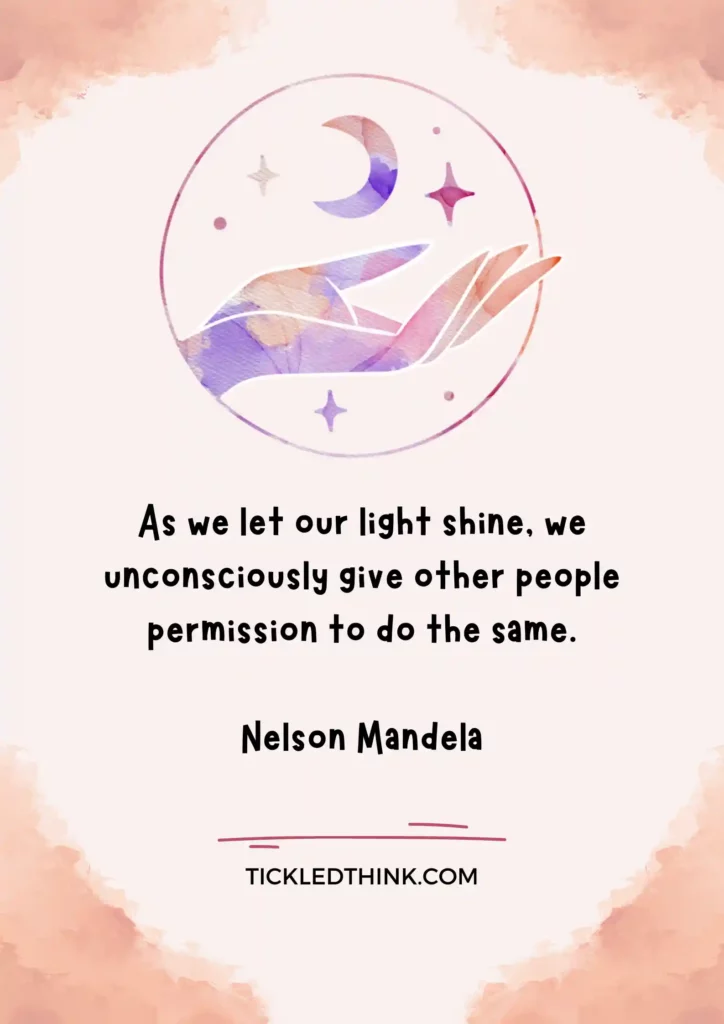 As we let our light shine, we unconsciously give other people permission to do the same.
— Nelson Mandela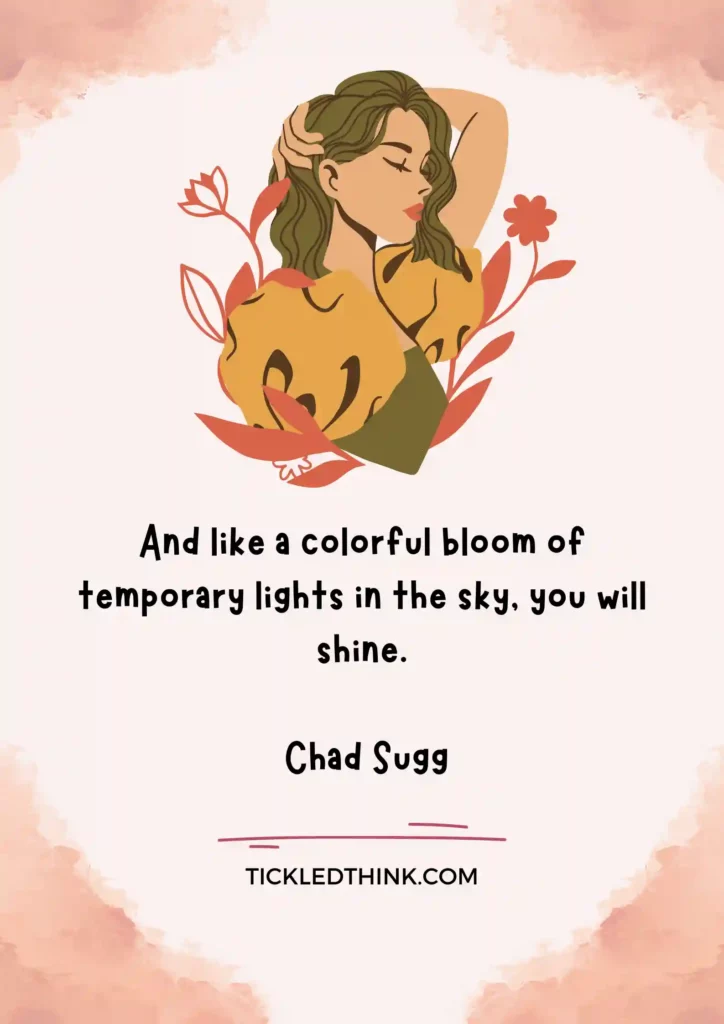 And like a colorful bloom of temporary lights in the sky, you will shine.
— Chad Sugg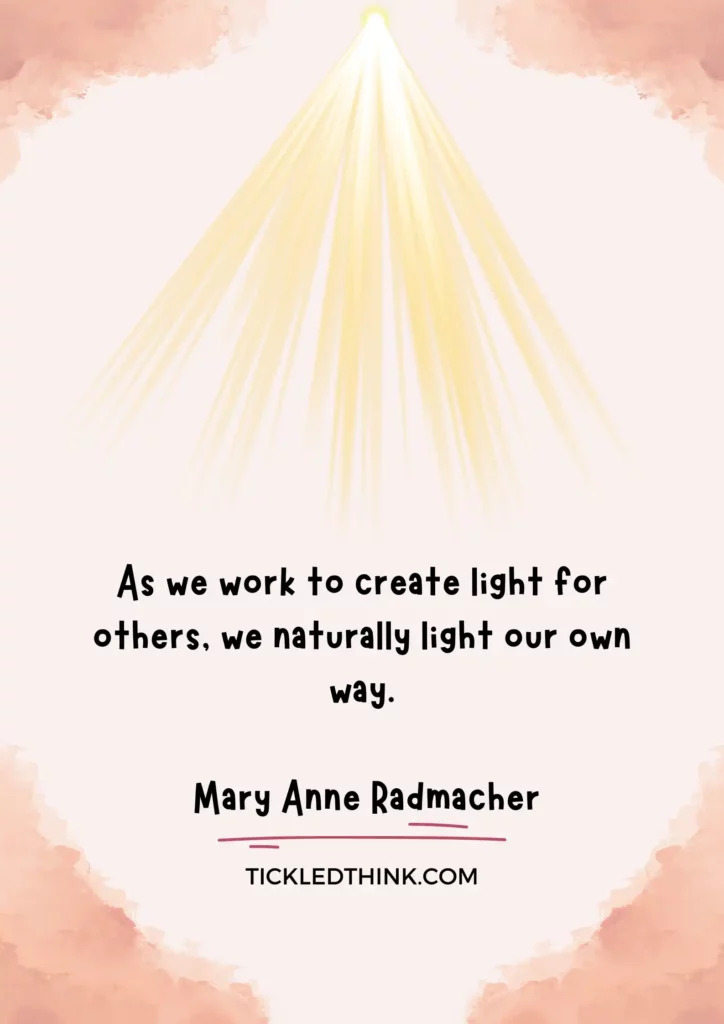 As we work to create light for others, we naturally light our own way.
— Mary Anne Radmacher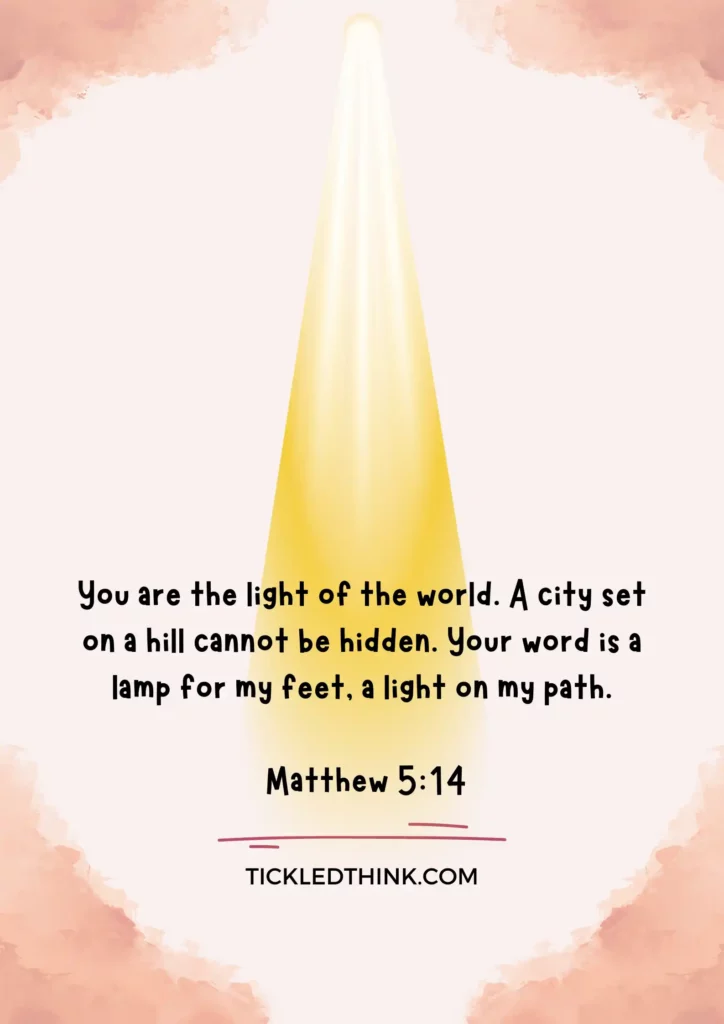 You are the light of the world. A city set on a hill cannot be hidden. Your word is a lamp for my feet, a light on my path.
— Matthew 5:14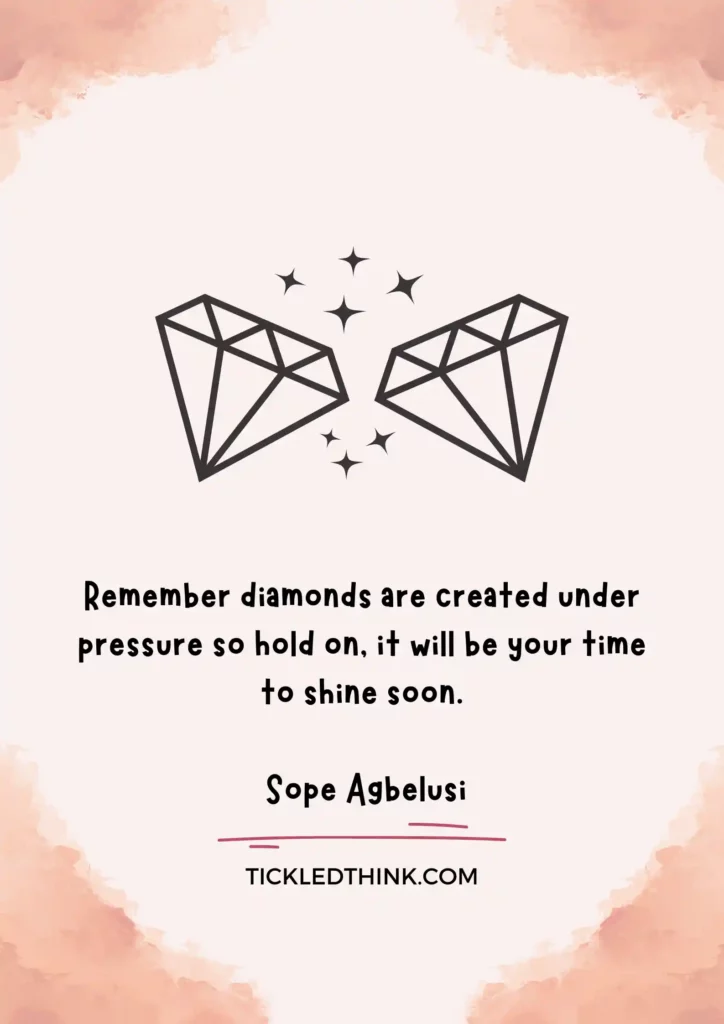 Remember diamonds are created under pressure so hold on, it will be your time to shine soon.
— Sope Agbelusi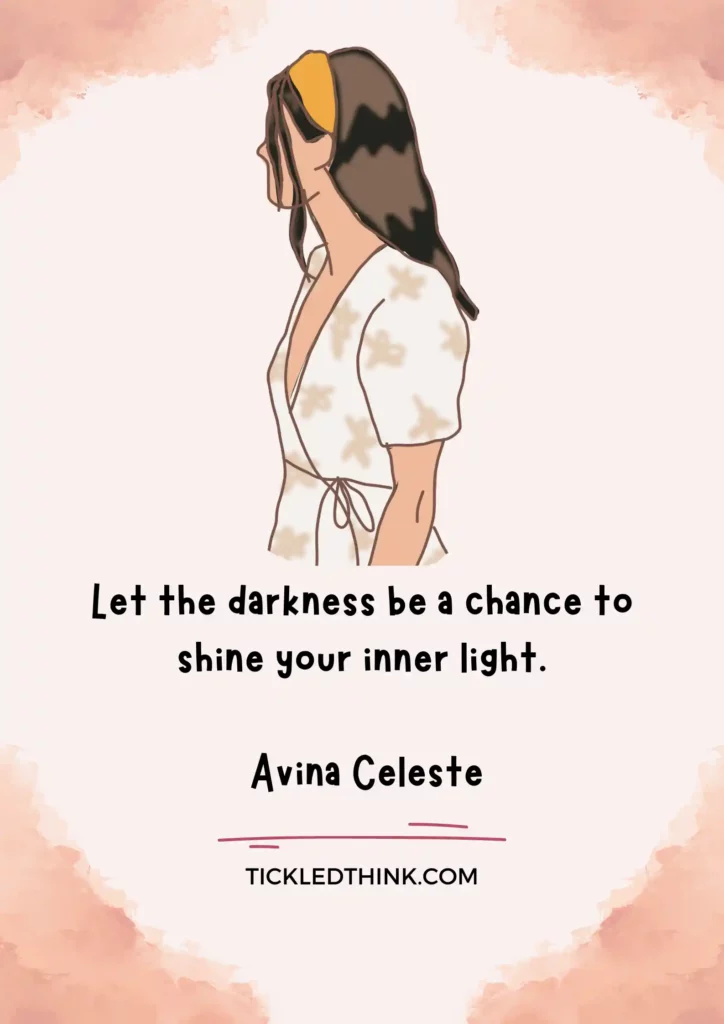 Let the darkness be a chance to shine your inner light.
— Avina Celeste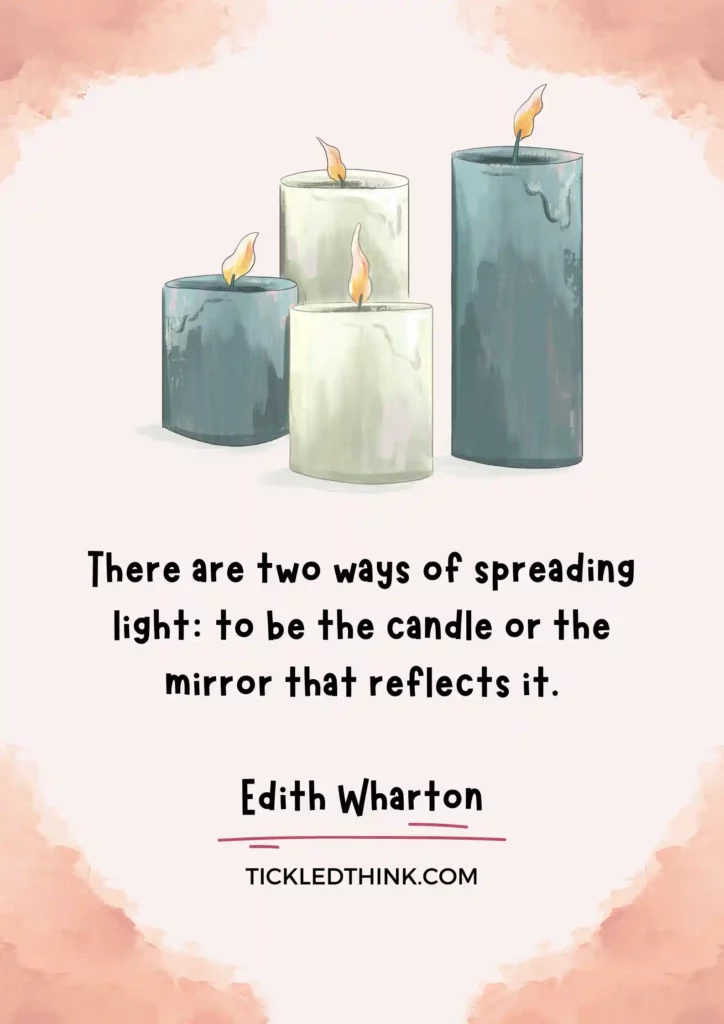 There are two ways of spreading light: to be the candle or the mirror that reflects it.
— Edith Wharton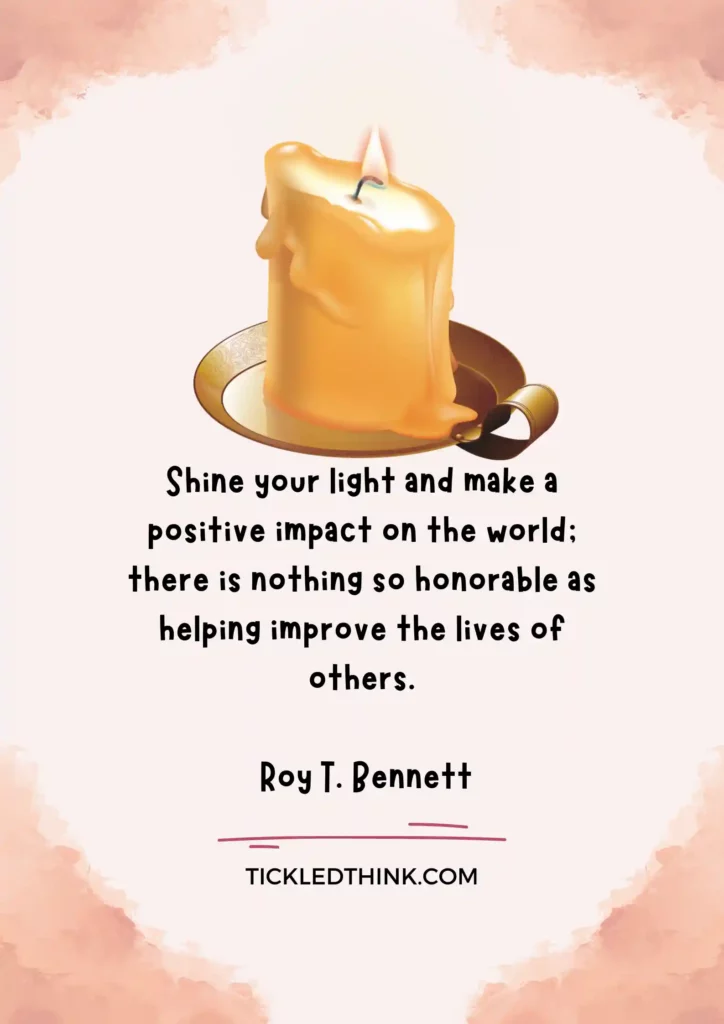 Shine your light and make a positive impact on the world; there is nothing so honorable as helping improve the lives of others.
— Roy T. Bennett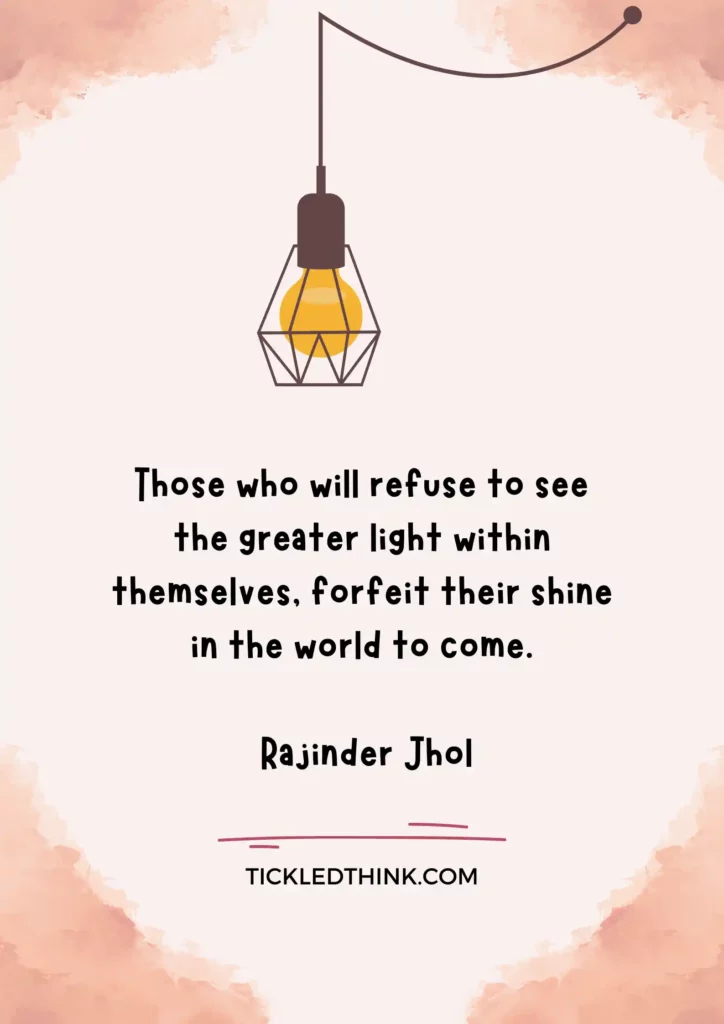 Those who will refuse to see the greater light within themselves, forfeit their shine in the world to come.
— Rajinder Jhol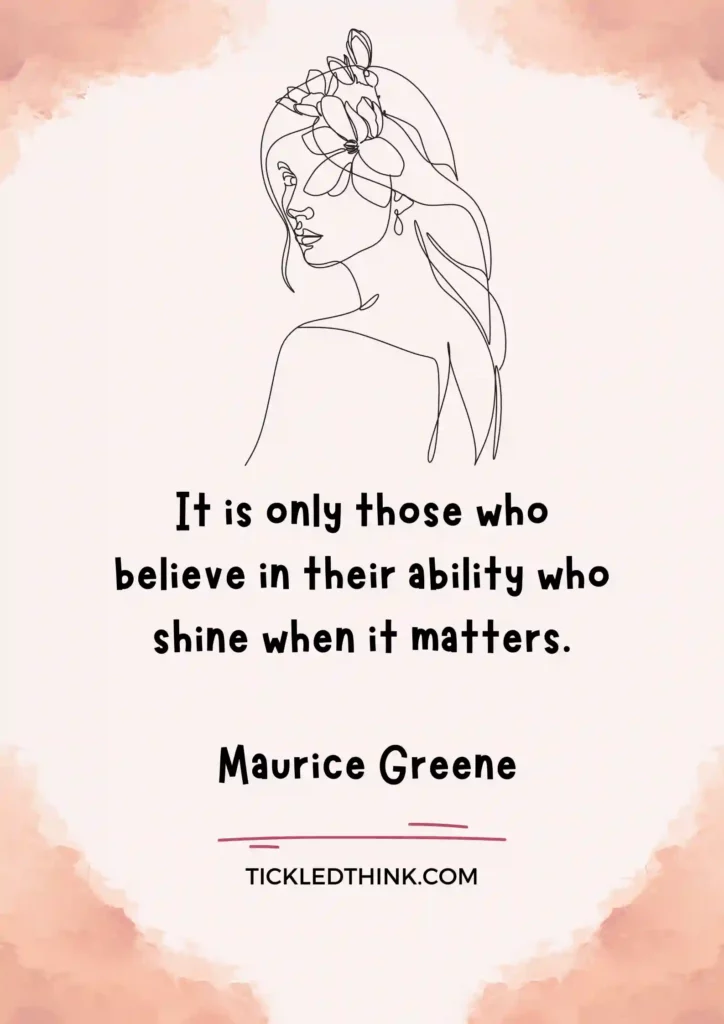 It is only those who believe in their ability who shine when it matters.
— Maurice Greene
Be fearless, because the world needs what you have to give.
— Eileen Anglin
She sparkles because she believes.
— Kailin Gow
Related Post:
Uplifting Quotes On Letting Your Light Shine
Feeling low? Read these let your light shine quotes below to lift your spirits, give you a sense of calm and remind you that even in the darkest times, you can always find a light within you.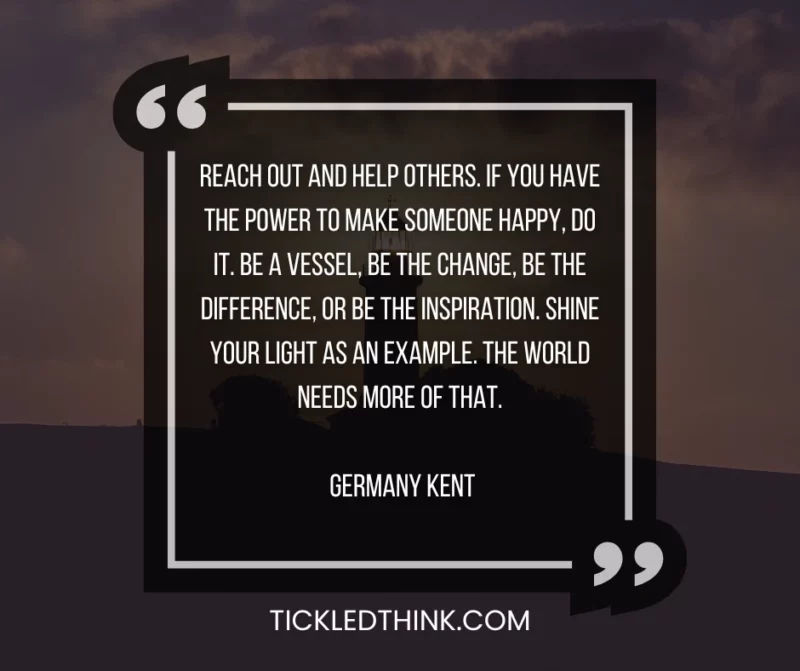 Reach out and help others. If you have the power to make someone happy, do it. Be a vessel, be the change, be the difference, or be the inspiration. Shine your light as an example. The world needs more of that.
— Germany Kent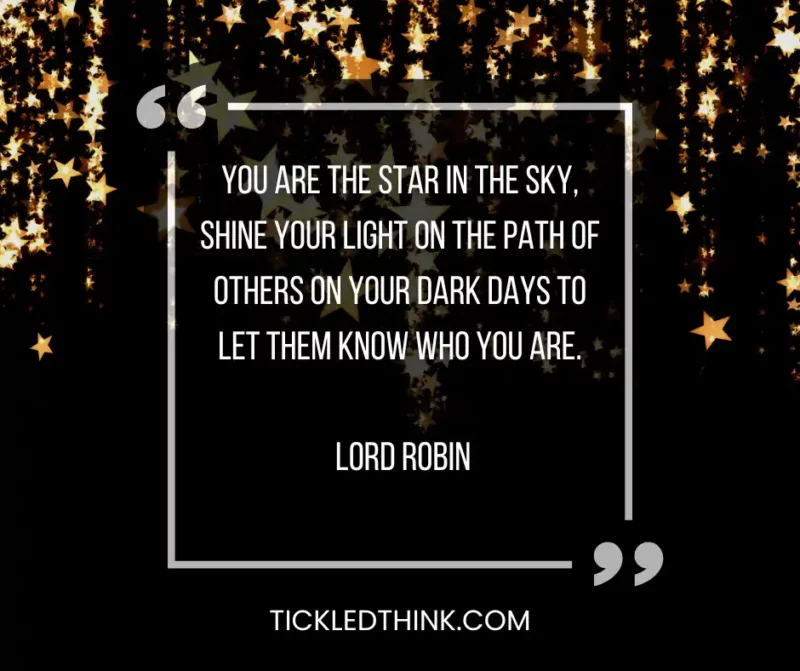 You are the star in the sky, shine your light on the path of others on your dark days to let them know who you are.
— Lord Robin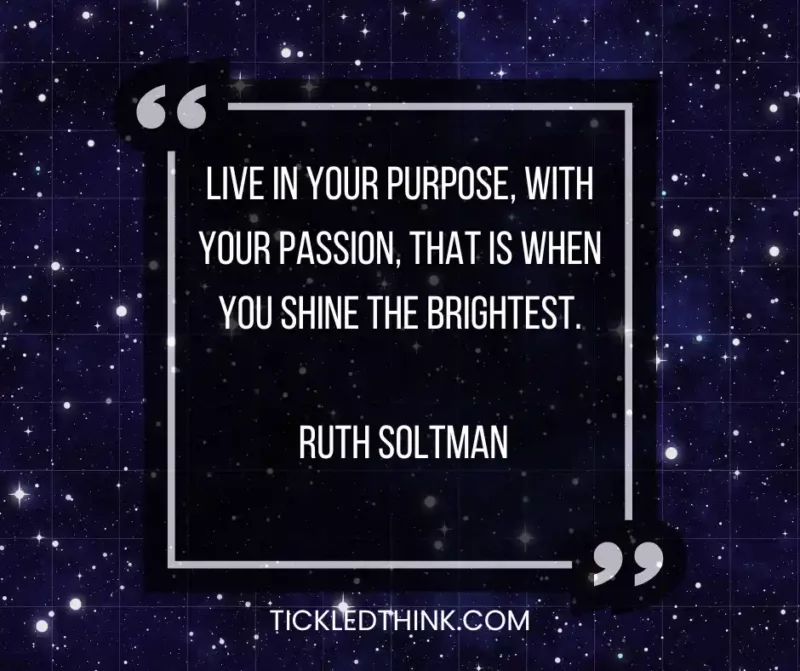 Live in your purpose, with your passion, that is when you shine the brightest.
— Ruth Soltman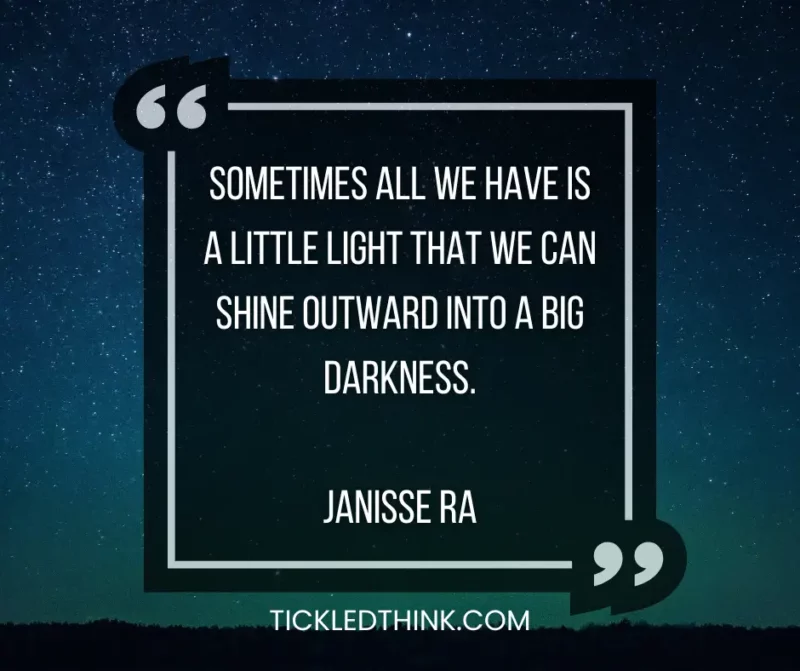 Sometimes all we have is a little light that we can shine outward into a big darkness.
— Janisse Ra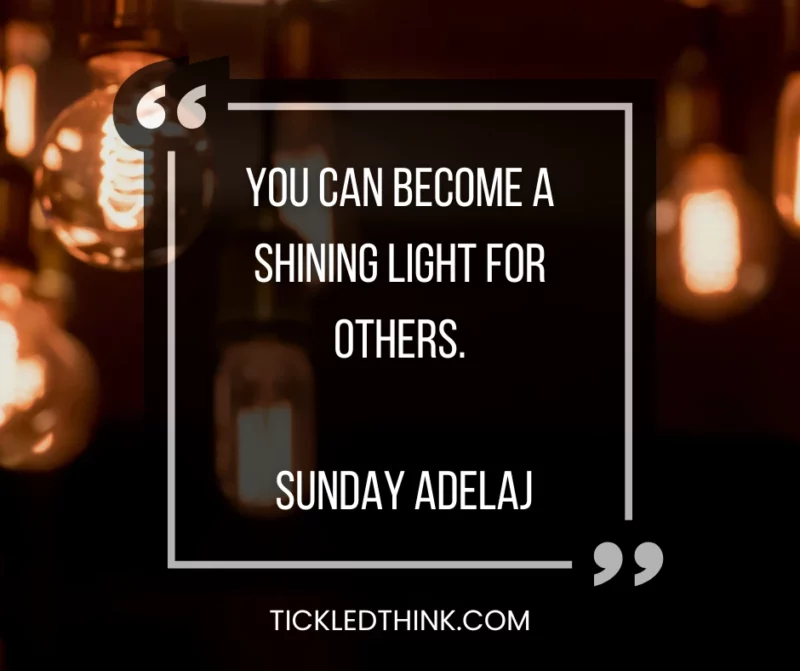 You can become a shining light for others.
— Sunday Adelaj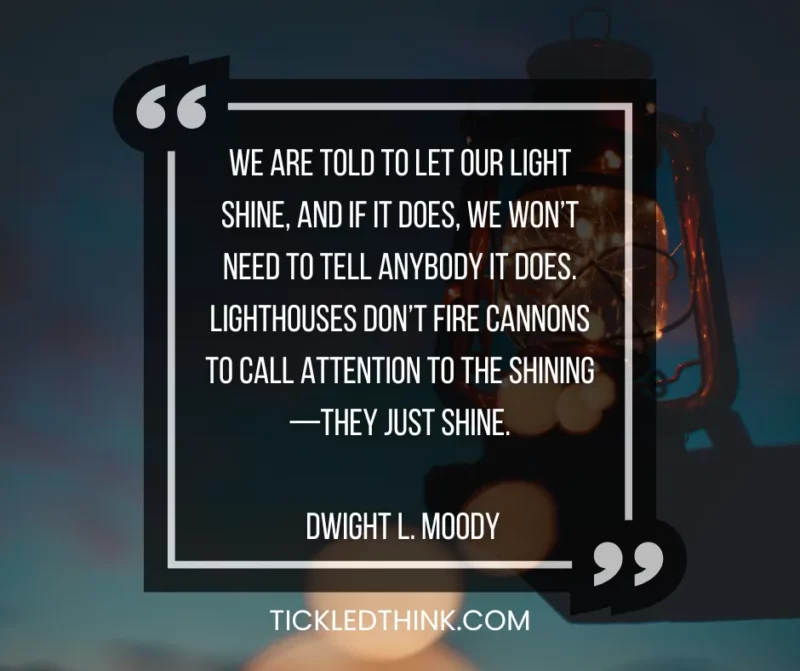 We are told to let our light shine, and if it does, we won't need to tell anybody it does. Lighthouses don't fire cannons to call attention to the shining—they just shine.
— Dwight L. Moody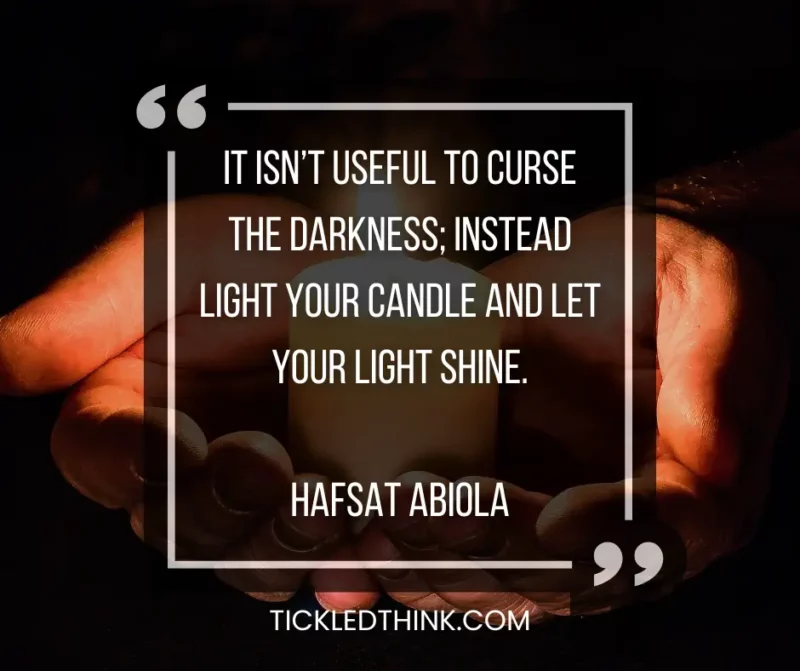 It isn't useful to curse the darkness; instead light your candle and let your light shine.
— Hafsat Abiola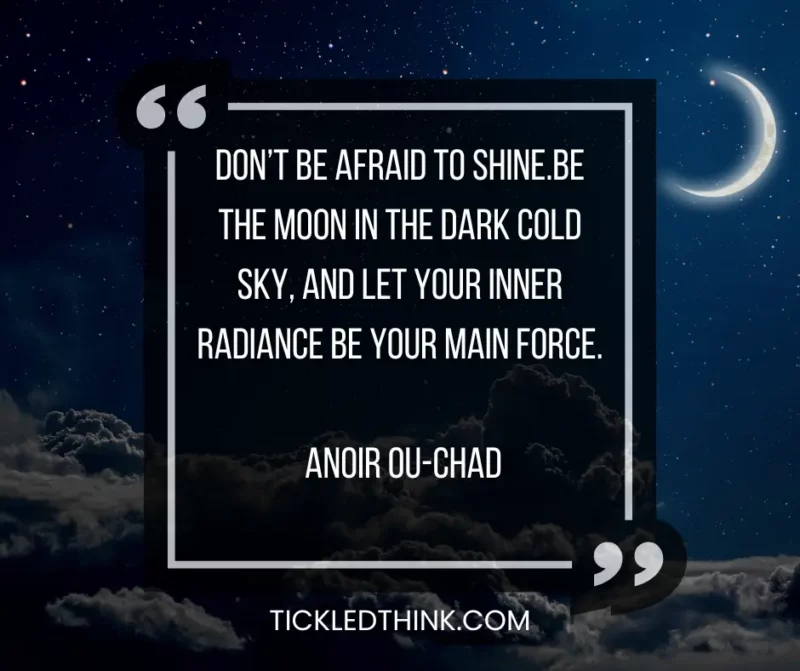 Don't be afraid to shine.Be the moon in the dark cold sky, and let your inner radiance be your main force.
— Anoir Ou-chad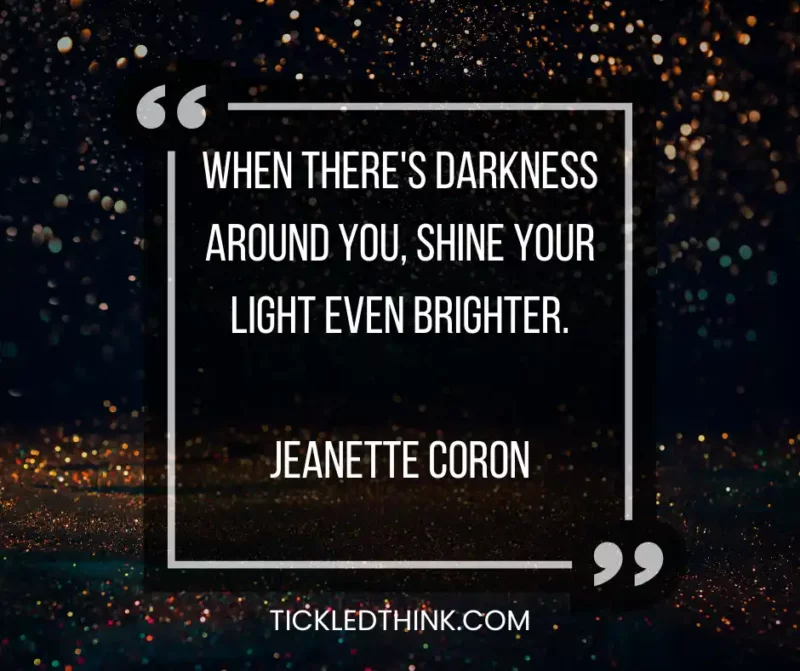 When there's darkness around you, shine your light even brighter.
— Jeanette Coron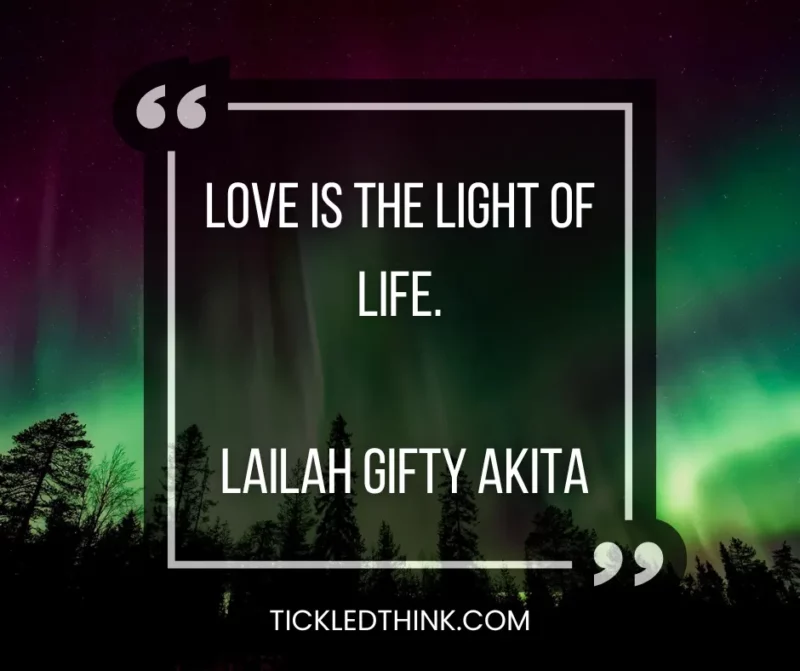 Love is the light of life.
— Lailah Gifty Akita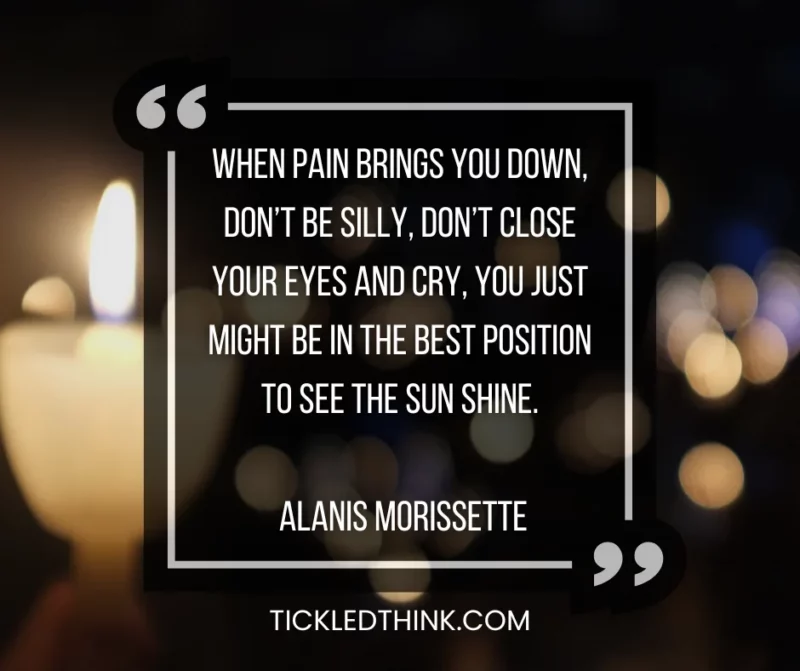 When pain brings you down, don't be silly, don't close your eyes and cry, you just might be in the best position to see the sun shine.
— Alanis Morissette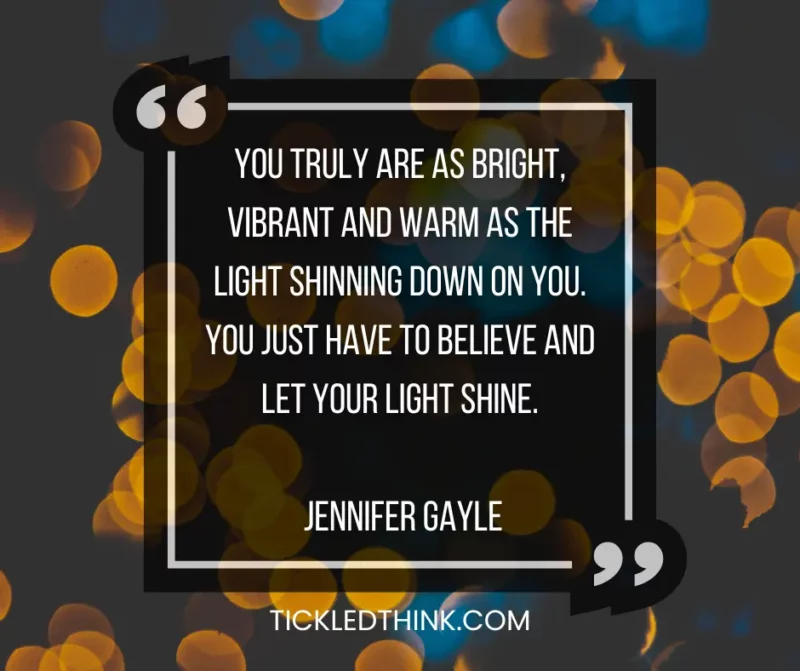 You truly are as bright, vibrant and warm as the light shinning down on you. You just have to believe and let your light shine.
— Jennifer Gayle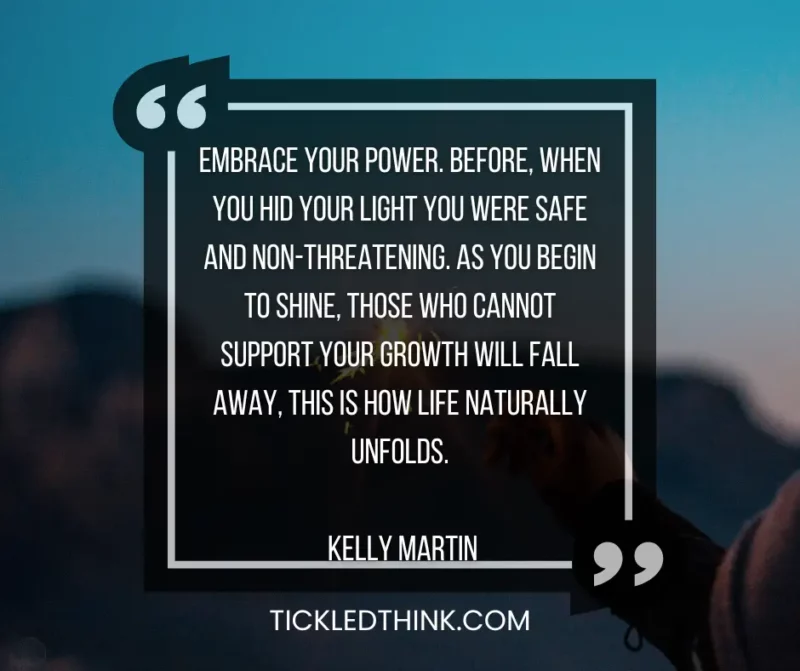 Embrace your power. Before, when you hid your light you were safe and non-threatening. As you begin to shine, those who cannot support your growth will fall away, this is how life naturally unfolds.
— Kelly Martin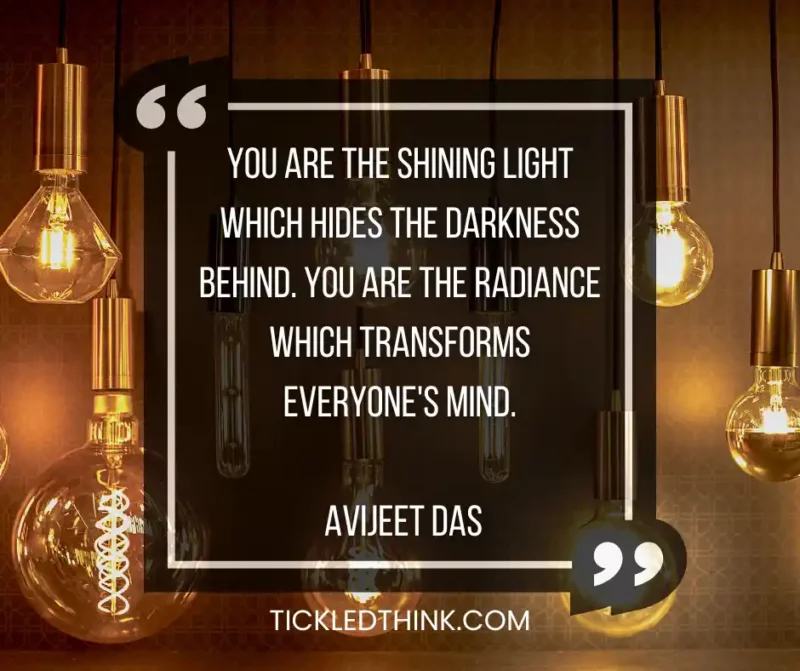 You are the shining light which hides the darkness behind. You are the radiance which transforms everyone's mind.
— Avijeet Das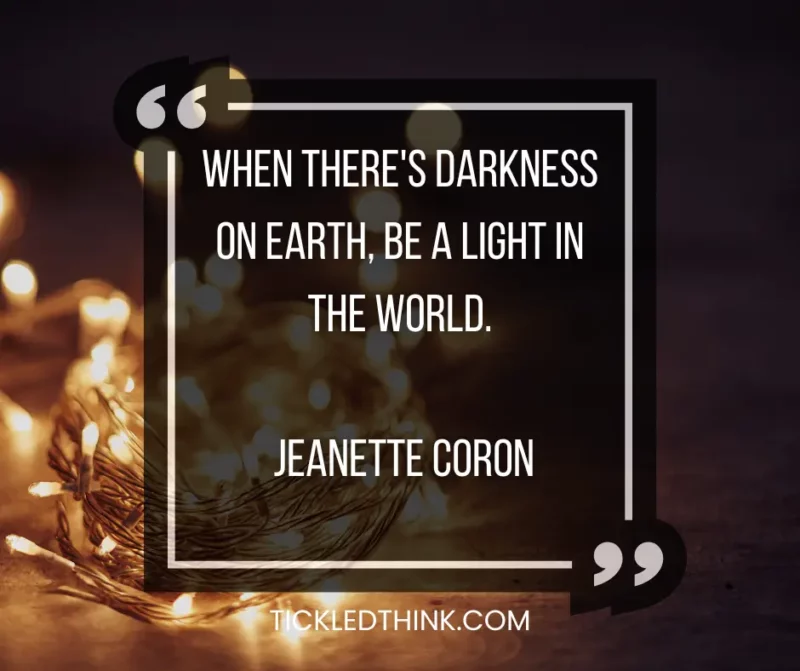 When there's darkness on earth, be a light in the world.
— Jeanette Coron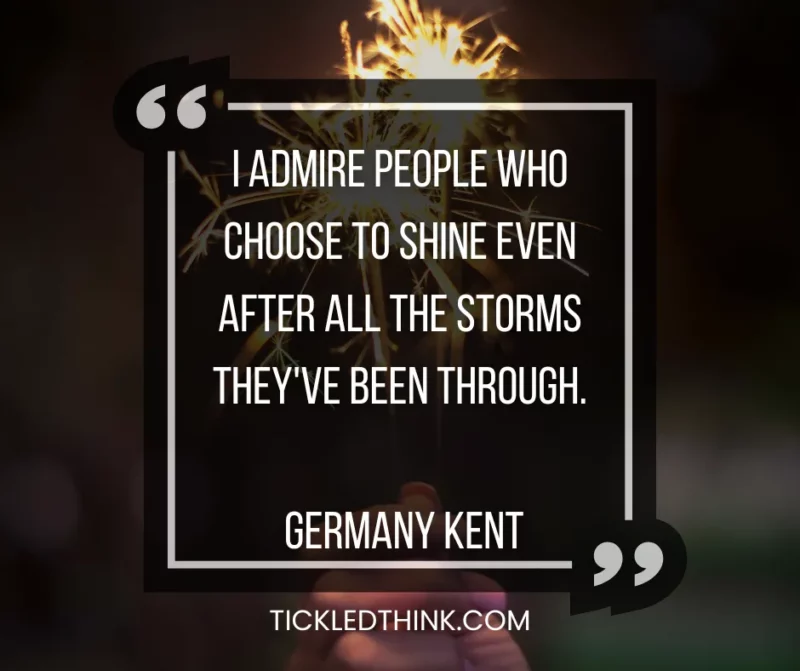 I admire people who choose to shine even after all the storms they've been through.
— Germany Kent
Don't shine so others can see you. Shine so that through you others can see him.
— C.S. Lewis
Let Your Shine Quotes To Boost Your Confidence
These let your light shine quotes below will help boost your confidence and self esteem and remind you that you are worthy and enough just as you are now. You have the ability to shine the brightest, just take the first step and believe in yourself.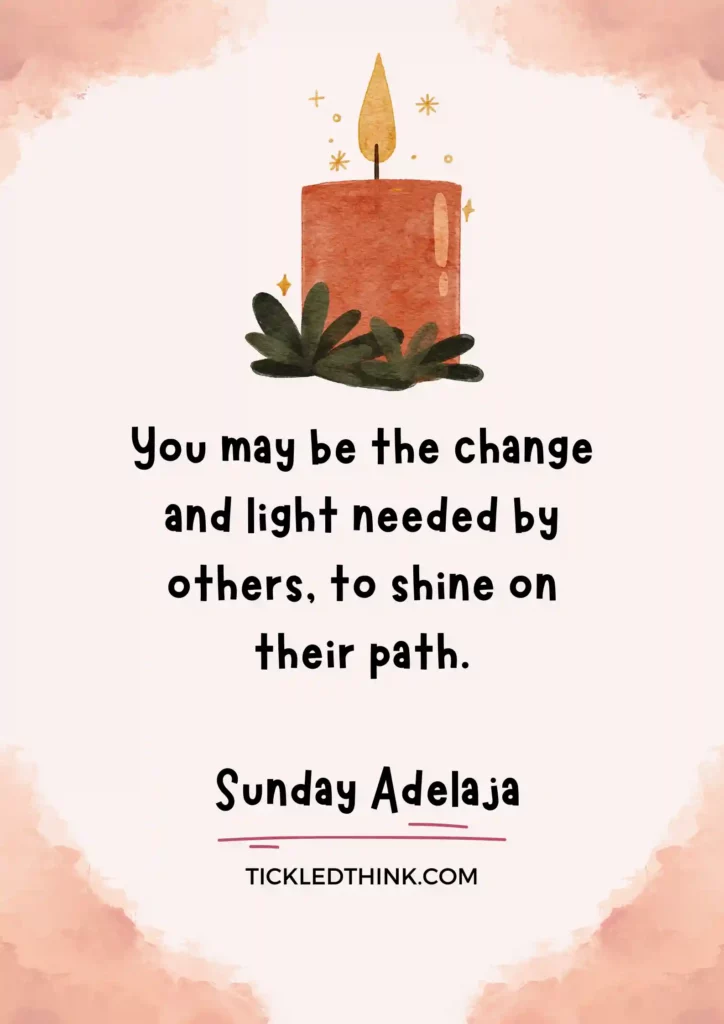 You may be the change and light needed by others, to shine on their path.
— Sunday Adelaja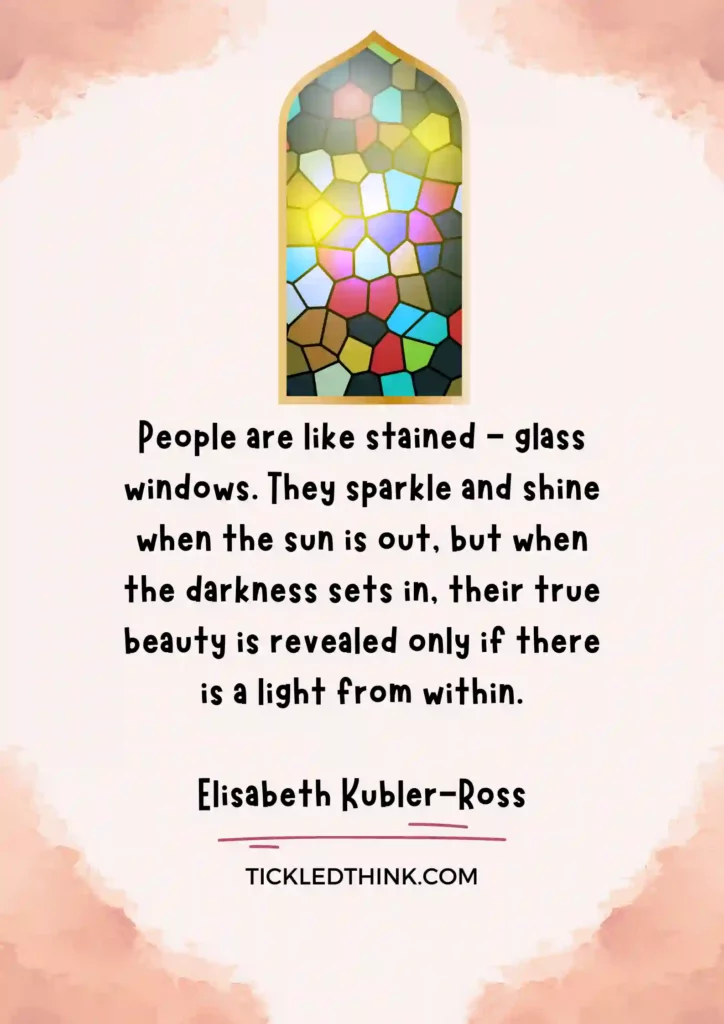 People are like stained – glass windows. They sparkle and shine when the sun is out, but when the darkness sets in, their true beauty is revealed only if there is a light from within.
— Elisabeth Kubler-Ross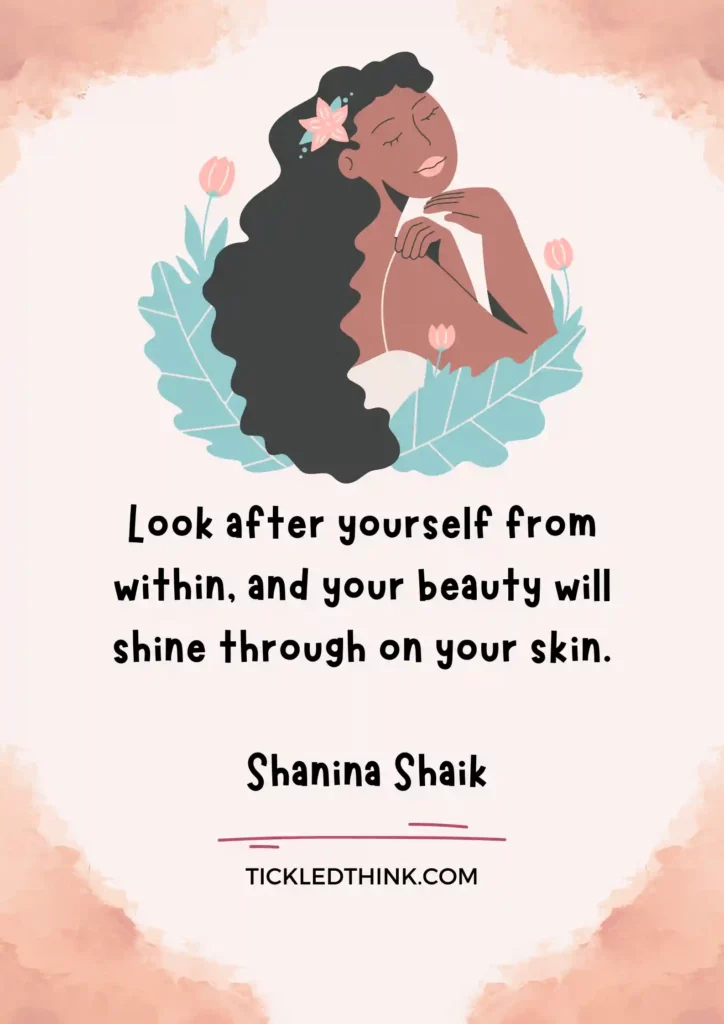 Look after yourself from within, and your beauty will shine through on your skin.
— Shanina Shaik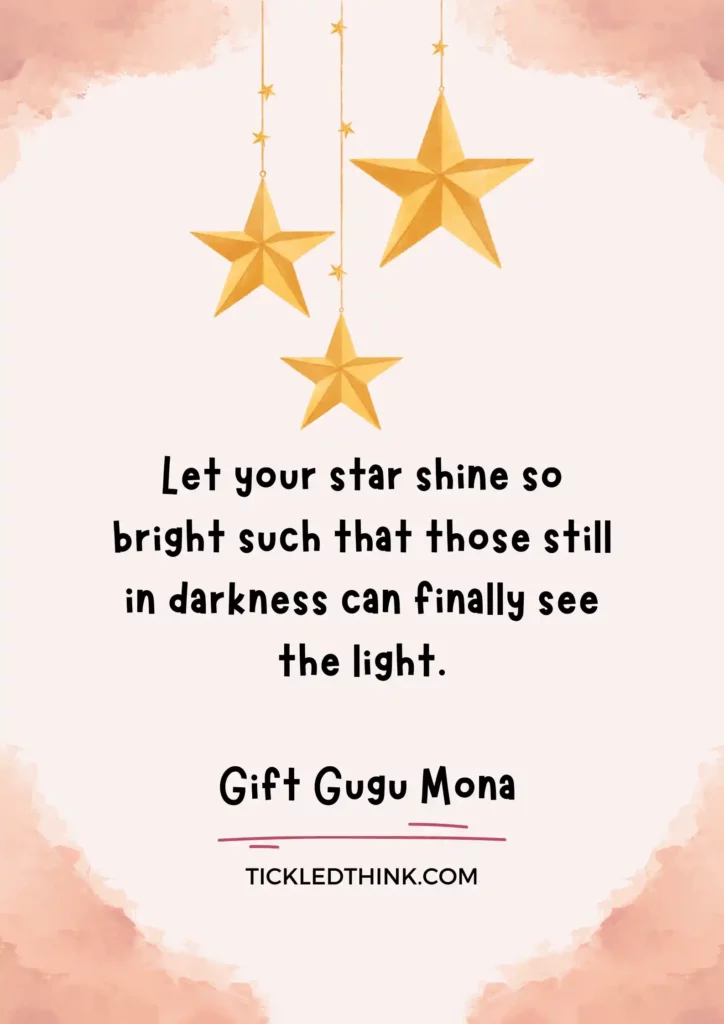 Let your star shine so bright such that those still in darkness can finally see the light.
— Gift Gugu Mona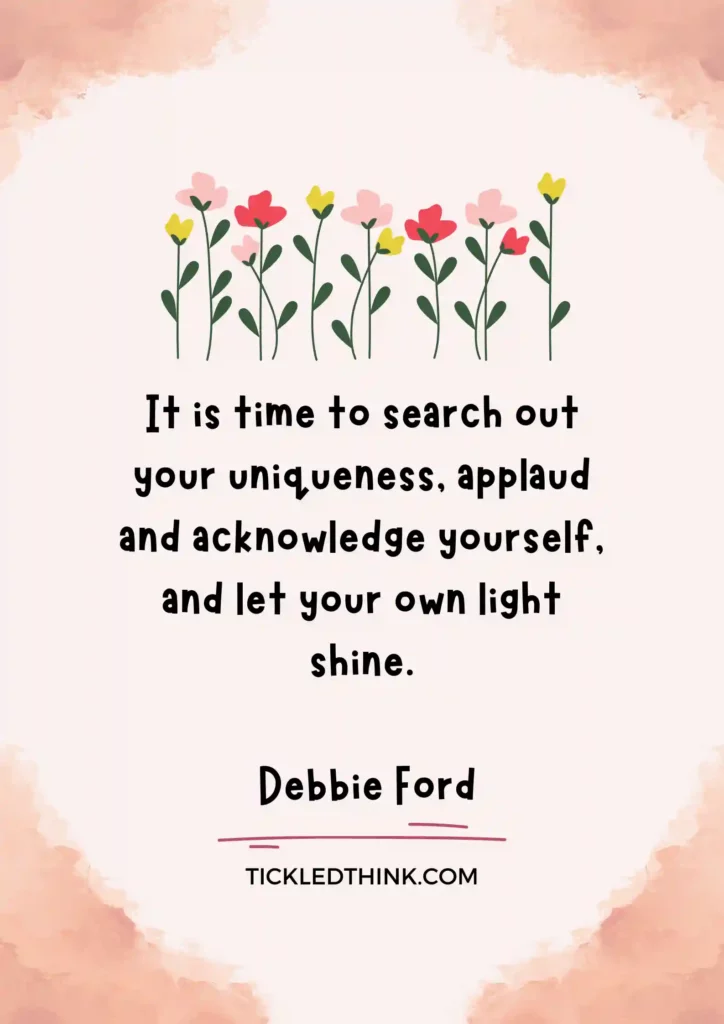 It is time to search out your uniqueness, applaud and acknowledge yourself, and let your own light shine.
— Debbie Ford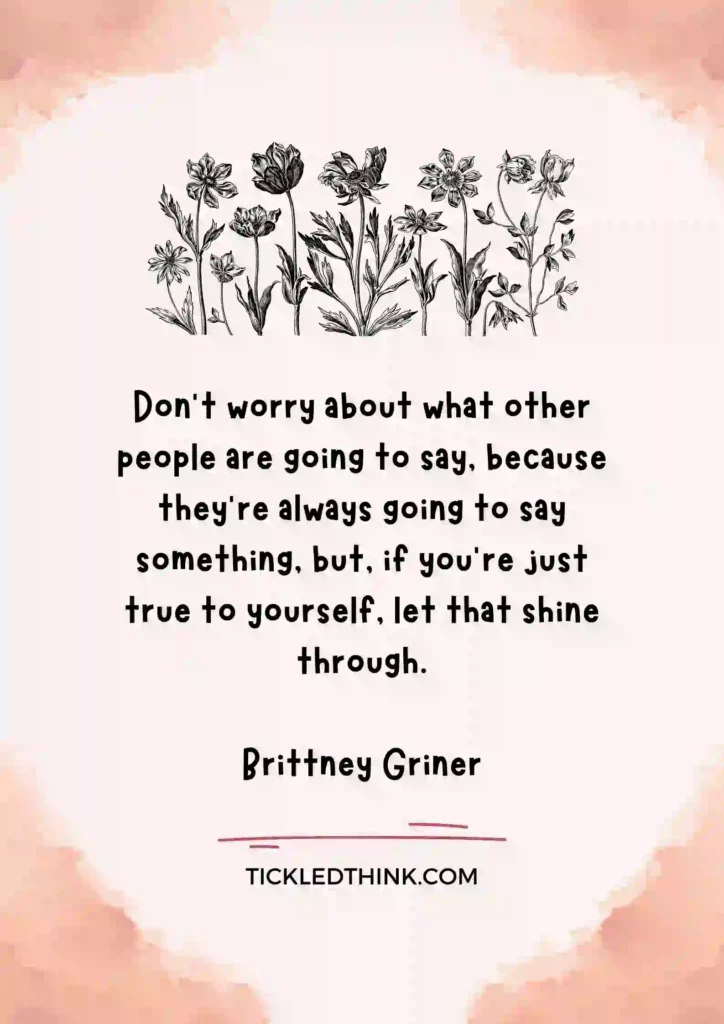 Don't worry about what other people are going to say, because they're always going to say something, but, if you're just true to yourself, let that shine through.
— Brittney Griner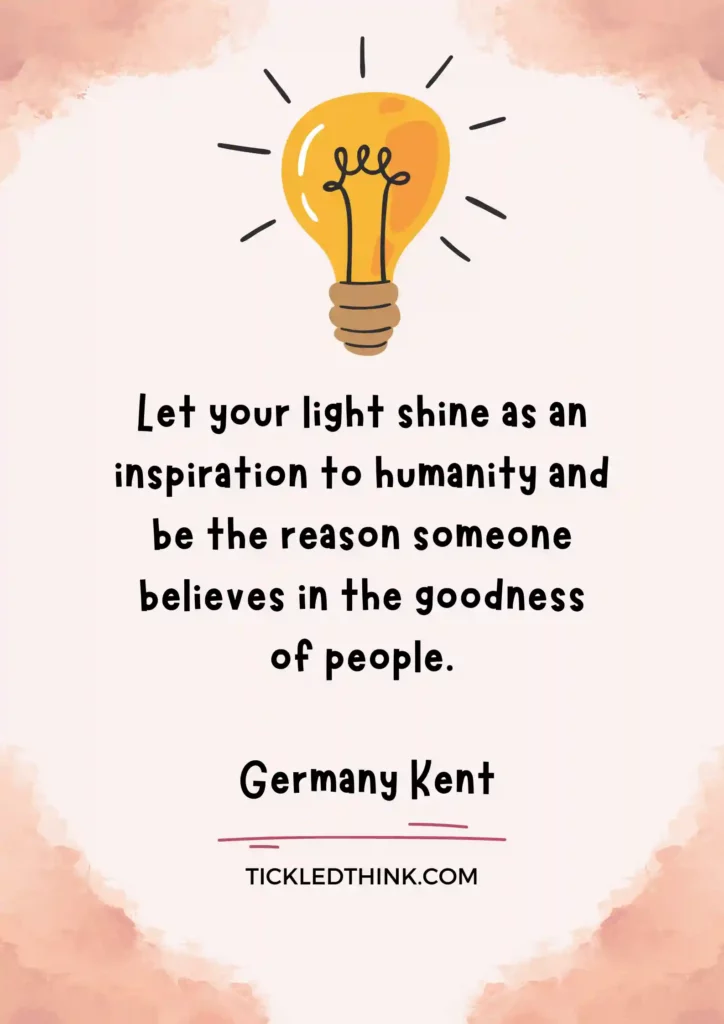 Let your light shine as an inspiration to humanity and be the reason someone believes in the goodness of people.
— Germany Kent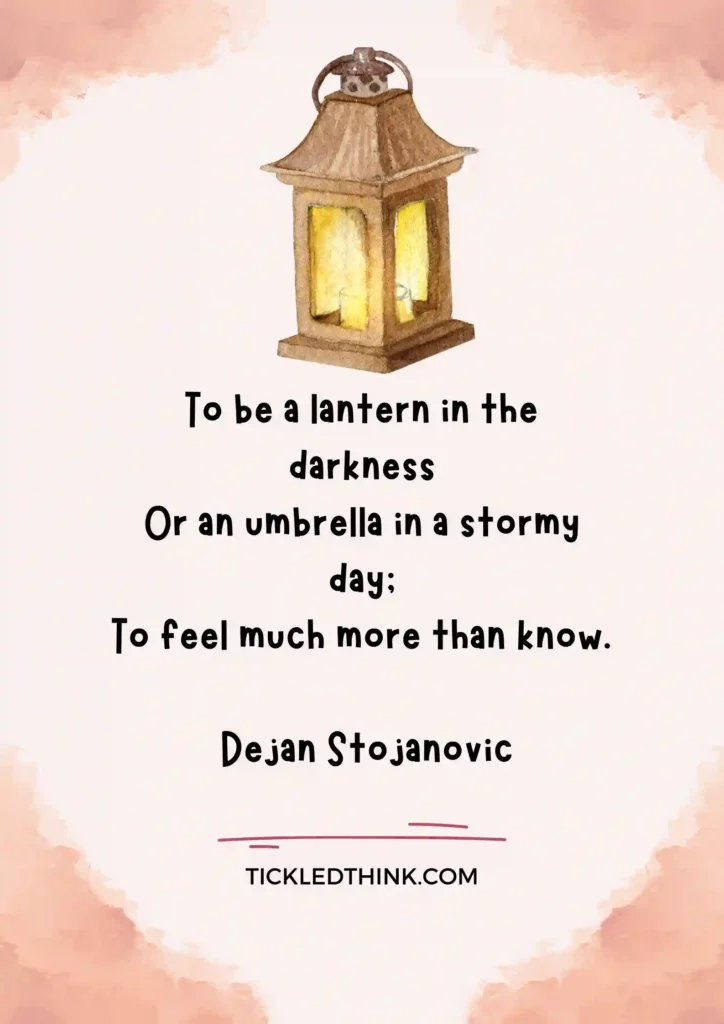 To be a lantern in the darkness or an umbrella in a stormy day; To feel much more than know.
— Dejan Stojanovic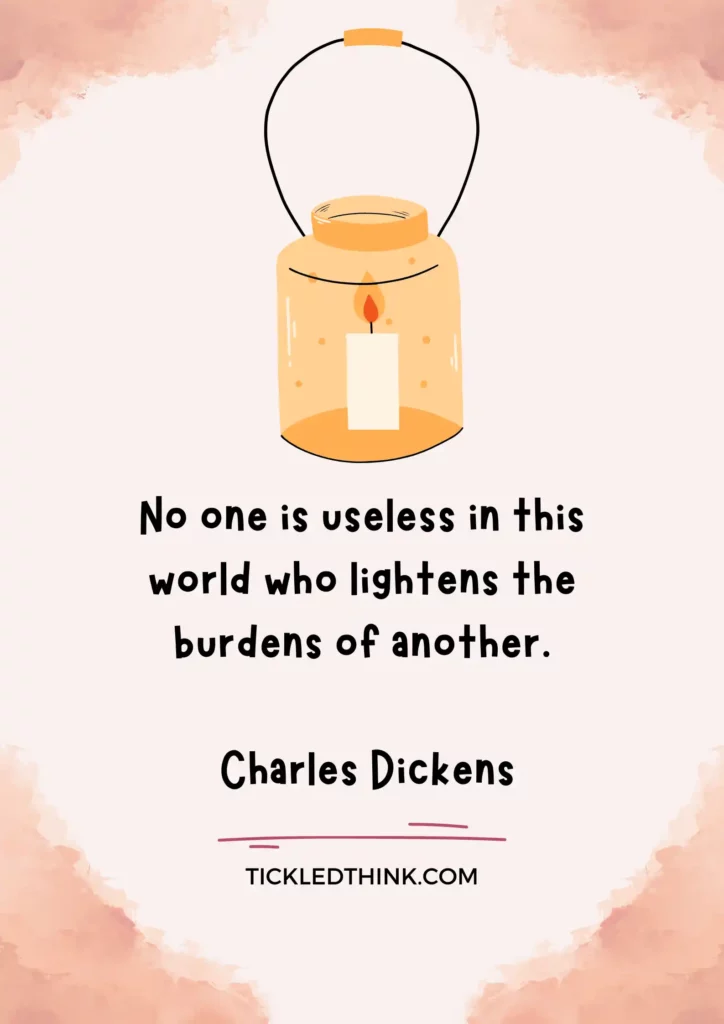 No one is useless in this world who lightens the burdens of another.
— Charles Dickens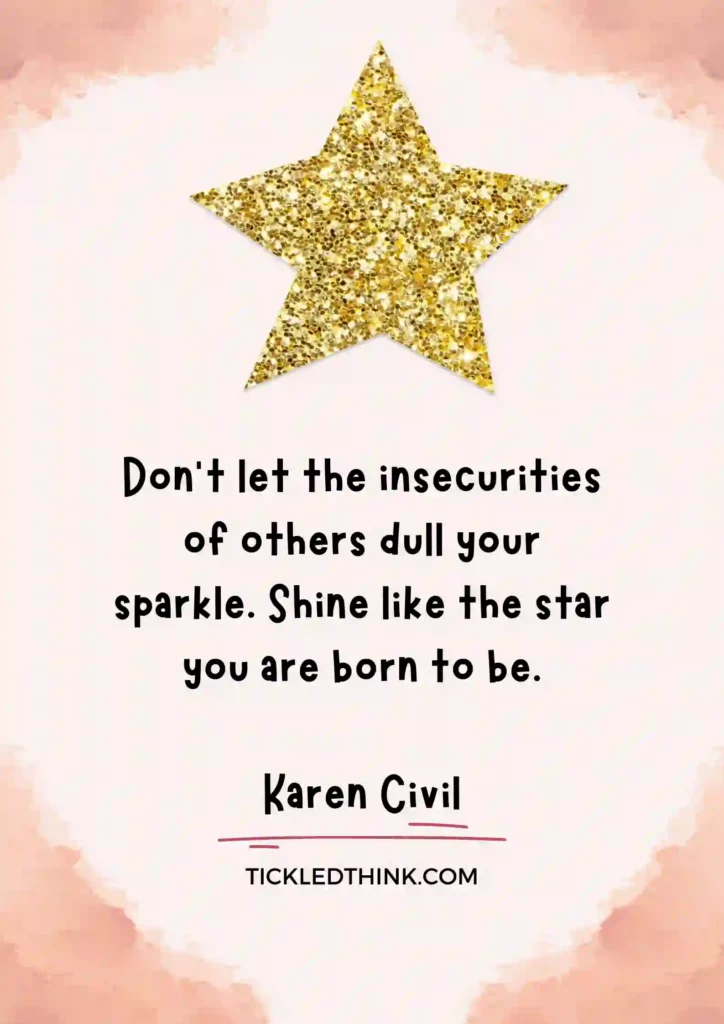 Don't let the insecurities of others dull your sparkle. Shine like the star you are born to be.
— Karen Civil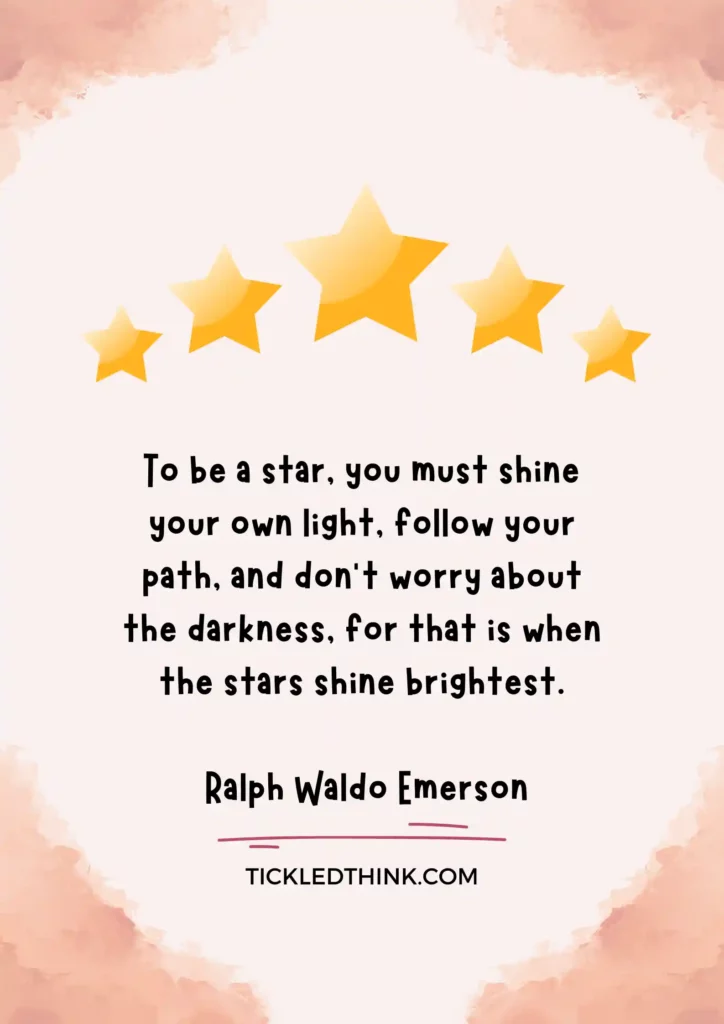 To be a star, you must shine your own light, follow your path, and don't worry about the darkness, for that is when the stars shine brightest.
— Ralph Waldo Emerson
Do not shrink your beautiful light to make someone else feel more comfortable. Be who you are without hesitation and you will inspire others to shine, too!
— Unknown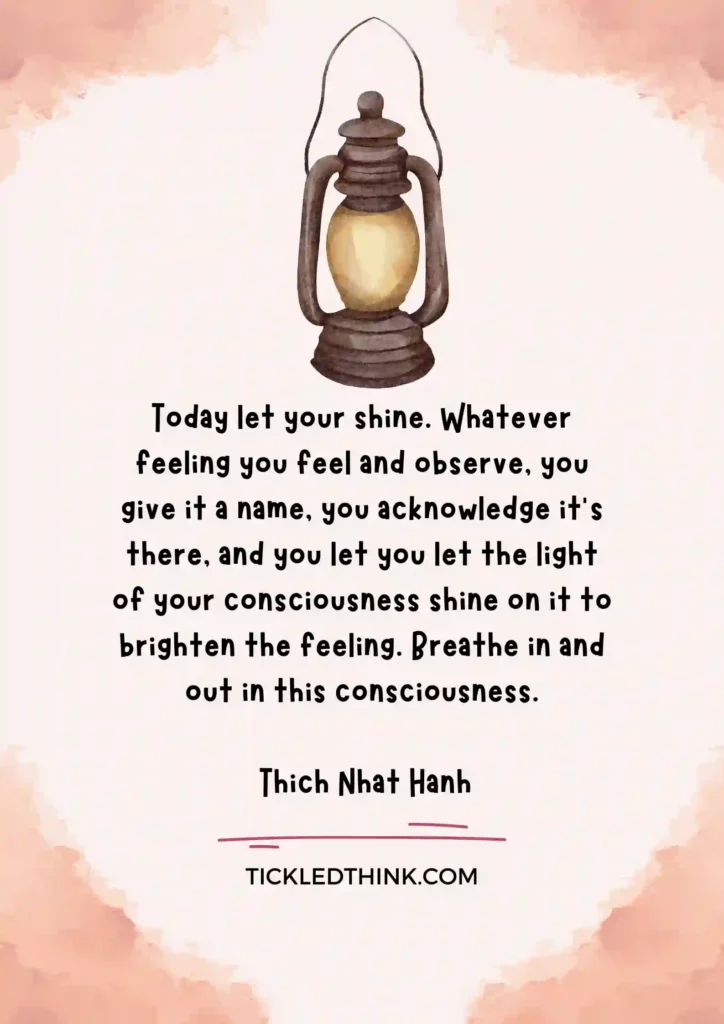 Today let your shine. Whatever feeling you feel and observe, you give it a name, you acknowledge it's there, and you let you let the light of your consciousness shine on it to brighten the feeling. Breathe in and out in this consciousness.
— Thich Nhat Hanh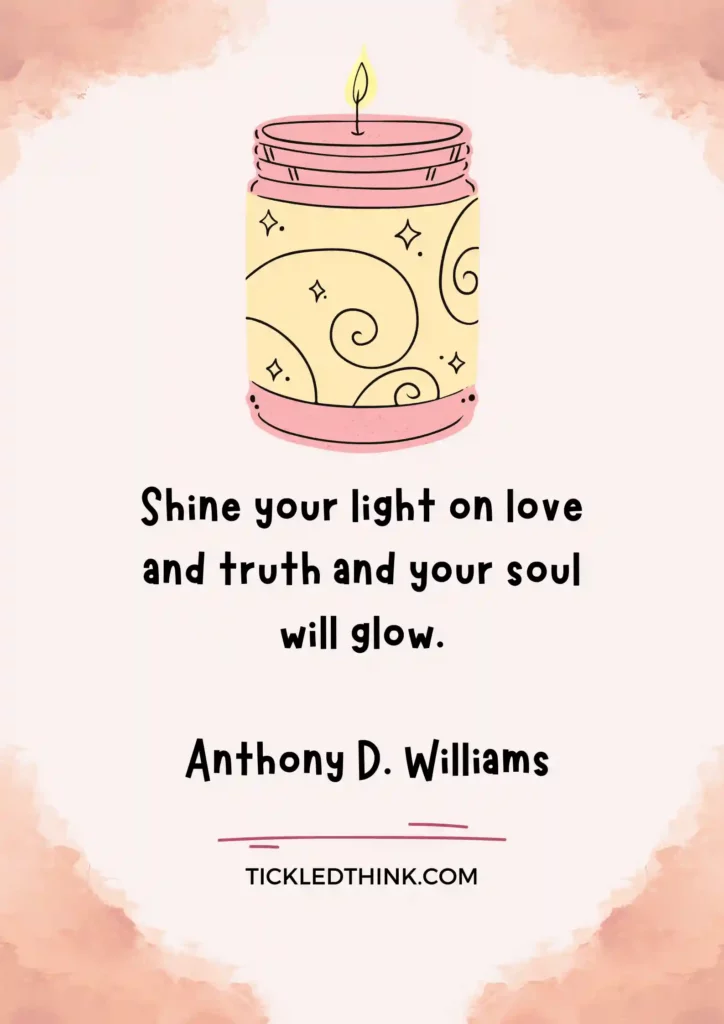 Shine your light on love and truth and your soul will glow.
— Anthony D. Williams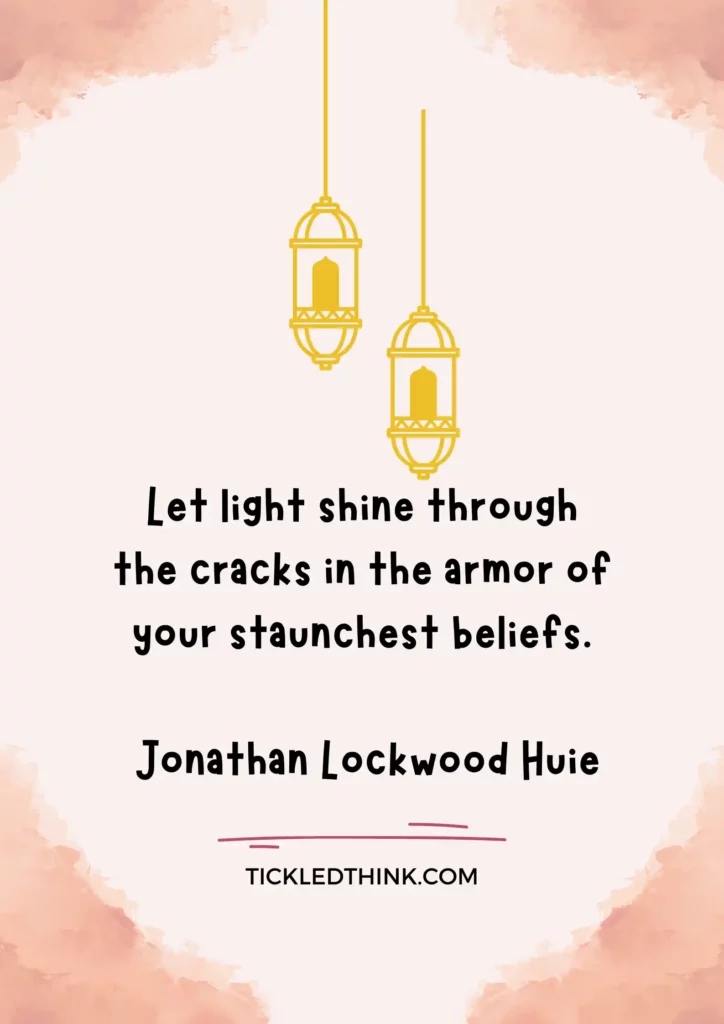 Let light shine through the cracks in the armor of your staunchest beliefs.
— Jonathan Lockwood Huie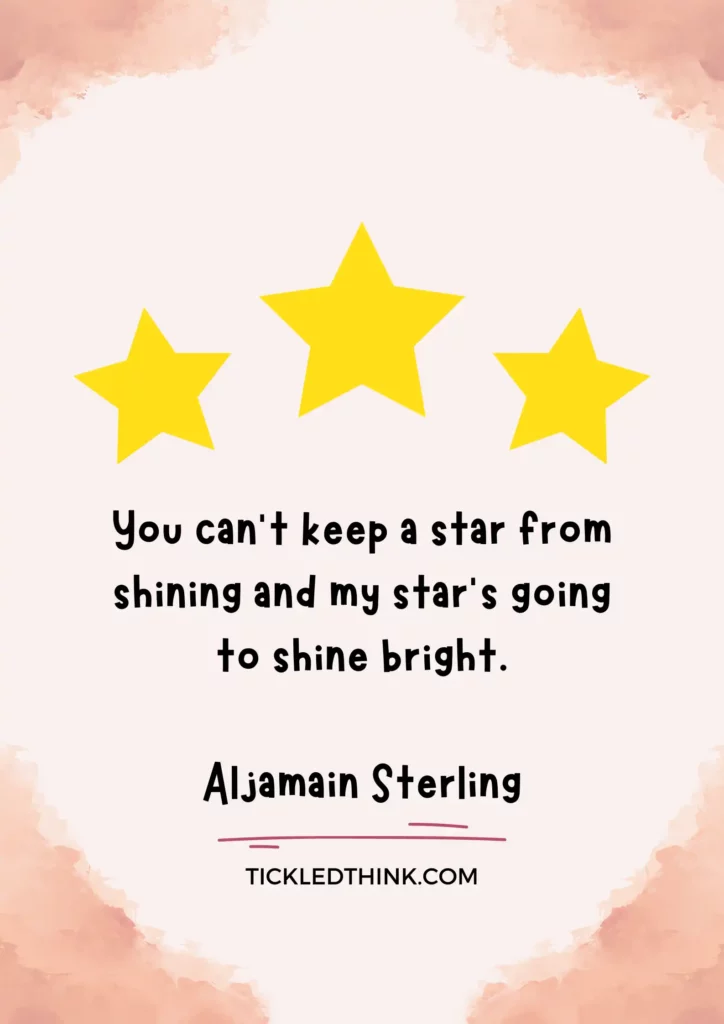 You can't keep a star from shining and my star's going to shine bright.
— Aljamain Sterling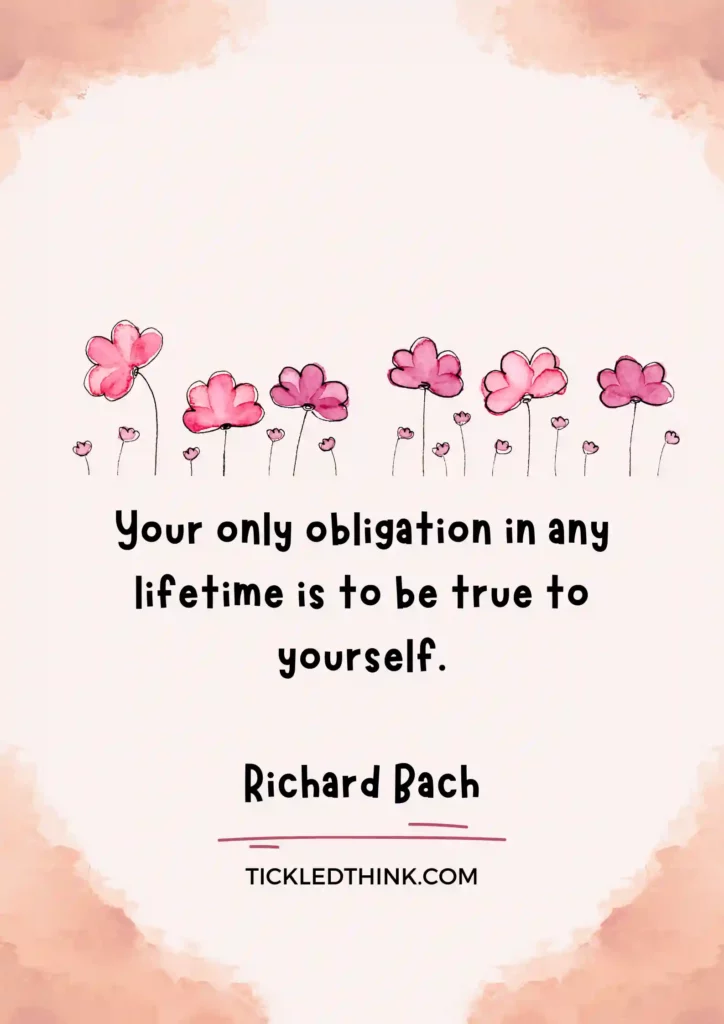 Your only obligation in any lifetime is to be true to yourself.
— Richard Bach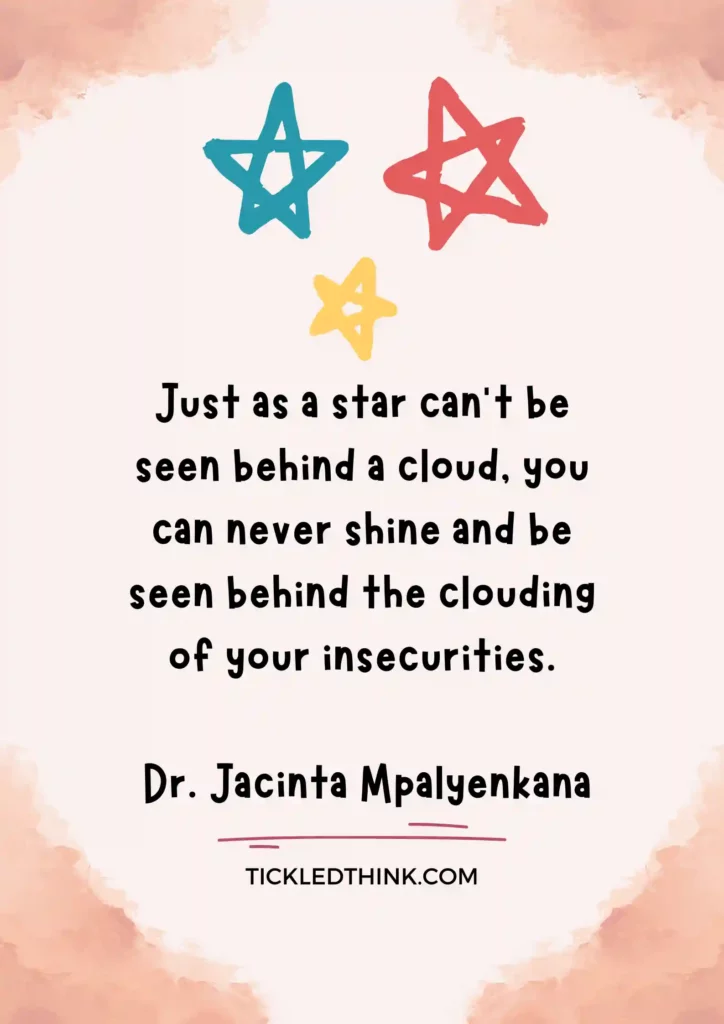 Just as a star can't be seen behind a cloud, you can never shine and be seen behind the clouding of your insecurities.
— Dr. Jacinta Mpalyenkana
More Inspirational Quotes For You To Enjoy