These river quotes will remind you of the beauty of rivers and streams and how incredible they are.
Rivers have always been a magnificent and mesmerizing site. They are an essential part of nature and a source of life.
They brought communities together and allowed space for people to build a place to live and prosper.
Rivers can also be of great inspiration on how we should live our lives. Like them, let us not try to control everything, instead let us be like a river, calm and peaceful and flow through life.
So, whether you're looking for inspiration or for great river quotes for photo captions, this certainly is the place to be.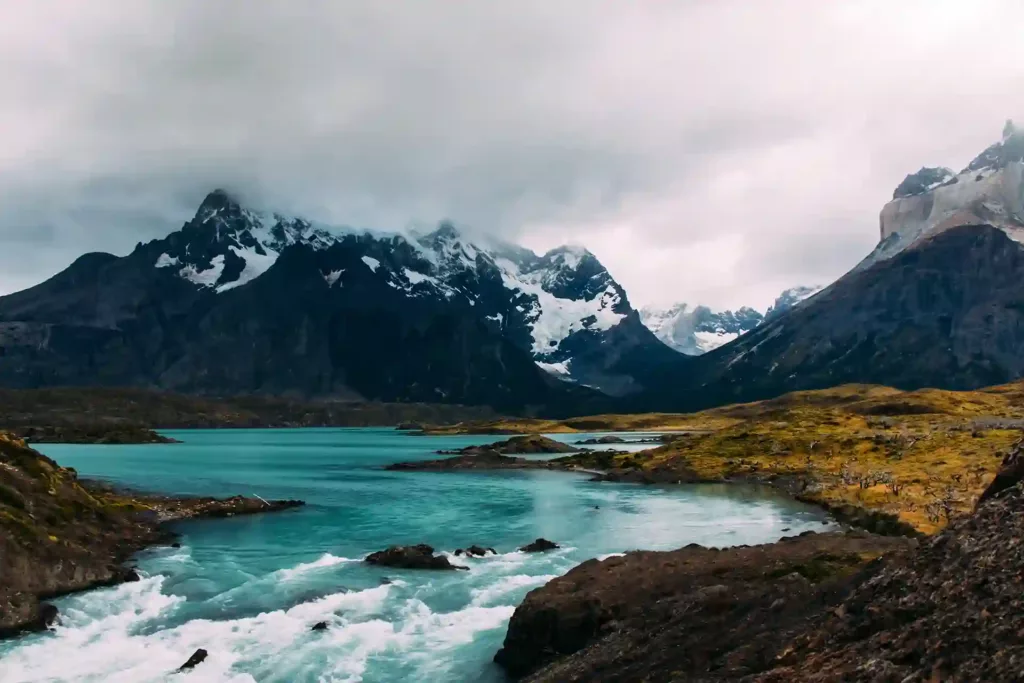 HERE ARE 80+ RIVER QUOTES AND QUOTES ABOUT RIVERS
Life is like the river, sometimes it sweeps you gently along and sometimes the rapids come out of nowhere.
— Emma Smith
You drown not by falling into a river, but by staying submerged in it.
— Paulo Coelho
May what I do flow from me like a river, no forcing and no holding back, the way it is with children.
— Rainer Maria Rilke
Many a calm river begins as a turbulent waterfall, yet none hurtles and foams all the way to the sea.
— Mikhail Lermontov
The river is everywhere.
— Herman Hesse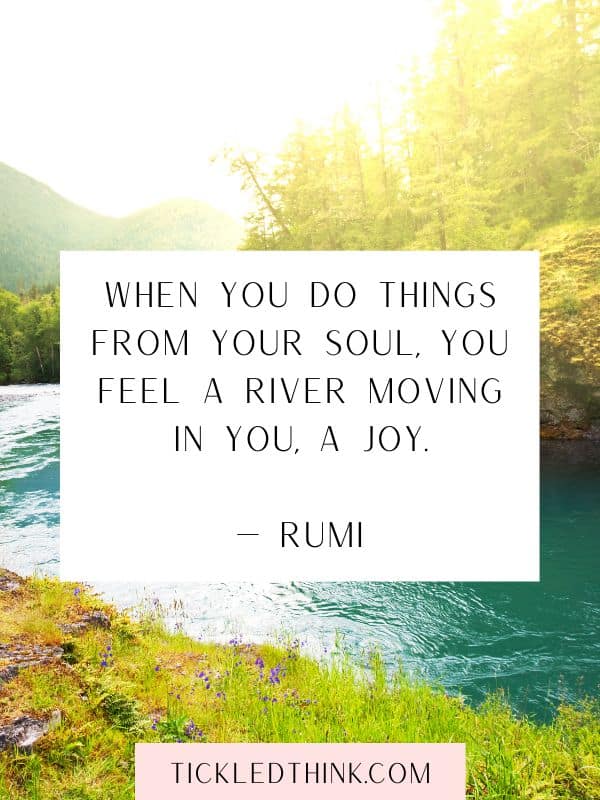 Nature promotes mutualism. The flower nourishes the bee. The river waters quench the thirst of all living beings. And trees provide a welcoming home to so many birds and animals. There is a rhythm to this togetherness.
— Ram Nath Kovind
We must begin thinking like a river if we are to leave a legacy of beauty and life for future generations.
— David Brower
The river is constantly turning and bending and you never know where it's going to go and where you'll wind up. Following the bend in the river and staying on your own path means that you are on the right track. Don't let anyone deter you from that.
— Eartha Kitt
A river seems a magic thing. A magic, moving, living part of the very earth itself.
— Laura Gilpin
True merit, like a river, the deeper it is, the less noise it makes.
— Edward Wood, 1st Earl of Halifax
Mist to mist, drops to drops. For water thou art, and unto water shalt thou return.
— Kamand Kojouri
Time is a sort of river of passing events, and strong is its current; no sooner is a thing brought to sight than it is swept by and another takes its place, and this too will be swept away.
— Marcus Aurelius
A good river is nature's life work in song.
— Mark Helprin
For life and death are one, even as the river and the sea are one.
— Khalil Gibran
Be like water,
Flow like a river,
Crash like the rain,
Fly like the cloud again!
— Md. Ziaul Haque
You can't be unhappy in the middle of a big, beautiful river.
— Jim Harrison
But just as the river is always at the door, so is the world always outside. And it is in the world that we have to live.
— Lian Hearn
If my ship sails from sight, it doesn't mean my journey ends, it simply means the river bends.
— Enoch Powell
The river in front of her was black. She thought it contained many things.
— Gisele Prassinos
What makes a river so restful to people is that it doesn't have any doubt – it is sure to get where it is going, and it doesn't want to go anywhere else.
— Hal Boyle
The headlong stream is termed violent
But the river bed hemming it in
Is termed violent by no one.
— Bertolt Brecht
The beauty of a river is best measured by the cleanliness of its water; the beauty of a person, by the cleanliness of his character!
— Mehmet Murat ildan
We have an unknown distance yet to run, an unknown river to explore. What falls there are, we know not; what rocks beset the channel, we know not; what walls ride over the river, we know not. Ah, well! we may conjecture many things.
— John Wesley Powell
Living on the water took away the boundaries created by land and custom and introversion. Without fences and driveways, the water provided a constant thread of connection and dependency.
— Lily Graham
Words are like a pebble, and the heart is like a river.
What happens when a pebble is thrown into a river? It causes a ripple.
— Michael Bassey Johnson
I like geography best, he said, because your mountains & rivers know the secret. Pay no attention to boundaries.
— Brian Andreas
Denial ain't just a river in Egypt.
— Mark Twain
There are no guarantees in life, no certainties in life – just the ever-changing, flowing river of life.
— Rasheed Ogunlaru
INSPIRATIONAL RIVER QUOTES AND CAPTIONS
Who hears the rippling of rivers will not utterly despair of anything.
— Henry David Thoreau
The river has great wisdom and whispers its secrets to the hearts of men.
— Mark Twain
The moving, living river carries the soul of this earth. The murmurs of its music, how the whispers arise from the riverbed, only to lull you in the deeps.
— Jayita Bhattacharjee
When you do things from your soul, you feel a river moving in you, a joy.
— Rumi
I choose to listen to the river for a while, thinking river thoughts, before joining the night and the stars.
— Edward Abbey
Related Posts:
I would love to live like a river flows, carried by the surprise of its own unfolding.
— John O'Donohue
He who does not know his way to the sea should take a river for his guide.
— Blaise Pascal
Love is the river of life in the world.
— Henry Ward Beecher
Faith does not need to push the river because faith is able to trust that there is a river. The river is flowing. We are in it.
— Richard Rohr
Spring buds burst to bloom, and the river carries their song of life.
— Jayita Bhattacharjee
The river moves, but it follows a path. When it tires of one journey, it rubs through some rock to forge a new way. Hard work, but that's its nature.
— Kekla Magoon
You can't argue with a river – it is going to flow. You can dam it up, put it to useful purposes, you can deflect it, but you can't argue with it.
— Dean Acheson
A river cuts through rock, not because of its power, but because of its persistence.
— Jim Watkins
The first river you paddle runs through the rest of your life. It bubbles up in pools and eddies to remind you who you are.
— Lynn Noel
Rivers know this: there is no hurry. We shall get there someday.
You don't have to scream at the top of your lungs to make your voice heard to the world! A quietly flowing river also conveys its message to the ocean!
— Mehmet Murat ildan
If the earth is a mother then rivers are her veins.
— Amit Kalantri
The happiness of the drop is to die in the river.
— Unknown
A river has many curves, but it always reaches the ocean.
— Donald L. Hicks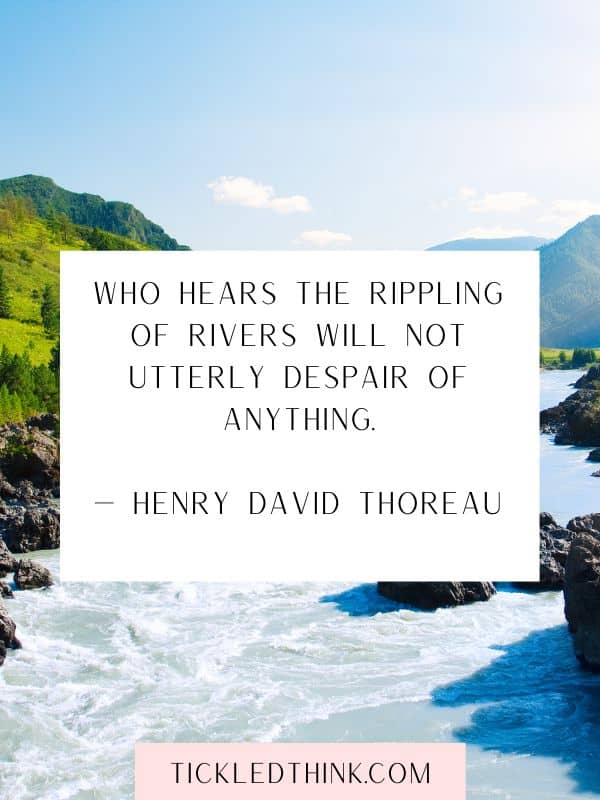 Life is a river. Life is not the mountain which speaks of struggle, nor the ocean that speaks of depths unknown. Life is not the sky which tells stories of greatness, nor the trees that tell stories of purpose. But life is a river that flows and the only way to live is to go into your river and flow with it. That is where life is. That is how you will arrive at where you are meant to be. Flow in your river wherever it may lead.
— C. JoyBell C.
Rivers flow not past, but through us; tingling, vibrating, exciting every cell and fiber in our bodies, making them sing and glide.
— John Muir
A river doesn't just carry water, it carries life.
— Amit Kalantri
In rivers, the water that you touch is the last of what has passed and the first of that which comes, so with time present.
— Leonardo da Vinci
Who was to say where the river ended and the sea began, water flowed into itself and the sweet became the salty, where the brine and the riverine coagulated and became the ocean, primordial churn, from the beginning of time and earth and life."
— Kiran Manral
I had no plans of any destination. I wish to flow like a river.
— Lailah Gifty Akita
A river is more than an amenity, it is a treasure.
— Oliver Wendell Holmes
Don't push the river, it will flow. Don't push the love, it will grow.
— Anonymous
Love, like a river, will cut a new path whenever it meets an obstacle.
— Crystal Middlemas
MORE BEAUTIFUL RIVER QUOTES AND SAYINGS
A dream is like a river ever changing as it flows and a dreamer's just a vessel that must follow where it goes.
— Garth Brooks
The River… It's my world, and I don't want any other. What it hasn't got is not worth having, and what it doesn't know is not worth knowing. Lord! the times we've had together!
— Kenneth Grahame
Every day we're given a choice: We can relax and float in the direction that the water flows, or we can swim hard against it. If we go with the river, the energy of a thousand mountain streams will be with us . . . if we resist the river, we will feel rankled and tired as we tread water, stuck in the same place.
— Elizabeth Lesser
The river flows at its own sweet will, but the flood is bound in the two banks. If it were not thus bound, its freedom would be wasted.
— Vinoba Bhave
If a man going down into a river, swollen and swiftly flowing, is carried away by the current – how can he help others across?
— Buddha
The river is one of my favorite metaphors, the symbol of the great flow of Life Itself. The river begins at Source, and returns to Source, unerringly. This happens every single time, without exception. We are no different.
— Jeffrey R. Anderson
The wise man knows that it is better to sit on the banks of a remote mountain stream than to be emperor of the whole world.
— Zhuangzi
The river was beautiful and wise. There were the two of them being happy in a new way. For here, there was no man, no woman, no master, no yellow, no black, no white. We, we who were, we are the same no longer.
— David Paul Kirkpatrick
The river teaches us many things, but its most important teaching is this: Whatever is happening around you, you keep flowing to your own destination following your own way!
— Mehmet Murat Ildan
The only river I would like to be drown is the river filled with the blood of Jesus.
— Michael Bassey Johnson
The river of truth is always splitting up into arms that reunite. Islanded between them, the inhabitants argue for a lifetime as to which is the mainstream.
— Cyril Connolly
Just as a drop of water in the ocean cannot avail much; but if a great river runneth into it, that maketh a great commotion.
— Jakob Bohme
On and on they flew, over the countryside parceled out in patches of green and brown, over roads and rivers winding through the landscapes like strips of matte and glossy ribbon.
― J.K. Rowling
A river is water is its loveliest form, rivers have life and sound and movement and infinity of variation, rivers are veins of the earth through which the lifeblood returns to the heart.
— Roderick Haig-Brown
Despite the ferocity of the current, a river is always moving but it's always in the same place. And much like a river, while we should surge forward with great ferocity, our principles should never move.
— Craig D. Lounsbrough
There is a river whose streams make glad the city of Love. Along that river is the tree of heaven.
— David Paul Kirkpatrick
When you stop beside a river, you get this message: Flow! And when you flow, you meet the never-seen and the never-lived parts of the life!
— Mehmet Murat Ildan
The river of time may fork into rivers, in which case you have a parallel reality and so then you can become a time traveler and not have to worry about causing a time paradox.
— Michio Kaku
When you put your hand in a flowing stream, you touch the last that has gone before and the first of what is still to come.
— Leonardo Da Vinci
To put your hands in a river is to feel the chords that bind the earth together.
— Barry Lopez
The only way to understand a river is to jump into it.
― Alice Hoffman
Rivers don't drink their own waters; trees don't eat their own fruits. The salt seasons the soup in order to have its purpose fulfilled. Live for others!
— Israelmore Ayivor
The care of rivers is not a question of rivers but of the human heart.
— Shozo Tanaka
Like a river down the gutter roars the rain, the welcome rain!
— Henry Wadsworth Longfellow
The flowing river nonchalantly reminds us of life: flowing relentlessly; flowing purposelessly. Life without purpose.
— Girdhar Joshi
The body is like water, and the blood as the river.
― Mia Siufi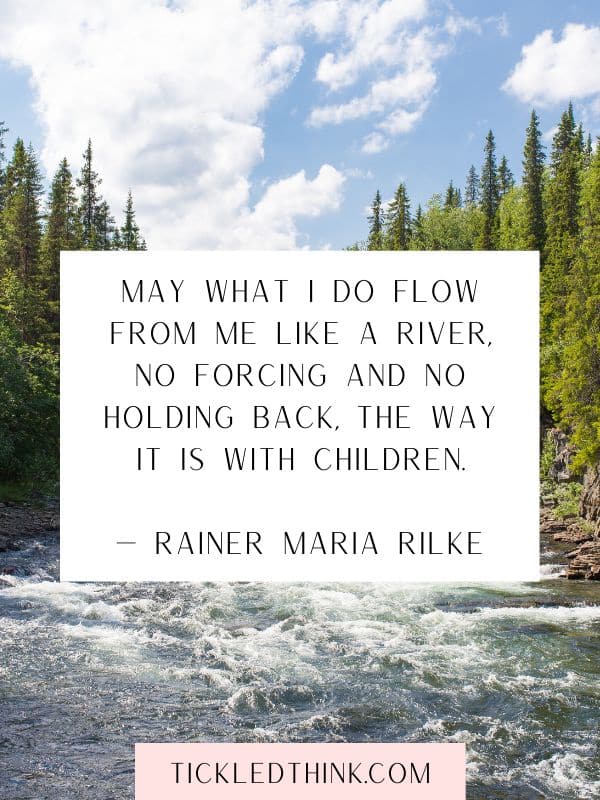 Eventually, all things merge into one, and a river runs through it. The river was cut by the world's great flood and runs over rocks from the basement of time. On some of the rocks are timeless raindrops. Under the rocks are the words, and some of the words are theirs. I am haunted by waters.
— Norman Maclean
She was the river, and the river had nothing to be ashamed of.
— Rachel Hartman
There are no guarantees in life, no certainties in life – just the ever-changing, flowing river of life.
― Rasheed Ogunlaru
Which of these river quotes was your favorite?
MORE INSPIRATIONAL QUOTES FOR YOU TO ENJOY