These inspirational storm quotes will give you hope to get through tough times.
Storms can be disruptive, dangerous, and scary but they can also be healing, cleansing, and calming. Storms are a great metaphor for life's adversities, challenges, failures, and disappointments.
When we are going through tough times, it's best to remember that like the storm, tough times also never last. The sun will rise again.
Brighter days are coming and you will come out of it, stronger, wiser, and braver.
We must remind ourselves that we need the go through life's storms for us to awaken our full potential and become the best versions of ourselves.
These storm quotes and quotes about storms and thunderstorms below will remind you that there is always a rainbow after the rain.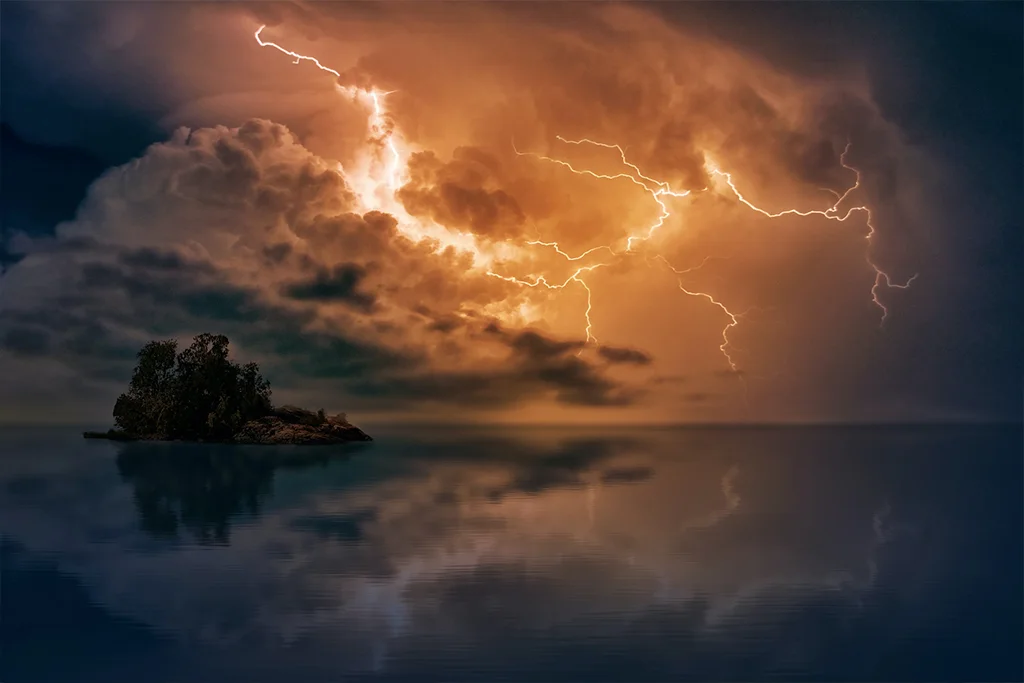 Here are 60+ Storm Quotes
Life isn't about waiting for the storm to pass…It's about learning to dance in the rain.
— Vivian Greene
There is peace even in the storm.
— Vincent van Gogh
Every storm runs out of rain, just like every dark night turns into day.
— Gary Allan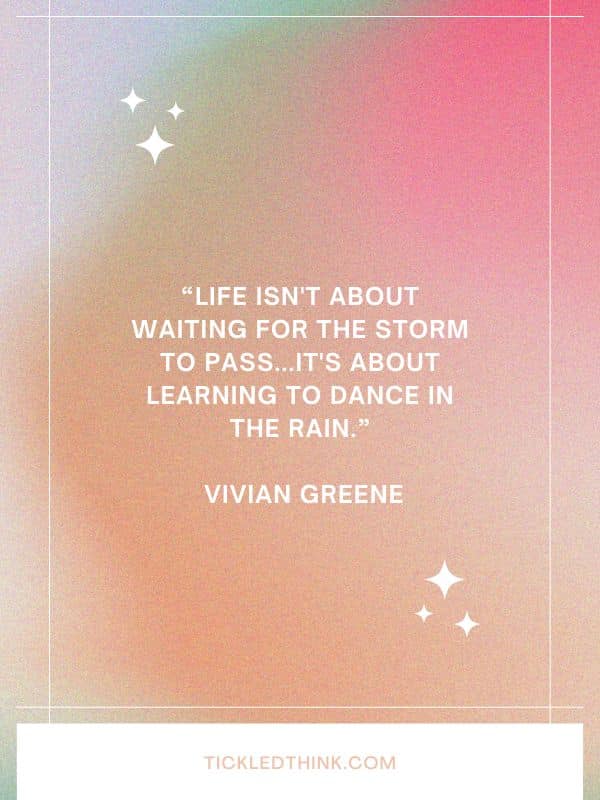 Storms don't come to teach us painful lessons, rather they were meant to wash us clean.
— Shannon L. Alder
A great storm is like a sunny day to a person of great faith. A gentle wind is like a great storm to a person of great fear.
— Matshona Dhliwayo
The storm is out there and every one of us must eventually face the storm. When the storm comes, pray that it will shake you to your roots and break you wide-open. Being broken open by the storm is your only hope. When you are broken open you get to discover for the first time what is inside you. Some people never get to see what is inside them; what beauty, what strength, what truth and love. They were never broken open by the storm. So, don't run from your pain — run into your pain. Let life's storm shatter you.
— Bryant McGill
Don't wait for the storms of your life to pass. Learn to dance in the rain.
— Steve Rizzo
When you come out of the storm, you won't be the same person who walked in. That's what this storm's all about.
— Haruki Murakami
You can dance in the storm. Don't wait for the rain to be over before because it might take too long. You can can do it now. Wherever you are, right now, you can start, right now; this very moment.
— Israelmore Ayivor
Storms draw something out of us that calm seas don't.
— Bill Hybels
When the storm rips you to pieces, you get to decide how to put yourself back together again.
— Bryant H. McGill
It's not a bad lesson to learn in the bleaker months: how you view a storm is a question of perspective; provided you find the right rock to watch it from, it could be the most incredible thing you'll ever witness.
— Dan Stevens
There's always another storm. It's the way the world works. Snowstorms, rainstorms, windstorms, sandstorms, and firestorms. Some are fierce and others are small. You have to deal with each one separately, but you need to keep an eye on whats brewing for tomorrow.
— Maria V. Snyder
Clouds, leaves, soil, and wind all offer themselves as signals of changes in the weather. However, not all the storms of life can be predicted.
— David Petersen
When you are in the middle of a storm cloud it's hard to think outside of it, but the only way out of the storm is to ride through it and things will be a lot clearer on the other side
— Jodi Ann Bickley
Inspiring Storm Quotes and Sayings
If you want to see the sunshine, you have to weather the storm.
— Frank Lane
Sometimes the greatest storms bring out the greatest beauty…Life can be a storm, but your hope is a rainbow and your friends and family are the gold.
— Steve Maraboli
There are some things you learn best in calm, and some in storm.
— Willa Cather
You can find peace amidst the storms that threaten you.
— Joseph B. Wirthlin
Never cut a tree down in the wintertime. Never make a negative decision in the low time. Never make your most important decisions when you are in your worst moods. Wait. Be patient. The storm will pass. The spring will come.
— Robert H. Schuller
It is not light that we need, but fire; it is not the gentle shower, but thunder. We need the storm, the whirlwind, and the earthquake.
— Frederick Douglass
I don't just wish you rain, Beloved – I wish you the beauty of storms.
— John Geddes
Birds sing after a storm; why shouldn't people feel as free to delight in whatever sunlight remains to them?
— Rose Kennedy
You can be in the storm, but don't let the storm get in you.
— Joel Osteen
I just want to share with everyone that no matter what challenges, adversities you face in life, that you can overcome them… and once you overcome those adversities, use your story, your testimony to others, to help others get through their storm.
— Wayne Messam
After every storm the sun will smile; for every problem there is a solution, and the soul's indefeasible duty is to be of good cheer.
— William R. Alger
It is only in sorrow bad weather masters us; in joy we face the storm and defy it.
— Amelia Barr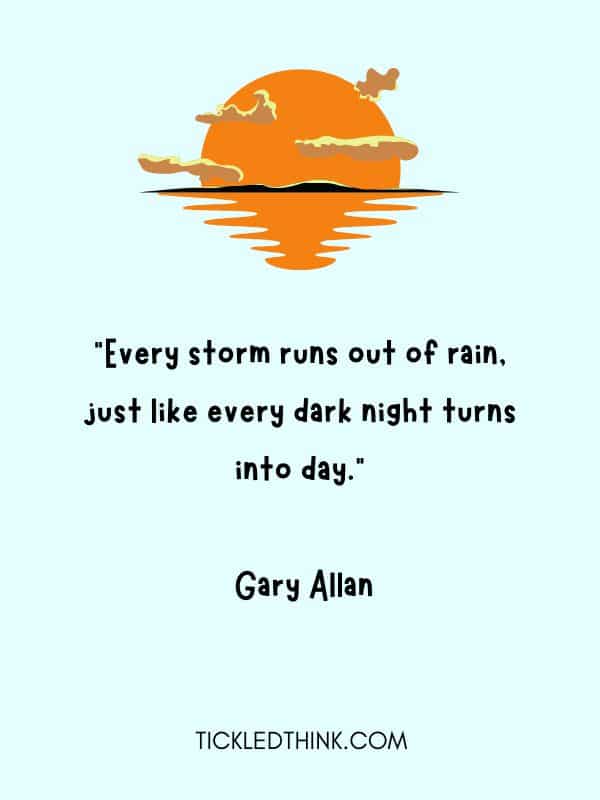 God didn't give up on me. I am somebody in God's eyes… Let me be a prime example of how I've been through the storm and the rain, and I made it over.
— Fantasia Barrino
No storm can last forever. It will never rain 365 days consecutively. Keep in mind that trouble comes to pass, not to stay. Don't worry! No storm, not even the one in your life, can last forever.
— Iyanla Vanzant
If you spend your whole life waiting for the storm, you'll never enjoy the sunshine.
— Morris West
Motivational Storm Quotes
I am not afraid of storms for I am learning how to sail my ship.
— Louisa May Alcott
In the storm's of life, you can survive by grace, faith and hope.
— Lailah Gifty Akita
And once the storm is over, you won't remember how you made it through, how you managed to survive. You won't even be sure, whether the storm is really over. But one thing is certain. When you come out of the storm, you won't be the same person who walked in. That's what this storm's all about.
— Haruki Murakami
Related Posts:
Thunderstorms are as much our friends as the sunshine.
— Criss Jami
It often takes the darkness of a storm to show us the light of God's presence.
— Tony Evans
It is only during a storm that a tree knows how strong it is.
— Matshona Dhliwayo
If we never had any storms, we couldn't appreciate the sunshine.
— Dale Evans
The storm is what they threw at me, the hurricane is what I became.
— Matshona Dhliwayo
Sometimes a storm in your life is what will
blow you to the place you are longing to be.
— Beth Moore
The storm came. Lives were washed away. Ancient pains resurfaced. Now it is time for a sea of change.
— Tavis Smiley
Ride the storm. Cheer wildly. Gather strength from life's storms.
— Jonathan Lockwood Huie
In order to realize the worth of the anchor we need to feel the stress of the storm.
— Corrie Ten Boom
Then the storm broke, and the dragons danced.
— George R.R. Martin
When a storm blows, you must stand firm. For it is not trying to knock you down, it is really trying to teach you to be strong.
— Joseph M. Marshall III
It stood calm against the suburban storm raging around it. The thunder screamed across the sky; it slapped the clouds into a heated turmoil that flew towards the south.
— J.D. Stroube
Dignity of human nature requires that we must face the storms of life.
— Mahatma Gandhi
More Storm Quotes and Quotes about Storms
In times of crisis, different people react in different ways. Some might try to escape. Others might attempt to batten down the hatches and ride out the storm in a safe haven.
— Cullen Bunn
If you want to enjoy the rainbow, be prepared to endure the storm.
— Warren W. Wiersbe
The little reed, bending to the force of the wind, soon stood upright again when the storm had passed over.
— Aesop
It takes a real storm in the average person's life to make him realize how much worrying he has done over the squalls.
— Bruce Barton
A positive attitude can turn a storm into a sprinkle.
— Robert M. Hense
Skillful pilots gain their reputation from storms and tempest.
— Epicurus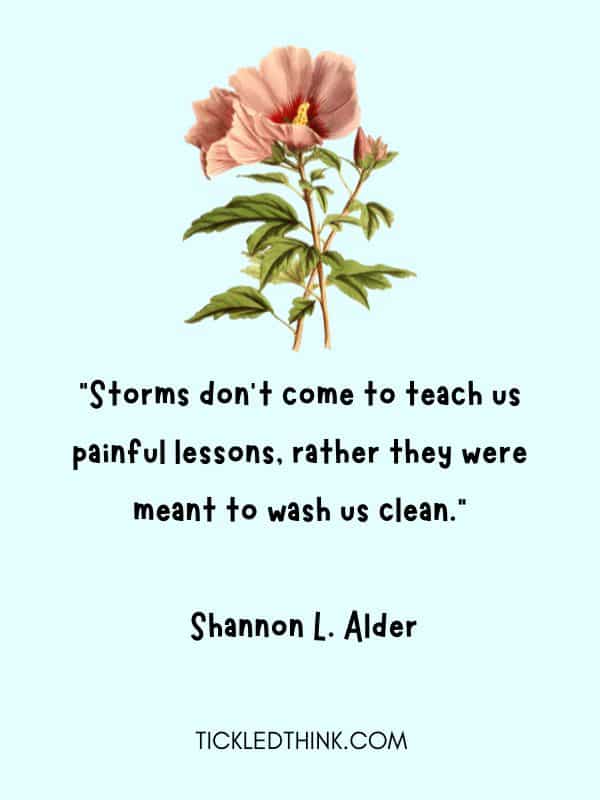 Sometimes things happen… moments cannot be controlled by us… we flow unknowingly into a storm.
— Avijeet Das
When the storm has passed, put your energy into rebuilding your life, don't waste time looking back.
— Leon Brown
You cannot forever escape from the storm; you must learn to stand up to it.
— Mehmet Murat Ildan
Ride the storm. Cheer wildly. Gather strength from life's storms.
— Jonathan Lockwood Huie
Even in the midst of the storm, the sun is still shining.
— Dayna Lovely
He only earns his freedom and his life who takes them every day by storm.
She stood in the storm, and when the wind did not blow her way and it surely has not she adjusted her sails.
— Elizabeth Edwards
The heart of man is very much like the sea, it has its storms, it has its tides and in its depths it has its pearls too.
— Vincent Van Gogh
When people are grieving, it's kind of like a storm, and you need something to grab onto, but often you have to brave it on your own.
— Clare Bowen
Never lose hope. Storms make people stronger and never last forever.
— Roy T. Bennett
Which of these storm quotes inspired you the most?
MORE INSPIRATIONAL QUOTES FOR YOU TO ENJOY