Inspirational weekend quotes that'll get you in the mood and ready for the weekend.
We all love weekends. It's a day dedicated for us to focus on doing the things that we love, relax, recharge and just enjoy every moment of it.
It is just what we need after facing all the stress of a workweek.
Can't wait for the weekend? We have all been there.
It always seems like weekends just can't get here fast enough and when it finally comes, you always feel like there's not enough time and before you even know it, it's already Sunday evening.
To help you power through the week and get ready for the weekend, we have gathered inspiring and funny weekend quotes that'll lift your spirits and improve your mood.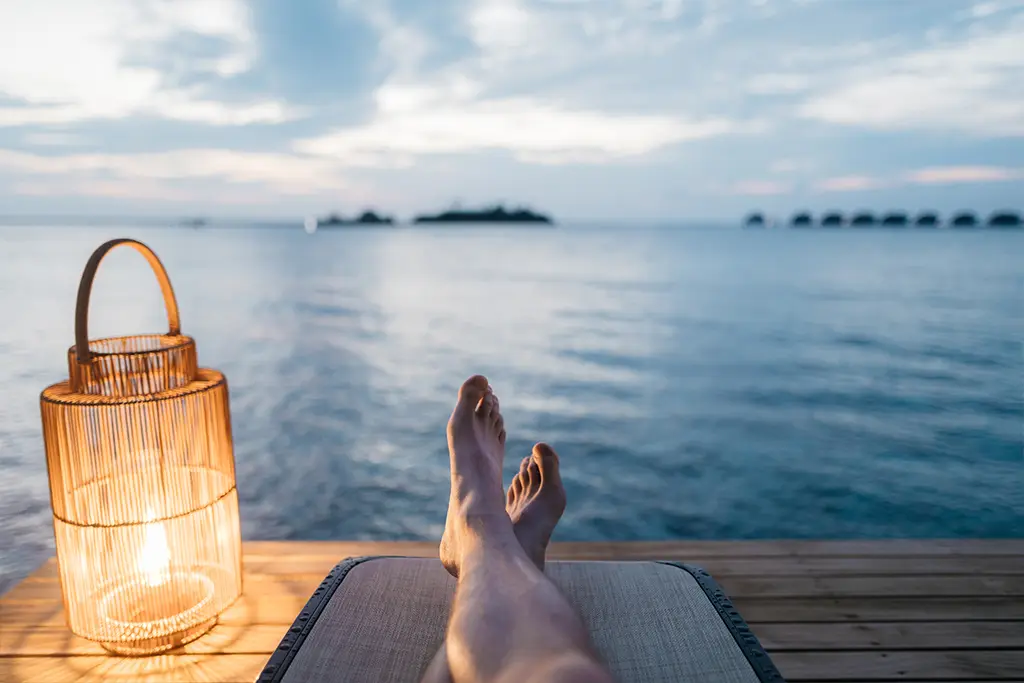 Weekend Quotes and Sayings
Love me like Saturday night, like three glasses of champagne, like the room is spinning, like you're drunk on my love.
— C.J. Carlyon
Hands up if you're ready to do something you'll regret this weekend. Go forth! You have my blessing.
— Florence Welch
cozy+smell of pancakes-alarm clock=weekend
— Amy Krouse Rosenthal
There aren't enough days in the weekend.
— Rod Schmidt
Every day is a gift. But some days are packaged better.
— Sanhita Baruah
I'm learning the power of going away for the weekend and keeping myself company.
— Zoe Saldana
It's not that we spend five days looking forward to just two. It's that most people do what they enjoy most on those two days. Imagine living a life where everyday are your Saturdays and Sundays. Make everyday your weekend. Make everyday a play-day…
— James A. Murphy
Oldtimers, weekends, and airplane landings are alike. If you can walk away from them, they're successful.
— Casey Stengel
Saturday's the world is a better place again.
— Golden Flower
Weekends don't pay as well as weekdays but at least there's football.
— S.A. Sachs
No weekend, all weakened.
— Toba Beta
Unless it's an emergency, don't bother me after 6:00 p.m. and on weekends.
— Merv Griffin
Time spent for temporary happiness like movie or outing or weekend on a beach is all synthetic; with shelf life of a day or two. Work for your bigger dreams that should last for whole life. Then movie and beach would seem more interesting, realising that you have done something.
— Vikrmn
Why is Monday so far away from Friday and Friday so close to Monday?
— Unknown
Honestly, I never really understood the glorification of Fridays & weekends.
I don't want to build a life and career, where I spent five days a week waiting for the weekend. No!
I want to enjoy my life, and don't wish any weekday away. I want each day to matter to me, in some way, even if it's a small tiny way. I love my life. Everyday. That's the spirit we should convey all around us.
— Akilnathan Logeswaran
A Sunday well spent brings a week of content.
— Proverb
It's a fine line between Saturday night and Sunday morning.
Happy weekend quotes
The feeling of Sunday is the same everywhere, heavy, melancholy, standing still.
— Jean Rhys
Without the weekend, where would the week be?
— Anthony T. Hincks
If you find you are stressed out during the week, then it is even more important that you focus on what you want to do for the weekend, don't bring work home.
— Kate Summers
Weekends are a bit like rainbows; they look good from a distance but disappear when you get up close to them.
— John Shirley
Weekends don't count unless you spend them doing something completely pointless.
— Bill Watterson
I work mostly during the week, and on the weekend I get to hang out with friends, so it balances out pretty well.
— Jimmy Bennett
Take the time to do what you love to do this weekend.
— Catherine Pulsifer
You know what I want to do? Wake up one weekend and not have to go anywhere and do nothing.
— Derek Jeter
My Sunday is a leisure day in which I encourage myself to forget the responsibilities of my workdays and engage honestly with my friends and loved ones.
— Srinivas Mishra
Spend some time this weekend on home improvement; improve your attitude toward your family.
— Bo Bennett
I am always happy to meet my friend, and my friend is my weekend.
— Debasish Mridha
I believe that it is a mandatory Law of the Universe that on Fridays, you have to do something a little fun.
— Hanna Rhoades
The weekend is a time for no's – no alarm clock, no rushing, no urgent phone calls, no working nights!
— Catherine Pulsifer
Be in the habit of getting up bright and early on the weekends. Why waste such precious time in bed?
— Marilyn Vos Savant
Does your life have a purpose? Are you contributing anything useful to this world, or just shuffling papers, banging on a keyboard, and coming home to a drunken existence on the weekends?
— Tim Ferris
Sunday! A family day with a touch of weekend thrown in for good measure.
— Anthony T. Hincks
Being in love is what makes working all week bearable. It makes cruising with your windows rolled down feel like you're riding in a convertible. It makes you dance to the rhythm of the copy machine and makes Friday night really feel like The Weekend.
— Julie Hintz
Related Posts:
Inspirational Weekend Quotes
Weekends are about replenishment and rejuvenation.
— Neil Morrissey
Most people tell you there are certain moments you should celebrate in life: for example, the weekend coming, so you should party on a Friday. Or your birthday or New Year's Eve. But what if you're excited about being alive every day? Can't you be in that celebratory state every moment you're not dead?
— Andrew W.K.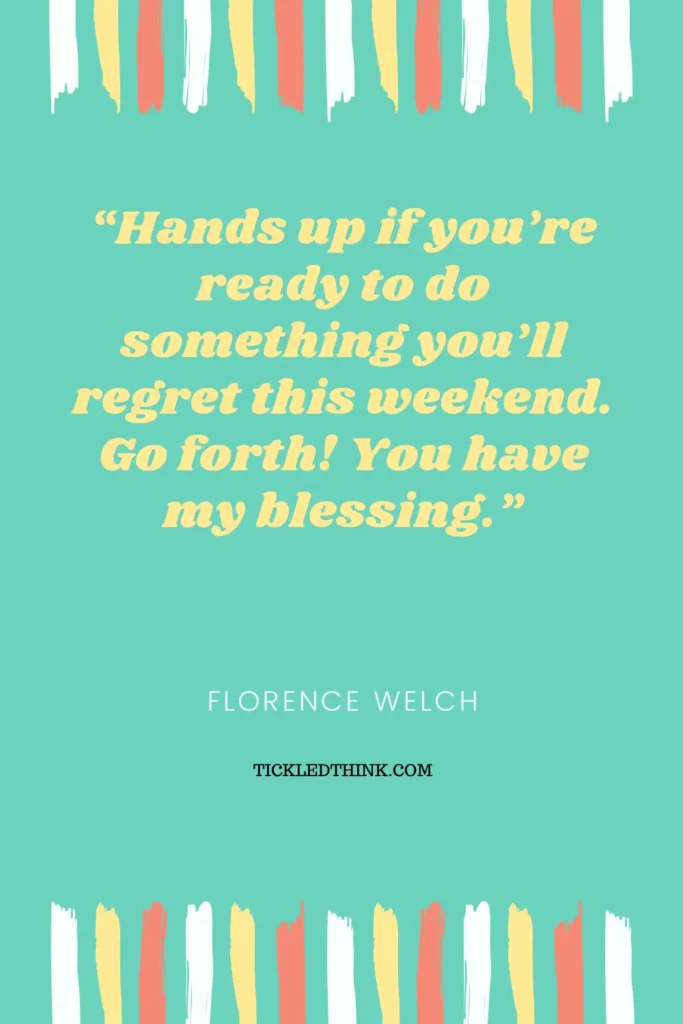 Sundays are like confetti floating in the air in slow motion, in the evening they reach the ground and you hope a bit of wind could blow on them so they could fly a bit longer.
— Alain Bremond-Torrent
I have never in my life found myself in a situation where I've stopped work and said, 'Thank God it's Friday.' But weekends are special even if your schedule is all over the place. Something tells you the weekend has arrived and you can indulge yourself a bit.
— Helen Mirren
There is little chance that meteorologists can solve the mysteries of weather until they gain an understanding of the mutual attraction of rain and weekends.
— Arnot Sheppard
My favorite weekend activity is riding bikes to breakfast.
— Halston Sage
Sunday clears away the rust of the whole week.
— Joseph Addison
Oh, I just want what we all want: a comfortable couch, a nice beverage, a weekend of no distractions and a book that will stop time, lift me out of my quotidian existence and alter my thinking forever.
— Elizabeth Gilbert
Why wait for the weekend to have fun?
— Loesje
Eating is my main hobby now, and most of what I do on the weekend revolves around that.
— Daniel Bruhl
Let the Good vibe Sunday well spent to bring us a week of content.
— Napz Cherub Pellazo
A wild and crazy weekend involves sitting on the front porch, smoking a cigar, reading a book.
— Robert M. Gates
Life is a wretched gray Saturday, but it has to be lived through.
— Anthony Burgess
Typically a weekend retreat for the heart, soul and palate, brunch is the perfect way to unwind and reconnect.
— Marcela Valladolid
The bad news is time flies. The good news is you're the pilot.
— Michael Althsuler
Don't let the perfect be the enemy of the good. Lower the bar. Actually spending ten minutes clearing off one shelf is better than fantasizing about spending a weekend cleaning out the basement.
— Gretchen Rubin
Nobody wants to give up a weekend long excuse to dress up and attempt to outshine one another.
— Elizabeth Eulberg
I could easily escape to a hotel for a weekend and do absolutely nothing.
— David Boreanaz
Weekend Motivational Quotes
Always take some of the play, fun, freedom and wonder of the weekend into your week & your work.
— Rasheed Ogunlaru
Always strive to excel, but only on weekends.
— Richard Rorty
Entrepreneurs don't have weekends or birthdays or holidays. Every day is my weekend, my birthday, my holiday. OR, every day is my work day. Mostly it's a choice.
— Richie Norton
Happy Friday Night Fam! Time to free yourself from worries and stresses and focus on all of your blessings!! Spread LOVE & BE HAPPY this weekend!
— Tracey Edmonds
After luncheon the sun, conscious that it was Saturday, would blaze an hour longer in the zenith,…
— Marcel Proust
Let's just try to have a marvelous time this weekend. I mean not try to analyze everything to death for once, if possible. Especially me. I love you.
— J. D. Salinger
The weekends are too short for sleep!
— Bryant A. Loney
What can be better than to get out a book on Saturday afternoon and thrust all mundane considerations away till next week.
— C. S. Lewis
Music always sounds better on Friday.
— Lou Brutus
My weekends are extremely precious.
— Mariska Hargitay
Saturday is the mightiest day of the week. It's unshakably, overwhelmingly superior. Not only is it a day off of school, the following day is also a day off, like some kind of Super Saiyan bargain sale.
— Wataru Watari
Appreciation is a wonderful thing: It makes what is excellent in others belong to us as well.
— Voltaire
How do I like to spend my day off? I like to hit up the juice bar, the bookstore, tan, and then flirt with the pharmacy tech at Walmart.
— Crystal Woods
Every man has a right to a Saturday night bath.
— Lyndon B. Johnson
When you're single, your weekend days are wide-open vistas that extend in every direction; in a relationship, they're like the sky over Manhattan: punctured, hemmed in, compressed.
— Adelle Waldman
My perfect weekend… anything to do with nature.
— Paul Walker
The rhythm of the weekend, with its birth, its planned gaiety, and its announced end, followed the rhythm of life and was a substitute for it.
— F. Scott Fitzgerald
Funny Weekend Quotes
Anybody have plans to stare at their phone somewhere exciting this weekend?
— Nitya Prakash
The only reason why we ask other people how their weekend was is so we can tell them about our own weekend.
— Chuck Palahniuk
When you are unemployed, weekends are seven days long.
— Mokokoma Mokhonoana
Give a man a fish and he has food for a day; teach him how to fish and you can get rid of him for the entire weekend.
— Zenna Scha
Men are simple things. They can survive a whole weekend with only three things: beer, boxer shorts and batteries for the remote control.
— Diana Jordan
I'm an old man. A big weekend for me is Home Depot and a Caesar salad.
—Valee
Good weather all the week, but come the weekend the weather stinks. When the weather is too hot they complain, too cold they complain, and when it's just right, they're watching TV.
— Rita Rudner
When you're young, you should live out every weekend. Even if you look like a scarecrow, you just gotta go!
— Jonathan Brandis
I have been known to hang out and party back in the day. I had a weekend that lasted a few years.
— Vanilla Ice
Middle-age is when you're sitting at home on a Saturday night and the telephone rings and you hope it isn't for you.
— Ogden Nash
Better days are coming. They are called: Saturday and Sunday.
— Unknown
Youth is like a long weekend on Friday night. Middle age is like a long weekend on Monday afternoon.
— Richard Nelson Bolles
More Quotes About The Weekend
In an ideal world, I'd spend every weekend at my home in Zermatt in Switzerland.
— Vanessa Mae
Sunday evenings often feel like the weekend is over before it's even begun.
— Catherine McCormack
Living up to ideals is like doing everyday work with your Sunday clothes on.
— Ed Howe
Why do we say 'Have a great weekend?' That's just a spell. You're just going – I have no control over your weekend. But words matter. They change our interior world. Have a great weekend.
— Pete Holmes
How pleasant is Saturday night, When I've tried all the week to be good, and not spoke a word that was bad, and obliged everyone that I could.
— Nancy Sproat
Which of these weekend quotes was your favorite?
More inspirational quotes for you to enjoy