These inspiring Wednesday quotes will help you push through and get through the middle of the week.
Wednesday, hump day can be tough. It can often feel like you just don't have enough energy to get through the week.
You've already made it through Monday and Tuesday and now you just feel like you need a day to just relax and recharge because of the stress and exhaustion the past two days have caused.
But nevertheless, here you are stuck in the middle of the week and the weekend just can't seem to get here fast enough.
But Wednesday's don't always have to be that bad. Remind yourself that you're already halfway through the week – all you need is just a little bit of inspiration to help you push through.
And if you need that extra motivation to help you push through hump day, these Wednesday quotes below will surely do the trick.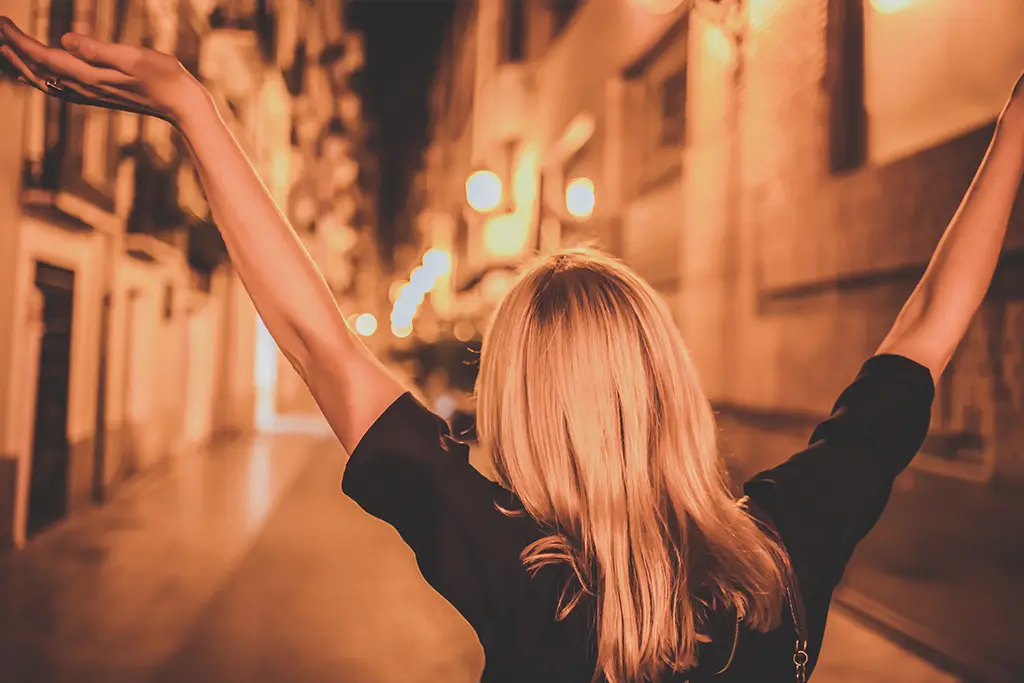 Motivational Wednesday Quotes and Sayings
They didn't want it good, they wanted it Wednesday.
— Robert A. Heinlein
Happy Wednesday! Cast your love to all, trust in the team to which you are joined, and do not do wrong to others for your own self-gratification.
— Byron Pulsifer
I've been working on 'The New York Times' crossword puzzle on the subway. I can make it until about Wednesday.
— Eddie Kaye Thomas
I think vestigially there's a synesthete in me, but not like a real one who immediately knows what color Wednesday is.
— A. S. Byatt
To some, it's Hump Day. To us, it's Wednesday's getting its ass kicked and Thursday just asking Friday to switch places.
— Dwayne Johnson
Wednesdays are like Mondays in the middle of the week!
— Lee Fox Williams
When people refer to 'Back in the Day,' it was a Wednesday. Just a little fun fact for you.
— Dane Cook
It will not be lonely on Wednesday when it has all around it.
— Anthony T. Hincks
Wednesdays were the best thing about Atlantis. The middle of the week was a traditional holiday there. Everyone stopped work and celebrated the fact that half the week was over.
— Walter Moers
We have to sell a game plan, and you have to be enthusiastic, and you have to have energy come Wednesday, Thursday, Friday.
— Jeff Fisher
Believe in yourself. You are braver than you think, more talented than you know, and capable of more than you imagine.
— Roy T. Bennett
When a day that you happen to know is Wednesday starts off sounding like Sunday, there is something seriously wrong somewhere.
— John Wyndham
Start each day with a positive thought and a grateful heart.
— Roy T. Bennett
Happy Wednesday! Happiness is found from within when you learn to appreciate your blessings, LIVE in the present and LOVE!
— Tracey Edmonds
Wednesday is a day to help others celebrate life. You and only you are accountable for what you extend and give to others. One smile not only increases your value but it gives joy to each person you meet.
— Byron Pulsifer
If all our national holidays were observed on Wednesdays, we could wind up with nine-day weekends.
— George Carlin
A good day is a day in which we manage to grow even a little bit and to move ahead at least one tiny step. When we stagnate, we lose ourselves and we lose endless chances. That is why a good Wednesday is a day when we did things and we did them well.
— Liza Hawkins
A Wednesday with no rain is a dry hump day.
— Demetri Martin
Keep your head high, keep your chin up, and most importantly, keep smiling, because life's a beautiful thing and there's so much to smile about.
— Marilyn Monroe
Positive Wednesday quotes to get through the week
Be thankful for what you have; you'll end up having more. If you concentrate on what you don't have, you will never, ever have enough
— Oprah Winfrey
On Wednesday, when the sky is blue, and I have nothing else to do, I sometimes wonder if it's true that who is what and what is who.
When you are joyful, when you say yes to life and have fun and project positivity all around you, you become a sun in the center of every constellation, and people want to be near you.
— Shannon L. Alder
Happy Wednesday! Love all, trust a few, do wrong to none.
— William Shakespeare
Life is a bowl of cherries. Some cherries are rotten while others are good; its your job to throw out the rotten ones and forget about them while you enjoy eating the ones that are good! There are two kinds of people: those who choose to throw out the good cherries and wallow in all the rotten ones, and those who choose to throw out all the rotten ones and savor all the good ones.
— C. JoyBell C.
Instead of wondering when your next vacation is, you ought to set up a life you don't need to escape from.
— Seth Godin
The abbreviated exam week meant that Wednesday was the last day of school for us. And all day long, it was hard not to walk around, thinking about the vastness of it all.
— John Green
Happy Wednesday! Practice compassion. Lift others. Learn to encourage rather than criticize. You'll feel better when you help others feel better.
— Tracey Edmonds
Be yourself; everyone else is already taken.
— Oscar Wilde
Accept yourself, love yourself, and keep moving forward. If you want to fly, you have to give up what weighs you down.
— Roy T. Bennett
When things go wrong, don't go with them.
— Elvis Presley
Dwell on the beauty of life. Watch the stars, and see yourself running with them.
— Marcus Aurelius
Elephants love Wednesday, and so will you.
— Anthony T. Hincks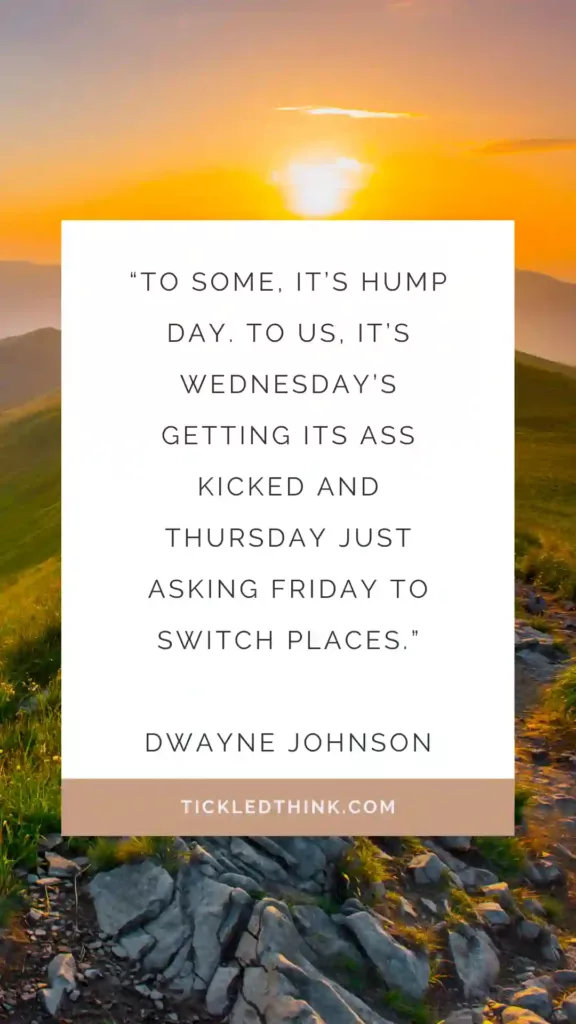 A good day is a day in which we manage to grow even a little bit and to move ahead at least one tiny step. When we stagnate, we lose ourselves and we lose endless chances. That is why a good Wednesday is a day when we did things and we did them well.
— Liza Hawkins
Dreams don't work unless you take action. The surest way to make your dreams come true is to live them.
— Roy T. Bennett
Wednesday will either make you or break you. You are either on the upward trend or the downward slid to the end of the work week. Give it all you got this Wednesday!
— Catherine Pulsifer
The universe is not outside of you. Look inside yourself, everything that you want, you already are.
— Rumi
The only time you fail is when you fall down and stay down.
— Stephen Richards
Happy Wednesday quotes to help you have a good day
The real things haven't changed. It is still best to be honest and truthful; to make the most of what we have; to be happy with simple pleasures; and have courage when things go wrong.
— Laura Ingalls Wilder
Nobody makes a greater mistake than he who does nothing because he could only do a little.
— Catherine Pulsifer
Think of all the beauty still left around you and be happy.
— Anne Frank
Even if you are on the right track, you'll get run over if you just sit there.
— Will Rogers
Let your smile change the world, but don't let the world change your smile.
— Connor Franta
If you have good thoughts they will shine out of your face like sunbeams and you will always look lovely.
— Roald Dahl
I like the good life too much, I'm not good at going on stage night after night and on wet Wednesday afternoons.
— Anthony Hopkins
Do not set aside your happiness. Do not wait to be happy in the future. The best time to be happy is always now.
— Roy T. Bennett
I suppose everybody has a mental picture of the days of the week, some seeing them as a circle, some as an endless line, and others again, for all I know, as triangles and cubes. Mine is a wavy line proceeding to infinity, dipping to Wednesday which is the colour of old silver dark with polishing and rising again to a pale gold Sunday. This day has a feeling in my picture of warmth and light breezes and sunshine and afternoons that stretch to infinity and mornings full of far-off bells.
— Angela Thirkell
Home may be where the heart is but it's no place to spend Wednesday afternoon.
— Walker Percy
Never schedule a board meeting on Wednesday because it kills two weekends.
— Kurt Vonnegut
People often say that motivation doesn't last. Well, neither does bathing. That's why we recommend it daily.
— Zig Ziglar
People think that you have to do something huge, like go to Africa and build a school, but you can make a small change in a day. If you change Wednesday, then you change Thursday. Pretty soon it's a week, then a month, then a year. It's bite-size, as opposed to feeling like you have to turn your life inside out to make changes.
— Hoda Kotb
Let us dance in the sun, wearing wild flowers in our hair…
— Susan polis Schutz
My job is to give people who work hard all week something to enjoy on Saturdays and Wednesdays.
— Arsene Wenger
Whether you think you can or whether you think you can't, you're right!
— Henry Ford
Some things may change," said Wednesday, abruptly. "People, however… People stay the same."
— Neil Gaiman
Wednesdays will always bring smiles for the second half of the week.
— Anthony T. Hincks
Related Posts:
Wednesday motivational quotes to help you achieve your goals
It had long since come to my attention that people of accomplishment rarely sat back and let things happen to them. They went out and happened to things.
— Leonardo da Vinci
Develop success from failures. Discouragement and failure are two of the surest stepping stones to success.
— Dale Carnegie
Cry. Forgive. Learn. Move on. Let your tears water the seeds of your future happiness.
— Steve Maraboli
Success is not final, failure is not fatal: it is the courage to continue that counts.
— Winston S. Churchill
It is hard to fail, but it is worse never to have tried to succeed.
— Theodore Roosevelt
Inspiration is one thing and you can't control it, but hard work is what keeps the ship moving. Keep up the good work.
— Kevin Eubanks
Fennel, which is the spice for Wednesdays, the day of averages, of middle-aged people. . . . Fennel . . . smelling of changes to come.
— Chitra Banerjee Divakaruni
Nothing can stop the man with the right mental attitude from achieving his goal; nothing on earth can help the man with the wrong mental attitude.
— Thomas Jefferson
Success is not how high you have climbed, but how you make a positive difference to the world.
— Roy T. Bennett
Only those who dare to fail greatly can ever achieve greatly.
— Robert F. Kennedy
Don't let the fear of losing be greater than the excitement of winning.
— Robert Kiyosaki
The way to get started is to quit talking and begin doing.
— Walt Disney
My attitude toward progress has passed from antagonism to boredom. I have long ceased to argue with people who prefer Thursday to Wednesday because it is Thursday.
— Gilbert K. Chesterton
If you are not willing to risk the usual you will have to settle for the ordinary.
— Jim Rohn
If you want to achieve excellence, you can get there today. As of this second, quit doing less-than-excellent work.
— Thomas J. Watson
Heaven knows the difference between Sunday morning and Wednesday afternoon. God longs to speak as clearly in the workplace as He does in the sanctuary.
— Max Lucado
Failure is the condiment that gives success its flavor.
— Truman Capote
Sometimes it takes a good fall to really know where you stand
— Hayley Williams
Sometimes life knocks you on your ass… get up, get up, get up!!! Happiness is not the absence of problems, it's the ability to deal with them.
— Steve Maraboli
Each morning is the open door to a new world – new vistas, new aims, new plans, new things…Wednesday morning is no less.
— Unknown
A man is a success if he gets up in the morning and gets to bed at night, and in between he does what he wants to do.
— Bob Dylan
Inspirational Wednesday hump day quotes
Any day above ground is a good day. Before you complain about anything, be thankful for your life and the things that are still going well.
— Germany Kent
I quit being afraid when my first venture failed and the sky didn't fall down.
— Allen H Neuharth
Make sure, as often as possible, you are doing something you'd be happy to die doing.
— Matt Haig
Happiness often sneaks in through a door you didn't know you left open.
— John Barrymore
Be believing, be happy, don't get discouraged. Things will work out.
— Gordon B. Hinckley
If you've got nothing to dance about, find a reason to sing.
— Melody Carstairs
Live as if you were to die tomorrow. Learn as if you were to live forever.
— Mahatma Gandhi
It is never too late to be what you might have been.
— George Eliot
Joyful morning, good morning, good day.
— Lailah Gifty Akita
Every day is a good day. There is something to learn, care and celebrate.
— Amit Ray
Do what you can, with what you have, where you are.
— Theodore Roosevelt
Challenges are what make life interesting and overcoming them is what makes life meaningful.
— Joshua Marine
Don't judge each day by the harvest you reap but by the seeds that you plant.
— Robert Louis Stevenson
you might want to decide fast. We live in a dangerous world. If you see a chance to be happy, you have to fight for it, so later you have no regrets.
— Ilona Andrews
You will never plough a field if you only turn it over in your mind.
— Irish Proverb
Yesterday is history, tomorrow is a mystery, today is a gift of God, which is why we call it the present.
— Bill Keane
Keep calm when things don't go according to your expectations! Beautiful things always meet friction!
— Ernest Agyemang Yeboah
You've gotta dance like there's nobody watching,
Love like you'll never be hurt,
Sing like there's nobody listening,
And live like it's heaven on earth.
— William W. Purkey
Be the change that you wish to see in the world.
— Mahatma Gandhi
Keep your face to the sunshine and you cannot see a shadow.
— Helen Keller
Which of these Wednesday quotes was your favorite?
More inspirational quotes for you to enjoy