A collection of inspiring and thought-provoking walk away quotes and quotes about walking away that'll give you the strength that you need to move forward and let go.
At some point in your life, you may find yourself stuck in negativity and unhappiness. A situation where often the best solution is to walk away and move forward, instead of staying and holding on.
In these moments, know that walking away is not always a sign of weakness, it's doesn't make you a quitter.
It simply means that you are brave enough to let go and walk away from the things and people that are dragging you down, that are making you feel worthless, stuck, empty, and unhappy.
Remind yourself that sometimes in order for you to grow, achieve your fullest potential, change and improve your life you must learn to walk away and let go.
May these quotes about walking away below help you know when it's time to walk away and give you the courage and strength to do it.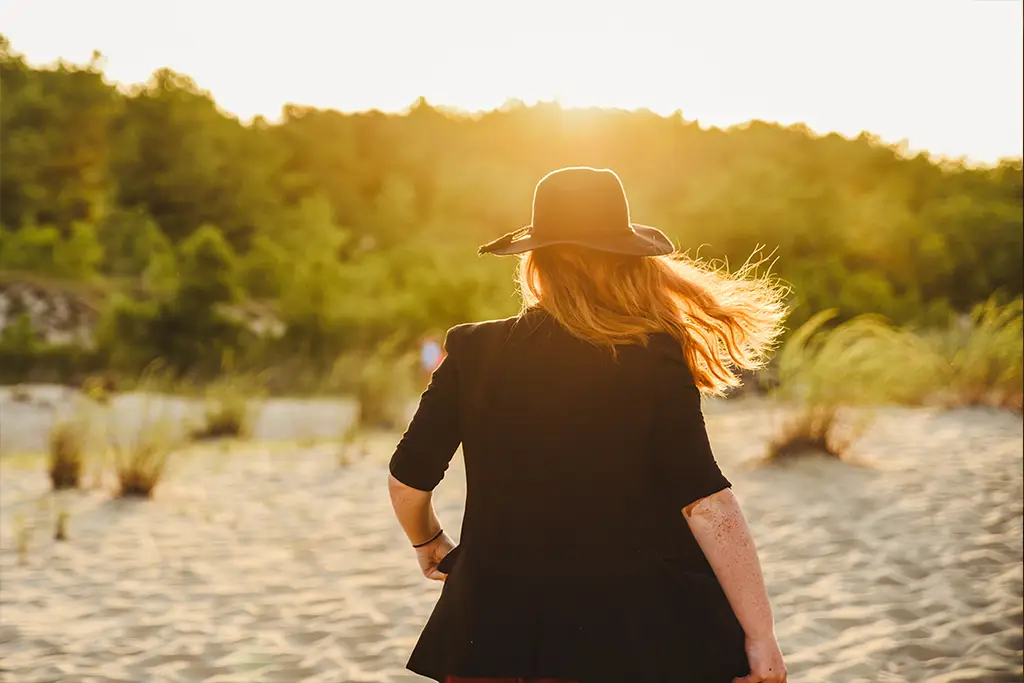 Walk away Quotes and Sayings
To be a success, you will have people walk out on you, walk over you, and walk away from you. If these things didn't happen, you wouldn't have such great people who walk with you, walk beside you, and walk into your life. Cherish the subtractions and you will be blessed with additions.
— Robert Braathe
Sometimes you have to smile and pretend everything's okay. Hold back the tears, and just walk away.
— Anurag Prakash Ray
If you walked away from a toxic, negative, abusive, one-sided, dead-end low vibrational relationship or friendship — you won.
— Lalah Delia
Sometimes you have to walk away from people, not because you don't care, but because they don't.
― Melchor Lim
When they treat you unkind and attempt to ruin your day,
Stop, pray and walk away (SPW)
— Charmaine J. Forde
When it's time for me to walk away from something, I walk away from it. My mind, my body, my conscience tells me that enough is enough.
— Jerry West
There comes a time in your life, when you walk away from all the drama and people who create it. You surround yourself with people who make you laugh. Forget the bad and focus on the good. Love the people who treat you right, pray for the ones who do not. Life is too short to be anything but happy. Falling down is a part of life, getting back up is living.
— José N. Harris
The only thing a person can ever really do is keep moving forward. Take that big leap forward without hesitation, without once looking back. Simply forget the past and forge toward the future.
― Alyson Noel
Most of us need something not to walk away from.
— Josh Stern
Goodbye is the absolute hardest thing to say because you have to walk away with just a memory and after awhile that memory fades.
— Sarah Dillon
Courage is the power to let go of the familiar.
― Raymond Lindquist
Life is too short for unreality and you don't owe anybody anything – especially your time, energy, and attention.
— Oli Anderson
When trust is broken how can you repair it? Sometimes you just have to walk away.
— Hattie Lou
Walk away quotes that'll help give you courage
Knowing when to walk away, is Wisdom. Being able to, is Courage. Walking away with Grace, and your held head high, is Dignity.
— Unknown
If they can walk away from you when you're in tears, there really is nothing left to do or say.
— Nitya Prakash
Just pick up your courage and walk away. Don't waste time. The longer one drags on, the amount of pain accumulates.
— Dick Hirayama
The moment he makes you feel like he's done something to benefit you, walk away, because it's what will get you into the most trouble.
— K. Weikel
Sometimes walking away has nothing to do with weakness, and everything to do with strength. We walk away not because we want others to realize out worth and value, but because we finally realize our own.
— Robert Tew
The chains that break you, are the chains that make you. And the chains that make you, are the chains you break.
— Anthony Liccione
Walk away quietly in any direction and taste the freedom of the mountaineer
— John Muir
Learning to walk away is hard but staying to suffer is harder.
— Mariel Avila
Forgiveness enables me to walk away from that pain, the loneliness and suffering.
— Sharon E. Rainey
Sometimes it's best to just walk away, count your loss, say a prayer and go on with your life. Time and forgiveness has a way of healing the pain and hurt that you will undoubtedly feel.
— David Kreger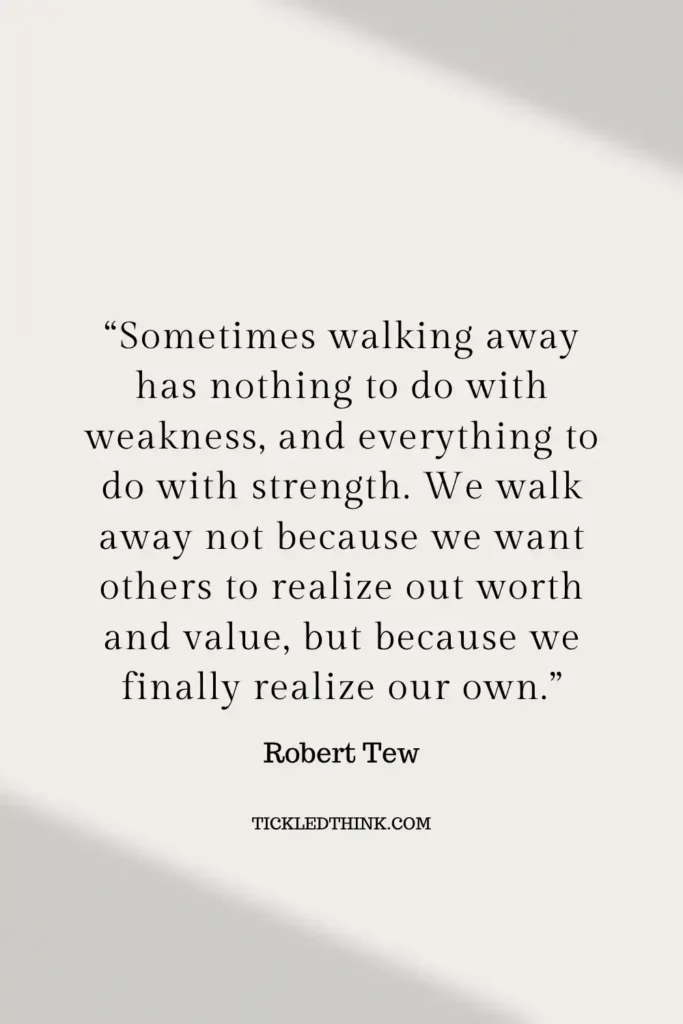 If you don't walk away, you'll hurt yourself beyond repair. Remember, you're a precious child of God, deserving to be treated kindly.
— Zenobia Davis
Trust yourself and walk away from situations and people that don't have your best interest at heart.
— Ben Ruston
Related Posts:
Walk away quotes that'll help you move forward
Never worry what others say when you walk away from all the drama. Be grateful you had the strength and courage to stay out of the conflict and be at peace with your choices.
— Elle Sommer
I truly loved you, but now I'm walking away.
— Jonny Lang
Learn to walk away from the arms where you don't belong before you end up suffocating there.
— Sai Pradeep
Walking away from the false is the same as heading toward what is true.
Anyone or anything that is negative, you should walk away from. Make room for all the positives.
— Wendy John
Selfhood begins with a walking away, And love is proved in letting go.
— Cecil Day-Lewis
Nothing is wrong if you walk alone.
— Lailah Gifty Akita
Every wise man have walked away from the world in his way with the only obstinacy to make it
— P.S. Jagadeesh Kumar
Your courage makes me very proud. But there's some battles you have to walk away from.
— Josh Schwartz
I am good at walking away. Rejection teaches you how to reject.
— Jeanette Winterson
You will never see me surrender, never see me cry, but you will often see me walk away. Turn around and just leave, without looking back.
— Charlotte Eriksson
If they don't chase you when you walk away… Keep walking!
— Nitya Prakash
Inspiring walking away quotes
There are people who can walk away from you… let them walk. I don't want you to try to talk another person into staying with you, loving you, calling you, caring about you, coming to see you, staying attached to you… Your destiny is never tied to anybody
— Td Jakes
Accept yourself, love yourself, and keep moving forward. If you want to fly, you have to give up what weighs you down.
— Roy T. Bennett
There are moments when you have to just walk away and cry.
— Lou Angeli
Letting go means to come to the realization that some people are a part of your history, but not a part of your destiny.
— Steve Maraboli
The moment you feel like you have to prove your worth to someone is the moment to absolutely and utterly walk away.
— Alysia Harris
Some people believe holding on and hanging in there are signs of great strength. However, there are times when it takes much more strength to know when to let go and then do it.
— Ann Landers
Letting go is hard, but there comes a time when you accept the fact, that you can't go back to how it was and it's time to wish them best and walk away.
— Punkinhead Abhishek
There ain't no way you can hold onto something that wants to go, you understand? You can only love what you got while you got it.
— Kate DiCamillo
The hardest part about walking away from someone is when you realize that no matter how slow you go, that someone will never run after you.
— Bethany Megan
You will find that it is necessary to let things go; simply for the reason that they are heavy. So let them go, let go of them. I tie no weights to my ankles.
— C. JoyBell C.
It is love that walks away and yet we have terrible mouths and soft milk hands. We worry with like. We walk away like love.
— Anne Sexton
The truth is, unless you let go, unless you forgive yourself, unless you forgive the situation, unless you realize that the situation is over, you cannot move forward.
— Steve Maraboli
Wise walk away quotes
Victory, is like a boxer that hangs his gloves, after the consecutive losses; sometimes walking away is what builds character, than the actual fight. As humble fruit on a tree that falls to the ground and rots, never finding appreciation in the taste of mouths.
— Anthony Liccione
As we grow older and wiser, we begin to realize what we need in life and what we need to leave behind. Sometimes walking away is just a step forward.
— Unknown
Life is like riding a bicycle. To keep your balance, you must keep moving.
— Albert Einstein
I've often tried to explain it and now realize something can never be explained, nor should you waste your time trying. Just walk away.
— Ellie Borak
Every day I walk myself into a state of well-being and walk away from every illness; I have walked myself into my best thoughts.
— Soren Kierkegaard
Sometimes you have to smile and pretend everything's okay. Hold back the tears, and just walk away.
— Anurag Prakash Ray
Don't be afraid. We're walking away from death, not toward it. Death is going back.
— Rachel Hartman
How do you look at someone you love and tell yourself it's time to walk away?
— The Vow
The worst mistake you can make is walking away from the person who actually stood there and waited for you.
— Drake
One day you will ask me which is more important? My life or yours? I will say mine and you will walk away not knowing that you are my life.
— Kahlil Gibran
No matter how rudely someone treats you, remain kind. Walking away at peace with yourself is worth it.
— Anne Rice
When the tears are too many and the love is too little, when you want to smile but you have to sigh and you're tired of the lies but your heart can't handle the truth, that's when you have to decide, if it's better to stay or just walk away.
— Rashida Rowe
Which of these walk away quotes inspired you the most?
More inspirational quotes for you to enjoy