A collection of life is unpredictable quotes that'll remind you that everything is temporary and you must appreciate and live every moment of your life.
Life is unpredictable, regardless of how much we try to control every little aspect of our lives and plan for all the unexpected things, we can never truly know what will happen next.
The course of our lives can easily be changed by a second. Yes, unpredictability is scary and worrying but instead of trying to control everything and stressing over it, let's start living every moment of our lives with gratitude and without taking anything and anyone for granted.
Let's start appreciating the little things. Cherish the moments with our loved ones more and live our lives to the fullest.
May these life is unpredictable quotes inspire you to live in the moment and start living your best life.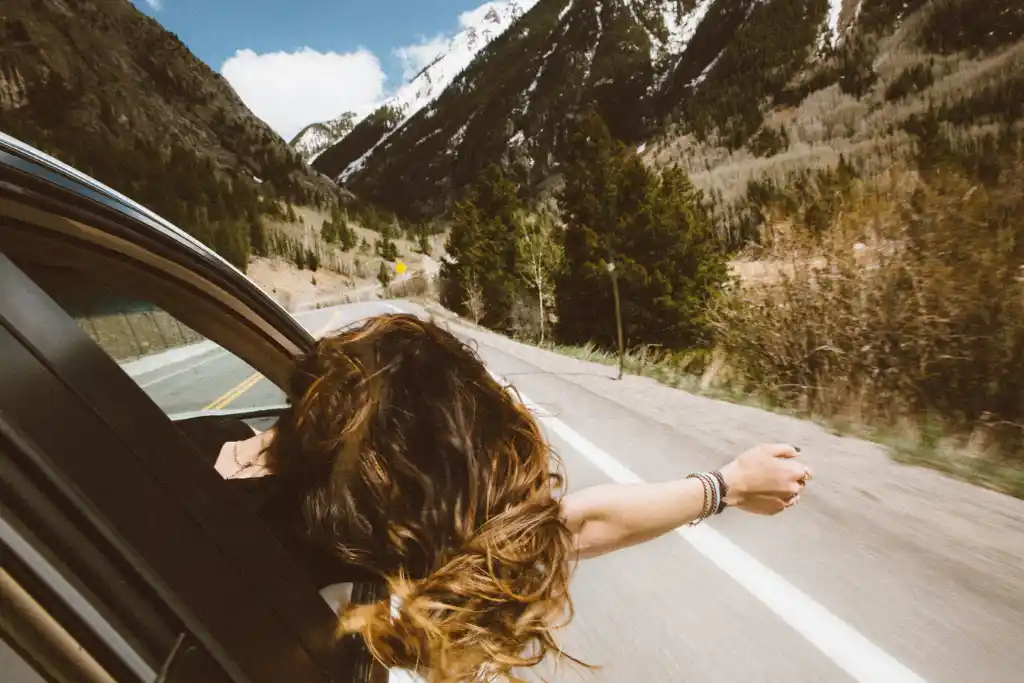 Life is Unpredictable Quotes and Sayings
At its best, life is completely unpredictable.
— Christopher Walken
Life is unpredictable and you need to live every day to the fullest.
— Doug Hutchison
Life is no different than the weather. Not only is it unpredictable, but it shows us a new perspective of the world every day.
— Suzy Kassem
Life's so unpredictable. You never know when the next high or low will strike you. The trick is just to flow with the tide.
— Zeenat Aman
Happiness came in moments of unpredictable loveliness.
— Anthony Marra
Be unpredictable, be real, be interesting. Tell a good story.
— James Dashner
The future is only grim because people see it that way. It's unpredictable. Life is a summer storm of insecure thoughts. There's an umbrella of precautions to prevent insecurity, but it doesn't always keep the rain out of your face.
— Julian Winters
We should learn not to hold grudges and be positive all the time because life is too short and unpredictable.
— Saba Qamar
Life is unpredictable, but you can at least control how you handle the good and the bad.
— Carlos Wallace
Nothing is written in stone, as a career is an unpredictable journey.
— Zlatan Ibrahimovic
I believe it's so important to love life, enjoy it for its small moments and live without regrets – life is so unpredictable.
— Mahesh Manjrekar
Life is unpredictable. Situations will move at their own pace, especially the ones we have no control over. We find ourselves at times, angry at a possible scenario in a situation that hasn't even happen yet. Then, the exact opposite happens. Looking back at the thoughts wasted and false anguish, we're all better off with patience and an open mind.
— Ron Baratono
Life is Unpredictable Quotes To Help You Be Present
Do not dwell in the past, do not dream of the future, concentrate the mind on the present moment.
— Buddha
The purpose of life is to live it, to taste experience to the utmost, to reach out eagerly and without fear for newer and richer experience.
— Eleanor Roosevelt
Some moments are happy. Some moments are sad. Live each moment. Embrace life!
— Avijeet Das
The course of life is unpredictable, no one can write his autobiography in advance.
— Rabbi Abraham Heschel
True happiness is… to enjoy the present, without anxious dependence upon the future.
— Lucius Annaeus Seneca
The goal in life is not to try and live forever, but to create something that will forever in people's hearts.
― Karon Waddell
Realize deeply that the present moment is all you have. Make the NOW the primary focus of your life.
A small event as tiny as a drop of a pin can change the direction of your entire life
— Bangambiki Habyarimana
Forever is composed of nows.
— Emily Dickinson
We need to embrace every day and enjoy it as much as we can.
― Karen Todd Scarpulla
Life is not the number of breaths you take, it's the moments that take your breath away.
— Alex Hitch Hitchens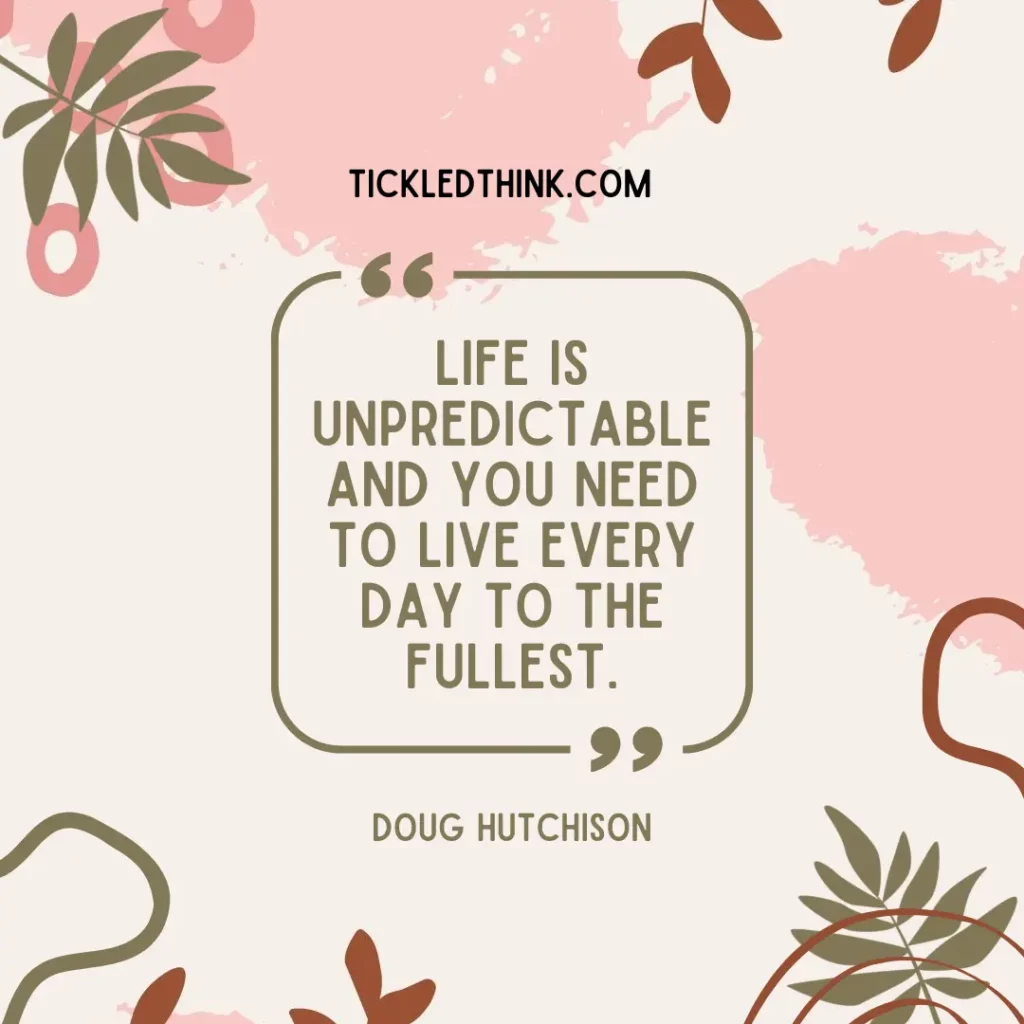 You must live in the present, launch yourself on every wave, find your eternity in each moment. Fools stand on their island of opportunities and look toward another land. There is no other land; there is no other life but this.
— Henry David Thoreau
Related Posts:
Life is Unpredictable Quotes To Help You Be Grateful
If you want to find happiness, find gratitude.
— Steve Maraboli
Gratitude is an antidote to negative emotions, a neutralizer of envy, hostility, worry, and irritation. It is savoring; it is not taking things for granted; it is present-oriented.
— Sonja Lyubomirsky
Every day, I like to wake up and remind myself to be grateful of the simple things.
— Miranda Kerr
True happiness is to enjoy the present, without anxious dependence upon the future, not to amuse ourselves with either hopes or fears but to rest satisfied with what we have, which is sufficient, for he that is so wants nothing. The greatest blessings of mankind are within us and within our reach. A wise man is content with his lot, whatever it may be, without wishing for what he has not.
— Seneca
The world is so unpredictable. Things happen suddenly, unexpectedly. We want to feel we are in control of our own existence. In some ways we are, in some ways we're not. We are ruled by the forces of chance and coincidence.
— Paul Auster
The real gift of gratitude is that the more grateful you are, the more present you become.
— Robert Holden
Appreciation is a wonderful thing: It makes what is excellent in others belong to us as well.
— Voltaire
Sometimes life knocks you on your ass… get up, get up, get up!!! Happiness is not the absence of problems, it's the ability to deal with them.
— Steve Maraboli
Choosing to be positive and having a grateful attitude is going to determine how you're going to live your life.
— Joel Osteen
When we focus on our gratitude, the tide of disappointment goes out and the tide of love rushes in.
— Kristin Armstrong
Start each day with a positive thought and a grateful heart.
— Roy T. Bennett
It is only with gratitude that life becomes rich.
— Dietrich Bonhoeffer
Life is Unpredictable Quotes To Help You Live To The Fullest
After all, life is too short to be anything but happy.
— Karl Marx
Life isn't meant to be lived perfectly…but merely to be LIVED. Boldly, wildly, beautifully, uncertainly, imperfectly, magically LIVED.
— Mandy Hale
The best way to prepare for death is to live life to its fullest.
— John Bytheway
When I stand before God at the end of my life, I would hope that I would not have a single bit of talent left, and could say, I used everything you gave me.
— Erma Bombeck
Live life to the fullest, for the future is scarce.
— Nick Carter
Live! Live the wonderful life that is in you! Let nothing be lost upon you. Be always searching for new sensations. Be afraid of nothing!
— Oscar Wilde
One way to get the most out of life is to look upon it as an adventure.
— William Feather
What is a Wanderess? Bound by no boundaries, contained by no countries, tamed by no time, she is the force of nature's course.
— Roman Payne
If you want to be happy, do not dwell in the past, do not worry about the future, focus on living fully in the present.
― Roy T. Bennett
Never let the future disturb you. You will meet it, if you have to, with the same weapons of reason which today arm you against the present.
— Marcus Aurelius
Opportunities will come and go, but if you do nothing about them, so will you.
— Richie Norton
Life is too short, or too long, for me to allow myself the luxury of living it so badly.
— Paulo Coelho
Life is Unpredictable Instagram Captions
Simply be present with your own shifting energies and with the unpredictability of life as it unfolds.
— Pema Chodron
… she knows all too well anything can happen in the blink of an eye.
— Mary Lynn Brach
At odd and unpredictable times, we cling in fright to the past.
— Isaac Asimov
The twists and turns of your life can be so unexpected, and that's a good thing to learn.
— Christina Baker Kline
The appeal of the wild for me is its unpredictability. You have to develop an awareness, react fast, be resourceful and come up with a plan and act on it.
— Bear Grylls
In fiction: we find the predictable boring. In real life: we find the unpredictable terrifying.
— Mokokoma Mokhonoana
Expect the unexpected, and whenever possible be the unexpected!
— Lynda Barry
How complicated and unpredictable the machinery of life really is.
— Kurt Vonnegut
My life shows a clear pattern of total unpredictability.
— Ashleigh Brilliant
Sometimes we let life guide us, and other times we take life by the horns. But one thing is for sure: no matter how organized we are, or how well we plan, we can always expect the unexpected.
— Brandon Jenner
If you put yourself in a situation of unpredictability and then find that it's completely possible to accept it, then you become an observer.
— David Tudor
Others follow patterns; we alone are unpredictable.
— Mignon McLaughlin
More Quotes About Unpredictable Life
Cherish your yesterdays, dream your tomorrows and live your todays.
— Unknown
Life is so transient and ephemeral; we will not be here after a breath. So think better, think deeply, think with kindness, and write it with love so that it may live a little longer.
— Debasish Mridha
Live life for the moment because everything else is uncertain!
— Louis Tomlinson
Life can be found only in the present moment. The past is gone, the future is not yet here, and if we do not go back to ourselves in the present moment, we cannot be in touch with life.
— Thich Nhat Hanh
You only live once; but if you do it right, once is enough.
— Mae West
Life is full of blessings we take for granted. Yet so often we dwell on what we don't have. Appreciate what you already have and be grateful.
— Napz Cherub Pellazo
The point of power is always in the present.
— Louise L. Hay
A happy life is just a string of happy moments. But most people don't allow the happy moment, because they're so busy trying to get a happy life.
— Esther Hicks
Live life to the fullest, and focus on the positive.
— Matt Cameron
Fill your life with as many moments and experiences of joy and passion as you humanly can.
— Marcia Weider
A man who dares to waste one hour of time has not discovered the value of life.
— Charles Darwin
It's being here now that's important. There's no past and there's no future.
— George Harrison
Which of these life is unpredictable quotes inspired you the most?
More Inspirational Quotes For You To Enjoy