A collection of inspirational forest quotes that'll remind you to appreciate the importance and beauty of the woods.
There is just something so therapeutic about taking a walk in the forest. For others, it can become a source of inspiration, for some, it can be healing and calming and can be a form of meditation.
A place where you can be alone with your thoughts, reflect and be one with nature.
Regardless of how taking a walk through the forest makes you feel, I think it's safe to say that doing it can have such a positive impact on our souls.
If you need some inspiration or need a little something to calm your mind and feed your soul, read these beautiful quotes about the forest below.
These inspirational quotes will not only lift your spirits but they are also perfect for your next Instagram caption.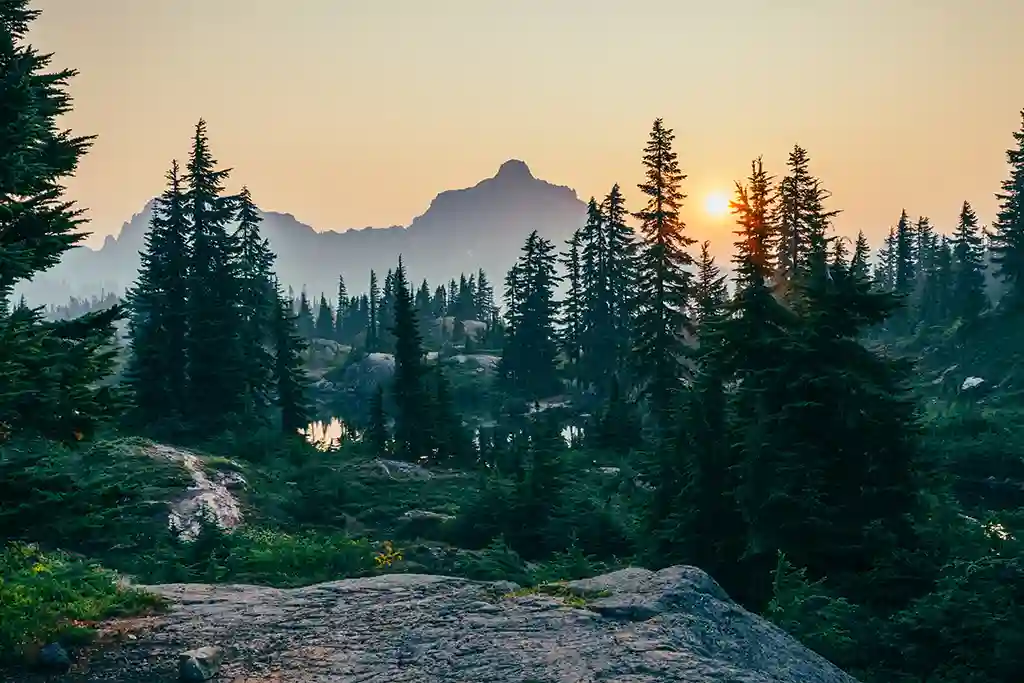 Forest Quotes and Sayings
I love the forest. It is the place where you hear yourself better.
— Fahadh Faasil
And into the forest I go, to lose my mind and find my soul
— John Muir
The clearest way into the Universe is through a forest wilderness.
— John Muir
Solitude is the soil in which genius is planted, creativity grows, and legends bloom; faith in oneself is the rain that cultivates a hero to endure the storm, and bare the genesis of a new world, a new forest.
— Mike Norton
It is not so much for its beauty that the forest makes a claim upon men's hearts, as for that subtle something, that quality of air that emanation from old trees, that so wonderfully changes and renews a weary spirit.
— Robert Louis Stevenson
We all have forests on our minds. Forests unexplored, unending. Each one of us gets lost in the forest, every night, alone.
— Ursula K. Le Guin
A forest bird never wants a cage.
— Henrik Ibsen
Only with a leaf
can I talk of the forest,
— Visar Zhiti
The heart of another is a dark forest, always, no matter how close it has been to one's own.
— Willa Cather
Trees're always a relief, after people.
— David Mitchell
We are aware only of the empty space in the forest, which only yesterday was filled with trees.
— Anna Freud
A cold wind was blowing from the north, and it made the trees rustle like living things.
— George R.R. Martin
Nature always wears the colors of the spirit.
— Ralph Waldo Emerson
But I'll tell you what hermits realize. If you go off into a far, far forest and get very quiet, you'll come to understand that you're connected with everything.
— Alan Watts
Did the nightmares of the cities put out the fire of your soul? The best way to rekindle that fire is to surrender your soul to the forest!
— Mehmet Murat ildan
This life is yours. Take the power to choose what you want to do and do it well. Take the power to love what you want in life and love it honestly. Take the power to walk in the forest and be a part of nature. Take the power to control your own life. No one else can do it for you. Take the power to make your life happy.
— Susan Polis Schutz
Deep Forest Quotes
For in the true nature of things, if we rightly consider, every green tree is far more glorious than if it were made of gold and silver.
— Martin Luther King Jr.
What we are doing to the forests of the world is but a mirror reflection of what we are doing to ourselves and to one another.
— Chris Maser
An autumn forest is such a place that once entered you never look for the exit!
— Mehmet Murat ildan
The gnarled trees are what show the harshness of the tortured landscape.
— Anthony T. Hincks
Every forest branch moves differently in the breeze, but as they sway they connect at the roots.
— Rumi
Forests are like churches, hallowed places. There's a stillness about them, a sort of reverence.
— Sabrina Elkins
A forest of these trees is a spectacle too much for one man to see.
— David Douglas
The forests are the lungs of the world.
— Woody Harrelson
To reconnect with nature is key if we want to save the planet.
— Jane Goodall
I found far more answers in the woods than I ever did in the city.
— Mary Davis
The most beautiful gift of nature is that it gives one pleasure to look around and try to comprehend what we see.
— Albert Einstein
The trees will tell their secrets to those that tune in.
— Steven Magee
Come to the woods, for here is rest.
— John Muir
In some mysterious way woods have never seemed to me to be static things. In physical terms, I move through them; yet in metaphysical ones, they seem to move through me.
— John Fowles
Losing the trees may lead to the extinction of mankind.
— Steven Magee
If you go to a desert, you will hear this mysterious voice: Be wise, protect your forests!
— Mehmet Murat ildan
Forests, lakes, and rivers, clouds and winds, stars and flowers, stupendous glaciers and crystal snowflakes – every form of animate or inanimate existence, leaves its impress upon the soul of man.
— Orison Swett Marden
Related Posts:
Inspirational Forest Quotes
Forest is a dream where you may find yourself and dream is a forest where you may lose yourself!
— Mehmet Murat ildan
A nation that destroys its soils destroys itself. Forests are the lungs of our land, purifying the air and giving fresh strength to our people.
— Franklin D. Roosevelt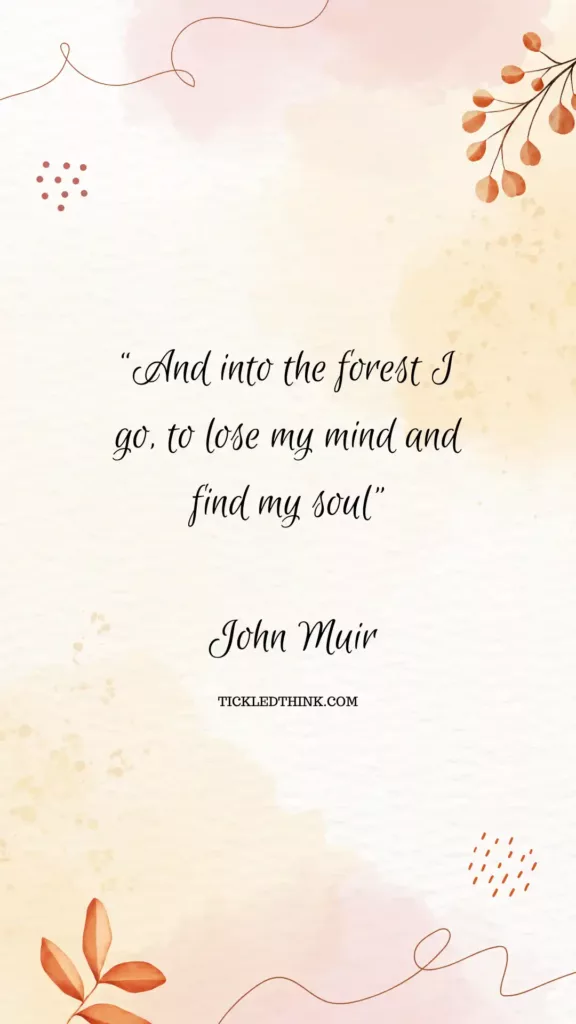 Anywhere which is in a forest, that's my zen place.
— Raveena Tandon
In a forest of a hundred thousand trees, no two leaves are alike. And no two journeys along the same path are alike.
— Paulo Coelho
A forest is a living thing like a human body…each part dependent on all the other parts.
The tree which moves some to tears of joy is in the eyes of others only a green thing that stands in the way.
— William Blake
Believe me, for I know, you will find something far greater in the woods than in books. Stones and trees will teach you that which you cannot learn from the masters.
— Saint Bernard of Clairvaux
If the forest has a day of fire and the heat of the flames does not consume a special tree, it will still be changed; charred, but still standing.
— Dan Groat
A rose started off a bud, a bird started off an egg, and a forest started off a seed.
— Matshona Dhliwayo
The strongest oak of the forest is not the one that is protected from the storm and hidden from the sun. It's the one that stands in the open where it is compelled to struggle for its existence against the winds and rains and the scorching sun.
— Napoleon Hill
Come to the woods, for here is rest. There is no repose like that of the green deep woods. Sleep in forgetfulness of all ill.
— John Muir
These woods are where silence has come to lick its wounds.
— Samantha Hunt
Inhale the scent of a forest close by. I can smell the earthy fragrance of autumn as night falls, the leaves gently rustling, I can feel the damp air of dusk descending. The forest is not there. It is in my mind's eye.
— Natsu Miyashita
A tree is our most intimate contact with nature.
— George Nakashima
Reading about nature is fine, but if a person walks in the woods and listens carefully, he can learn more than what is in books, for they speak with the voice of God.
— George washington carver
Nature is a temple in which living columns sometimes emit confused words. Man approaches it through forests of symbols, which observe him with familiar glances.
— Charles Baudelaire
Short Forest Quotes
If we lose the forests, we lose our only teachers.
— Bill Mollison
If you love a tree you will be more beautiful than before!
— Amit Ray
This forest eats itself and lives forever.
— Barbara Kingsolver
The world's a forest, in which all lose their way; though by a different path each goes astray.
— George Villiers
To the artist, the forest is an asylum of peace and dancing shadows.
— John F. Carlson
Humankind's greatest priority is to reintegrate with the natural world.
— Jonathon Porritt
A forest is mystery but the desert is truth. Life pared to the bone.
— Keith Miller
Trees we plant today are forests we enjoy tomorrow.
— Matshona Dhliwayo
The death of the forest is the end of our life.
— Dorothy Stang
I took a walk in the woods and came out taller than the trees.
— Henry David Thoreau
I never see a forest that does not bear a mark or a sign of history.
— Anselm Kiefer
The planet's forests are essential for life.
— Paul Polman
In the silence of the woods
among the wildflowers
butterflies danced.
— Meeta Ahluwalia
Forest is the best port of the wise man!
— Mehmet Murat ildan
Being in the woods at night is a beautiful thing.
— Hugo Weaving
More Quotes About the Forest
The forest did not tolerate frailty of body or mind. Show your weakness, and it would consume you without hesitation.
— Tahir Shah
Forests were the first temples of the divinity, and it is in the forests that men have grasped the first idea of architecture.
— Francois-Rene de Chateaubriand
I believed then – in a deep, easy way that is impossible for me as an adult – that there was more to this world than meets the eye. Trees had spirits; the wind spoke. If you followed a toad or a raven deep into the heart of the forest, they were sure to lead you to something magical.
— Jennifer McMahon
Forest who is in love with fire will wear black wedding gown in her wedding.
— Mehmet Murat ildan
If you're in a forest, the quality of the echo is very strange because echoes back off so many surfaces of all those trees that you get this strange, itchy ricochet effect.
— Brian Eno
Walking into the forest, you return to your roots. Disconnected from the chaos, you get reconnected with the beat of life. Disengaging yourself from the grip of pain, you engage your soul in finding the purpose.
— Jayita Bhattacharjee
You can be in terrible shape, and if you take a three-hour walk through the forest and along the river, you're simply not the same as when you started out.
— Jim Harrison
He envied the bark, which had been, in the course of one lifetime, both forest and fire. One endured; one destroyed.
— Karen Joy Fowler
My favourite places on earth are the wild waterways where the forest opens its arms and a silver curve of river folds the traveller into its embrace.
— Rory MacLean
Very few things in life can be so exhilarating as a cabin in the middle of the forest and loving life effortlessly while enjoying the smell of freshly ground heaven in your hot cup, in front of a fireplace… Sweet Solitude, you have taught me to live with very little. So very little it turned out to be a luxury.
— Efrat Cybulkiewicz
You can't stay in your corner of the forest waiting for others to come to you. You have to go to them sometimes.
— A. A. Milne
They appeal to all and awaken inspiring universal feelings. Enter the forest and the boundaries of nations are forgotten. It may be that sometime an immortal pine will be the flag of a united and peaceful world.
― Enos Abijah Mills
When I go into the forest, I don't go there expecting to see any animal. I go there just to enjoy the wilderness. Any picture I get is a bonus.
— Biju Karakkonam
I'm always astonished by a forest. It makes me realise that the fantasy of nature is much larger than my own fantasy. I still have things to learn.
— Gunter Grass
A wisdom so penetrating, emerges from the trees. On its trunk is carved the seasons and their storms it stood up to, the courage it held out against the unsympathetic felling, yet stood calm and composed. How collected it is amid the laughter of storms.
— Jayita Bhattacharjee
I walk slowly into myself, through a forest of empty suits of armor.
— Tomas Transtromer
Which of these forest quotes inspired you the most?
More inspirational quotes for you to enjoy