A collection of wake up early quotes that will motivate and inspire you to get up early, seize the day, and make your dreams a reality!
I was never a morning person. I have always found it so difficult to wake up early and start my day. For years, I kept living this cycle. Sleeping late and waking up at noon.
But this year, I found myself in a very bad place mentally. I was feeling stuck, drained, and just so unmotivated. I decided to change my routine and start waking up early to help reset my life.
Waking up early was like a breath of fresh air. It helped drastically improve my productivity and spark the motivation that I needed to achieve my goals and improve my life.
Not only that, but it also allowed me to breathe, reconnect with myself, and just slow down.
But if you're like me, waking up early is easier said than done. Sometimes, we all just want to press the snooze button and tell ourselves to try again tomorrow.
To help you out, I have gathered the best motivational wake up early quotes that are guaranteed to give you the motivation that you need to conquer the mornings and seize the day!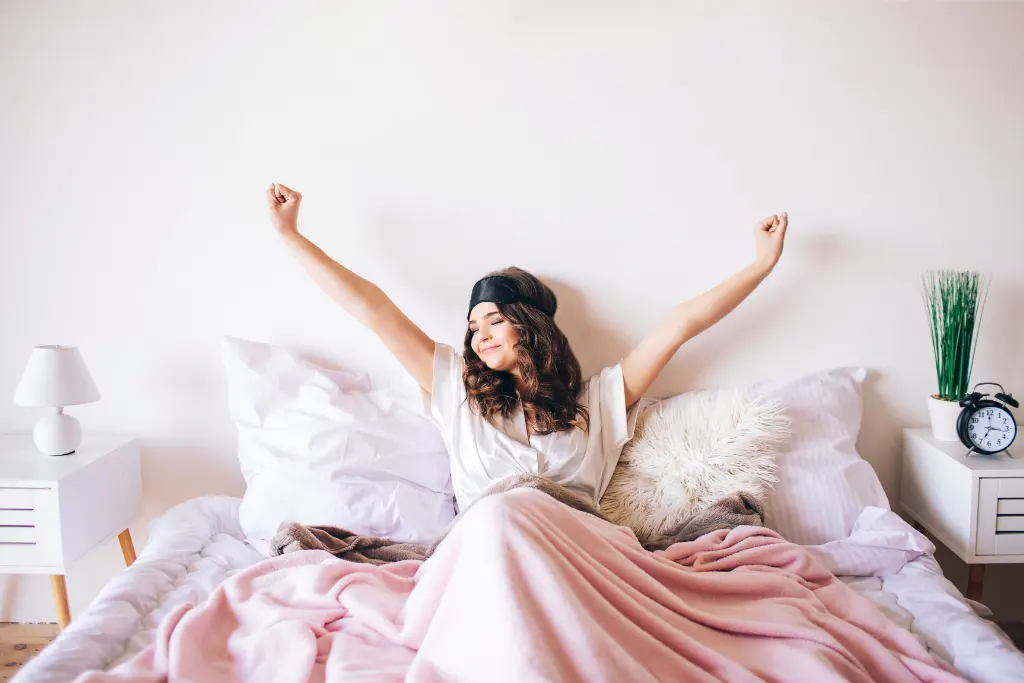 Wake Up Early Quotes and Sayings
Some people dream of success, while others wake up early and make it happen.
— Hal Elrod
Go to bed early and wake up early. The morning hours are good.
― Jeff Bezos
Wake up early and tackle the day before it tackles you.
― Evan Carmichael
If you have dreams then wake up early, put on your boots, and start your hustle.
— Avijeet Das
Wake up an hour early to live an hour more.
— Unknown
It is well to be up before daybreak, for such habits contribute to health, wealth, and wisdom.
— Aristotle
Early to bed and early to rise makes a man healthy, wealthy, and wise.
— Benjamin Franklin
I would have it inscribed on the curtains of your bed and the walls of your chamber: "If you do not rise early you can make progress in nothing."
— William Pitt Chatham
Success comes to those who have the willpower to win over their snooze buttons.
— Unknown
Work hard, stay positive and wake up early. It's the best part of the day.
— George Allen, Sr.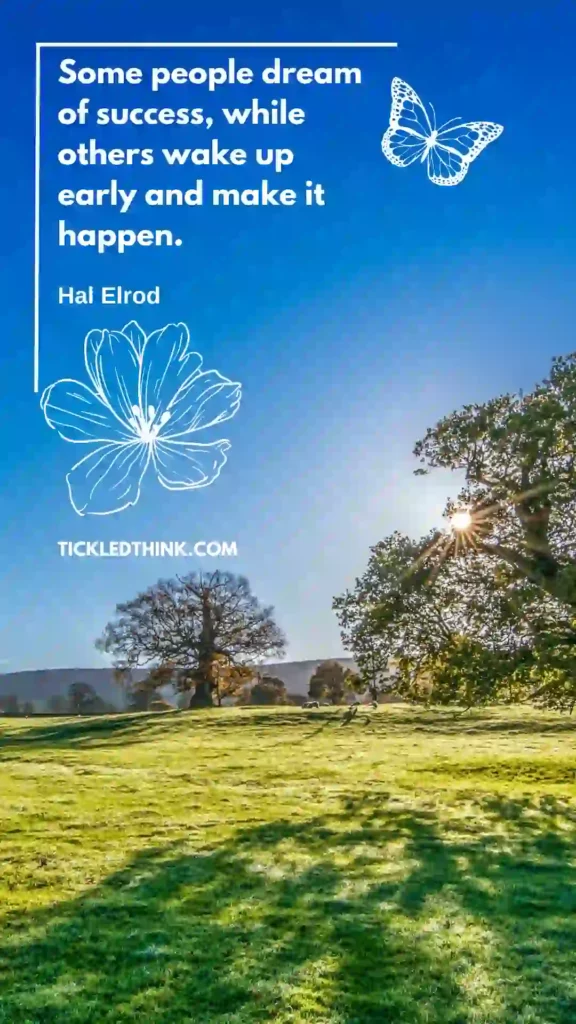 Wake Up Early Motivation Quotes
I never knew a man come to greatness or eminence who lay abed late in the morning.
― Jonathan Swift
The best thing about waking up early is seeing the sun rise.
— Bridgit Mendler
How we start our day determines how we create our life. Are you snoozing through your morning, snoozing through your life, and snoozing through your unlimited potential, Or are YOU committed to waking up each day with passion, purpose, and a plan so you can create the life you truly want & deserve?
― Hal Elrod
Lose an hour in the morning and you will be all day hunting for it.
— Richard Whately
The best way to make your dreams come true is to wake up.
— Paul Valery
By getting up early in the morning one also gets more time at his disposal for work as compared to late-risers.
— Rig Veda
The time just before dawn contains the most energy of all hours of the day. This has helped me become an early riser and an early doer.
— Terri Guillemets
The first step to win yourself is wake up early.
― Sukant Ratnakar
There is too much life to be lived for you to hit the snooze button. In fact, I believe it is 'seize the day', not 'snooze the day!'
— Hal Elrod
One key to success is to have lunch at the time of day most people have breakfast.
— Robert Breault
Wake up early and tackle the day before it tackles you. Be on offense, not defense.
— Evan Carmichael
Related Posts:
Funny Waking Up Early Quotes
There's one thing that's really great about waking up early, and it's not jogging or greeting the day – it's just that that's when they make doughnuts.
— Kathy Griffin
Life is too short.' she panicked, 'I want more.' he nodded slowly, 'wake up earlier'"
— Dr. SunWolf
He who wakes up early, yawns all day long.
— Unknown
There is no sunrise so beautiful that it is worth waking me up to see it.
— Mindy Kaling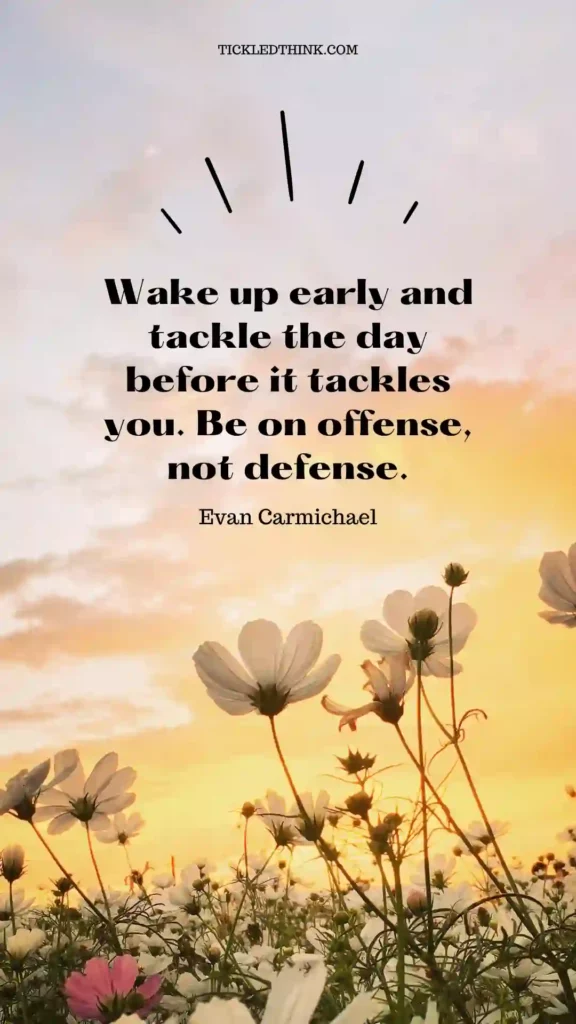 Quotes For Waking Up Early
The early morning has gold in its mouth.
― Benjamin Franklin
The breeze at dawn has secrets to tell you. Don't go back to sleep.
– Rumi
It is in the early morning hour that the unseen is seen, and that the far-off beauty and glory, vanquishing all their vagueness, move down upon us till they stand clear as crystal close over against the soul.
— Sarah Smiley
The sun has not caught me in bed in fifty years.
― Thomas Jefferson
An early morning walk is a blessing for the whole day.
— Henry David Thoreau
If you want to be the best, you can't take the path of least resistance. Every morning, you wake up, and your mind tells you it's too early, and your body tells you you're a little too sore, but you've got to look deep within yourself and know what you want and what you're striving for
― Antonio Brown
Tips on Waking Up Early
1. Do it Gradually
This here is very important. Sometimes making a drastic change to your sleeping schedule can be overwhelming and it can result in you giving up easily. So try doing it gradually instead. Wake up 30-45 minutes earlier each week until you've reached your goal. Doing this will make it less daunting.
2. Create A Bedtime Routine
According to Sleep Foundation, Bedtime routines can play an important role in reducing late-night stress and anxiety. Creating the perfect bedtime routine for you will not only help you adjust to your new sleeping schedule but will also help you relax so that you can sleep better.
3. Excercise
Exercising can do wonders in improving your sleep. Just be sure to choose the perfect time to do it.
4. Unplug
Try to stay away from any devices for at least 30 minutes before your bedtime. I usually use this time to journal. Doing this helps relax my mind, it gives me a sense of peace and calm allowing me to sleep better.
I hope you found this post helpful in motivating you to get up early and win the day! Which of the wake up early quotes above was your favorite? Be sure to let me know!
More Inspirational Quotes For You To Enjoy