A collection of enough is enough quotes that'll inspire you to walk away from anything and anyone that are only keeping you down, making you feel worthless and unhappy.
There will be moments in our life where regardless of how hard we keep trying, all our efforts still remain in vain. No matter what we do, our best is still not good enough.
In moments like these, we must always remember that it's okay to let go and to walk away, especially when we are only constantly taken for granted.
When you feel like enough is enough, remind yourself that you have the power to remove yourself from situations and from people that are only harming your mental health and are only keeping you unhappy.
Know your worth and remember that you are worthy to be loved, to be happy, and that you are enough just as you are now.
May these enough is enough quotes remind you of worth and value and inspire you to walk away from toxic relationships and situations.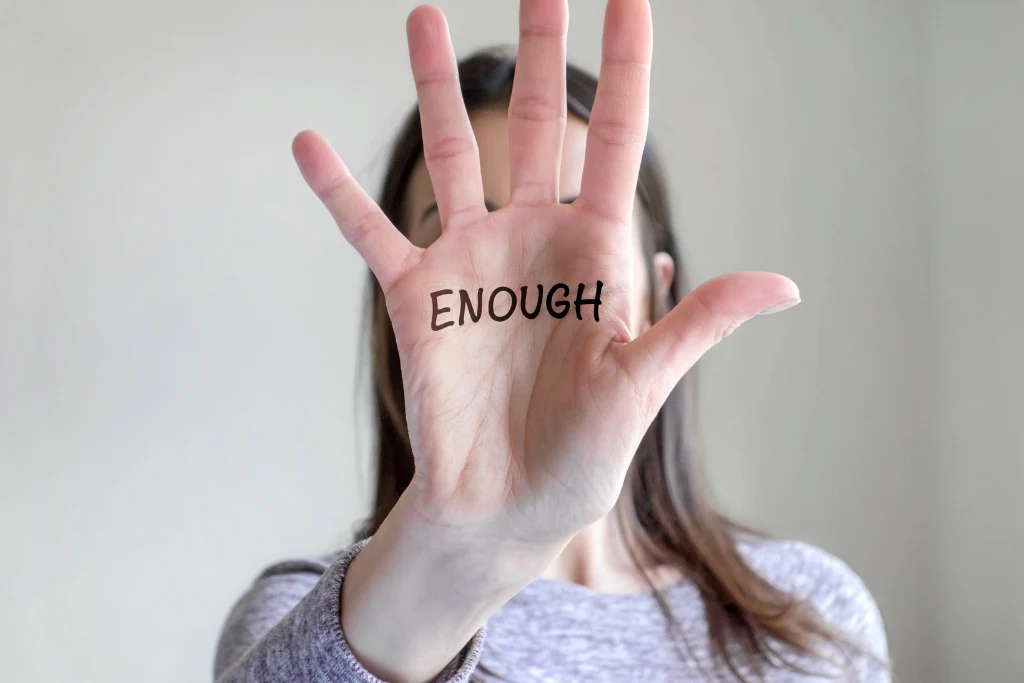 Enough is Enough Quotes and Sayings
Some kind of way, we have to say enough is enough.
— Dick Gregory
Poems seem to have a life of their own. They tell you when enough is enough.
— Thomas Lynch
Learning when 'enough is enough' is the discipline of a lifetime.
— Gail Godwin
This is unacceptable. Enough is enough.
— Esther Lee
When it's time for me to walk away from something, I walk away from it. My mind, my body, my conscience tell me that enough is enough.
— Jerry West
Enough is enough and it's time for a change.
— Owen Hart
He who knows that enough is enough will always have enough.
— Lao Tzu
Sometimes you reach to a point when enough is enough. Sometimes, you have to be done, just done and nothing else.
— Jyoti Patel
There comes a time when enough is enough, and you have to stand up and face up and fight back.
— Clay Jensen
There comes a point in every man's life when he has to say: 'Enough is enough.'
— Lance Armstrong
Quotes on Enough is Enough
She felt rage boiling inside of her, begging to get out, begging to be set free. She succumbed to the supplications of her inner beast. She set her rage free.
— Wiss Auguste
I am tired of getting up every time I fall and trying to fight the fight I will never be able to win.
— Nichole Parisian
There comes a time when you're losing a fight that it just doesn't make sense to keep on fighting. It's not that you're being a quitter; it's just that you've got the sense to know when enough is enough.
— Christopher Paul Curtis
Change happens when one individual has had enough pain and finds the inner resolve to ask for help and make a difference.
— Mike Ferguson
I am fed up. I am fed up with tears and weakness.
— Veronica Roth
Struggles only move forward when decent men and women step forward and say, 'enough is enough and no more.'
— Kumi Naidoo
There always comes a point in life when you've had enough and just have to let go of the things that keeps weighing you down no matter how convincing they seem, that you can't do without them, it's just a matter of time you'll surely get over it.
— Blaze Olermiday
Stars must be fed up of hearing your name every time they fall.
— Fareena Aliya
Work hard, earn a great living, get whatever you want out of life, have all the stuff you want. But there should be a ceiling on it-enough is enough!
— Sandy Duncan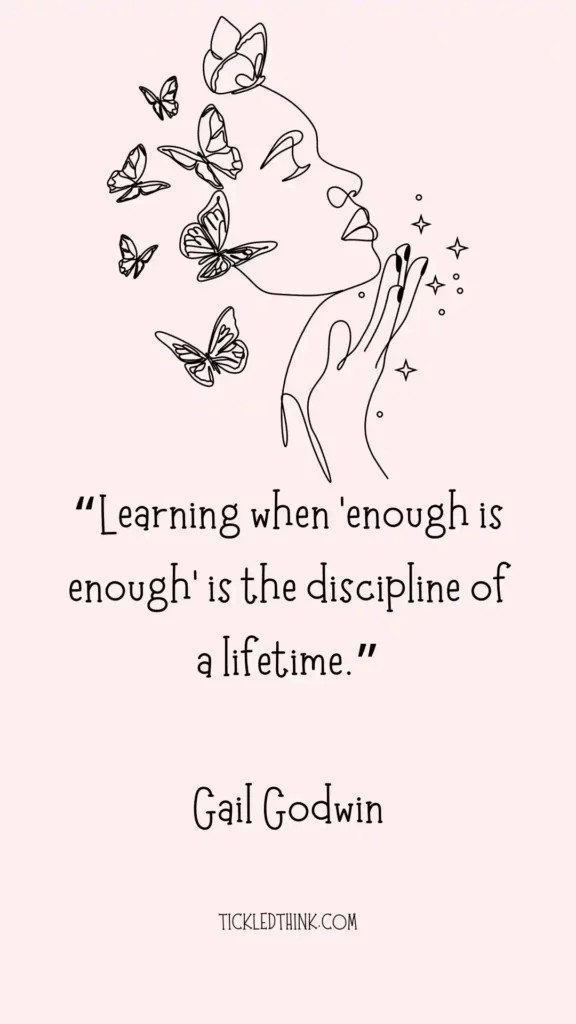 You can either give in to what you're feeling, just say 'okay, enough is enough' and be done with it, or you can fight it.
— Terry Brooks
Related Posts:
Enough is Enough Quotes On Relationships
Sometimes you have to walk away from people, not because you don't care, but because they don't.
― Melchor Lim
Even the most caring people can get tired of being taken for granted.
— Nishan Panwar
Girls you've gotta know when it's time to turn the page.
— Tori Amos
I truly loved you, but now I'm walking away.
— Jonny Lang
When someone had enough of being lied to, mistreated, mislead, or tired of feeling neglected, nothing can stand in the way of them leaving you.
— Bernajoy Vaal
I feel like I've started a new chapter in my life, and I need to leave the past behind.
— Jennifer Capriati
Some of us think holding on makes us strong, but sometimes it is letting go.
― Herman Hesse
You will find that it is necessary to let things go; simply for the reason that they are heavy. So let them go, let go of them. I tie no weights to my ankles.
— C. JoyBell C.
Some people believe holding on and hanging in there are signs of great strength. However, there are times when it takes much more strength to know when to let go and then do it.
― Ann Lander
No one gets tired of loving, but everyone gets tired of waiting, assuming, hearing lies and hurting.
— Anmol Andore
When Enough is Enough Quotes
Once you realize you deserve a bright future, letting go of your dark past is the best choice you will ever make.
― Roy T. Bennett
Learn to say no, I've had enough. Then nothing and no one can hurt you.
— Madonna
I woke up one day and thought, 'Enough is enough with bullying myself.' The war is within you, and that's also where it's won. You just have to tackle your insecurities and then let them go.
— Keala Settle
Every woman that finally figured out her worth, has picked up her suitcases of pride and boarded a flight to freedom, which landed in the valley of change.
― Shannon L. Alder
Just pick up your courage and walk away. Don't waste your time. The longer one drags on, the amount of pain accumulates.
— Dick Hirayama
Enough had been thought, and said, and felt, and imagined. It was about time that something should be done.
— C. S. Lewis
One of the most courageous decisions you'll ever make is to finally let go of what is hurting your heart and soul.
― Brigitte Nicole
Sometimes it takes a heartbreak to shake us awake & help us see we are worth so much more than we're settling for.
— Mandy Hale
The most difficult aspect of moving on is accepting that the other person already did.
― FaraazKazi
Only when you've truly had enough suffering in your life, are you able to say I don't need it anymore.
— Eckhart Tolle
Enough is Enough Quotes and Captions
Learning to walk away is hard but staying to suffer is harder.
— Mariel Avila
There is a difference between giving up and knowing when you have had enough.
— Sushan Sharma
Make your breaking point your turning point.
— Dennis Kimbro
Once you've had enough and you can't do it anymore, you consider the possibility that there might be a better way. That's when your head cracks open and God comes in.
— Marianne Williamson
No matter how strong a girl is, she always has a breaking point.
— Anonymous
Sometimes walking away has nothing to do with weakness, and everything to do with strength. We walk away not because we want others to realize our worth and value, but because we finally realize our own.
— Robert Tew
This is what happens when nice people are pushed too far. We give too many chances, and so when we've finally had enough, we are well and truly done. When a nice person shuts a door on you, it's shut for good.
— Deb Caletti
There are times when we have had enough even of our friends.
— Henry David Thoreau
When the tears are too many and the love is too little, when you want to smile but you have to sigh and you're tired of the lies but your heart can't handle the truth, that's when you have to decide, if it's better to stay or just walk away.
— Rashida Rowe
The heart is willing, the head is willing but the body's had enough.
— Keith Wood
Everyone has a breaking point.
― Carlos Wallace
Which of these enough is enough quotes resonated with you the most?
More Inspirational Quotes For You To Enjoy