A collection of don't look back quotes that'll inspire you to keep moving forward, let go of the past, and embrace the future.
Most of us are guilty of living in the past. We keep holding on to what has already happened that we find ourselves stuck and unable to let go and move on.
But the thing is, if we allow ourselves to constantly wallow in the past, we are only keeping ourselves from enjoying and appreciating everything that is happening to us right now.
Yes, moving on and letting go is not easy but ultimately, we have to remind ourselves that in order for us to really live, we have to learn to let go, don't look back, and just live in the moment.
Remind yourself that you have so much to look forward to, all you have to do is to move forward, you can do it one step at a time, and start living every moment of your life.
May these inspiring quotes offer you the wisdom that you need to help you move on and look ahead.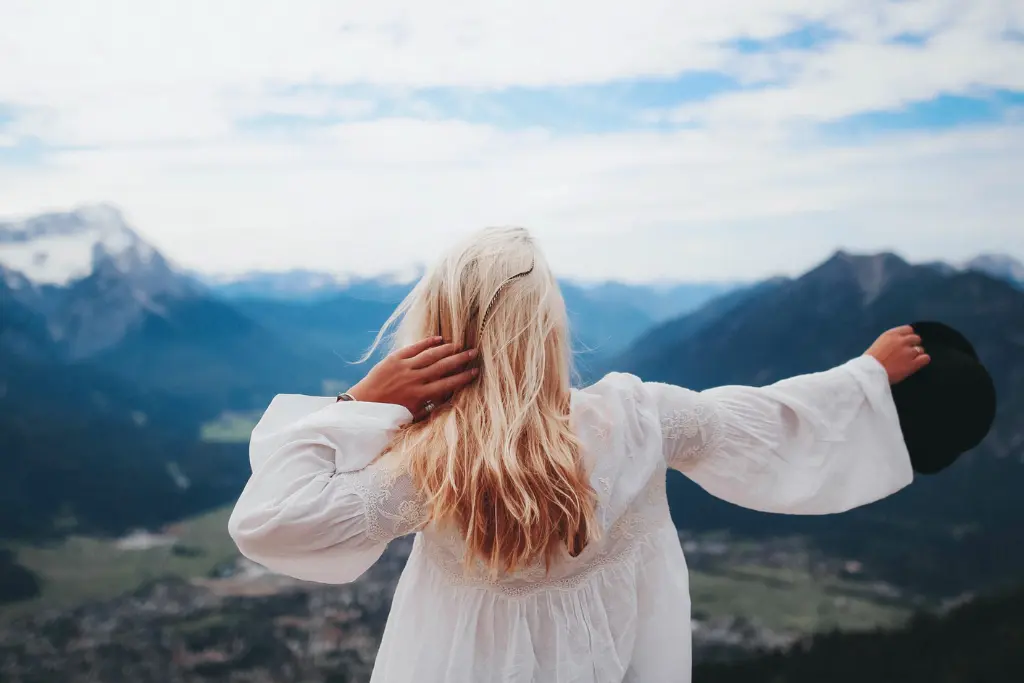 Don't Look Back Quotes and Sayings
When a thing is done, it's done. Don't look back. Look forward to your next objective.
— George C. Marshall
Everything ends, people move one, and they don't look back. It's how they should be.
— Lauren Oliver
Do not look back upon what has been done. Go ahead!
— Swami Vivekananda
If it doesn't do you any good, dump it. Take some action, push that lever, flush it away, and don't look back. Take small steps every day of your life, and start taking control of what you say when you talk to yourself.
— Dave Pelzer
Never look back at your past, everything happens for a reason, keep your head up and look forward. The more you look back the more beautiful things you will miss in life.
— Brandon Smith
I tend not to look back. It's confusing.
— Walter Hill
Never look back unless you are planning to go that way.
Once you make the decision to move one, don't look back. Your destiny will never be found in the rear view mirror.
— Mandy Hale
Don't look back. Something might be gaining on you.
— Satchel Paige
Don't look back and ask, why? Look ahead and ask, Why not?
— Neil Patel
Start wide, expand further, and never look back.
— Arnold Schwarzenegger
Don't turn around. Don't look back. Keep moving forward. Keep pushing. The pot of gold is at the end of the rainbow, not the beginning.
— Ziad K. Abdelnour
Motivational Don't Look Back Quotes
If you want to live your life in a creative way, as an artist, you have to not look back too much. You have to be willing to take whatever you've done and whoever you were and throw them away.
— Steve Jobs
Look up, always. Look back, never.
— Karen Quan
I don't like looking back. I'm always constantly looking forward. I'm not the one to sort of sit and cry over spilt milk. I'm too busy looking for the next cow.
— Gordon Ramsay
Don't look back! For a bright future is ahead of you.
— Joel Brown
Do not look backwards if your goal is to move forward.
— Germany Kent
It is not possible to go forward while looking back.
— Ludwig Mies van der Rohe
I walk slowly, but I never walk backward.
— Abraham Lincoln
Don't look back unless it's a good view.
— Tupac Shakur
She believed she could. She did it, and never looked back.
— Germany Kent
My life is like driving down a road. I occasionally glance in the rearview mirror, but I'm not focused on the past or looking back anymore.
— Scott Hall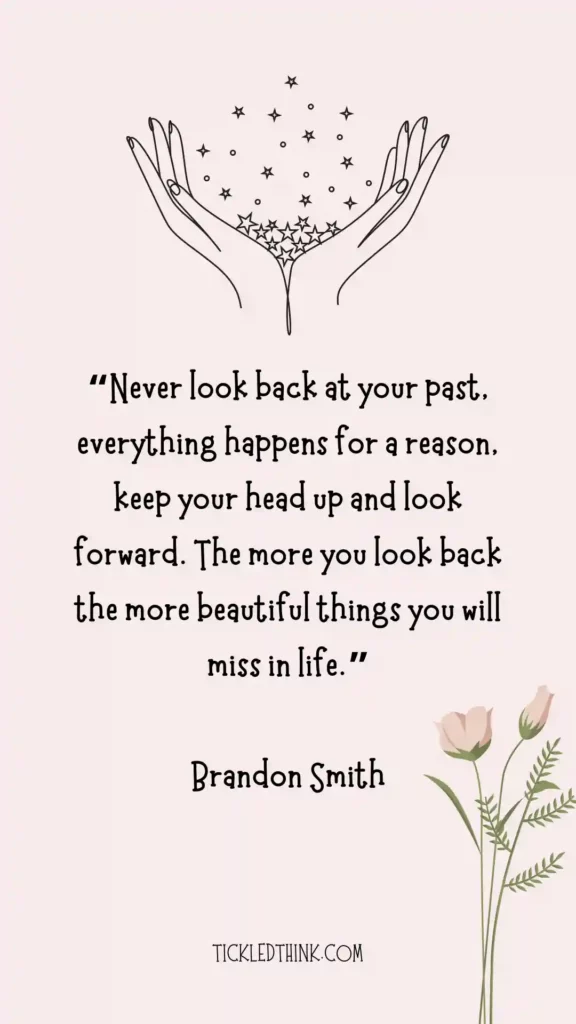 Walk ahead, because if you look back, you will go back.
— Dragos Bratasanu
I turn and I slowly walk away and I don't look back. It has always been a fault of mine, but it is the way I am. I never look back. Never.
— James Frey
Never Look Back Quotes
Yesterday is not ours to recover, but tomorrow is ours to win or lose.
— Lyndon B. Johnson
The only reason time seems to be moving rather fast is that sometimes we're too busy living in the past.
— Dominic Riccitello
Rehashing the past wouldn't change anything. Time to move forward.
— Zena Wynn
Forward is the only motion we know. The only direction that can make sense of the loss, that can perhaps, even one day, restore it.
— Micheline Ryckman
Move forward with purpose.
— Sherrilyn Kenyon
If everyone is moving forward together, then success takes care of itself.
— Henry Ford
The only thing a person can ever really do is keep moving forward. Take that big leap forward without hesitation, without once looking back. Simply forget the past and forge toward the future.
— Alyson Noel
You don't always have to move on from your past, but you do need to find a way to move forward.
— Brittany Burgunder
The trouble with 'if only' is that it doesn't change anything. It keeps the person facing the wrong way – backward instead of forward. It wastes time. In the end, if you let it become a habit, it can become a real roadblock – an excuse for not trying anymore.
— Arthur Gordon
Even a rock moves on.
— Anthony Liccione
If you're not moving forward, you're falling back.
— Sam Waterson
It is important that we forgive ourselves for making mistakes. We need to learn from our errors and move on.
— Steve Maraboli
Related Posts:
Don't Look Back Quotes To Help You Walk Away
When one door closes another door opens; but we so often look so long and so regretfully upon the closed door, that we do not see the ones which open for us.
― Alexander Graham Bell
Love yourself enough to move forward from whatever mistakes you may have made.
― Akiroq Brost
Stop being a prisoner of your past. Become the architect of your future.
— Robin Sharma
Letting go means to come to the realization that some people are a part of your history, but not a part of your destiny.
― Steve Maraboli
Don't hold on to the past; it won't help in moving forward. Dare to dream big.
― Rajeev Suri
Once you realize you deserve a bright future, letting go of your dark past is the best choice you will ever make.
― Roy T. Bennett
Don't look back with tears, look forward with joy; and grab every bit of happiness you can. Don't waste your life being afraid to try new things, and don't be afraid of rejection, be afraid of rejecting what you know is right, in your heart.
— Pippa Franks
There's no time for regrets. You've just got to keep moving forward.
― Mike McCready
The beautiful journey of today can only begin when we learn to let go of yesterday.
― Steve Maraboli
Don't dwell on what went wrong. Instead, focus on what to do next. Spend your energy moving forward together towards an answer.
― Denis Waitley
The longer we keep looking back in the rearview mirror, it takes away from everything that's moving forward.
― Dan Quinn
Don't look back. You are never completely alone.
— Daniel Silva
More Don't Look Back Quotes
Nobody can go back and start a new beginning, but anyone can start today and make a new ending.
— Maria Robinson
The choice isn't to move on—life moves whether I want it to or not. No, the choice is to look forward, not backward, to take a step because refusing to move won't draw the past nearer, only postpone better days.
― Caroline George
I demolish my bridges behind me…then there is no choice but to move forward.
— Fridtjof Nansen
If you can't fly then run, if you can't run then walk, if you can't walk then crawl, but whatever you do you have to keep moving forward.
— Martin Luther King Jr
Look at life through the windshield, not the rear-view mirror.
— Byrd Baggett
Moving backward meant more suffering, and staying stuck was just as bad. That left moving forward. There had to be an answer somewhere.
― Susan Mallery
Looking back isn't going to help you. Moving forward is the thing you have to do.
— McKayla Maroney
Even snails make progress. Just be sure your progress is in the direction you want to go.
― Richelle E. Goodrich
Life moves on and so should we.
— Spencer Johnson
There are things that we never want to let go of, people we never want to leave behind. But keep in mind that letting go isn't the end of the world, it's the beginning of a new life.
— Unknown
Those who move forward with a happy spirit will find that things always work out.
— Gordon B. Hinkley
It's just life. You have to be able to get up, face your flaws, and just, whatever it is, a step, an inch, you just got to keep moving forward.
— Monty Williams
No Looking Back Quotes
You know, I try not to look back, because looking forward is so much better than looking backward.
— Jim Bakker
If you make the mistake of looking back too much, you aren't focused enough on the road in front of you.
— Brad Paisley
Always look ahead, but never look back.
— Miles Davis
But there's no point in looking back and saying I was unlucky.
— Jamie Redknapp
Let us not look back in anger, nor forward in fear, but around in awareness.
— James Thurber
It happens to everyone as they grow up. You find out who you are and what you want, and then you realize that people you've known forever don't see things the way you do. So you keep the wonderful memories, but find yourself moving on.
— Nicholas Sparks
Living the past is a dull and lonely business; looking back strains the neck muscles, causing you to bump into people not going your way.
— Edna Ferber
We ought not to look back, unless it is to derive useful lessons from past errors and for the purpose of profiting by dear bought experience.
— George Washington
Ever since I made tomorrow my favorite day, I've been uncomfortable looking back.
— Paul Harvey
Girls you've gotta know when it's time to turn the page.
— Tori Amos
Never look backwards or you'll fall down the stairs.
— Rudyard Kipling
We don't want to get distracted by looking back; we need to move forward.
— Valerie Jarrett
Which of these don't look back quotes resonated with you the most?
More Inspirational Quotes For You To Enjoy