A collection of the best pamper yourself quotes to inspire you to slow down and never be afraid to put yourself and your needs first.
Why is pampering yourself important?
In Today's day and age, we are made to believe that the only way for us to achieve success, be happier, and make our dreams a reality is to constantly push ourselves into exhaustion and burnout but it's definitely not the case.
Pampering yourself and making time for self-care is not selfish. It's not going to keep you from achieving your dreams. In fact, it is necessary and vital in helping you live a happier and more fulfilled life.
Pampering yourself can you help you recharge, breathe and see things from a different perspective that'll eventually allow you to come back more focused and productive.
May these pamper yourself quotes inspire you to make time for yourself, take a break and just live in the moment.
Pamper Yourself Quotes and Sayings
If you feel "burnout" setting in, if you feel demoralized and exhausted, it is best, for the sake of everyone, to withdraw and restore yourself."
— Dalai Lama
Sometimes surprise gifts and pampering yourself is all you need to lift up your mood!
— J Chokshi
I have come to believe that caring for myself is not self indulgent. Caring for myself is an act of survival.
— Audre Lorde
A healthy self-love means we have no compulsion to justify to ourselves or others why we take vacations, why we sleep late, why we buy new shoes, why we spoil ourselves from time to time. We feel comfortable doing things which add quality and beauty to life.
— Andrew Matthews
Self-care means giving yourself permission to pause.
— Cecilia Tran
Sometimes all we need is a little pampering to help us feel better.
— Charles M. Schulz
When you recover or discover something that nourishes your soul and brings joy, care enough about yourself to make room for it in your life.
— Jean Shinoda Bolen
Loving yourself isn't vanity. It's sanity.
— Katrina Mayer
It's not selfish to love yourself, take care of yourself, and to make your happiness a priority. It's necessary.
— Mandy Hale
Breathe. Let go. And remind yourself that this very moment is the only one you know you have for sure.
Quotes About Pampering Yourself
Sometimes, the most productive thing that you can do is to step outside and do nothing, relax and enjoy nature.
— Melanie Charlene
Taking a break can lead to breakthroughs.
— Russell Eric Dobda
As important as it is to have a plan for doing work, it is perhaps more important to have a plan for rest, relaxation, self-care, and sleep.
— Akiroq Brost
Just when you feel you have no time to relax, know that this is the moment you most need to make time to relax.
— Matt Haig
The time to relax is when you don't have time for it.
— Sydney J. Harris
Almost everything will work again if you unplug it for a few minutes. Including you.
— Anne Lamott
When things are not happening as planned just stop worrying and take an unplanned break to regain yourself.
— Giridhar Alwar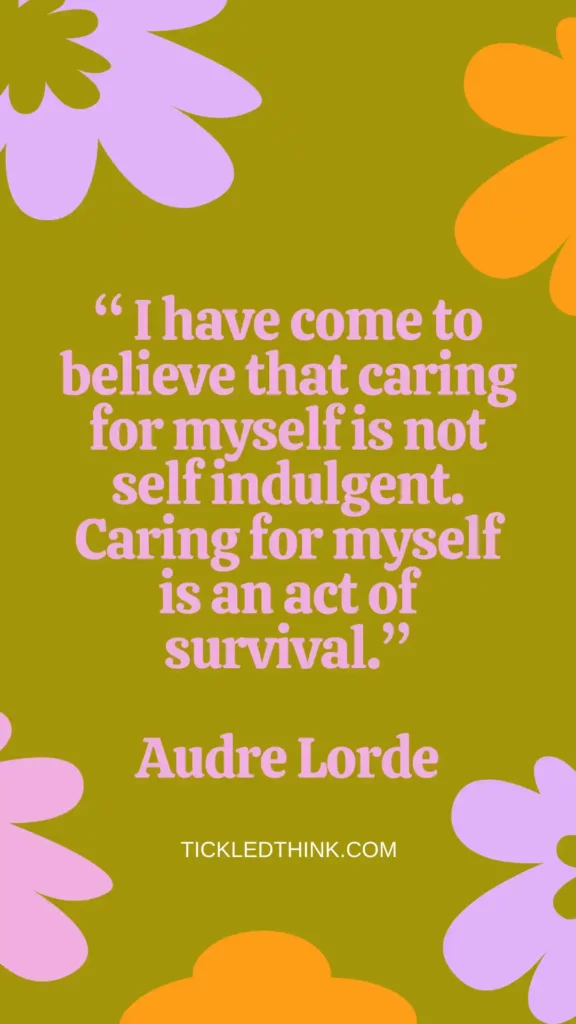 Solitude is where I place my chaos to rest and awaken my inner peace.
— Nikki Rowe
Take rest; a field that has rested gives a bountiful crop.
— Ovid
Sometimes doing nothing makes way for everything.
— Hiral Nagda
Related Posts:
Pamper Yourself Captions For Instagram
Self-care is how you take your power back.
— Lalah Delia
Don't be in a hurry to achieve your dreams. Take a day to play with your kids and relax – your dreams will still be there tomorrow.
— Lindsey Rietzsch
Drink your tea slowly and reverently, as if it is the axis on which the world earth revolves – slowly, evenly, without rushing toward the future.
— Thich Nhat Hanh
Take a break from life once in a while your mind needs to unwind.
— Simran
Just because you take breaks doesn't mean you're broken.
— Curtis Tyrone Jones
Take a break and give your soul what it needs.
— Audrey Kitching
Self-care has become a new priority – the revelation that it's perfectly permissible to listen to your body and do what it needs.
― Frances Ryan
Resting and relaxing is as important as going out there and making it happen.
— Hiral Nagda
Lighten up on yourself. No one is perfect. Gently accept your humanness.
— Deborah Day
When the body forces you to STOP it's saying, hey buddy, you've gone too far.
― Jacqueline Escolme
Pamper Yourself Quotes To Inspire Love Yourself More
Whatever you are doing, love yourself for doing it. Whatever you are feeling, love yourself for feeling it.
— Thaddeus Golas
When you say 'yes' to others make sure you are not saying 'no' to yourself.
— Paulo Coelho
It isn't what they call you, it's what you answer to.
― W.C. Fields
Love yourself first and everything else falls into line. You really have to love yourself to get anything done in this world.
— Lucille Ball
Love yourself. Be clear on how you want to be treated. Know your worth. Always.
— Maryam Hasnaa
You yourself, as much as anybody in the entire universe, deserve your love and affection.
— Buddha
You can never meet your potential until you truly learn to love yourself.
― Teresa Collins
Keep watering yourself. You're growing.
— E.Russell
Make happiness your priority and be gentle with yourself in the process.
— Bronnie Ware
True self-care is not bath salts and chocolate cake, it's making the choice to build a life you don't need to escape from.
— Brianna Wiest
Pamper Yourself Quotes To Make Time For Self Care
Once in a while you need to take a break and visit yourself.
― Audrey Giorgi
The body can endure practically anything–pain, fatigue, you name it– but its the mind that matters.
— Dave Pelzer
One of the greatest burdens of leadership is embracing the need for self-care.
— Guy T. Simpson Jr.
No woman can control her destiny if she doesn't give to herself as much as she gives of herself.
— Suze Orman
Self-care is giving the world the best of you instead of what's left of you.
— Katie Reed
Sometimes feeling good isn't about picking up more things to do, but about letting go of things that have nothing to do with you.
— Curtis Tyrone Jones
It's a good idea always to do something relaxing prior to making an important decision in your life.
— Paulo Coelho
Once a year, go somewhere you have never been before.
― Dalai Lama
There comes a time when you have to step back and balance yourself with the needs of others.
— Richelle Mead
Carve out and claim the time to care for yourself and kindle your own fire.
— Amy Ippoliti
Finding what naturally soothes you not only regulates your heart and mind, it helps you stay open to the goodness in you and in the world.
— Oprah Winfrey
Which of these pamper yourself quotes inspired you the most?
More Inspirational Quotes For You To Enjoy