A collection of inspiring sunflower quotes to lift your spirits and bring happiness to your life.
Sunflowers are definitely a sight to see. Their beautiful and cheerful appearance can easily brighten our days and lighten our burdens.
Sunflowers are not only beautiful and pleasing to the eyes but they can also show and inspire us how to live our lives during difficult times.
What makes them so inspiring is the way they follow the sun throughout the day, and when night comes, in the absence of the sun, they return to face east in anticipation of the sunrise.
In a way, this can be compared to how we should be living our lives, We should always look for the good things in life. The small things that'll make our days brighter every day.
And when we go through difficult times and dark seasons, we must remain hopeful and trust that the sun will rise again and brighter days are coming.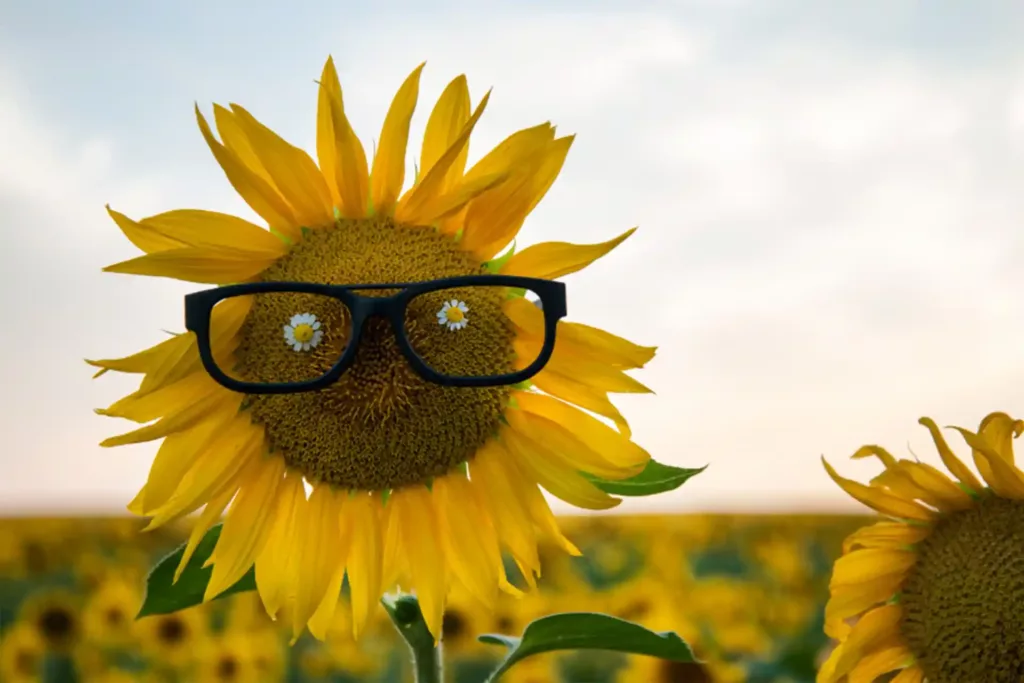 Here are 60+ Sunflower Quotes and Quotes about Sunflowers
Keep your face to the sunshine and you cannot see the shadow. It's what sunflowers do.
— Helen Keller
If I were a flower… I would be a sunflower. To always follow the sun, turn my back to darkness, stand proud, tall and straight even with my head full of seeds.
— Pam Stewart
Never look directly at the sun. Instead, look at the sunflower.
— Vera Nazarian
The head of all flower heads is one flower; the sunflower in the sky, that gives the others vivid color stemming from the inside.
— Curtis Tyrone Jones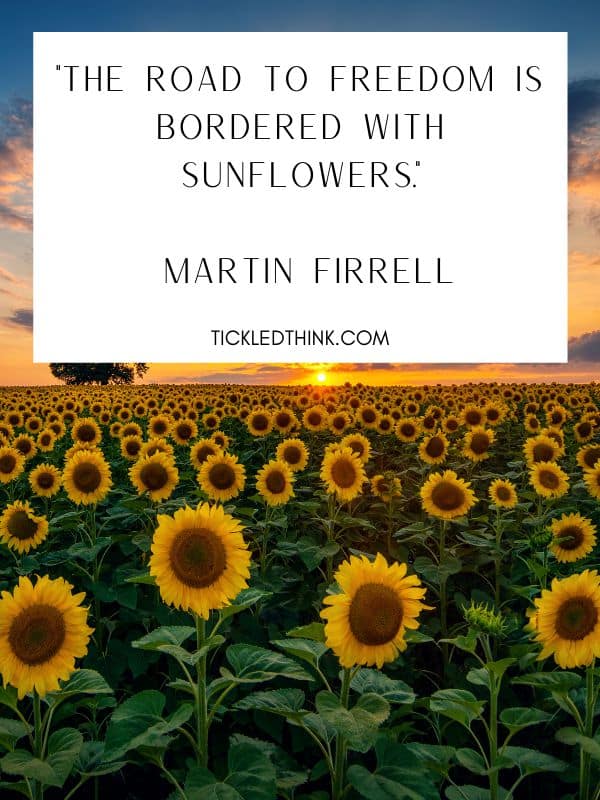 And the yellow sunflower by the brook, in autumn beauty stood.
— William Cullen Bryant
The road to freedom is bordered with sunflowers.
— Martin Firrell
I am working with the enthusiasm of a man from Marseilles eating bouillabaisse, which shouldn't come as a surprise to you because I am busy painting huge sunflowers.
— Vincent Van Gogh
Do you know where the sunflowers' lights go when they die?
— Adriani Putri
If roses tried to be sunflowers, they would lose their beauty; and if sunflowers tried to be roses, they would lose their strength.
— Matshona Dhliwayo
I want to be like a sunflower so that even on the darkest days I will stand tall and find the sunlight.
— Unknown
look at its shape, with vibrant yellows and oranges, a sunflower can brighten your day…it's as if it is smiling like a happy face painted on the sun…so if you do only one thing all day, let it be to smile, so you can brighten the day of others around you, just like the sunflower
— Bodhi Smith
A sunflower poem: The lofty follower of the sun, Sad when he sets, shuts up her yellow leaves, Drooping all night; and when he warm returns. Points her enamor'd bosom to his ray.
— James Thomson
Because somehow, the sun rises each day. Emerging from the horizon, brighter and more beautiful than the previous day. You'll rise from the horizon too, learning to trust again. Learning to love again. Learning to heal. You'll emerge so bright that the haters will be blinded. And darling, you'll be the sun then, bright and beautiful, but they won't be your sunflowers.
— Minahil
Does she realize she looks like a sunflower, ready to rain sunlight on all who look down upon her?
— Simone Elkeles
The sunflower is a favorite emblem of constancy.
— Thomas Bulfinch
She is a sunflower! She brings hope to people.
— Avijeet Das
We're all golden sunflowers inside.
— Allen Ginsberg
A sunflower teaches us so much about love.
— Samrah Ahmad
Sunflowers end up facing the sun, but they go through a lot of dirt to find their way there.
— J.R. Rim
A sunflower field is like a sky with a thousand suns.
— Corina Abdulahm-Negura
Inspirational Sunflower Quotes and Beautiful Sunflower Quotes
Despite knowing they won't be here for long, they still choose to live their brightest lives — sunflowers.
— Rupi Kaur
Who knows what may lie around the next corner? There may be a window somewhere ahead. It may look out on a field of sunflowers.
— Joe Hill
Related Posts:
Flowers have an expression of countenance as much as men and animals. Some seem to smile; some have a sad expression; some are pensive and diffident; others again are plain, honest and upright, like the broad-faced sunflower and the hollyhock.
— Henry Ward Beecher
Turn your face to the sun, and shadows follow behind you.
— Maori Proverb
You are touching so many people's lives. You are a Sunflower.
— Avijeet Das
Which way will the sunflower turn surrounded by millions of suns?
— Allen Ginsberg
Light-enchanted sunflower, thou Who gazest ever true and tender On the sun's revolving splendour.
— Pedro Calderon de la Barca
Don't judge each day by the harvest you reap, but by the seeds that you plant.
— Robert Louis Stevensen
Attention shifted to him like sunflowers turning to the sun.
— Khaled Hosseini
A rose can never be a sunflower, and a sunflower can never be a rose. All flowers are beautiful in their own way, and that's like women too.
— Miranda Kerr
Space for the sunflower, bright with yellow glow, To court the sky.
— Unknown
And here the sunflower of the spring burns bright in the morning's beam.
— Ebenezer Elliott
Sunflowers are like people to me.
— Joan Mitchell
The sunflower is mine, in a way.
— Vincent Van Gogh
And here the sunflower of the spring burns bright in the morning's beam.
— Ebenezer Elliott
Fame is the scentless sunflower, with gaudy crown of gold; But friendship is the breathing rose, with sweets in every fold.
— Oliver Wendell Holmes
Her smile put the sunflower to shame.
— Jerry Spinelli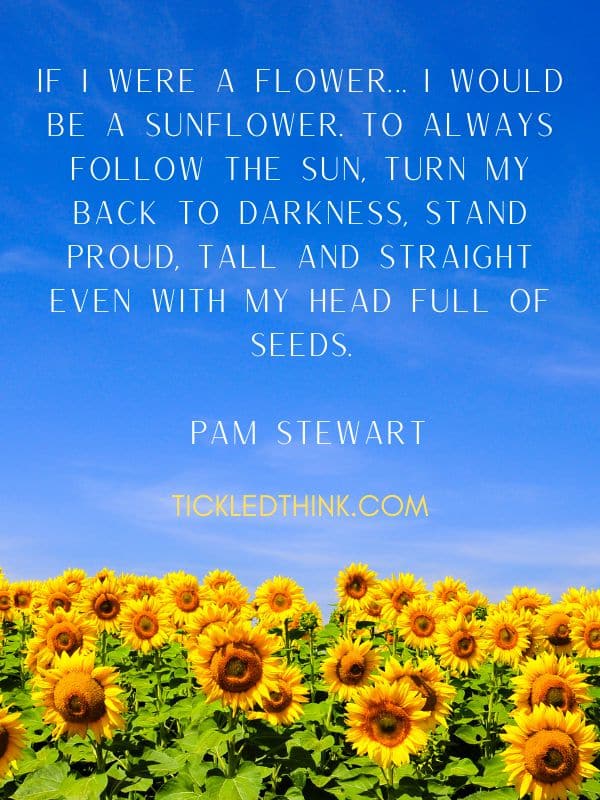 Every friend is to the other a sun, and a sunflower also. He attracts and follows.
— Jean Paul
Which makes it ironic my favorite flower isn't even indigenous to the British Isles, let alone Yorkshire. I don't think there's anything on this planet that more trumpets life that the sunflower. For me, that's because of the reason behind its name. Not because it looks like the sun but because it follows the sun. During the course of the day, the head tracks the journey of the sun across the sky. A satellite dish for sunshine. Wherever light is, no matter how weak, these flowers will find it. And that's such an admirable thing. And such a lesson in life.
— Tim Firth
In the morning the sunflower blossoms due to the sun's rays. This morning I just wanted to remind you that my heart blossoms with love for you every day I wake up and it is going to do that forever.
— Sheila Carey
Uplifting Sunflower Quotes
Like a single sunbeam on a warm summer day, there is an exuberance and brilliance in a sunflower.
— Unknown
True friends are like bright sunflowers that never fade away, even over distance and time.
— Marie Williams Johnstone
Always hold your head high like a sunflower that stretches toward the light.
— Malene Rossau
Her heart bloomed sunflowers so she would always face the light
— Gemma Troy
Come with me into the field of sunflowers is a better line than anything you will find here, and the sunflowers themselves far more wonderful than any words about them.
— Mary Oliver
Restless sunflower; cease to move.
— Pedro Calderon de la Barca
My will broke at the sound of his voice, and my head turned with as much inevitability as a sunflower turning its face to the sun.
— Patricia Briggs
Smile to the world and smile to the people you love, like a sunflower smiles at the sun. Have a beautiful and happy day!
— Remez Sasson
Bring me then the plant that points to those bright Lucidites swirling up from the earth, and life itself exhaling that central breath! Bring me the sunflower crazed with the love of light.
— Eugenio Montale
The gaudy leonine sunflower hangs black and barren on its stalk and down the windy garden walk the dead leaves scatter – hour by hour.
— Oscar Wilde
A long time ago in a kingdom by the sea there lived a princess as tall and bright as a sunflower.
— Jeanne Desy
A wise quote can only change a wise man! Therefore, wise sayings are for the wise men, not for the fools! The sunflowers turn their face toward the Sun, the fools, toward the darkness
— Mehmet Murat Ildan
Let the sunflowers of thy soul bloom in the sunshine.
— Lailah Gifty Akita
The earth paints a portrait of the sun at dawn with sunflowers in bloom. Unhappy with the portrait, she erases it and paints it again and again.
— Rabindranath Tagore
As for marigolds, poppies, hollyhocks, and valorous sunflowers, we shall never have a garden without them, both for their own sake, and for the sake of old-fashioned folks, who used to love them.
— Henry Ward Beecher
There are not too many fables about man's misuse of sunflower seeds.
— Richard Brautigan
Wherever life plants you, bloom with grace.
— Old French Proverb
Big doesn't necessarily mean better. Sunflowers aren't better than violets.
— Edna Ferber
Pick up a sunflower and count the florets running into its center, or count the spiral scales of a pine cone or a pineapple, running from its bottom-up its sides to the top, and you will find an extraordinary truth: recurring numbers, ratios, and proportions.
— Charles Jencks
A sunflower poem: The lofty follower of the sun, Sad when he sets, shuts up her yellow leaves, Drooping all night; and when he warm returns. Points her enamor'd bosom to his ray.
— James Thomson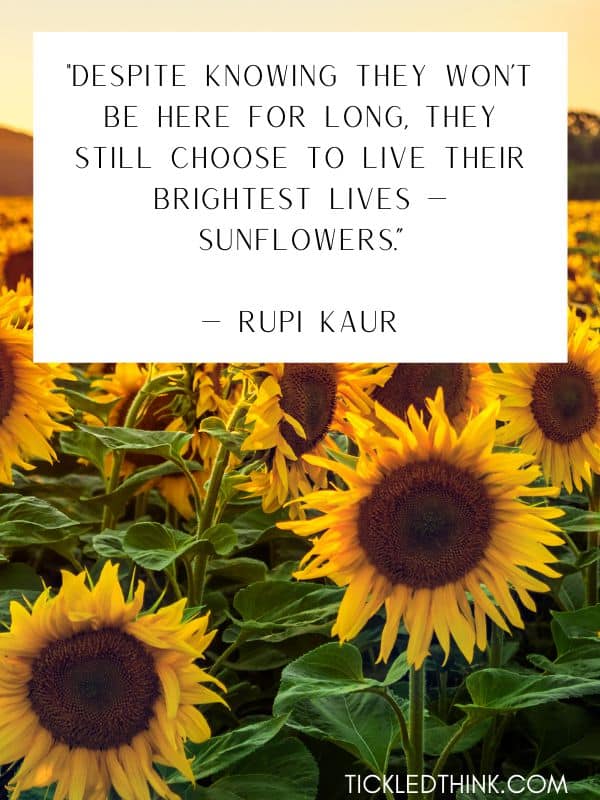 Wherever the sun goes, the sunflower will follow. Through all of the pain. And all of the sorrow.
— Londrelle
What a lonely place it would be to have a world without a wildflower.
— Roland R. Kemler
Make it like a sunflower.
Which of these sunflower quotes was your favorite?
MORE INSPIRATIONAL QUOTES FOR YOU TO ENJOY