A collection of feeling down quotes that'll give you hope, remind you that tough times never last and inspire you to hold on, keep going — brighter days are coming.
When you're feeling down, having a bad day, or going through a difficult season in your life, it's easy to feel hopeless and defeated.
When everything goes wrong, you start to believe that your life will only go from bad to worse and that regardless of what you do, you will never find happiness again and that you will always feel down and unhappy.
I get it. When I hit rock bottom, I felt that too — I felt that every single day and more often than I would like to admit, I still do.
But here's the thing, that tiny voice in your head that is telling you all those negative things is lying.
Yes, you may be feeling down now or you feel so defeated and exhausted that you start to think that you will never get through it. But you will.
What you're feeling right now or going through right now is only temporary. It's not going to last forever. You have within you such invaluable strength and courage that you can make it through all the setbacks and all the bad days that life will throw your way.
You can make it through. You can pick yourself up after every failure, every defeat, every bad day, and every time you're feeling down. You are strong and brave.
Believe in what you can do and remind yourself that regardless of how bleak and dark everything may seem right now, it's not going to last.
The light will come. You will get through it and Joy, love, and happiness will certainly come your way.
May these feeling down quotes and encouraging quotes below help you feel better and put a smile on your face.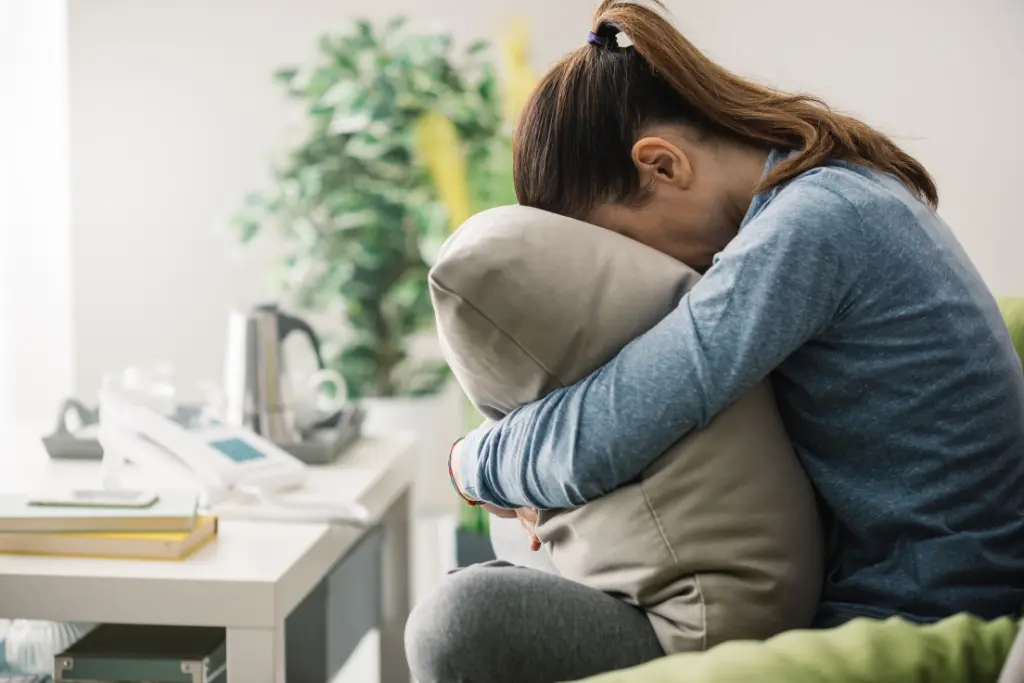 Feeling Down Quotes and Sayings
When you are feeling down, look at the skies. You are not always alone.
— EunB
Some days are just bad days, that's all. You have to experience sadness to know happiness, and I remind myself that not every day is going to be a good day, that's just the way it is!
— Dita Von Teese
I can be changed by what happens to me. But I refuse to be reduced by it.
— Maya Angelou
First, accept sadness. Realize that without losing, winning isn't so great.
— Alyssa Milano
When I despair, I remember that all through history the way of truth and love have always won. There have been tyrants and murderers, and for a time, they can seem invincible, but in the end, they always fall. Think of it — always.
— Mahatma Gandhi
Every life has a measure of sorrow, and sometimes this is what awakens us.
— Steven Tyler
If you fell down yesterday, stand up today.
Heavy hearts, like heavy clouds in the sky, are best relieved by the letting of a little water.
— Christopher Morley
The rose and the thorn, and sorrow and gladness are linked together.
— Saadi
Our sweetest songs are those that tell of saddest thought.
— Percy Bysshe Shelley
Feeling down quotes that'll improve your mood
When you're feeling down, always remember,
that dark days will not last forever.
There will be sunshine after the rain,
There will be pleasure after the pain.
— Mouloud Benzadi
For every minute you are angry you lose sixty seconds of happiness.
— Ralph Waldo Emerson
All this pain ain't forever.
— Omotoso Omotayo Olawande
Nothing shakes the smiling heart.
— Santosh Kalwar
Whenever you feel down, remember it is always daylight somewhere on this rock we call Earth. Whenever you are belittled by a human, remember that she or he does not represent the whole for the Earth is way bigger than any puny creature you may encounter.
— Lamine Pearlheart
Learn to smile at every situation. See it as an opportunity to prove your strength and ability.
— Joe Brown
If you're in bad mood, take a deep breath.
If you're in good mood, give thanks to God.
— Toba Beta
Peace begins with a smile.
— Mother Teresa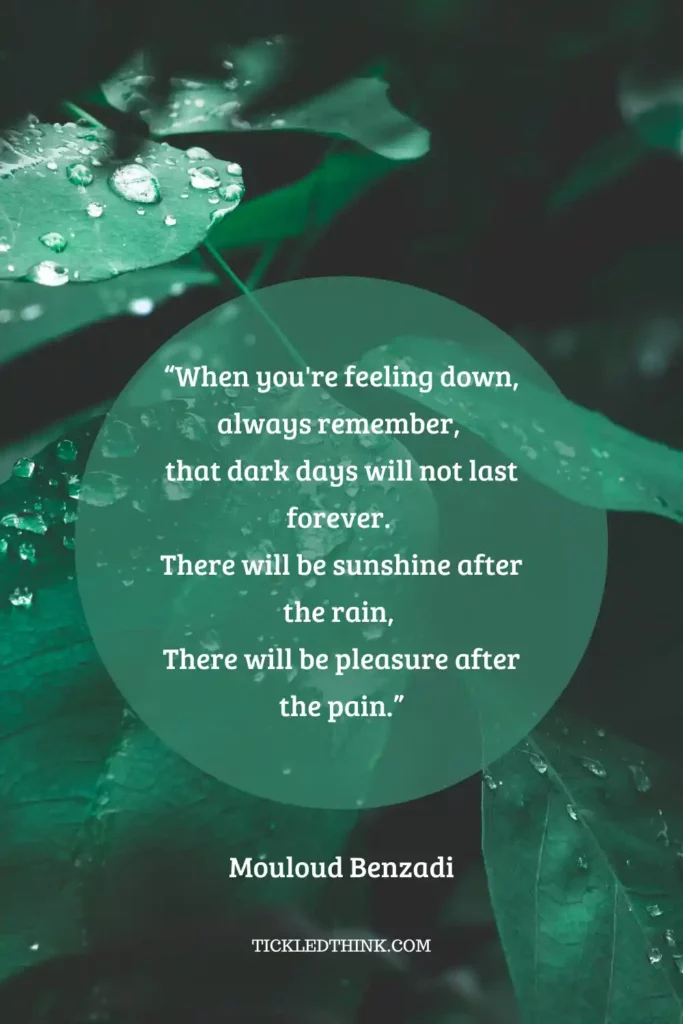 Even when you're feeling down, don't let yourself down by letting your dream die.
— Gift Gugu Mona
Let my soul smile through my heart and my heart smile through my eyes, that I may scatter rich smiles in sad hearts.
— Paramahansa Yogananda
Related Posts:
Feeling down quotes that'll remind you of how amazing you are
If you are feeling low, or trampled, unappreciated, or forgotten…and you are reading this, realize it is an illusion…the hope is real…you are valued…and what lies ahead…is brilliance.
— Tom Althouse
Remember that wherever your heart is, there you will find your treasure.
— Paulo Coelho
You are amazing simply for hanging in there and holding on, no matter how hard things get! And for moving forward no matter how scared you are or how anxious you feel. Yep, you are awesome.
— Karen Salmansohn
You have no control over other people's taste, so focus on staying true to your own.
— Tim Gunn
You are amazing person with unique talents. Have faith in your abilities.
— Lailah Gifty Akita
Don't sell yourself short; you are your best asset.
— Matshona Dhliwayo
Know the truth. You have it in you to climb every mountain.
— Hiral Nagda
If you have no confidence in self, you are twice defeated in the race of life. With confidence, you have won even before you have started.
— Cicero
Always be yourself–express yourself, have faith in yourself. Do not go out and look for a successful personality and duplicate it.
— Bruce Lee
You really are good enough, pretty enough, and strong enough.
— Al Carraway
Feeling down quotes that'll give you courage
You cannot swim for new horizons until you have courage to lose sight of the shore.
— William Faulkner
The best way out is always through.
— Robert Frost
Everyone has talent. What's rare is the courage to follow it to the dark places where it leads.
— Erica Jong
If you are lucky enough to find a way of life you love, you have to find the courage to live it.
— John Irving
Success is not final, failure is not fatal: it is the courage to continue that counts.
— Winston S. Churchill
Courage is being scared to death… and saddling up anyway.
— John Wayne
Live the Life of Your Dreams: Be brave enough to live the life of your dreams according to your vision and purpose instead of the expectations and opinions of others.
— Roy T. Bennett
Jump, and you will find out how to unfold your wings as you fall.
— Ray Bradbury
Life shrinks or expands in proportion to one's courage.
— Anais Nin
There is nothing in the world so much admired as a man who knows how to bear unhappiness with courage.
— Seneca
Which of these feeling down quotes inspired you the most?
More inspirational quotes for you to enjoy