A collection of inspirational listen to your body quotes that'll remind you of the importance of taking care of it and inspire you to slow down and breathe.
To listen to your body simply means to press pause on everything that's surrounding you, slow down and listen to what you're feeling.
There's no denying that in today's day and age, most of us are guilty of pushing ourselves to the extent of exhaustion and burnout.
We refuse to stop and slow down long enough for us to realize that we have been taking ourselves for granted. Instead of allowing ourselves to take a break and sleep, we continue to push ourselves, regardless of how exhausted and drained we already are.
We must always remember that while working hard is important, learning to balance work and rest is just as important and essential in helping us live a happy and fulfilled lives.
So, stop being so hard on yourself. Learn to listen to your body, to your needs, and allow yourself to take a break, breathe, and recharge.
May these listen to your body quotes inspire you to take better care of your body.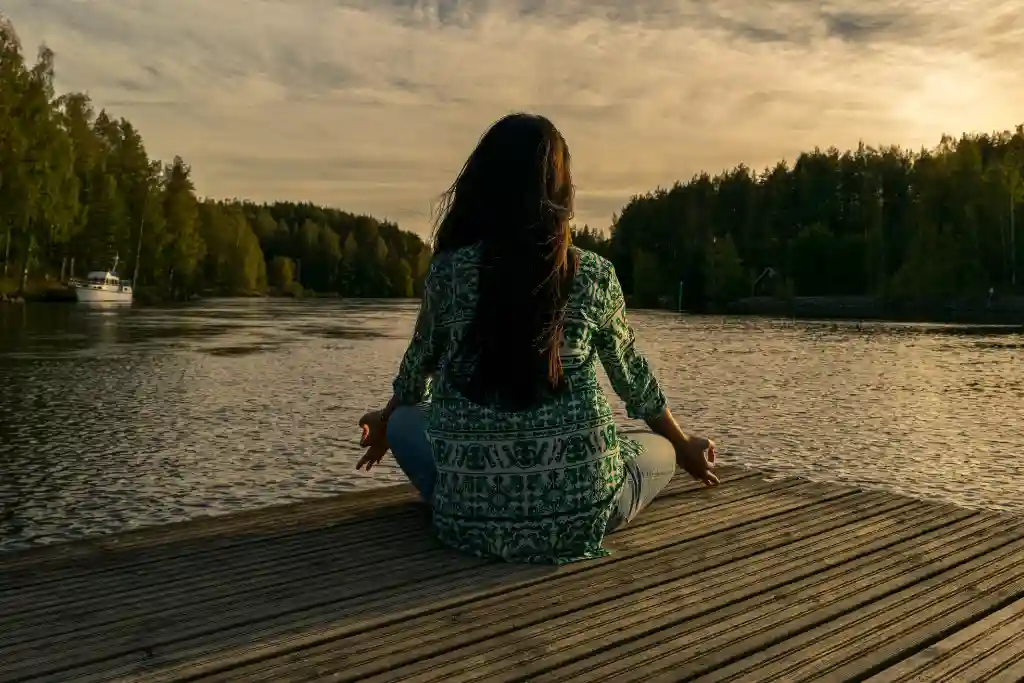 Listen to your body Quotes and Sayings
Your body is your best guide. It constantly tells you, in the form of pain or sensations, what's working for you and what's not.
— Hina Hashmi
Take care of your body. It's the only place you have to live.
— Jim Rohn
The body is the garden of the soul.
— Tony Kushner
Everybody has a finite amount of energy and limits to what he or she can do. Listen to your body. It will talk to you if you're willing to listen.
— Phyllis George
Rest when you're weary. Refresh and renew yourself, your body, your mind, your spirit. Then get back to work.
— Ralph Marston
When you are balanced and when you listen and attend to the needs of your body, mind, and spirit, your natural beauty comes out.
— Christy Turlington
Let go of the battle. Breathe quietly and let it be. Let your body relax and your heart soften. Open to whatever you experience without fighting.
— Jack Kornfield
To keep the body in good health is a duty, otherwise we shall not be able to keep our mind strong and clear.
— Buddha
Now I know you should listen to what your body is telling you.
— Delta Goodrem
Bodies have their own light which they consume to live: they burn, they are not lit from the outside.
— Egon Schiele
A strong body listens. It obeys. A weak body commands. If your body is weak it tells you what to do. If your body is strong it'll actually listen to you when you tell it to do something. If you build it right you can overcome some of the obstacles of age and recovery.
— Andre Agassi
But if one observes, one will see that the body has its own intelligence; it requires a great deal of intelligence to observe the intelligence of the body.
— Jiddu Krishnamurti
Listen to your body Quotes To Inspire You To Slow Down
Taking a break can lead to breakthroughs.
— Russell Eric Dobda
There is more wisdom in your body than in your deepest philosophy.
— Friedrich Nietzsche
Slowing down is sometimes the best way to speed up.
— Mike Vance
In this game, everyone needs a break to refuel, recharge, and jump back in full throttle.
— Helen Edwards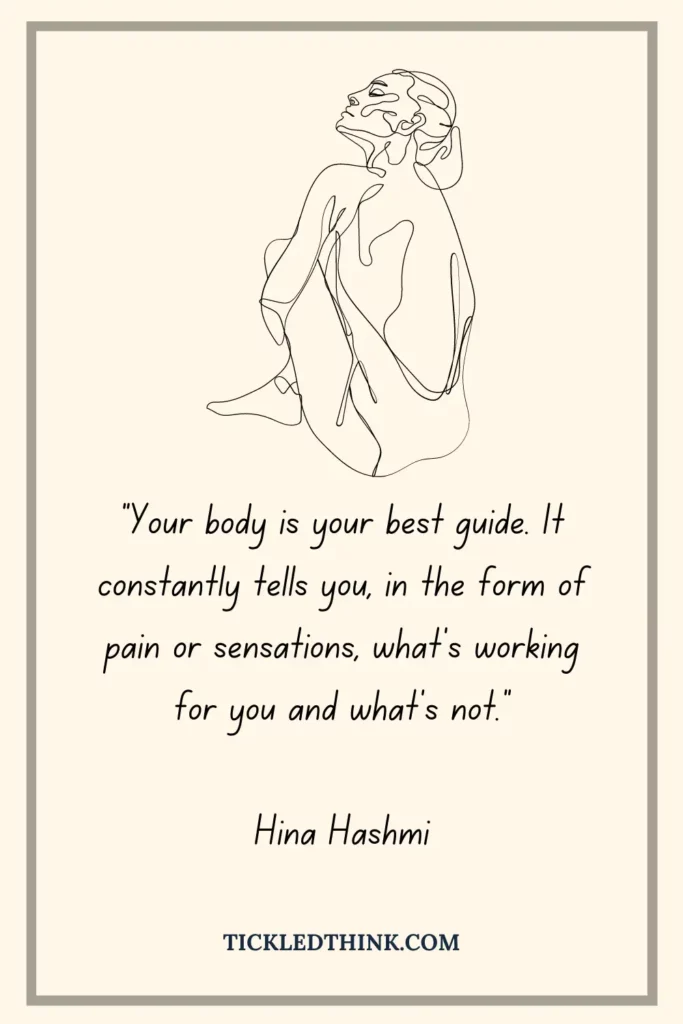 Most people's minds are almost always too busy for them to feel their skins being caressed by the wind or the sun.
― Mokokoma Mokhonoana
When you are balanced and when you listen and attend to the needs of your body, mind, and spirit, your natural beauty comes out.
— Christy Turlington
Don't be in a hurry to achieve your dreams. Take a day to play with your kids and relax – your dreams will still be there tomorrow.
— Lindsey Rietzsch
Your body hears everything your mind says.
— Naomi Judd
Try to pause each day and take a walk to view nature.
— Lailah Gifty Akita
When things are not happening as planned just stop worrying and take an unplanned break to regain yourself.
— Giridhar Alwar
We've often been taught that if we truly want to get somewhere in our lives, we have to work hard and stay focused on our goals. But what if the best way to get from Point A to Point B is to detour to rest stops much more frequently?
— Thatcher Wine
Sleep is that golden chain that ties health and our bodies together.
— Thomas Dekker
Related Posts:
Listen to your body Quotes That'll Inspire Self Care
Everybody is different, and every body is different.
— Beverly Diehl
If you get tired learn to rest, not to quit.
— Banksy
Taking care of myself doesn't mean 'me first.' It means 'me, too.
― L.R. Knost
I have come to believe that caring for myself is not indulgent. Caring for myself is an act of survival.
— Audrey Lorde
Saying no can be the ultimate self-care.
— Claudia Black
Self-care is giving the world the best of you, instead of what's left of you.
— Katie Reed
Self-care is how you take your power back.
— Lalah Delia
Caring for your body, mind, and spirit is your greatest and grandest responsibility. It's about listening to the needs of your soul and then honoring them.
― Kristi Ling
Sometimes the most important thing in a whole day is the rest we take between two deep breaths.
— Etty Hillesum
Self-care means giving yourself permission to pause.
— Cecilia Tran
Take rest; a field that has rested gives a bountiful crop.
— Ovid
You can't pour from an empty cup. Take care of yourself first.
— Unknown
Listen to your body Quotes to Inspire Rest
There is virtue in work and there is virtue in rest. Use both and overlook neither.
— Alan Cohen
Take a walk with a turtle. And behold the world in pause.
— Bruce Feiler
Sleep is an investment in the energy you need to be effective tomorrow.
— Tom Roth
Rest is not idleness, and to lie sometimes on the grass under trees on a summer's day, listening to the murmur of the water, or watching the clouds float across the sky, is by no means a waste of time.
— John Lubbock
If you don't stop to take in the beauty around you, you will likewise miss the beauty within you.
— Craig D. Lounsbrough
Resting for me is fitness training.
— Jenson Button
Everything needs a break.
— Toba Beta
Remember that in order to be productive you also have to focus on relaxation.
— Bogdan Ivanov
You just have to take a deep breath, relax and let the game come to you.
— A. J. Green
Almost everything will work again if you unplug it for a few minutes…Including you.
— Anne Lamott
my dear,
we are all made of water.
it's okay to rage. sometimes
it's okay to rest. to recede.
— Sanober Khan
Sleep soothes and arrest the fever-pulse of the soul.
— Eliza Cook
The time to relax is when you don't have time for it.
— Sydney Harris
Now and then it's good to pause in our pursuit of happiness and just be happy.
— Guillaume Apollinaire
Which of these listen to your body quotes inspired you the most?
More Inspirational Quotes For You To Enjoy