A collection of fill your cup quotes that will inspire you to love yourself first and to not be afraid to put yourself and your needs first.
To fill your cup simply means to take care of yourself. It is allowing yourself the chance to put your needs first, listen to your body and give yourself the chance to slow down, take a break and do something that you love.
In today's day and age, there's no denying that putting yourself first is the last thing in your mind. We are guilty of constantly chasing deadlines, to-do lists, people-pleasing, and ignoring our needs.
It's time to remind yourself that putting yourself first and filling your cup is not selfish. It is a necessity. For us to continue to function, to live happy and fulfilled lives, we need to learn to take care of ourselves.
We need to learn to keep our cups full by practicing self-care, learning to love ourselves completely, and taking the time off to recharge every now and then.
May these fill your cup quotes inspire you to take a break, breathe and just take some time off for yourself.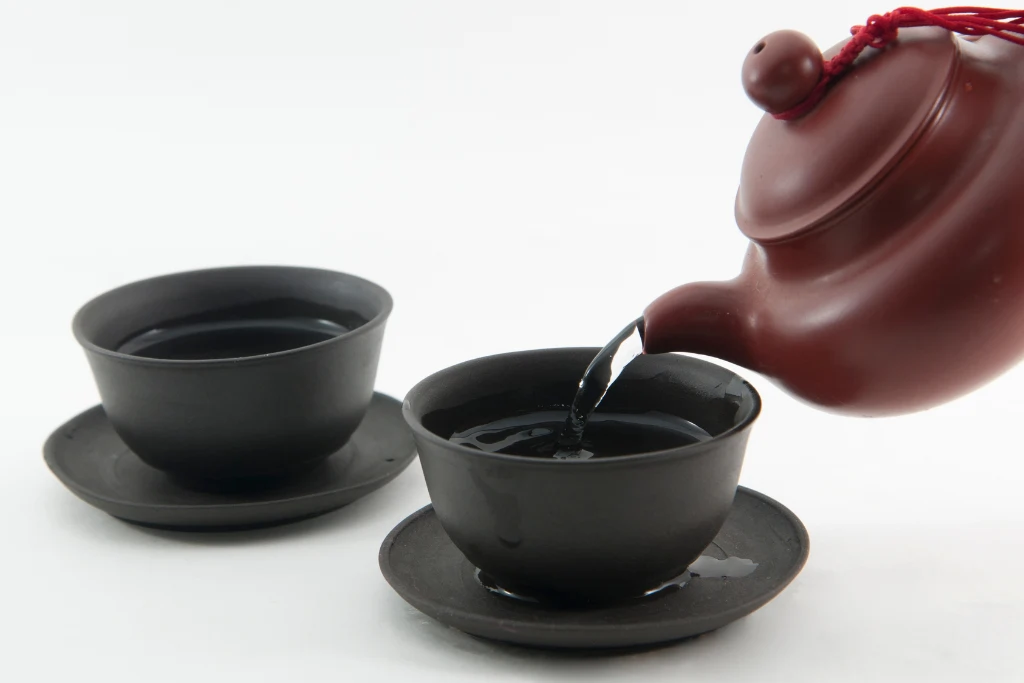 Fill Your Cup Quotes and Sayings
You have to fill your cup. You then give away the overflowing, but you keep a cupful for yourself.
— Wynonna Judd
Fill our own cup first and feed everyone else from the overflow. We must first nurture and fill our own cup with the sweet nectar of self-love, self-nurture and self-care.
— Diane Johnson
It's not selfish to love yourself, take care of yourself, and to make your happiness a priority. It's necessary.
— Mandy Hale
When your cup is empty, you do not mourn what is gone. Because if you do, you will miss the opportunity to fill it again.
— Sarah Addison Allen
When admiring other people's gardens, don't forget to tend to your own flowers.
— Sanober Khan
Making yourself a priority is like sprinkling golden dust of richest blessings on your life.
— Hiral Nagda
Have patience with all things. But, first of all with yourself.
— Francis de Sales
Self-care is never a selfish act – it is simply good stewardship of the only gift I have, the gift I was put on earth to offer others. Anytime we can listen to true self and give the care it requires, we do it not only for ourselves, but for the many others whose lives we touch.
— Parker Palmer
Do something nice for yourself today. Find some quiet, sit in stillness, breathe. Put your problems on pause. You deserve a break.
— Akiroq Brost
Your job is to fill your own cup, so it overflows. Then you can serve others, joyfully, from your saucer.
— Lisa Nicholas
Taking care of myself doesn't mean 'me first.' It means 'me, too.
— L.R. Knost
Self-care is how you take your power back.
— Lalah Delia
You are not an option, a choice or a soft place to land after a long battle. You were meant to be the one. If you can wrap yourself around the idea that you are something incredible, then you will stop excusing behavior that rapes your very soul. You were never meant to teach someone to love you. You were meant to be loved.
— Shannon L. Alder
Fill your cup quotes to inspire you to take a break
Just when you feel you have no time to relax, know that this is the moment you most need to make time to relax.
— Matt Haig
Try to pause each day and take a walk to view nature.
— Lailah Gifty Akita
Birds chirping around you is a beautiful realisation that life in incredibly good. Let this sound be a gentle break in your routine.
— Hiral Nagda
You have to learn to love yourself before you can love someone else. Because it's only when we love ourselves that we feel worthy of someone else's love.
— Alyssa B. Sheinmel
One of the easiest ways to reduce your stress and unwind after a difficult day, or even on a day-to-day basis, is to do something that makes you laugh.
— Rebecca Turner
As important as it is to have a plan for doing work, it is perhaps more important to have a plan for rest, relaxation, self-care, and sleep.
— Akiroq Brost
Love yourself. Forgive yourself. Be true to yourself. How you treat yourself sets the standard for how others will treat you.
— Steve Maraboli
Almost everything will work again if you unplug it for a few minutes…Including you.
— Anne Lamott
If you want to conquer the anxiety of life, live in the moment, live in the breath.
— Amit Ray
Taking a break can lead to breakthroughs.
— Russell Eric Dobda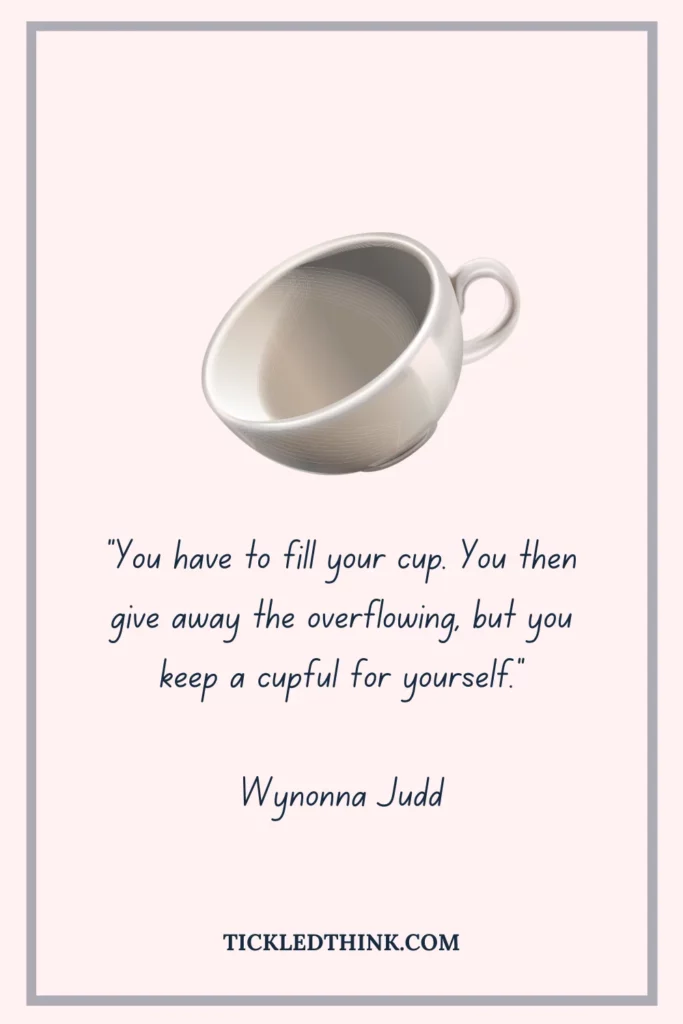 One of the greatest burdens of leadership is embracing the need for self-care.
— Guy T. Simpson Jr.
The Pause allows us to slow down. To reflect. To check ourselves before we act thoughtlessly. To give us a chance to be thoughtful instead.
— Darcy Luoma
Accept yourself, love yourself, and keep moving forward. If you want to fly, you have to give up what weighs you down.
— Roy T. Bennett
Related Posts:
Fill your cup quotes to inspire you to practice self care
When you recover or discover something that nourishes your soul and brings joy, care enough about yourself to make room for it in your life.
— Jean Shinoda Bolen
Sometimes taking a moment to do 'nothing' is the best 'something' that we can do.
— Craig D. Lounsbrough
Self care is not a waste of time. Self care makes your use of time more sustainable
— Jackie Viramontez
Allow yourself to enjoy each happy moment in your life.
— Steve Maraboli
You can't take care of anyone else unless you first take care of yourself.
― Michael Hyatt
Love yourself first and everything else falls into line. You really have to love yourself to get anything done in this world.
— Lucille Ball
Don't take life so seriously. You are doing the best you can and the rewards will be sooner or later in your lap.
— Hiral Nagda
You yourself, as much as anybody in the entire universe, deserve your love and affection.
— Buddha
When the body forces you to STOP it's saying, hey buddy, you've gone too far.
― Jacqueline Escolme
Love yourself for who you are, and trust me, if you are happy from within, you are the most beautiful person, and your smile is your best asset.
— Ileana D'Cruz
You do not have to overdo to be loved.
You do not have to perform to be loved.
You do not have to worry that your life will become meaningless or pointless if you soften.
— Molly Remer
Fill your cup quotes to inspire you to love yourself
There is a magnificent, beautiful, wonderful painting in front of you! It is intricate, detailed, a painstaking labor of devotion and love! The colors are like no other, they swim and leap, they trickle and embellish! And yet you choose to fixate your eyes on the small fly which has landed on it! Why do you do such a thing?
— C. JoyBell C.
I celebrate myself, and sing myself.
Dare to love yourself
as if you were a rainbow
with gold at both ends.
— Author-Poet Aberjhani
Until you value yourself, you won't value your time. Until you value your time, you will not do anything with it.
— M. Scott Peck
I feel keeping a promise to yourself is a direct reflection of the love you have for yourself. I used to make promises to myself and find them easy to break. Today, I love myself enough to not only make a promise to myself, but I love myself enough to keep that promise
— Steve Maraboli
Sometimes the hardest part of the journey is believing you're worthy of the trip.
— Glenn Beck
To accept ourselves as we are means to value our imperfections as much as our perfections.
— Sandra Bierig
Whatever you are doing, love yourself for doing it. Whatever you are feeling, love yourself for feeling it.
― Thaddeus Golas
If you have the ability to love, love yourself first.
— Charles Bukowski
To love yourself right now, just as you are, is to give yourself heaven. Don't wait until you die. If you wait, you die now. If you love, you live now.
― Alan Cohen
Self-care is never a selfish act—it is simply good stewardship of the only gift I have, the gift I was put on earth to offer to others.
— Parker Palmer
The greatest love that you could ever experience on earth is the one that only comes from you to you.
― Edmond Mbiaka
If you don't love yourself, nobody will. Not only that, you won't be good at loving anyone else. Loving starts with the self.
— Wayne Dyer
Which of these fill your cup quotes inspired you the most?
More Inspirational Quotes For You To Enjoy
You deserve to be happy Quotes