A motivational collection of stepping stone quotes that'll inspire you to persevere and not let failures and obstacles keep you from achieving your goals.
According to Cambridge Dictionary, a stepping stone is an event or experience that helps you achieve something else.
Failures, obstacles, and disappointments will always be a part of life. When you are faced with one failure after another, it's easy to feel like giving up and to start doubting yourself.
In moments like these, remind yourself that failing and making mistakes is not a bad thing. You can use them as an avenue for learning, growth, and improving yourself.
Don't let those failures and disappointments keep you from making your dreams a reality. Instead, turn them into your stepping stones so that you can come back stronger and wiser.
May these quotes about stepping stones inspire you to keep persevering and to always remember that every failure and obstacle is an opportunity for growth and learning that'll help you achieve success.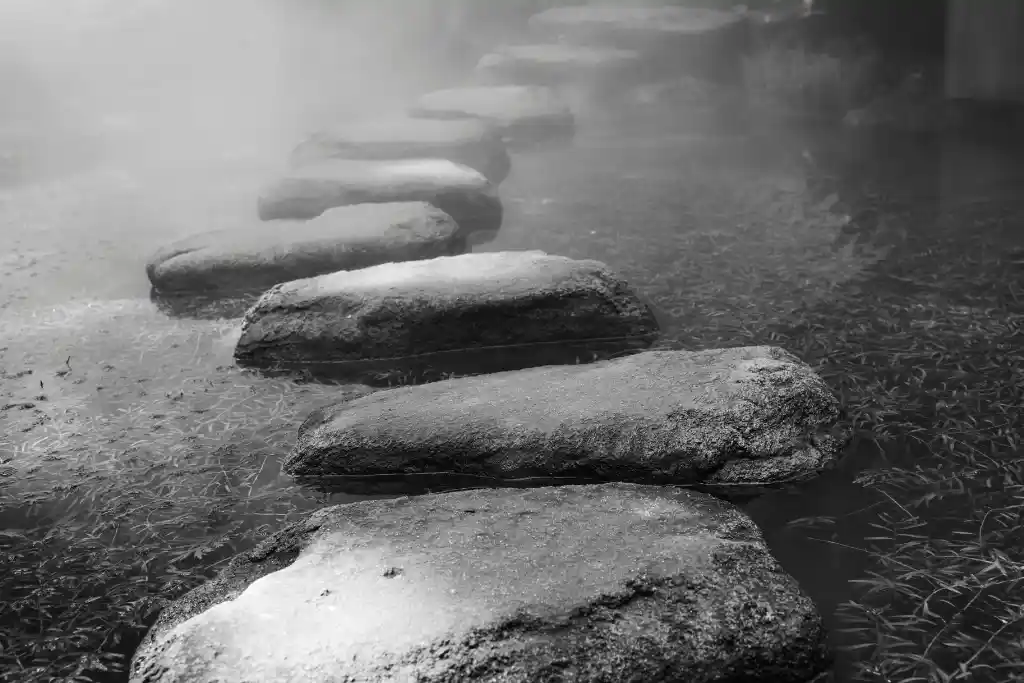 Stepping Stone Quotes and Sayings
Failure is a stepping stone to success.
— Arianna Huffington
Never be afraid to fail. Failure is only a stepping stone to improvement. Never be overconfident because that will block your improvement.
— Tony Jaa
The best way to treat obstacles is to use them as stepping-stones. Laugh at them, tread on them, and let them lead you to something better.
— Enid Blyton
Successful people see adversity as a stepping stone rather than a stumbling block.
— Shawn Achor
The road may be rough, the journey may be tough and the experience may be bitter, but they are stepping stones to our future thrones.
— Bamigboye Olurotimi
Every obstacle is a stepping stone. My good cannot be stopped.
— Louise Hay
Turn your stumbling blocks into stepping stones.
— Unknown
No experience is wasted. It is the stepping stones for a great success.
— Lailah Gifty Akita
Every now and then one paints a picture that seems to have opened a door and serves as a stepping stone to other things.
— Pablo Picasso
Forgiving ourselves and learning from our inevitable mistakes transforms failure from a stumbling block into a stepping stone.
— L.R. Knost
Stepping Stone Quotes To Motivate You
Mistakes are the stepping stones to wisdom, we learn from trial & error, we become wise by understanding problems.
— Leon Brown
A stumbling block to the pessimist is a stepping stone to the optimist.
— Eleanor Roosevelt
Very often, what is meant to be a stepping stone turns out to be a slab of wet cement that will harden around your foot if you do not take the next step soon enough.
— Richelle E. Goodrich
Constant effort and frequent mistakes are the stepping stones to genius.
— Elbert Hubbard
Failure is a stepping-stone to greatness.
— Oprah Winfrey
Where there is a stepping stone, there is a milestone
— P.S. Jagadeesh Kumar
A bruise is a lesson and each lesson makes us better.
— George R.R. Martin
If you make an error, use it as a stepping stone to a new idea you might not have otherwise discovered.
— Roger von Oech
All misfortune is but a stepping stone to fortune.
— Henry David Thoreau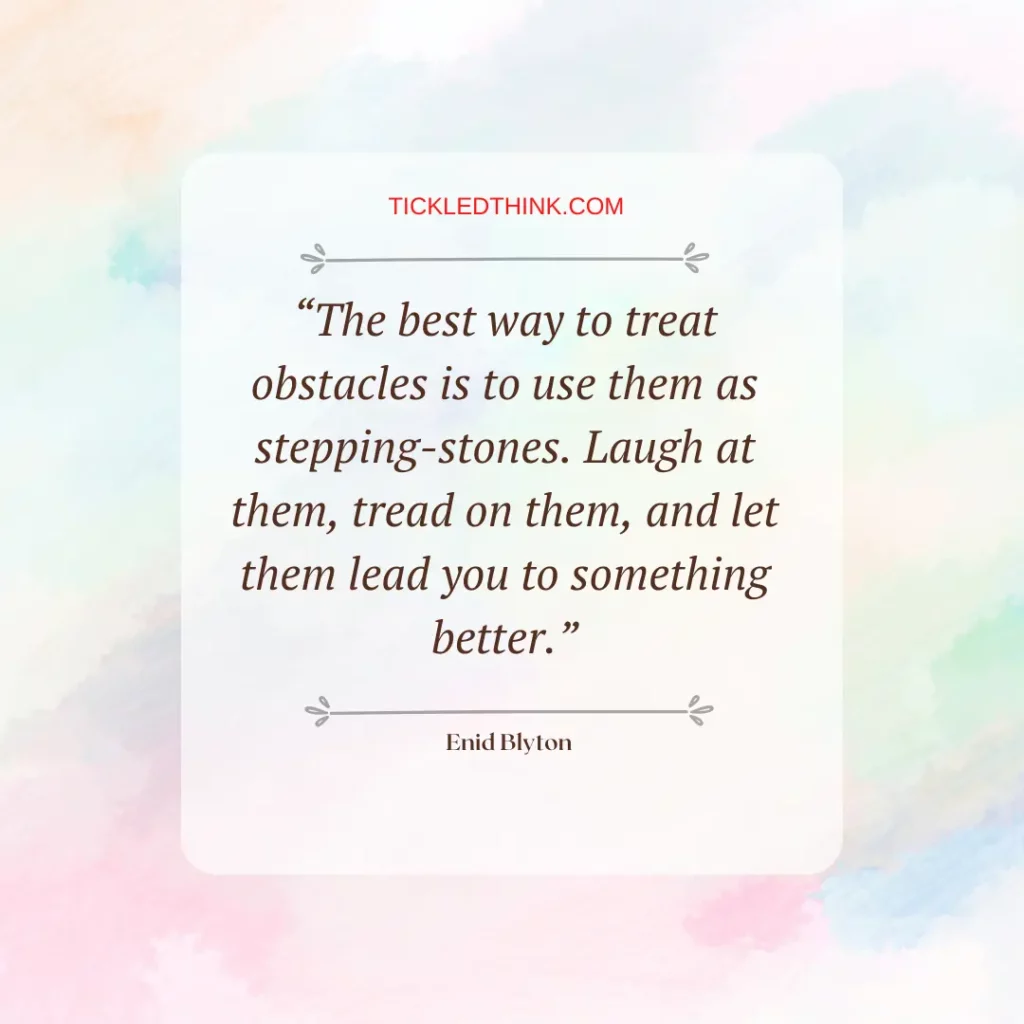 Your initial idea may or may not work, but you have to remember that a failed idea is nothing but a stepping stone to a bigger success.
— Naveen Jain
Related Posts:
Inspirational Stepping Stone Quotes
Develop success from failures. Discouragement and failure are two of the surest stepping stones to success.
— Dale Carnegie
Success is determined not by whether or not you face obstacles, but by your reaction to them. And if you look at these obstacles as a containing fence, they become your excuse for failure. If you look at them as a hurdle, each one strengthens you for the next.
— Ben Carson
Don't let the negatives of life control you. Rise above them. Use them as your stepping stones to go higher than you ever dreamed possible.
— Mary Kay Ash
The tests we face in life's journey are not to reveal our weaknesses but to help us discover our inner strengths. We can only know how strong we are when we strive and thrive beyond the challenges we face.
— Kemi Sogunle
Failures to heroic minds are the stepping stones to success.
— Thomas Chandler Haliburton
Everything in my life has been a stepping-stone to something else.
— Stacy Keibler
Nothing is predestined. The obstacles of your past can become the gateways that lead to new beginnings.
— Ralph Blum
God often uses our challenges as stepping stones to the higher purposes of God.
— James Robison
Failures are finger posts on the road to achievement.
— C. S. Lewis
You have to use your failures as stepping stones to success. You have to maintain a fine balance between hope and despair. In the end it's all a question of balance.
— Rohinton Mistry
Quotes About Stepping Stones
Failure is the key to success; each mistake teaches us something.
— Morihei Ueshiba
In every failure is the seed of success. Our failures are stepping stones in the mechanics of creation, bringing us even closer to our goals. In reality, there is no such thing as failure. What we call failure is just a mechanism through which we can learn to do things right.
— Deepak Chopra
Failure is simply the opportunity to begin again, this time more intelligently.
— Henry Ford
Every adversity, every failure, every heartache carries with it the seed of an equal or greater benefit.
— Napoleon Hill
Are you going to let the obstacles in your life be stumbling blocks or stepping stones? Choose the positive. You are the master of your attitude.
— Bruce Lee
Remember that failure is an event, not a person.
— Zig Ziglar
The tragedies of our past are the stepping stones for us to reach the happy endings of our tomorrows. Guilt is not going to help you become a better person. Acceptance will.
— Yara Greathouse
Failure is the condiment that gives success its flavor.
— Truman Capote
Use pain as a stepping stone, not a camp ground.
— Alan Cohen
Every failure is a step to success.
— William Whewell
Stepping Stone Captions For Instagram
One fails forward toward success.
— Charles Kettering
Life keeps throwing me stones. And I keep finding the diamonds.
— Ana Claudia Antunes
It still holds true that man is most uniquely human when he turns obstacles into opportunities.
— Eric Hoffer
Scorn is your second stepping stone to success; first is failure.
— Junaid e Mustafa
Never give in to the obstacles that lie in your path towards the achievement of your dreams.
— Lailah Gifty Akita
Obstacles don't have to stop you. If you run into a wall, don't turn around and give up. Figure out how to climb it, go through it, or work around it.
— Michael Jordan
When everything seems to be going against you remember that an airplane takes off against the wind, not with it.
— Henry Ford
Every charitable act is a stepping stone toward heaven.
— Henry Ward Beecher
When you meet obstacles with gratitude, your perception starts to shift, resistance loses its power, and grace finds a home within you.
— Oprah Winfrey
Don't give up. Obstacles can be overcome through strategy and learning.
— Hidetaka Miyazaki
What is the difference between an obstacle and an opportunity? Our attitude toward it. Every opportunity has a difficulty, and every difficulty has an opportunity.
— J. Sidlow Baxter
Which of these stepping stone quotes resonated with you the most?
More Inspirational Quotes For You To Enjoy