A collection of action speaks louder than words quotes that'll inspire you to talk less and do more.
I think it's safe to say that we are familiar with the saying, "action speaks louder than words."
Some people may find it cliché but that saying contains such a powerful and meaningful sentiment that we all must constantly remind ourselves of.
Most of us the time, it's so easy to make promises, say things, constantly create plans without taking action, and do anything to actually follow through with our words.
In relationships, careers and generally speaking, in life, your words will mean nothing if your actions are showing otherwise.
Because bottom line is, your actions will always prove your words. It's never enough to just say things like you want to be better or you want to change your life, you want to be happier or kinder. You can create a thousand goals and plans.
But at the end of the day, these are still just all words and all of these mean nothing if not backed by actions. If you are not willing to act on it, your words will take you nowhere.
It will only break trust and destroy relationships.
We have gathered a collection of thought-provoking quotes below. From action speaks louder than words quotes to less talk more action quotes and words and actions quotes that'll remind and inspire you to speak less and start taking action.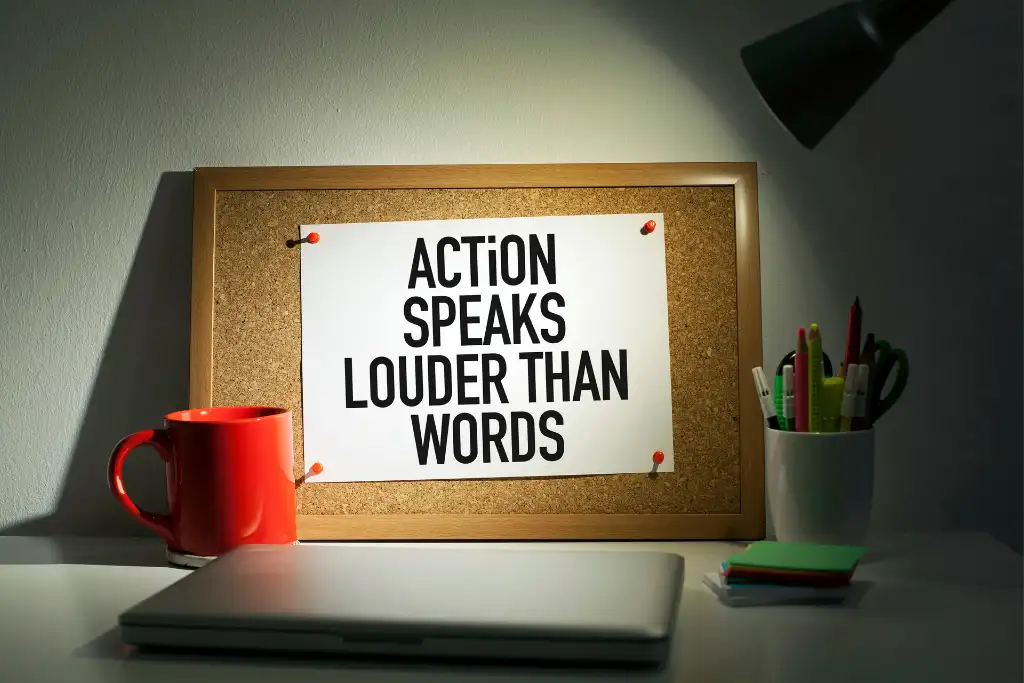 Action Speaks Louder Than Words Quotes and Sayings
Love is one of those topics that plenty of people try to write about but not enough try to do.
— Criss Jami
Never mistake motion for action.
Your actions will always speak volumes louder than your words ever will!
— G Swiss
Actions speak louder than words. And sometimes inaction speaks louder than both of them.
— Matthew Good
If your actions don't live up to your words, you have nothing to say.
— DaShanne Stokes
Action speaks louder than words but not nearly as often.
— Mark Twain
In leadership, life and all things it's far wiser to judge people by their deeds than their speech – their track record rather than their talk.
— Rasheed Ogunlaru
Authentic love always assumes the mystery of modesty, even in its expression, because actions speak louder than words. Unlike a feigned love, it feels no need to set a conflagration.
— Honore de Balzac
A person's actions will ALWAYS tell you what their priorities are. People spend their time, money, and energy on what's important to them.
— Germany Kent
Pay less attention to what men say. Just watch what they do.
— Dale Carnegie
Thoughts do more. Words too much. Actions do much more.
— Israelmore Ayivor
Actions speak louder than words; let your words teach and your actions speak.
— Anthony of Padua
Do you know what words are without actions? Lies. They are lies.
— Deanna L. Lawlis
Well done is better than well said.
— Benjamin Franklin
Less talk more action quotes
Speak less but act more.
— Jose Maria Aznar
The superior man acts before he speaks, and afterwards speaks according to his actions.
— Confucius
Words are from the lips, actions are from the heart.
— Rashida Costa
Being all talk speaks volumes about you.
— Frank Sonnenberg
A tongue doesn't get things done.
— Amit Kalantri
I always knew a good man should do no bad deeds, but it never occurred to me that a good man must do good deeds. He cannot just sit back and do nothing. He cannot just relax and let things happen around him. He must act or his faith is meaningless, mere words or thoughts.
— Aleksandra Layland
At a stage in life, you learn to talk less. That is, let your works do the talking. Hence, work hard in silence. The evidence will be clear for all to see.
— Oscar Bimpong
Words have less substance than air. Don't tell me about your zealous dreams, your firm convictions, your profound love ― show me.
— Richelle E. Goodrich
You do not write your life with words. You write it with actions. What you think is not important. It is only important what you do.
— Patrick Ness
In Zen, actions speak louder than words. Doing is more important than knowing, and knowledge which cannot be translated into action is of little worth.
— Thich Thien-An
Sometimes our actions are much more meaningful than words. A hug can sometimes express more than our words will ever express.
— Catherine Pulsifer
Always remember, actions speak louder than words. No one's perfect, but we can all strive to be better people.
— Demi Lovato
It is much easier to propose than to execute.
— David Noonan
Talking about kindness motivates us to be kind. But there are times when the best thing isn't to talk at all but just to get on out there and be kind!
— David R. Hamilton
Related Posts:
Action speaks louder than words quotes that'll inspire you to act
Actions prove who someone is; words just prove who they want to be. If you want to know your true value in someone's life, mute their words and watch their behavior.
— Anthon St. Maarten
Yes, beliefs are important for they shape who we are, but our identity is revealed not through our beliefs or our talk, but through our actions.
— Thomas Ingram
An idea gains value when you take action to bring it to life.
— Pooja Agnihotri
Do not be wise in words. Be wise in deeds.
— Jewish Proverbs
A person's actions will tell you all that you need to know.
— Germany Kent
Measure a man's worth by his actions alone. For the devil also promises the moon.
— Avijeet Das
Life is a song, and the difference you make is the lyrics.
— Michael Bassey Johnson
Words will hold some water, but actions carry buckets full.
— Christine Szymanski
If we don't fight for what we 'stand for' with our passionate words and honest actions, do we really 'stand' for anything?
— Tiffany Madison
People may doubt what you say, but they will believe what you do.
— Lewis Cass
Words are meaningless, when actions are worthless.
— Christine E. Szymanski
People can play dumb all they want, but they always give themselves away in actions. In the small moments, like that.
— Stephanie Perkins
So who's more adult- somebody who works like mad to avoid a problem or somebody who works like mad to solve it?
— Janet Kagan
Now the thing is not to get into unnecessary quarrels by talking too much and not to indicate any weakness by talking too much; let our actions speak for themselves.
— Henry L. Stimson
Inspiring action speaks louder than words quotes
Actions speak louder than meetings.
— Lee Clow
You are not just for the right or left, but for what is right over the wrong.
― Suzy Kassem
What they actually did matters more than what they said.
— Kenneth Eade
Talk is cheap. Actions speak.
— Robin S. Sharma
Actions speak louder than words. All companies say they care, right? But few actually exercise that care.
— Simon Sinek
Positive self talk isn't enough… if you want to overcome more put in the work.
― Wesam Fawzi
The fact of the matter is actions speak louder than words.
— Barbara Boxer
You need to know it's your actions that will make you a good person, not desire.
— Matthew Quick
We may say we value this thing or that thing more than any other, but the volume of our actions speaks louder than our words.
— Louie Giglio
A woman of mystery is one who also has a certain maturity and whose actions speak louder than words. Any woman can be one if she keeps those two points in mind.
— Alfred Hitchcock
Actions speak louder than words. In the days to come the Goddess of Victory will bestow her laurels only on those who prepared to act with daring.
— Heinz Guderian
Wealth does not count; words do not count; actions count!
― Dada J. P. Vaswani
I think actions speak louder than words. You can do all the hyping you want. It doesn't mean anything.
— Arnold Schwarzenegger
Making a donation is the ultimate sign of solidarity. Actions speak louder than words.
— Ibrahim Hooper
More meaningful quotes about action speaks louder than words
Words express what's on your mind, but your actions say what's in your heart.
— Frank Sonnenberg
Be content to act, and leave the talking to others.
— Baltasar Gracian
If you lose them with your words, win them back with your actions.
— Amit Kalantri
Words may show a man's wit, but actions his meaning.
— Benjamin Franklin
Love is an action word.
— Maureen Joyce Connolly
I am not imposed upon by fine words; I can see what actions mean.
— George Eliot
Dreams and hope won't get you anywhere; only actions do; actions create results.
— Anas Hamshari
Everybody's good when they're good, darling. You don't judge a person by that. It's how they act when things aren't good that tells you who they really are.
— Megan Jacobson
Ordinary People Promise To Do More. Extraordinary People Just Do More.
— Wesam Fawzi
I have always thought the actions of men the best interpreters of their thoughts.
— John Locke
You can either choose to wait around and hope life gives you what you want—or you can choose to jump up and put in the work to make your dream come true.
— Oscar Auliq-Ice
It is well to preach as I do, with my lips. But you can all preach with your feet and by your lives, and that is the most effective preaching.
— Charles Spurgeon
The true meaning of your words is not what you say, but what you do.
— Frank Sonnenberg
Let you put all your good intentions & thoughts into actions otherwise they will mean nothing & soon disappear.
— Rajesh Goyal
Which of these action speaks louder than words quotes resonated with you the most?
More inspirational quotes for you to enjoy